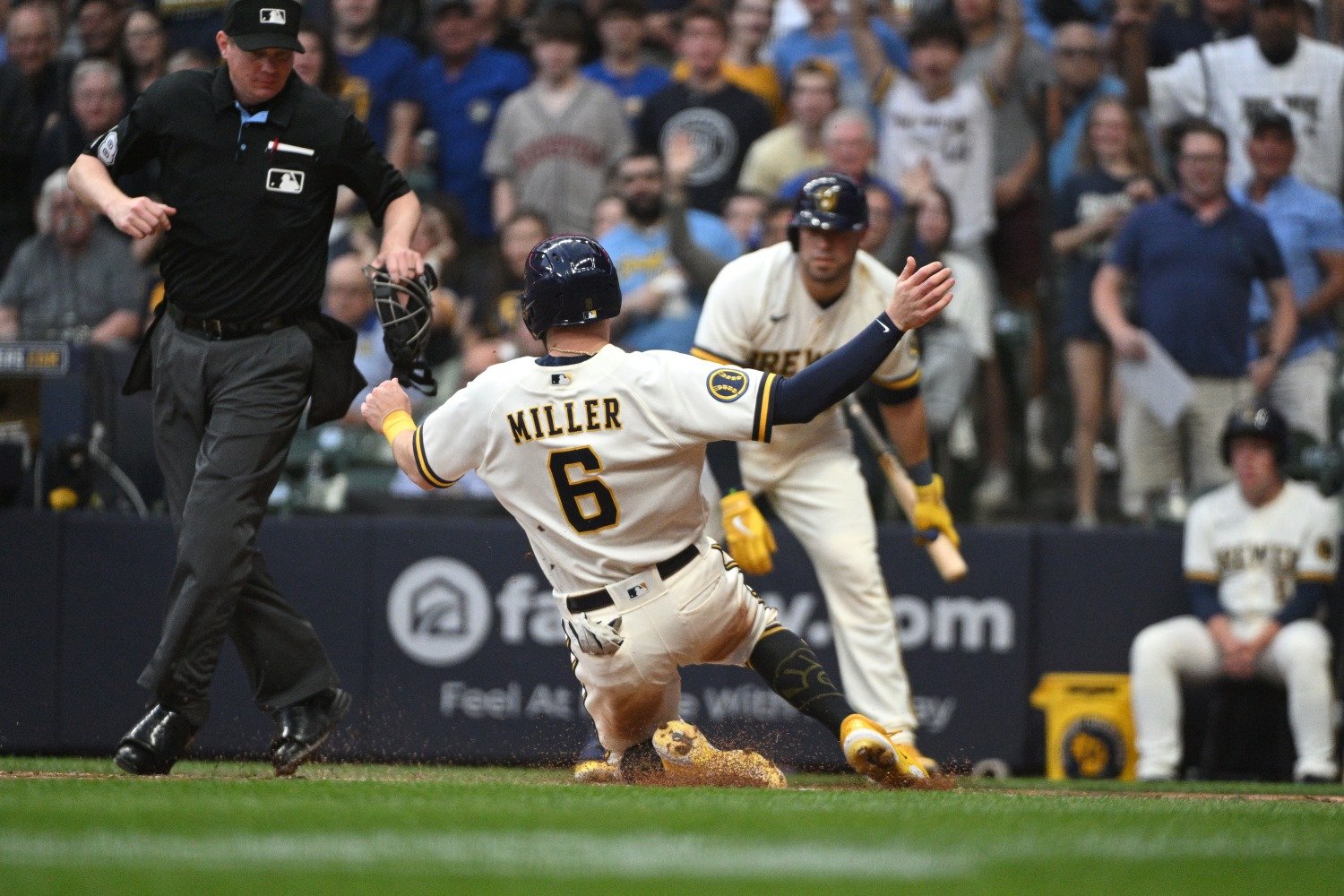 Image courtesy of © Michael McLoone-USA TODAY Sports
The Bat
Owen Miller doesn't hit the ball hard. At all. He is in the first percentile for average exit velocity, and he's 14th-lowest in total (Mike Brosseau is second-lowest) with just a 29% hard-hit rate. Yet, his expected batting average is in the 72nd percentile, so there is substance to his recent returns. 
He is a master at making contact, with a whiff rate in the 88th percentile across MLB, with a particular development in making contact on pitches outside the zone (76% in 2022 to 81% in 2023, both of which are extraordinarily high relative to the league average) allowing him to lengthen at-bats. A big reason for this is his improvement against breaking pitches, with his line of a .223 batting average and .354 slugging average last season rising to .286/.607 so far in 2023. He's also whiffing far less often this year on pitches below the strike zone. 
However, where he does most of his damage is in the middle and upper part of the strike zone, using his short, compact swing to turn on pitches. He's pulled the ball at a career-high rate of 40% so far this season, and have a look at his expected slugging numbers prior to his monster home runs against the Astros.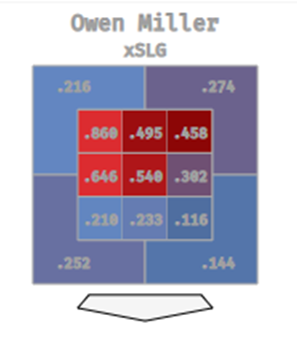 This is, in part, from his 50% fly-ball rate on the inner third of the strike zone, but it should be noted that seven of his hits this season have come from pitchers trying to get in on his hands, including three doubles and a home run. 
He seems to have altered his approach in 2023 so far as well, using his short swing to stay on fastballs when he falls behind, but sitting and waiting on the putaway breaking pitches, and he's used this to great effect. Here is his stat line when he falls behind in the count:

For consistency's sake, let's use the expected stats, and note a .348 increase in expected slugging on breaking pitches, and .122 increase in expected batting average against breaking pitches when behind in the count. Whereas, last year, he was a sitting duck in these counts, this year he seems to have a concerted plan of attack that's bearing fruit. When pitchers try to get fastballs by him, he has just a 12.5% whiff rate against it, forcing them to vary their offerings. 
He's striking out overall at just a 15% clip, putting the ball in play and giving himself a chance for good BABIP luck, something the Brewers desperately need with what can be a high-strikeout lineup, particularly when Willy Adames, Rowdy Tellez and Brian Anderson aren't streaking.
It should also be noted that this level of performance isn't entirely unheard-of for Miller. Throughout the minor leagues, he had an ISO that hovered around .140 for the most part, but in his final year before getting called up, he jumped to almost a .200 ISO, hitting 20 extra-base hits in 180 at-bats. The current home-run power surge may be a bit of a fluke, but he does have gap-to-gap power.
The Glove
In the last week, Miller's range at third base has shown up in some highlight reel plays. Before the Brewers acquired him, the Guardians had tried to convert him to a first baseman due to injuries and needs specific to their roster, and there were some growing pains that ironed out toward the end of the year. (He had six fielding errors at first base, 10 in total, on the year.) However, he had a positive outs above average at each of first base (3 OAA), second base (2 OAA) and third base (1 OAA). Due to his underperformance at first base last year, he's been regarded as a subpar defender, but that simply isn't the case. 
Given Tellez's quality glove, but extremely limited range, Miller is an ideal late-inning substitute at first base. The Brewers love that option, as evidenced by the way Craig Counsell tries to ensure that they have both Tyrone Taylor and Joey Wiemer in the outfield when they're protecting a lead.
The Wheels
For a first baseman, it's very rare to be in the 84th percentile for sprint speed. Yet, Miller's wheels have given him the opportunity to provide serious value to the Brewers as a potential center fielder, as well as playing into the premium range he gives at both the hot corner and the keystone. 
He has five stolen bases so far this year and has been caught only once, adding a little life on the basepaths. His key contribution to the win over the Astros on Tuesday night, stealing a base and then scoring on a wild pickoff attempt, was essential for some breathing space, and when you're slumping, plays like that give the team a little momentum that's needed to get over the hump.
What have the Brewer fanatics thought about Miller's performance so far? I'll be back with a part two, so stay tuned!
Think you could write a story like this? Brewer Fanatic wants you to develop your voice, find an audience, and we'll pay you to do it. Just fill out this form.
MORE FROM BREWER FANATIC
— Latest Brewers coverage from our writers
— Recent Brewers discussion in our forums
— Follow Brewer Fanatic via Twitter, Facebook or email