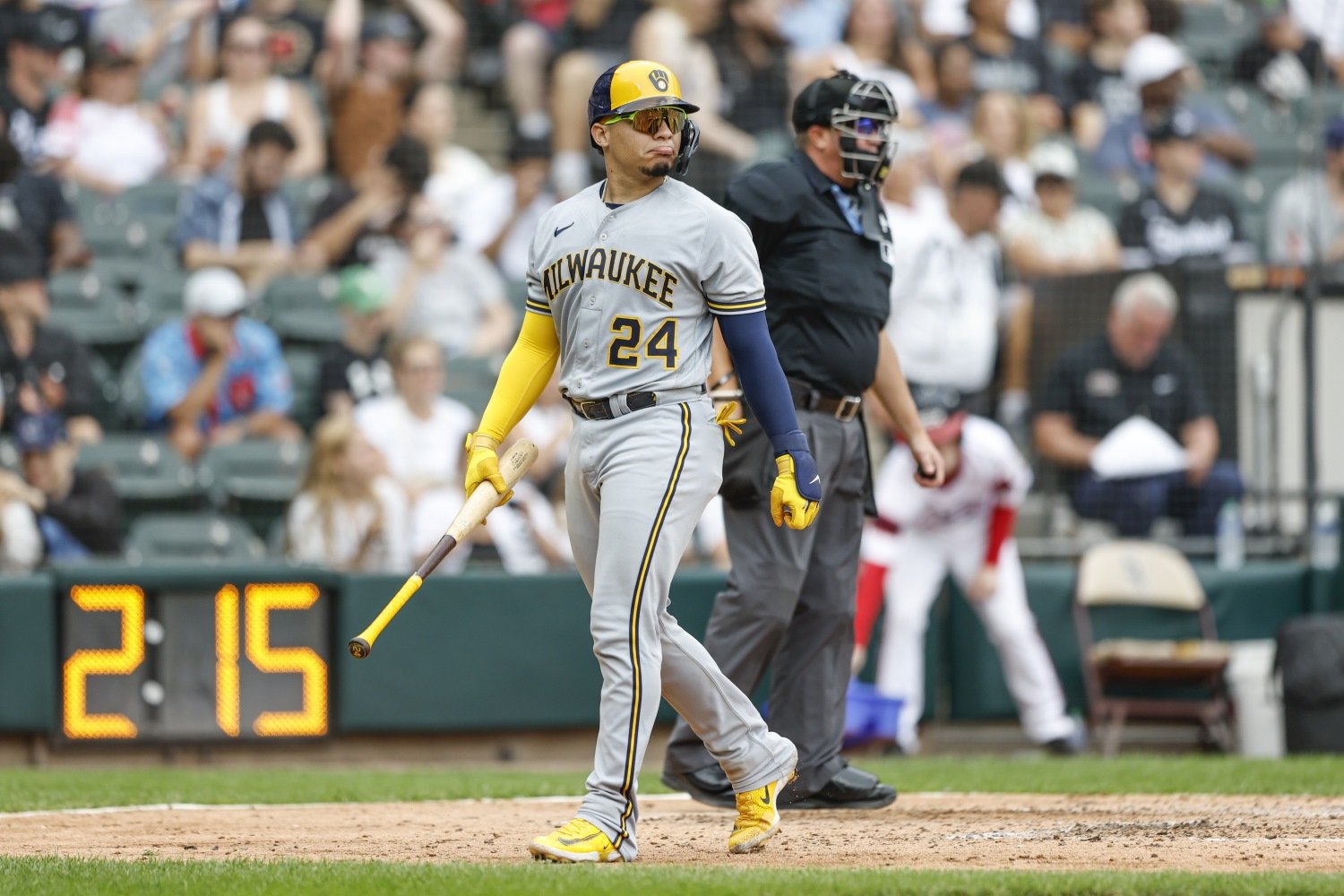 Image courtesy of © Kamil Krzaczynski-USA TODAY Sports
No batter in MLB changes their stance and setup at the plate as frequently, nor varies those things as widely, as Brewers catcher William Contreras. He tinkers relentlessly, in ways noticeable even by casual fans. A kid looking to mimic his stance could, instead of doing anything in particular, assume whatever stance suited them and then claim it was Contreras's, and they'd probably be right.
Contreras has utilized a closed stance at times this year, with his front foot closer to home plate than his back foot.
He's also gone with an even stance, perhaps more often than anything else.
Lately, though, he's slightly favored an open stance, with his front foot farther from home than his back foot.
Even then, he's not made that a permanent change. Nor is the position of his feet the only variable in his stance, setup, or swing. He adjusts the angle at which he holds his bat, the height of his hands, and his front foot's timing mechanism. He's used a toe tap, a high leg kick, and everything in between. Early in the season, he was using a back-foot stomp and slide to time and steer his weight transfer. 
In this age of tightly engineered, often grooved swings, it's a bit refreshing to see a player who hits by feel the way Contreras does. Certainly, given that he has been one of just two above-average regulars in the Brewers lineup all year (along with Christian Yelich), it's hard to criticize Contreras, who has also made such impressive improvements as a defensive catcher this year.
Still, this lack of a sure, fixed foundation for his swing does seem to be costing Contreras something. He was a somewhat extreme ground-ball hitter even over the last two seasons, with Atlanta, and that tendency has grown even more pronounced this year. He's also pulling the ball less often in 2023. As anyone reading the offensive leaderboards can tell you, the Braves are the best team in baseball at helping hitters lock in on pitches to drive. They trade some contact to do so, but the exchange is a huge net win for them.
Contreras has slashed his strikeout rate in his first season with the Crew, from over 27 percent to 20 percent. That's valuable. However, he's also given away a substantial element of power. Recently, pitchers are responding to that fact, and Contreras is seeing far more pitches in the strike zone--leading to very few walks. Though he's technically hitting at a higher average exit velocity and making hard contact more often than in the past, the odds that that well-struck ball will be on the ground to the right side make pitchers unafraid of him.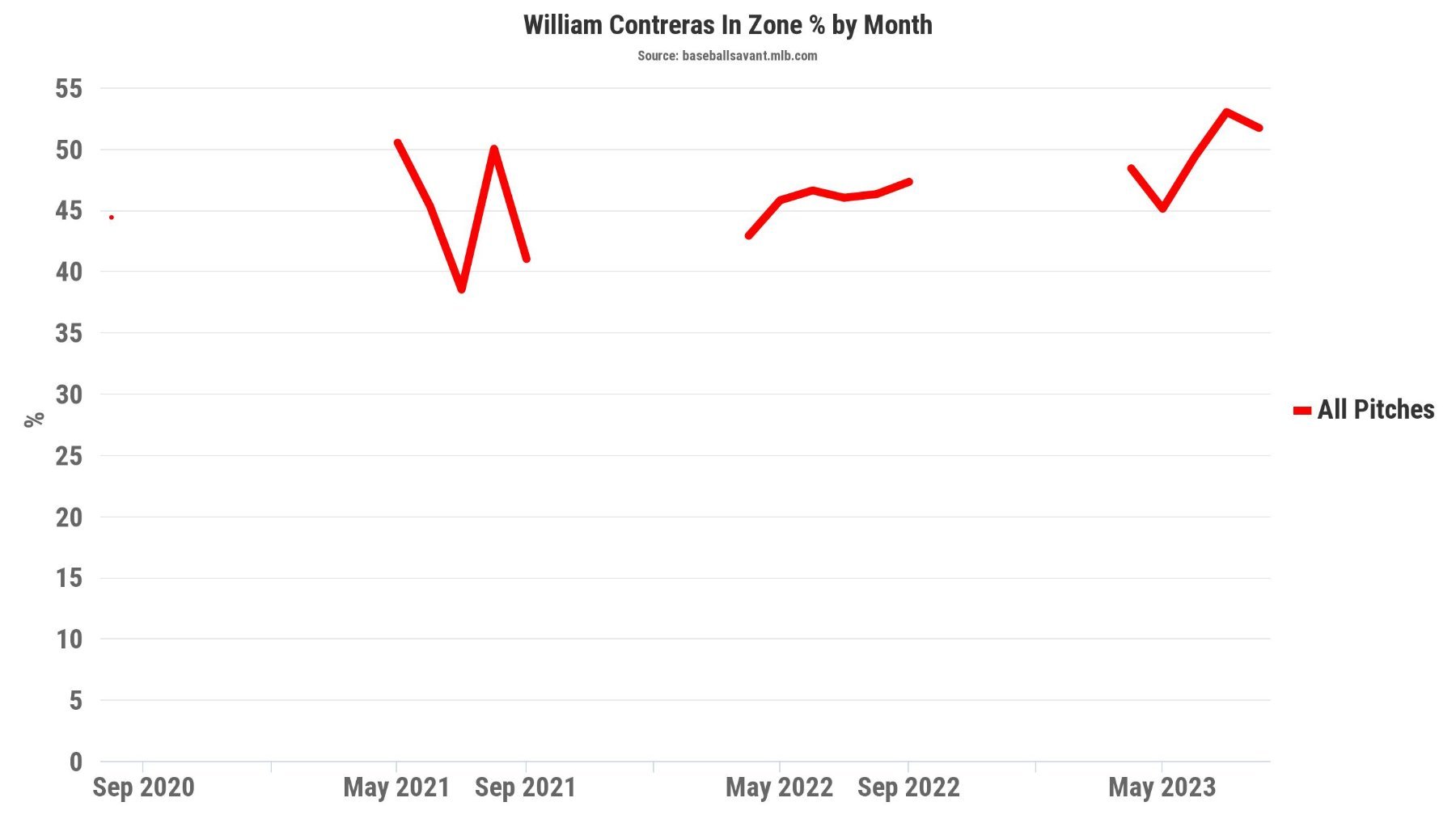 Superficially, Contreras has still been very good since the start of July--better than earlier in the season, in fact. He's hitting .324/.389/.500 over that span. Some of that production has merely been a matter of picking on bad pitchers in blowouts, though. In reality, he's making less frequent high-quality contact, and in addition to his expected statistics being much less pretty than his actual ones, he's running a negative Win Probability Added during this month and a half. A functional playoff-caliber offense can't get so little meaningful production from a vital player. The Crew's young slugger has to lock in on something that will allow him to actually slug.
There doesn't appear to be anything systematic or situational about Contreras's variations in stance and approach from one at-bat to another, or one game to another. It just looks as though he's trying what feels most comfortable in each moment. That's fine, broadly speaking, and his overall stats say it's working for him. As the pennant race heats up and cashing in opportunities becomes more important, however, the Brewers need Contreras to develop a more consistent idea of what his objectives are when he steps into the batter's box, and of how he can meet them. Failing that, he'll continue to be part of a tantalizing but frustrating lineup down the stretch.
Think you could write a story like this? Brewer Fanatic wants you to develop your voice, find an audience, and we'll pay you to do it. Just fill out this form.
MORE FROM BREWER FANATIC
— Latest Brewers coverage from our writers
— Recent Brewers discussion in our forums
— Follow Brewer Fanatic via Twitter, Facebook or email