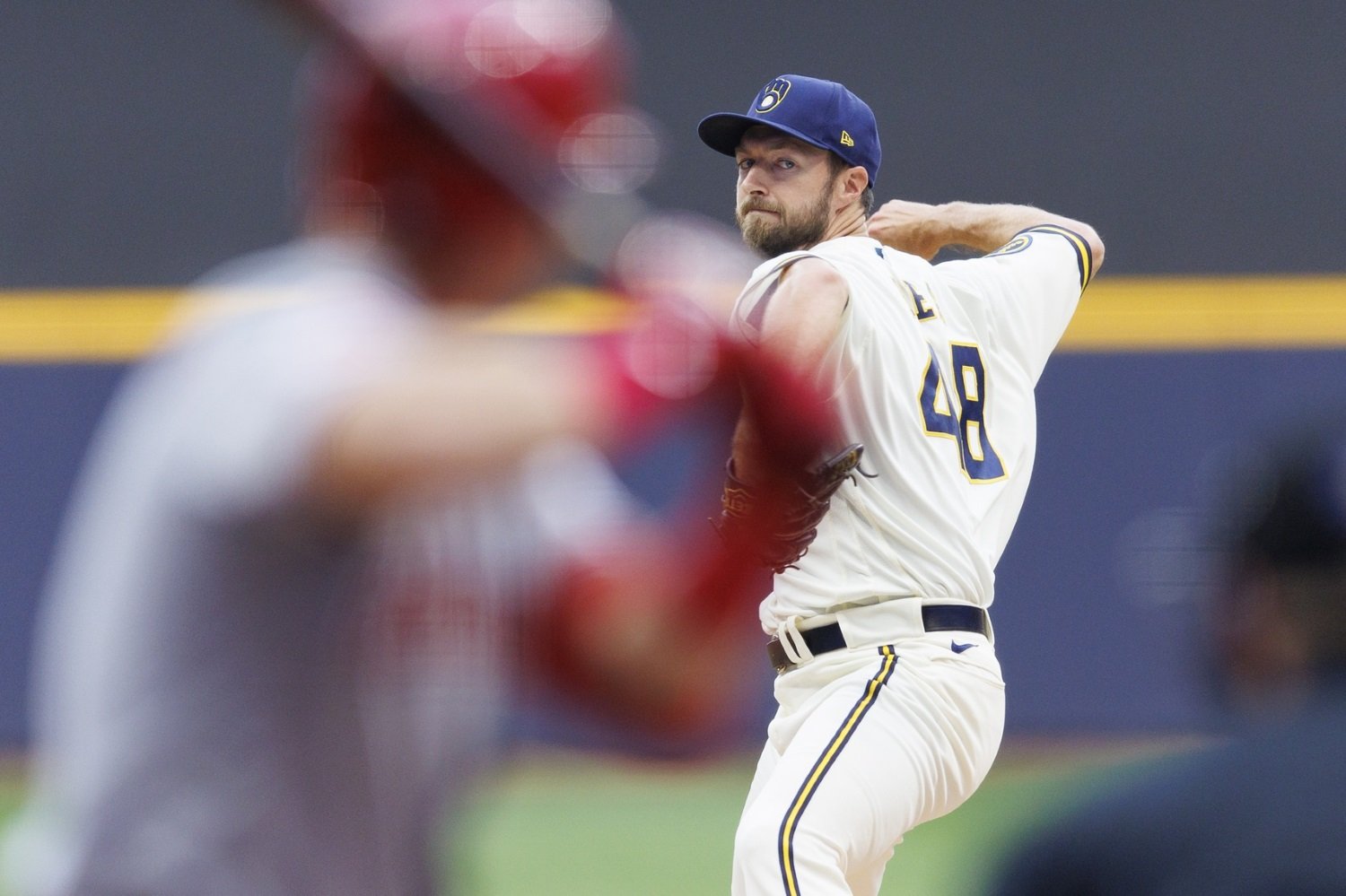 Image courtesy of © Jeff Hanisch-USA TODAY Sports
The deal that will bring Colin Rea back for another season includes $3.5 million in salary, $500,000 in performance-based incentives and a club option for 2025. The club option is worth $5.5 million, with a $1-million buyout. Rea originally joined the team on a minor-league deal in 2023 (after also being part of the organization in 2021; he's been highly peripatetic) and ended up being an important component of the major-league rotation, pitching 124 ⅔ innings and posting a 4.55 ERA. 
Looking at Rea's player profile, one can see that he's not a generational talent in any area but is a perfect example of a "gets the job done" kind of guy. All of his Savant stats are right around the 30th-40th percentile, except for his walk and ground-ball rates, both of which are hovering around the 60th percentile. What stands out most about him is actually his four-seam fastball, a pitch with an xwOBA of just .196 and a strikeout rate of 40.6%. It's his third-most-used pitch, as he opts to use his sinker/cutter combination more often, but with a run value of 7, it's undoubtedly an effective weapon. 
It doesn't seem like much, as Rea isn't quite an All-Star, marquee name. However, don't let that distract you from how productive he really is. For a relatively cheap salary, the Brewers are able to fill (in some way, and to some extent) the massive gap left by Brandon Woodruff's injury, which will sideline him for most, if not all, of 2024. 
Everyone knows the first two spots will be occupied by Corbin Burnes (assuming he isn't dealt away at some point before his impending free agency) and Freddy Peralta. Wade Miley's mutual option is unlikely to be exercised, but maybe he comes back on a different deal. Adrian Houser might be back as a starter and Julio Teheran elected free agency after being designated for assignment and clearing waivers. Eric Lauer chose a similar path after being outrighted to Triple A and refusing the assignment following the conclusion of the season. This means the last starting spot will be where Rea makes his home--unless he gets pushed to the bullpen, that is.
Rea found himself often pitching less than the six innings typically asked of a starter, and was most effective when he was out there for around four innings. Furthermore, he'll have no options left next year, so if his performance starts to slip, the Brewers will have far more flexibility in the bullpen than they would if he was a starter. With his makeup, he could end up in a long relief role, similar to the one Bryse Wilson filled in 2023. 
If we get the same consistent version of Rea as we did in 2023, this deal is a great way to mitigate the damage of losing Woodruff. If we get an even better iteration, his club option could get exercised, and he'd be around for even longer. This deal doesn't overcommit the team to anything, but it gives them a cheap, familiar option to eat some innings.