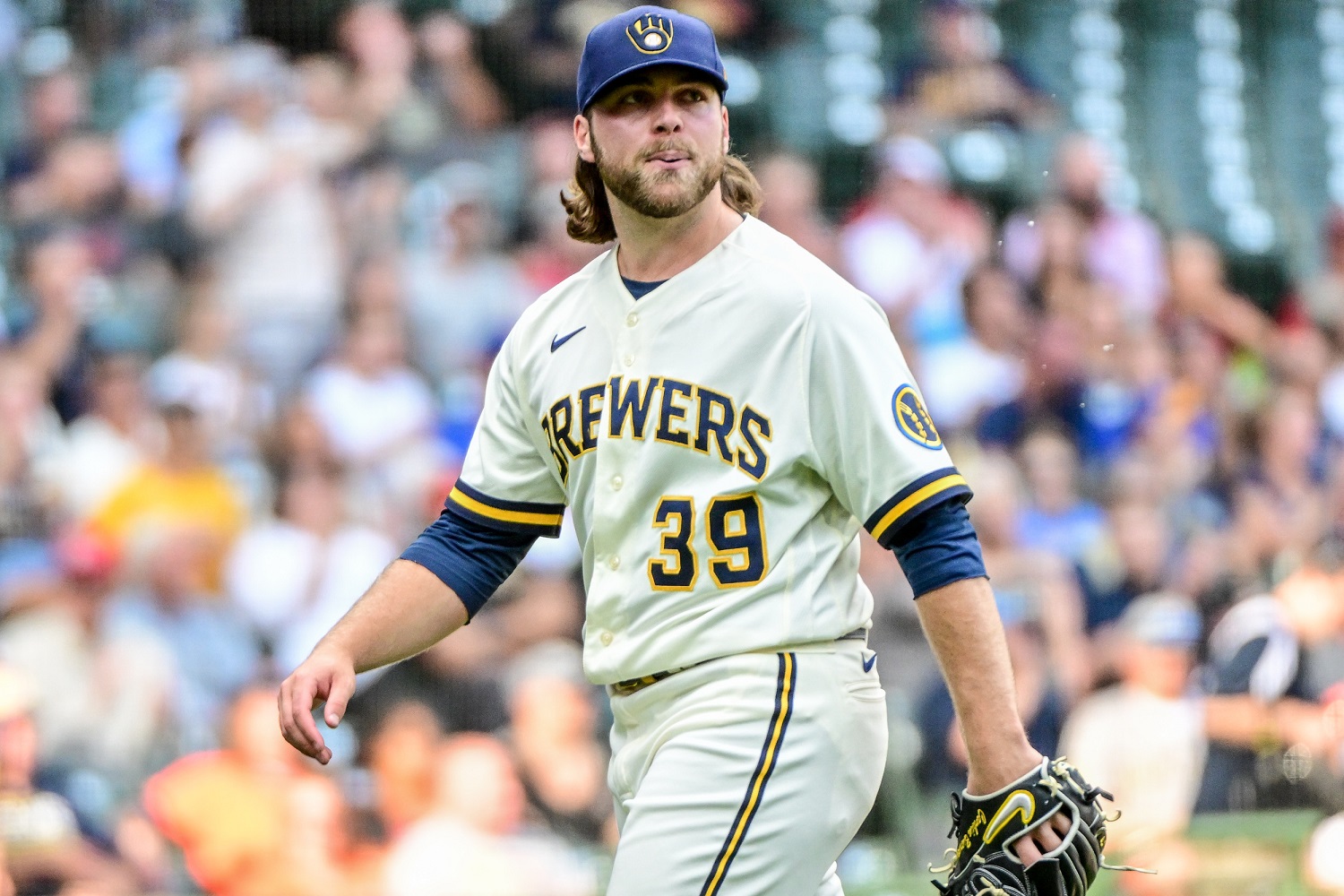 Image courtesy of © Benny Sieu-USA TODAY Sports
A mid-market MLB team's competitive window is highly dependent on the timing of their team control over impactful players. After accumulating six full years of service time, players become free agents, and the core of a winning team can crumble. 
In the Brewers' case, that potential deadline becomes clear as we look deeper into the salaries of the Brewers' starting rotation.
---
This is Part 3 of a series of stories detailing the payroll situation for the Milwaukee Brewers at a back-of-the-napkin level. Previously, we looked at the total salaries of the infielders and outfielders and came up with a $74M commitment for next year. Today we add at starting pitching.
---
Corbin Burnes made $6.5M last year in his first year in arbitration. This is only his second arbitration year (of three), meaning the team can keep him around through 2024 – provided they're willing to give him some pretty significant raises. That includes a boost to the $10-11M range next year.
The team is equally fortunate to control Brandon Woodruff for two more years with all the same caveats. He's one of those lucky players who gets four years of arbitration, but the Brewers have used two of them, and he'll also likely reach around $10M next year in salary.
Freddy Peralta would be in the same boat as Burnes and Woodruff with two more years of arbitration left, but he signed a guaranteed contract extension in 2020. That means the Brewers are only paying him $3.5M next year and can keep him under team control through 2026 at very reasonable salaries.
Add Eric Lauer to the list of starting pitchers to whom the Brewers can offer arbitration for two more years. But because he hasn't been as effective, he's going to be quite a bit cheaper, closer to $5M for 2023.
And believe it or not, there is one more. Adrian Houser will also qualify for arbitration for two more years. Last year, he lost his arbitration case and received a contract for about $2.4M. I don't know that it's a slam dunk that they offer a 29-year-old groundball pitcher with a 4.73 ERA arbitration. But I think they will, and they can expect to pay him about 3.5M or so.
So four of the five pitchers, including the two aces, will be free agents following the 2024 season. In addition, our look at the Brewers' infield payroll showed that 2024 is also the year after which Willy Adames and Rowdy Tellez will become free agents.
That sure feels like the end of a competitive window. As we look at what the team might do to bolster itself for 2023, it's worth remembering that the core of the team could have a sudden and massive exodus in one or two years.
Plugging those numbers into our spreadsheet, the team looks like this for 2023: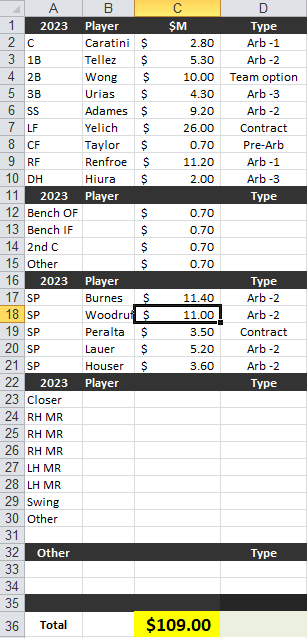 We've topped the $100M mark and still haven't touched the rebuilt bullpen. Next, we'll see if Josh Hader's departure provides the team some salary space for other free agent signings.
See any omissions or any issues with the numbers? I'd love to hear them. Just throw them or your reactions in the comments below.
Think you could write a story like this? Brewer Fanatic wants you to develop your voice, find an audience, and we'll pay you to do it. Just fill out this form.
MORE FROM BREWER FANATIC
— Latest Brewers coverage from our writers
— Recent Brewers discussion in our forums
— Follow Brewer Fanatic via Twitter, Facebook or email
1