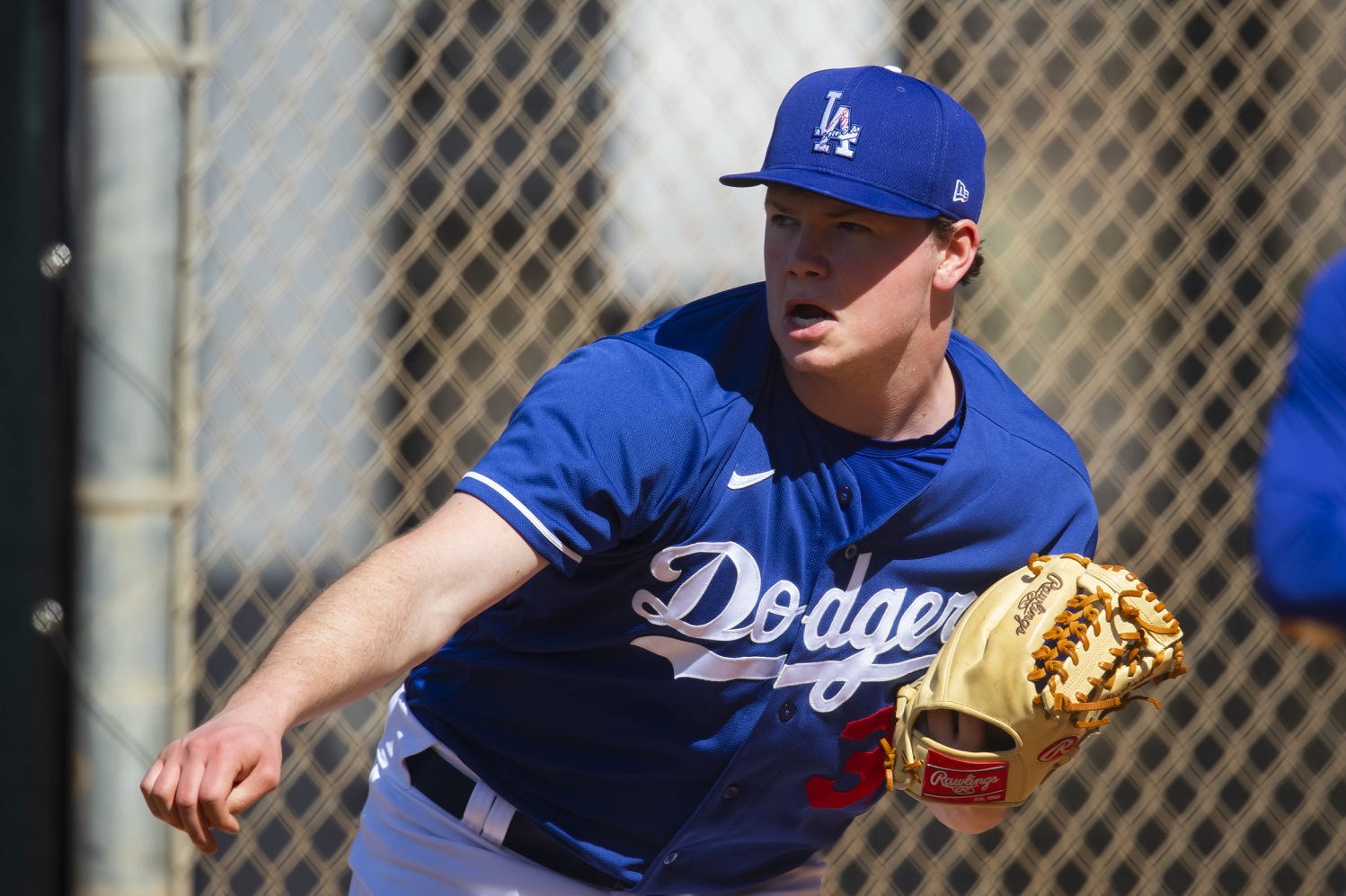 Image courtesy of Mark J. Rebilas-USA TODAY Sports
As the Winter Meetings came toward a close in San Diego, the Rule 5 draft took place. A year ago, due to the lockout, there was no Rule 5 draft, so there were a lot of questions as to how this year's draft would go. 
Ultimately, just 15 players were selected in the MLB portion of the Rule 5 draft this year, pretty typical of what we have seen in recent years. 
With their pick, the Milwaukee Brewers selected right-handed pitcher Gus Varland from the Los Angeles Dodgers organization. A quick look at his 2022 numbers at Double-A Tulsa likely won't get fans too excited. In 41 games (7 starts), he went 4-4 with a 6.11 ERA and a 1.64 WHIP. In 70 2/3 innings, he walked 37 (too many), but he struck out 85 batters (intriguing). 
Here is a 2021 Varland strikeout from Dodgers spring training. 
However, it is his two-pitch mix that got several MLB teams interested in Varland. He has been a starter most of his career, but midseason, he was moved to the bullpen. As a starter, his fastball sat between 92 and 94, touching 95. Out of the bullpen, he was regularly hitting 96, 97, and even hit 98 a few times in the final month of the season. Likewise, his slider - already considered a strong pitch - saw its velocity jump from the mid-80s to touching 90 out of the bullpen.  
He is now on the Brewers 40-man roster and per the rules of the Rule 5 draft, he will head to spring training in Arizona. He will need to remain on the Brewers active roster throughout the 2023 season or be offered back to the Dodgers. 
Background 
Gus Varland grew up in St. Paul, Minnesota. He went to North St. Paul High School before heading to Division II Concordia University, that's right, in St. Paul. He was a starter for the Bears for three season. He spent the summer of 2017 in the Northwoods League. Pitching for Willmar. he went 6-1 with a 1.42 ERA in the college wood bat league. In his junior season of 2018, he went 7-1 with a 1.04 ERA over 10 games and 60 1/3 innings. He had 79 strikeouts and 15 walks. More important, especially for a Division II guy, he was showing the stuff that would impress scouts. He is strong, and he showed a low-90s fastball. He also had the solid slider. 
In 2018, he was the 14th round pick of the Oakland A's. That summer, he posted a 0.95 ERA over 38 innings. He jumped up to High-A Stockton in 2019 and in five games, he went 2-1 with a 2.39 ERA and had 27 strikeouts in 26 1/3 innings. However, his season ended early and he underwent Tommy John surgery that summer. The 2020 season was likely to be lost for him while rehabbing. 
Before the 2021 season began, the A's traded Varland and Sheldon Neuse to the Dodgers in exchange for lefty Adam Kolarek and outfielder Cody Thomas. 
He was brought back slowly in 2021 at Double-A Tulsa. He pitched in 16 games and made 14 starts, and he worked just 34 2/3 innings. Most games, he would work two innings, and later in the season, he went to three innings. That led to his 2022 season, back in Tulsa, and shifting to the bullpen. 
Brotherly Love
Gus's younger brother, Louie Varland, joined him at Concordia University and they pitched together for two seasons. A year after Gus was drafted, Louie was the 15th round pick of the Twins. Varland was the Twins minor-league pitcher of the year in 2021, splitting his season between Low-A Ft. Myers and High-A Cedar Rapids. In 2022, he began his season at Double-A Wichita and moved up to Triple-A St. Paul for a handful of starts before ending his season with five starts with the Twins.
Fortunately for the Varland family, during Louie's time in Wichita, they played Tulsa... a lot. In fact, the two started against each other in a game early in the season. (although, it was supposed to happen sooner, but it kept getting rained out!) 
When Louie Varland made his MLB debut for the Twins at Yankees Stadium, the Dodgers allowed Gus to head to New York to be there. When Louie recorded his first MLB strikeout (Aaron Judge), cameras panned to the Varland family and you can see Gus cheering loudly. (holding the sign, white t-shirt, backwards cap)
Depending on where Louie starts his 2023 season, hopefully the Twins will allow him to find his way to watch Gus debut with the Brewers. 
However, before we get too far ahead of ourselves, Varland will need to get to spring training and make the team. It will be interesting to see how his upper-90s fastball and upper-80s could play in the Brewers bullpen. 
Check out this Twins Spotlight video with both brothers. 
Minor-League Rule 5 Draft Pick 
In the Triple-A portion of the Rule 5 draft, the Brewers selected infielder Isaac Collins from the Colorado Rockies organization. Another Minnesota native, Collins grew up in Maple Grove. At Maple Grove High School in 2019, he became the first player since Joe Mauer in 2001 to be named a finalist for both Mr. Minnesota Award in both baseball and football. He went to Creighton University for three seasons. As a junior in 2019, he played in 54 games and hit .293/.366/.479 (.846) with 13 doubles, seven triples and six homers. The Rockies selected him in the the 2019 draft. 
After the lost 2020 season, he split 2021 between Low-A Fresno (17 games) and High-A Spokane (78 games) and hit .308/.407/.475 (.882) with 25 doubles, five triples, and nine home runs. He also stole 21 bases in 27 attempts. He spent the 2022 season with Double-A Hartford where, in 110 games, he hit .221/.337/.347 (.684) with 24 doubles, four triples, and five homers. He also stole 30 bases. 
Because he was selected in the minor-league Rule 5, there are no 2023 roster restrictions. The Brewers can send him to any level and don't have to return him if he doesn't make a certain level. However, he played mostly second base in 2022, but he also spent time at all three outfield spots. 
Think you could write a story like this? Brewer Fanatic wants you to develop your voice, find an audience, and we'll pay you to do it. Just fill out this form.
MORE FROM BREWER FANATIC
— Latest Brewers coverage from our writers
— Recent Brewers discussion in our forums
— Follow Brewer Fanatic via Twitter, Facebook or email