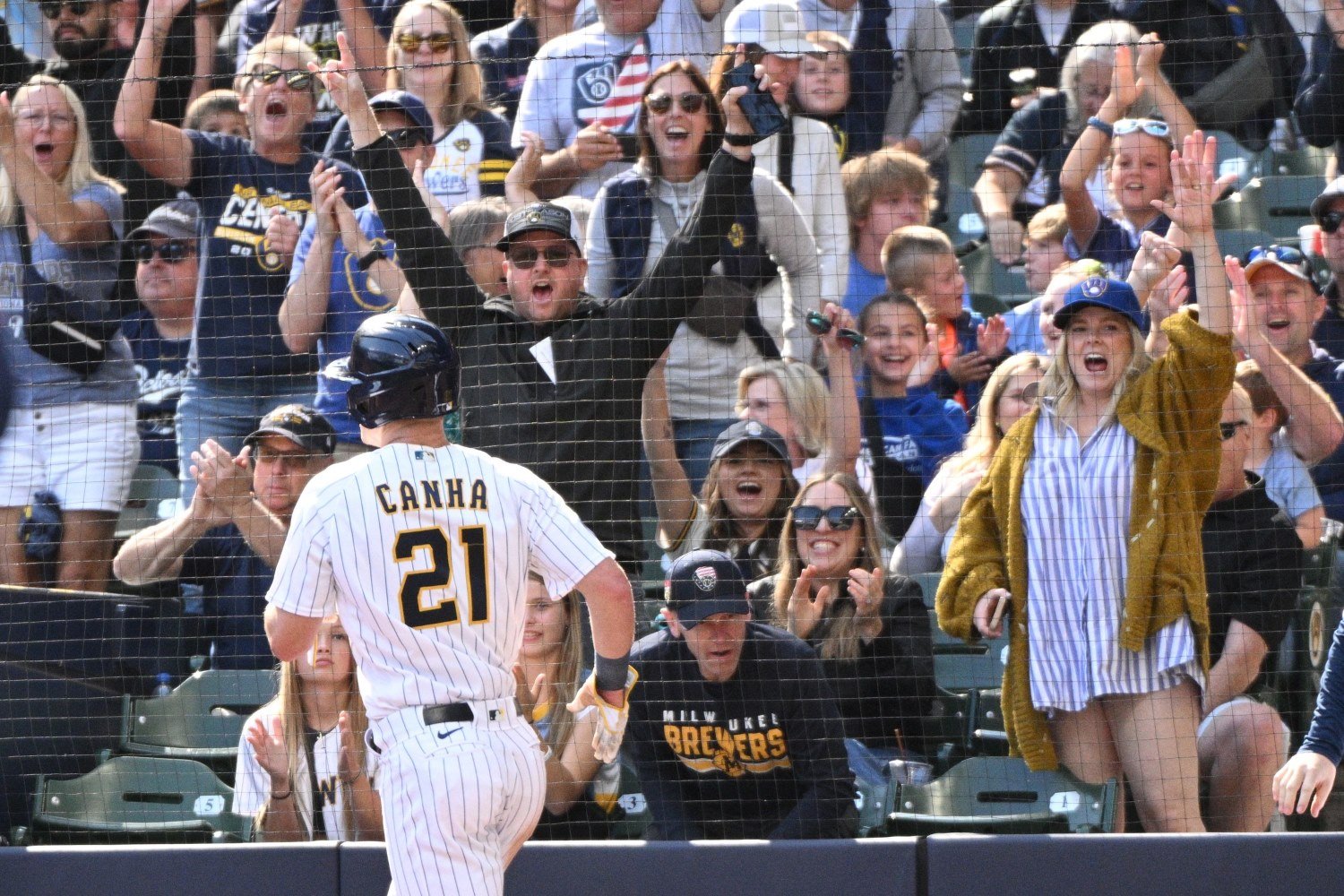 Image courtesy of © Michael McLoone-USA TODAY Sports
If the Brewers exercise their 2024 option on Mark Canha, they'll owe him $11.5 million. If they decline it, he'd still cost $2 million as a buyout, so effectively, this is a $9-million decision.
Factor 1: Affordability vs. Performance
Canha produced 1 WAR over 50 games with Milwaukee. Projected to 162 games, that's 3.2 WAR. With an average of 140 games played over the last three years, his adjusted 2023 projection based off of his WAR with Milwaukee would be 2.8 WAR. Canha's last three years' WAR figures have been 2.2 (2023), 2.5 (2022), and 2.6 (2021). Let's take the average of those four numbers, to come up with a rough projection of 2.5 WAR.
Based off that number, the Brewers would be paying him $4.6 million per win next year. Milwaukee earned a cumulative WAR of 36.9 in 2023, winning 92 games with a payroll of approximately $135 million. That means that they paid $3.7 million per WAR in 2023.
Canha's $4.6 million-per-win projection for 2024 is certainly higher than the average, but it's not out of whack for a player of his age and experience. 
Recte's View as the GM: Canha's affordability vs performance is in line with the Brewers' needs. 
Factor 2: Roster Fit
The Brewers acquired Canha for a number of reasons. With Garrett Mitchell injured, they played Sal Frelick most of the time in center field down the stretch. Tyrone Taylor was arguably the best hitter on the team over the last month and played most of the time in right field. They needed a designated hitter--someone to spell Christian Yelich without losing too much from the lineup, and occasionally someone to fill in for Carlos Santana at first base. More importantly, they needed a professional hitter in the mold of Canha, someone who put the ball in play consistently. He certainly did all of those things (and a little more) for the 2023 Brewers. 
Looking forward to 2024, how would Canha fit into the Brewers lineup? That's a complicated question. Santana will be a free agent, and that leaves a hole at first base. It seems likely the Brewers will try to bring Santana back, as the power in the lineup is lacking. The outfield will be crowded again: Yelich in left field, and some combination of Mitchell, Frelick and Taylor playing in right field. They will also have Blake Perkins available for depth, and don't forget that Jackson Chourio figures to be a factor in the outfield situation at some point very soon.
Where does that leave Canha? Well, the designated hitter spot would still be open. The Brewers could use Canha just as they did down the stretch, in a number of roles (but primarily as the designated hitter). Another consideration would be the lack of power in the lineup. Do the Brewers want to allocate the money they would have spent on Canha to finding a truer slugger to fill that spot? It sounds good in theory, but I don't know of too many available sluggers who will make just $11.5 million next year.
Recte's View as the GM: There should be plenty of opportunities for Canha on the 2024 team. Only William Contreras and Yelich were close to his .373 OBP with the Brewers, and that's a number that would be extremely hard to replace.
At the end of the day, any GM takes many different factors into play when making these decisions. In regard to Canha, I believe the major discussion points are those reviewed above. To me, this is a fairly easy decision. 
Recte's Final Decision as GM: The Milwaukee Brewers exercise their club option on the contract of outfielder Mark Canha for the 2024 season.
Do you agree with my choice? What would you do with Canha? Let's discuss it in the comments.
Think you could write a story like this? Brewer Fanatic wants you to develop your voice, find an audience, and we'll pay you to do it. Just fill out this form.
MORE FROM BREWER FANATIC
— Latest Brewers coverage from our writers
— Recent Brewers discussion in our forums
— Follow Brewer Fanatic via Twitter, Facebook or email
1