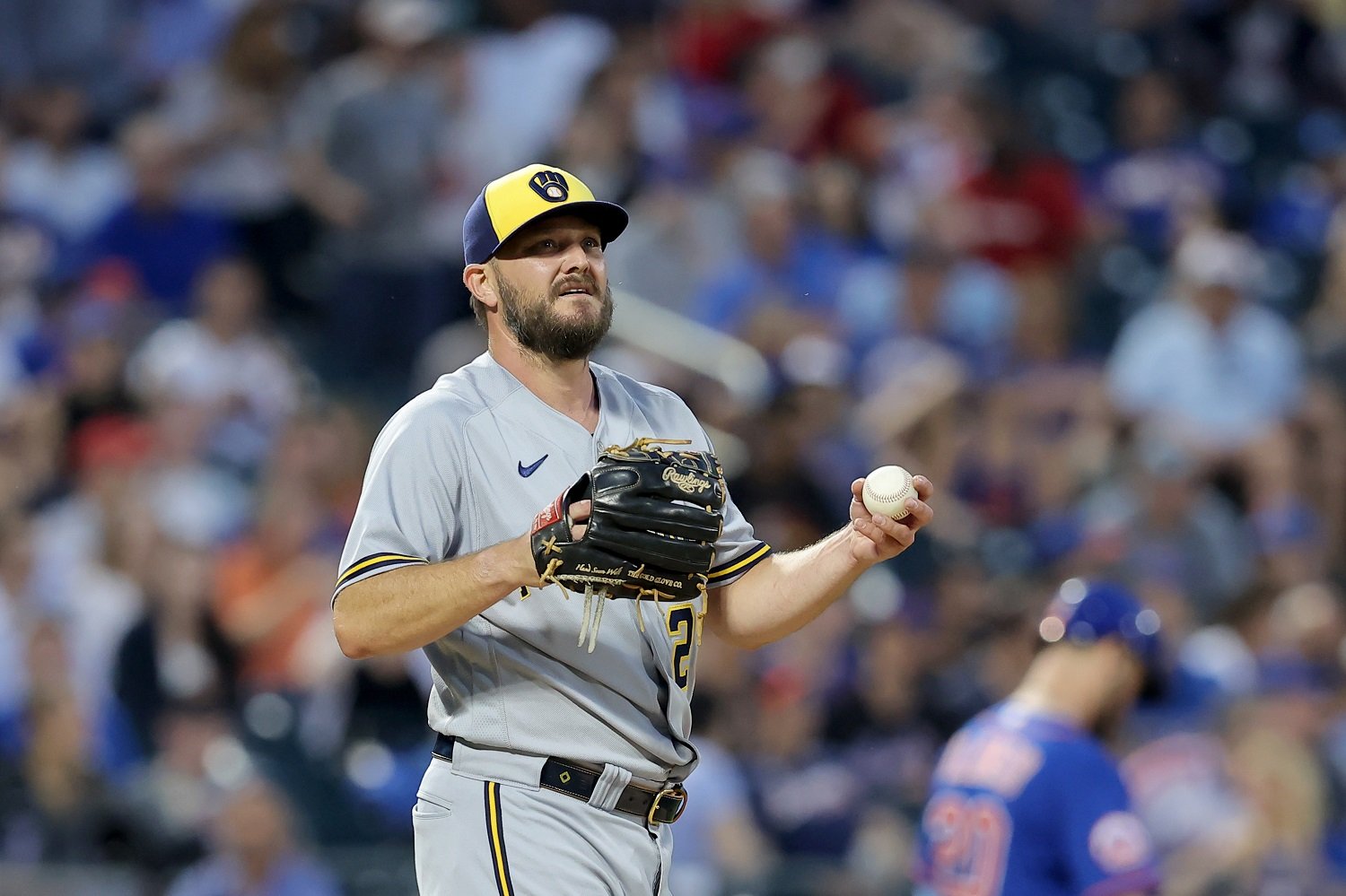 Image courtesy of © Brad Penner-USA TODAY Sports
If both the Brewers and Wade Miley exercise their contract option for 2024, he will earn $10 million. If either party declines, Miley will receive $1 million and become a free agent.
Factor 1: Affordability vs. Performance
Miley will be 37 years old next month. When healthy, he's pitched effectively. Unfortunately, over the past four years, that good health has been elusive. He started 23 games in 2023 for the Brewers, posting 2.5 WAR. In 2022 with the Cubs, he pitched in just nine games (eight of them starts) and posted 0.1 WAR. The 2021 season was arguably the best of Miley's career. As a Cincinnati Red, he started 28 games and earned a career-high 5.3 WAR. He was also with the Reds for the 2020 season, but even in that truncated campaign, he was only able to toe the rubber six times (four starts) and posted a -0.1 WAR. His four-year average, then, is 2.0 WAR. 
Based off that number, the Brewers would be paying Miley $5.1 million per WAR. Milwaukee earned a cumulative WAR of 36.9 in 2023, winning 92 games with a payroll of approximately $135 million. That means that they paid $3.7 million per WAR.
Recte's View as the GM: It's a bit higher than I would like to see, particularly considering the risk involved.
Factor 2: Risk
There's significant risk here. Given his age and injury history, it's completely unreasonable to think that he would give the Brewers a full season of starts. It would be fair to say there is a better-than-even chance that Miley would underperform his four-year average in WAR. Another factor to take into consideration here would be the decision Milwaukee will have to make on Brandon Woodruff. With Woodruff out, it does open up some salary space they would have put into Woodruff and now can go to Miley. Still, it's a gamble if he can give the Brewers enough starts to make it a wise investment.
Recte's View as the GM: Very high risk. 
Factor 3: Roster Fit
Milwaukee's starting rotation is very much in flux moving into next season. That may be an understatement. We know Woodruff is (in all likelihood) lost for the season. If the Brewers were ever going to trade Corbin Burnes, this offseason is the last chance to get peak return (we'll talk about that in a subsequent article). Freddy Peralta is the "for sure" man in the rotation. Given the commotion in this group, the Brewers may lean toward bringing Adrian Houser back (he's an arbitration eligible player). Colin Rea will be a free agent, as will Julio Teheran. The bigger names in the farm system (such as Carlos Rodriguez and Jacob Misiorowski) are probably not guys who will break camp with the club, though they could factor in later. Aaron Ashby is coming off of a missed season, and wasn't particularly effective as a starter before the injury. Whew. That's a lot to unpack. One could say that the success or failure of the 2024 season will be tied to the decisions made in building the rotation, and depth when the inevitable injuries hit. That being said, there is plenty of opportunity for Miley if he is brought back. Also, not for nothing, he's a beloved member of the clubhouse and all-around good guy.
Recte's View as the GM: There would certainly be a spot for him in the 2024 rotation.
At the end of the day, any GM takes many different factors into play when making these decisions. In regard to Miley, I believe the major discussion points are those reviewed above. This isn't a cut-and-dry decision by any means, and the mutual option makes it even murkier.
Recte's Final Decision as GM: The Milwaukee Brewers exercise their club option on Miley. The loss of Woodruff almost makes this a certainty. In the grand scheme of things, $10M isn't a massive investment in terms of a starting pitcher with the ability to produce 3-5 WAR. There's always going to be some element of risk in building a roster. I'm certainly aware that I have to limit the risk to salary. In Miley's case, it's a risk I'll have to take.
Do you agree with my choice? What would you do with Miley? Let's discuss it in the comments.
Think you could write a story like this? Brewer Fanatic wants you to develop your voice, find an audience, and we'll pay you to do it. Just fill out this form.
MORE FROM BREWER FANATIC
— Latest Brewers coverage from our writers
— Recent Brewers discussion in our forums
— Follow Brewer Fanatic via Twitter, Facebook or email