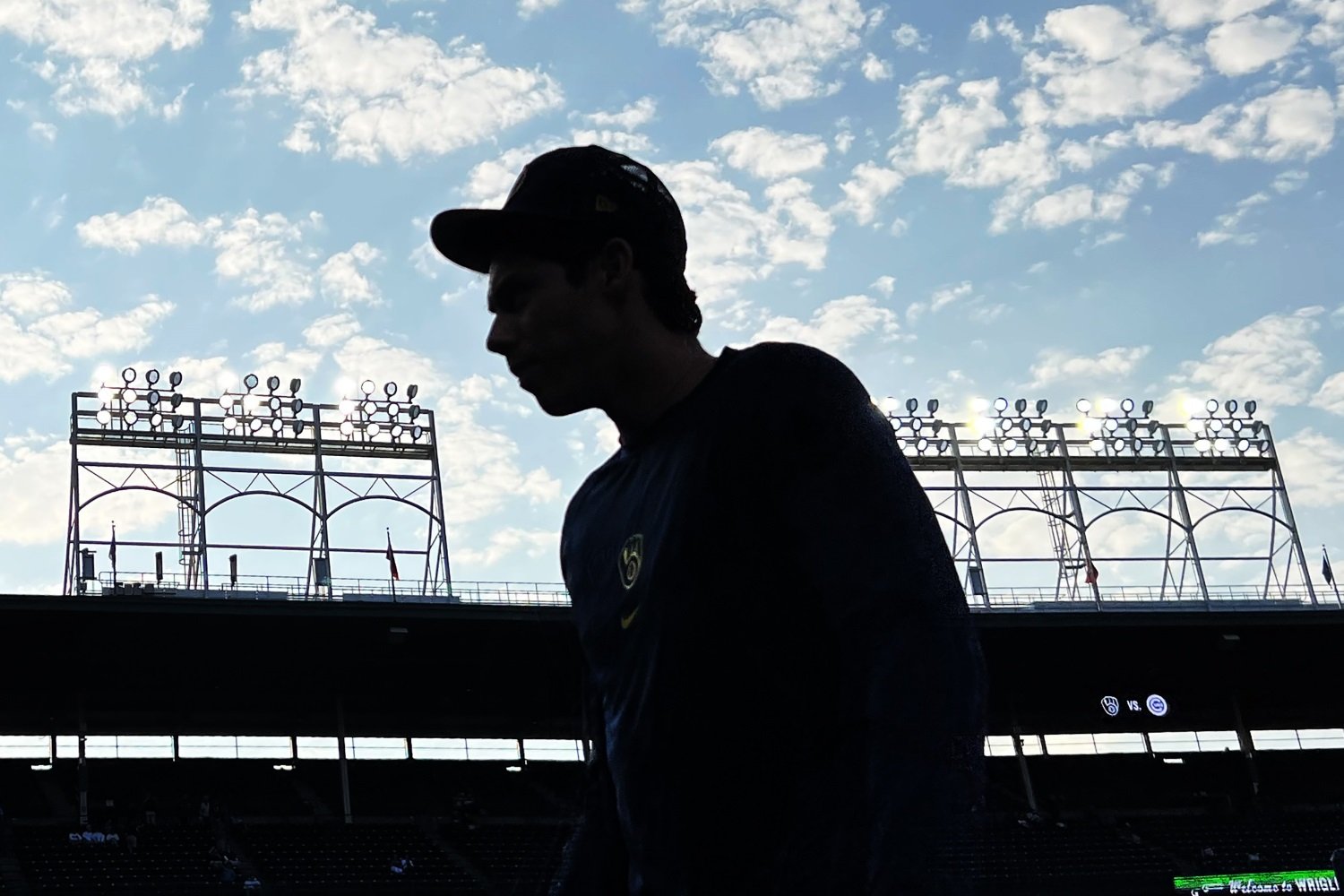 Image courtesy of © David Banks-USA TODAY Sports
Cubs starter Jameson Taillon made his own bed. He tried to nibble a bit to start the game, which is a wise enough notion with Christian Yelich at the plate, but he missed with his first two pitches. That allowed Yelich to think comfortable, aggressive thoughts, and when Taillon finally found a corner of the zone on 2-0, a fastball down and in, Yelich drove it out of the park to left-center field.
That location is notable, because it's hardly where Yelich usually finds his power. As Brewers fans well know, Yelich hits most of his extra-base hits to left and center fields, so it shouldn't surprise you to learn that most of his power comes on pitches from the middle of the plate away. When he does pull it with authority, it's often on a higher pitch. That's just the way his swing works, most of the time. Thus, he hadn't hit a home run on any pitch down and in since May 2022, when he launched this rocket against the Reds' Hunter Greene.
 A lot has changed for Yelich in the last 15 months. He's enjoying a terrific overall season. Until Monday night, though, he hadn't proved that he can cover that corner of the strike zone with power, in this new form. Now, that box on the checklist is also ticked.
We're running out of ways in which Yelich is much diminished from his MVP self. To be clear, he certainly is still shy of that, but not by all that much. Early in the year, he was evincing a little bit of the pop that had gone missing from his profile over the previous two years, but he was still whiffing too much to make his new profile shine. Strikeouts were a huge problem for Yelich from 2020 through 2022, and that problem followed him into this spring.
Now, he's solved it. To illustrate the transformation that has occurred, let's just chop his season to date in half. Through June 15, Yelich had 277 plate appearances. He batted .269/.361/.430, with 21 extra-base hits and a strikeout rate of 22.7 percent. Since June 16, though, Yelich is hitting .294/.379/.472, with 27 extra-base hits and a strikeout rate of just 18.8 percent in 282 trips to the plate. That's despite a bit of a strikeout binge during this latest Brewers winning streak.
Yelich is covering the zone better, and making higher-quality contact. That's the combination of skills that first made him special, and that was elusive for him during his long period of struggle. He's done it by tweaking his approach to hit the ball on a line more often. He's not reverting to being a launch angle guy, as he briefly was a few years ago, but even a small effort to generate high-value contact against pitches all over the zone goes a long way.
To understand the improvement in his quality of contact, look at the distribution of his batted balls by launch angle for each of the last two seasons. In 2022, he was still hitting a lot of true ground balls, with a sub-zero launch angle, and when he did hit mid-level line drives (in that range just above 10 degrees), he didn't hit them hard consistently.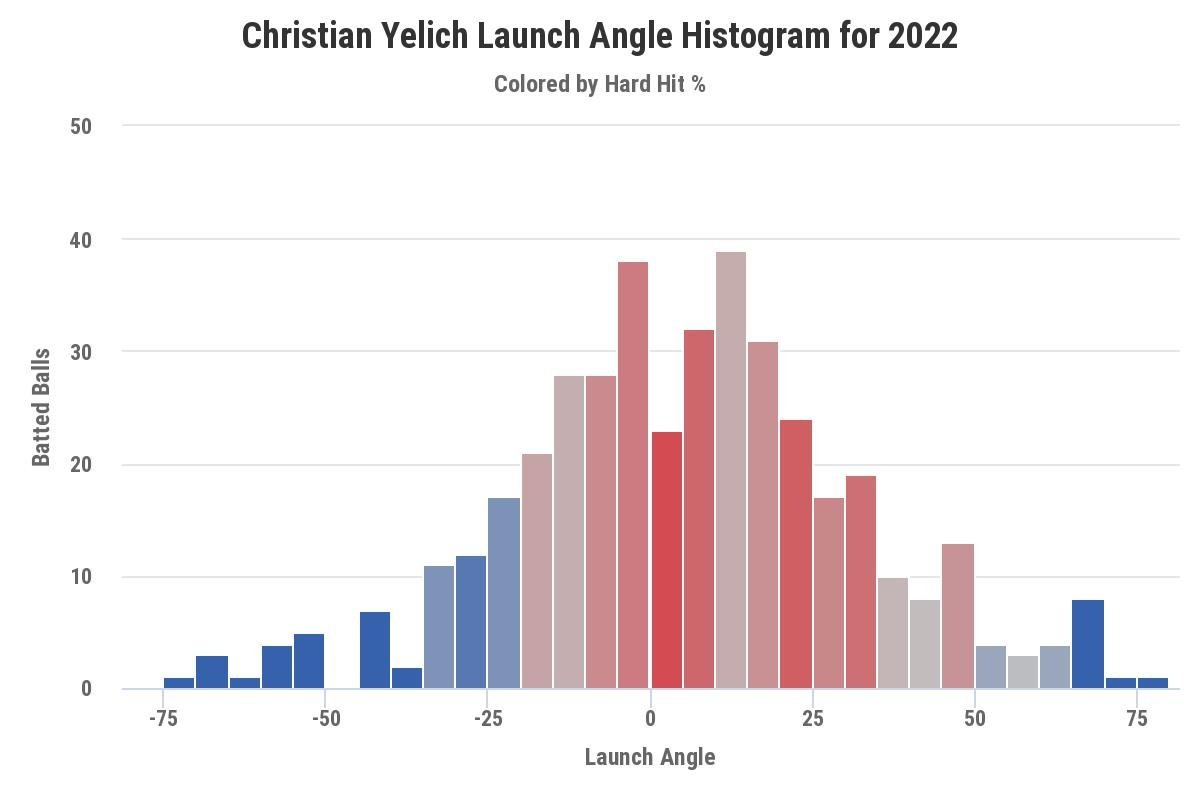 He's effected an aesthetically and competitively superior distribution this year.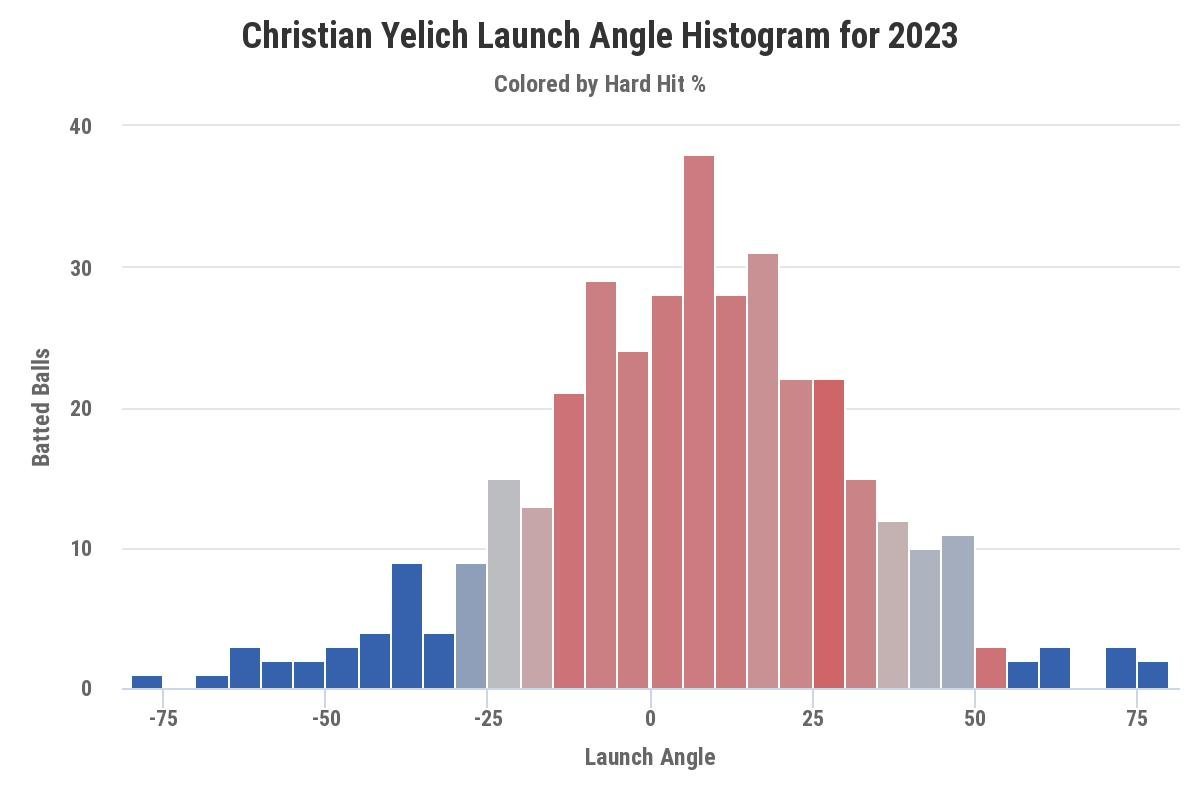 Even though his ground ball rate remains high, and despite relatively few fly balls, this is a whole different hitter. Ground-ball launch angle matters, and Yelich's is up this year. When he hits low line drives, he hits them hard, which gives him a much better chance of splitting a gap. Most of all, he hits it hard most often in the launch angle band that most often translates to extra-base hits, so his power surge is no accident. 
A small swing change can go a long way, especially when teams keep pitching you according to a scouting report you've rendered obsolete. That's what Yelich has done, and unless hurlers start being much more careful against him, he's going to continue cranking extra-base hits down the stretch. 
Think you could write a story like this? Brewer Fanatic wants you to develop your voice, find an audience, and we'll pay you to do it. Just fill out this form.
MORE FROM BREWER FANATIC
— Latest Brewers coverage from our writers
— Recent Brewers discussion in our forums
— Follow Brewer Fanatic via Twitter, Facebook or email
1