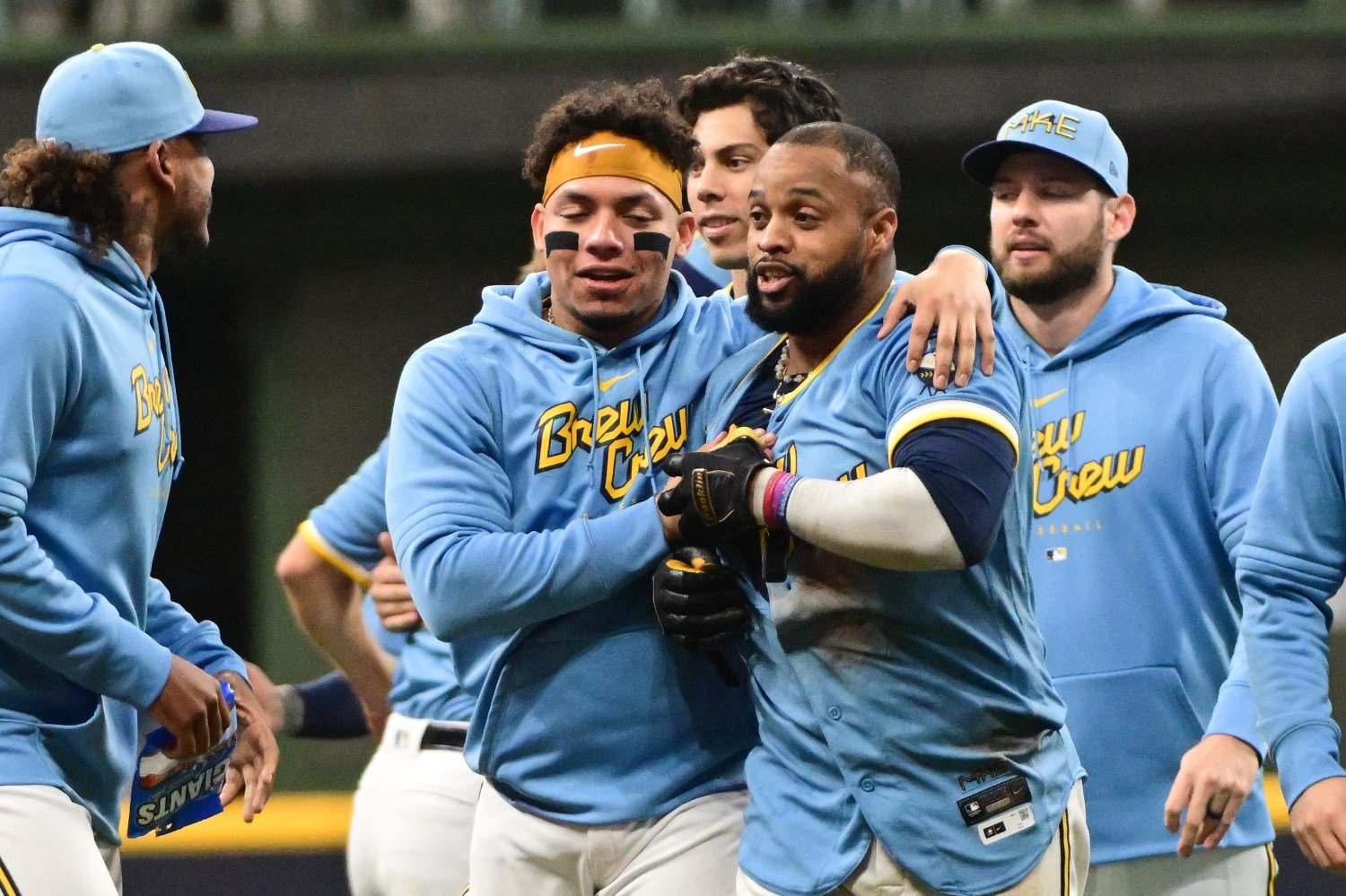 Image courtesy of © Benny Sieu-USA TODAY Sports
It wasn't Carlos Santana's glove that made him most attractive to the Brewers at last year's trade deadline. The team needed an infusion of power that didn't come with a nullifying sub-.300 on-base percentage. That's a specialty for Santana, who has spent a decade and a half drifting around MLB, racking up walks and hitting for steady (if generally unspectacular) power. 
A former catcher, he's also been very good with the leather since his long-ago transition to first base. He'll turn 38 years old next April, and other first basemen have better range, but Santana has terrific hands, good fundamentals, and a vestige of the arm that made him a viable catcher, on the rare occasions when that comes into play at the cold corner. 
The Brewers saw all of this on display after they acquired Santana in July. He clubbed 11 home runs over the final two months of the season, and although they came at the cost of some of his usual patience, that was exactly what Milwaukee's lineup needed. His defense was a noticeable upgrade from the likes of Rowdy Tellez and Owen Miller. Perhaps most of all, though, he became immediately respected and beloved in the clubhouse. He's played for four different teams since the start of 2022, and the last two teams to sign him as a free agent were both non-contenders looking to sew up some production on the cheap. Yet, he's ended each of the last two campaigns as a leader in the clubhouse of a playoff team. 
All of this invites us to ask: under what circumstances would it make sense for the Brewers to bring Santana back in 2024? Presumably, given his age and his non-elite (however venerable) status, he's only going to command a one-year deal. In 2023, he got $6.75 million from the Pirates on the free market. Good as he was, he's one year closer to the inevitable day when he'll be unable to catch up to the fastball anymore, or when good positioning and footwork won't allow him to get to ground balls at the edge of his range. He's unlikely to make substantially more than that 2023 salary in 2024.
At roughly $7 million, he'd be a reasonably cheap solution at first base for the Brewers. They're not going to tender a contract to Tellez, who would be in line to make $5 million or so via arbitration and was nowhere near being worth that in 2023. Santana is a much more dependable, well-rounded alternative, for almost no more money. Alas, it's not just Tellez to whom we need to compare him. If Santana is merely a league-average hitter (as some metrics suggest), then he's a below-average one for his position. The Brewers need to bolster their offense, and have a fairly limited budget and just a few positions at which to do it. Spending $7 million without materially closing the gap between themselves and the superior offenses with whom they were competing at the top of the National League last year is a tough sell.
To some extent, perhaps, the feasibility of bringing back Santana depends on how strongly you feel that Tyler Black and Jackson Chourio can be plus bats right away. While neither seems all that likely to break camp with the Crew, both Black and Chourio figure to be with the parent club by Flag Day or so. If they hit the way they've each demonstrated the ability to, they can do much of the heavy lifting in terms of making this a better offense. At that point, a veteran hitter and leader like Santana would be well worth a deal like the one we've discussed.
Finally, let's turn our attention Willy Adames, the other Brewer who came in second for one of the (should-be) coveted Fielding Bible Awards. As the shortstop and the biggest star on the team's infield, Adames is almost a de facto captain of this squad. He's entering the final year of his arbitration eligibility (and thus, of the Brewers' control over him), and in line to claim an eight-figure salary through that process. As we knew there would be, there have been whispers and rumors and MLB Trade Rumors polls about whether the team should trade Adames this winter. In fact, in that poll of readers of MLBTR, 60.7 percent of respondents think the team should pull the trigger and move their star shortstop.
It feels like most of those voters must be non-Brewers fans. Having seen Brice Turang fail to hit big-league pitching for a season, and without another obvious candidate in the organization to take the reins, extending Adames makes far more sense than trading him--not least because, after an uneven season, his trade value is slightly down. anyway. More likely than either trading or extending him, of course, is keeping him for one year and letting him leave via free agency next winter. For now, suffice it to say that keeping him for 2024 seems like a no-brainer.
If that's true, it makes keeping Santana slightly more attractive. At third base (and perhaps at second, too), the Brewers will have to sacrifice some defense to improve their offense. To maintain the sterling glovework that was integral to the division title we just saw this team claim, it would make some good sense to keep two guys who can deliver average or better offense and are among the five best defenders in the game at their respective positions--particularly in light of the instant connection the two Dominicans seemed to enjoy. William Contreras was also an immediate disciple of Santana's. The vibes of a return engagement for El Oso would be tremendous.
What do you think? At what price, and in combination with which other moves, would bringing back Santana make sense? The Brewers will need to make this decision fairly soon, so it's a good time to have a conversation about it.
Think you could write a story like this? Brewer Fanatic wants you to develop your voice, find an audience, and we'll pay you to do it. Just fill out this form.
MORE FROM BREWER FANATIC
— Latest Brewers coverage from our writers
— Recent Brewers discussion in our forums
— Follow Brewer Fanatic via Twitter, Facebook or email
2