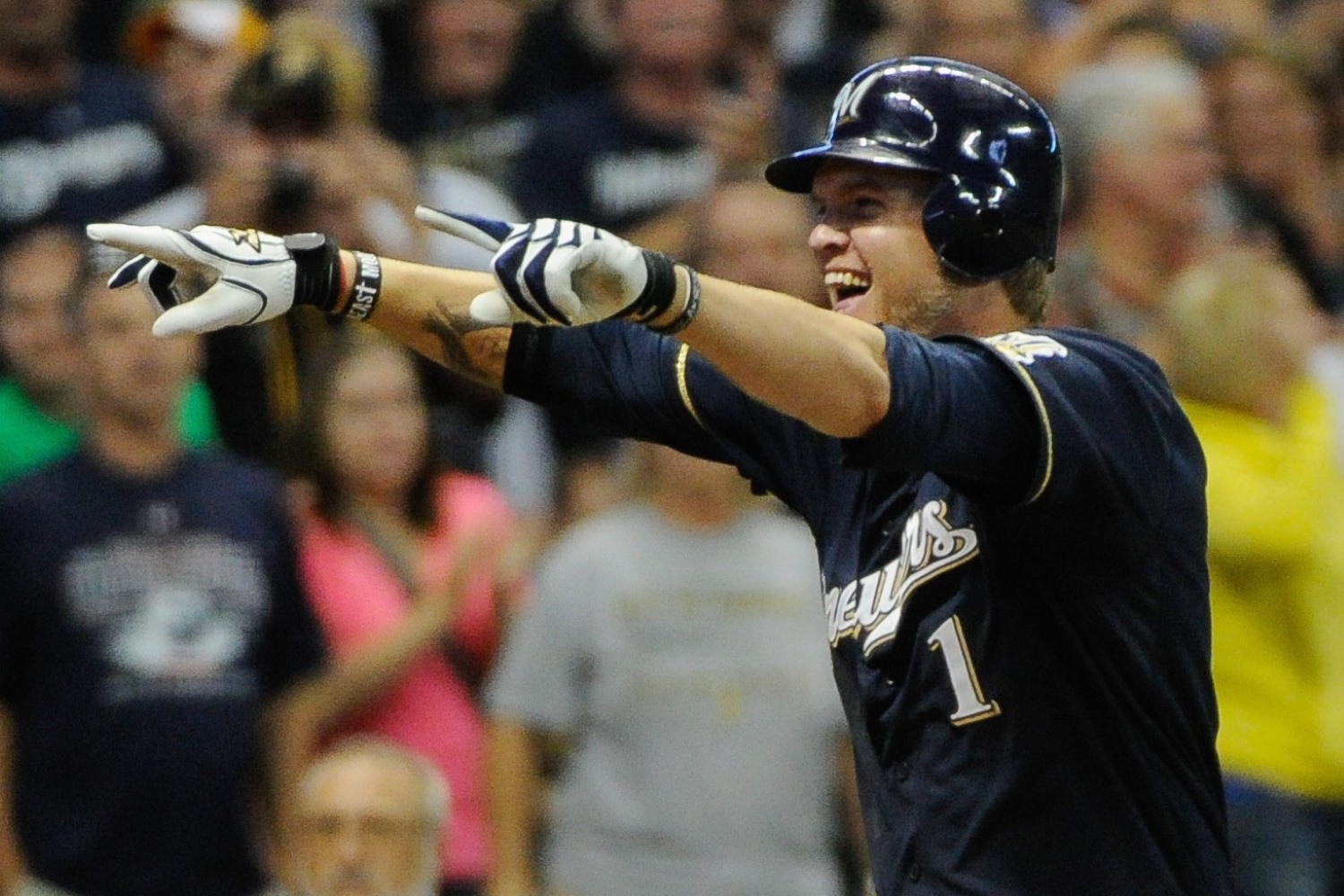 Image courtesy of © Benny Sieu-USA TODAY Sports
Thanks to those who voted in the Yount Region. If you want to know more about the tournament's setup, click this link to see the details and reasoning behind the selections and seedings. As for the brackets in the Cooper Region, maybe not coincidentally, six Brewers who manned first base found their way into this group of 16. Fans have some intriguing decisions to make with a few of the matchups below. You can check out how the seeds break down and how to vote at the bottom.
#1 Prince Fielder vs. #16 Matt Garza
With a combination of size, strength, and a boyish grin, Fielder was a beloved figure. He had lots of pressure heaped on him (partly as a Major Leaguer's son), and he came through with flying colors. He's the only Brewer with 50 homers in a season; holds the franchise's single-season RBI mark (141); and leads several all-time franchise categories. Fans thought they wanted Garza to help the rotation, but things got ugly after one season, and his attitude didn't help.
#8 Orlando Arcia vs. #9 Jean Segura
An All-Star in 2013, Segura caught fans' attention with his speed and aggressive style with 44 stolen bases. Some saw him as the shortstop savior, but two years later, he was gone. Arcia actually was touted as the future with top prospect status. He thrilled fans with flashy defensive gems and clutch base hits while they dreamed of his ceiling. Arcia didn't reach such a peak as Segura, but many still loved his energy and were upset when the Brewers traded him.
#5 Eric Thames vs. #12 Keston Hiura
If the committee only factored in 2019, Hiura would be a top-three seed. As fans have grown frustrated over the past few years, the love for their once-highly-touted bat has waned. Are there enough loyalists to pull off the upset? It's a tough matchup with Thames, the mythical, Greek god-looking lefty who burst onto the scene. The beard demanded attention, and he entertained the masses with bombs and biceps.
#4 Jesús Aguilar vs. #13 Adam Lind
For such a large man, Aguilar was a goof whose smile and teammate shenanigans matched his production during his first two seasons in Milwaukee. Some will think the All-Star (35 homers in 2018) deserved a higher seed as a fan favorite. A fellow first baseman, Lind's one Brewers season was productive (.820 OPS, 123 OPS+), but he was unassuming and might be best known for helping the team acquire Freddy Peralta in a trade.
#6 Aramis Ramírez vs. #11 Wily Peralta
Peralta looked like a breakout hurler in 2014 (3.53 ERA), but instead, he declined thereafter. Fans quickly turned from optimism to negativity--another pitching prospect who came up short. Ramírez produced precisely as expected. He led the league in double (50) and owned a .901 OPS his first year in Milwaukee, before his production dipped in his age-35 and -36 seasons. If you got past his Chicago Cubs history, you appreciated his consistency and lineup value.
#3 Corey Hart vs. #14 Kyle Lohse
Sometimes overlooked among his prospect buddies, Hart was a two-time All-Star in his nine Brewers seasons. In his final three years, he combined for a .514 SLG and .857 OPS. He was an extra-base machine, ran well, and had the appreciation of many fans as the quiet assassin complementing Ryan Braun and Fielder. Lohse was strong his first two years in Milwaukee (3.45 ERA), but seemed to have a bad rep among fans. It might have been the sting of former veteran pitchers altering fan perception. Some likely don't remember Lohse pitched in Milwaukee.
#7 Francisco Rodríguez vs. #10 Tyler Thornburg
Thornburg was on track to be a long-time stud reliever for the Brewers after his 2016 season (199 ERA+, 12.1 K/9). He had the stuff and mentality to thrive in the closer's role. He lost 2017 due to injury, and then Milwaukee traded him for Travis Shaw. Speaking of stud relievers, Rodríguez (K-Rod) is fifth on the franchise all-time saves list (95) and was vital in the 2011 season as a setup man. If not for his "30 pitches of terror" messing with fans and some off-the-field assault allegations, K-Rod would likely have been a higher seed.
#2 Josh Hader vs. #15 Jim Henderson
Hader was the ultimate weapon early in Milwaukee, called upon to put out fires late and pitch multiple innings. He was as dominant as any reliever in history to start a career, first all-time in WHIP, H/9, and opponents' batting average (.139), as well as top-six in six other major categories. Hader was appointment viewing with his lightning heater, biting slider, and unique delivery that included lots of flow. Henderson didn't stand out quite so much, but he saved 28 games in 2013 with a 144 ERA+. Fans related to him as more of a "regular guy," but his career quickly derailed as his career ended after the 2016 season.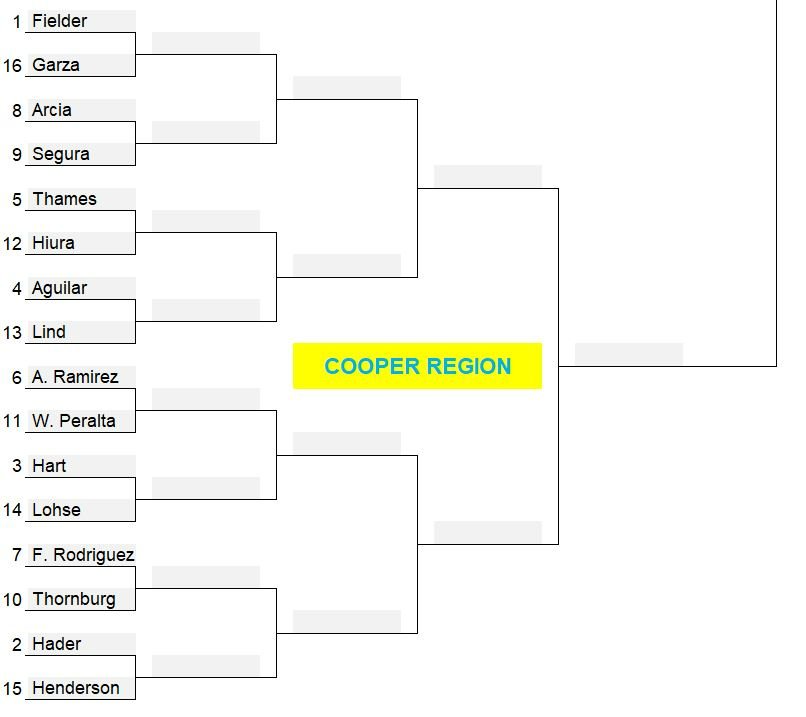 Click below to get in your votes for your favorite Brewers coming through the Cooper Region. And feel free to make your case for guys in the comments. Maybe you can convince a few fans to pull for your guys in round one.
Think you could write a story like this? Brewer Fanatic wants you to develop your voice, find an audience, and we'll pay you to do it. Just fill out this form.
MORE FROM BREWER FANATIC
— Latest Brewers coverage from our writers
— Recent Brewers discussion in our forums
— Follow Brewer Fanatic via Twitter, Facebook or email