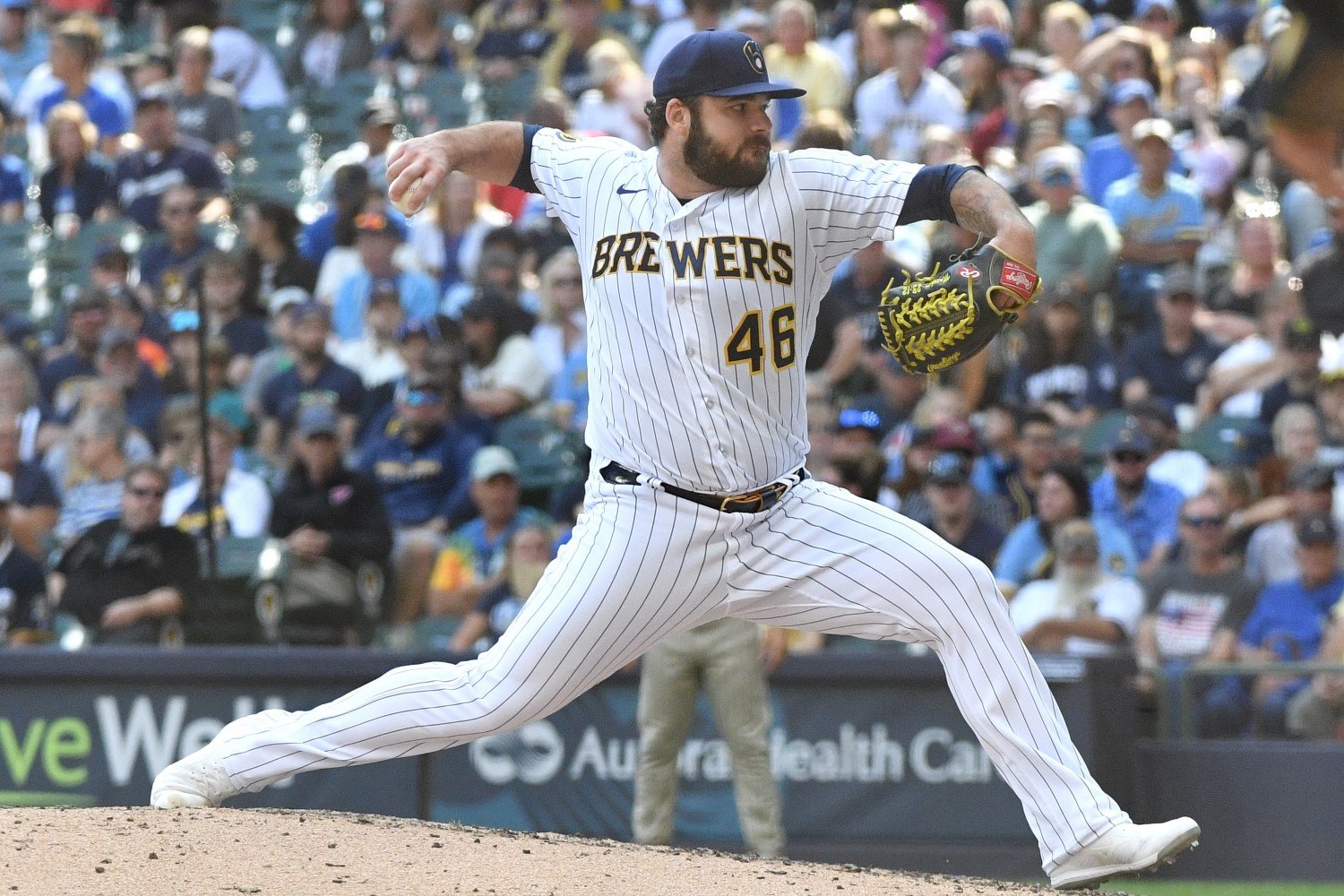 Image courtesy of © Michael McLoone-USA TODAY Sports
In today's game, the true long reliever is an endangered species. Most teams prefer a suite of hurlers who can dominate over one inning, with a few who can be stretched out to pitch two when exigency demands it. They rotate and refresh that group often, by optioning struggling or weary arms to the minor leagues, and by crossing certain guys off the list of available relievers on a given day, even if it means entrusting a late lead to a lesser light.
The Brewers are no exception to this trend. Even this year, they've been aggressive in their cycling of relievers. They don't have the right to option Bryse Wilson to the minors, though, and Wilson (an erstwhile starter) has not made a conversion into some kind of fire-breathing setup man with four extra miles per hour on his fastball. At times, his roster spot has felt a bit imperiled, because he's such a square peg and bullpens only seem to have round holes anymore.
He's stuck, though, and as the season has progressed, it's become clear that Wilson has not only an unusual ability to soak up innings, but a few new tricks in his bag. After running a 5.46 ERA over the last two seasons with Atlanta and Pittsburgh, Wilson sports a sparkling 2.95 mark in 64 innings of relief for the Brewers this season. According to Win Probability Added (WPA), Wilson has been worth 1.2 wins this year. Five of his fellow Milwaukee hurlers (Devin Williams, Joel Payamps, Wade Miley, Hoby Milner, and Freddy Peralta) have contributed more, but they're five of just 87 hurlers (half of them starters with 90 or more innings pitched) in all of MLB who have done so. Craig Counsell has learned to trust Wilson in a unique role this year: long relief, but not mop-up work. Instead, he's a medium-leverage, heavy-workload relief ace.
How has he done it? On the latest edition of the venerable Milwaukee's Tailgate Brewers podcast, hosts Ryan Topp and Paul Noonan started to deliver what seemed the obvious and reliable explanations for his improvement--especially, a higher ground-ball rate based on the development of his cutter. They stopped and moved on, though, when they realized that (in fact) Wilson has a much lower ground-ball rate this year than in the past. He's actually at 35 percent grounders this year, which Baseball Savant reports as 17th percentile in MLB.
It's still true, though, that the cutter has been the crucial change for Wilson this year. I wrote about the possibility of that being the case during spring training, and confirmed it here early in the season. What tripped up Ryan and Paul was the fact that the cutter exists on a spectrum, and Wilson's is at the slider end. 
When the cutter acts as a pitcher's fastball, it does tend to induce a lot of ground balls. Horizontal movement is the engine that fuels ground balls, as the ball tends to slide just off the barrel of hopeful hitters' bats, and cutters have unusual horizontal movement, given their speed. Corbin Burnes is a good example. He gets ground balls with his cutter, not at an exceptional rate, but much more often than does Wilson.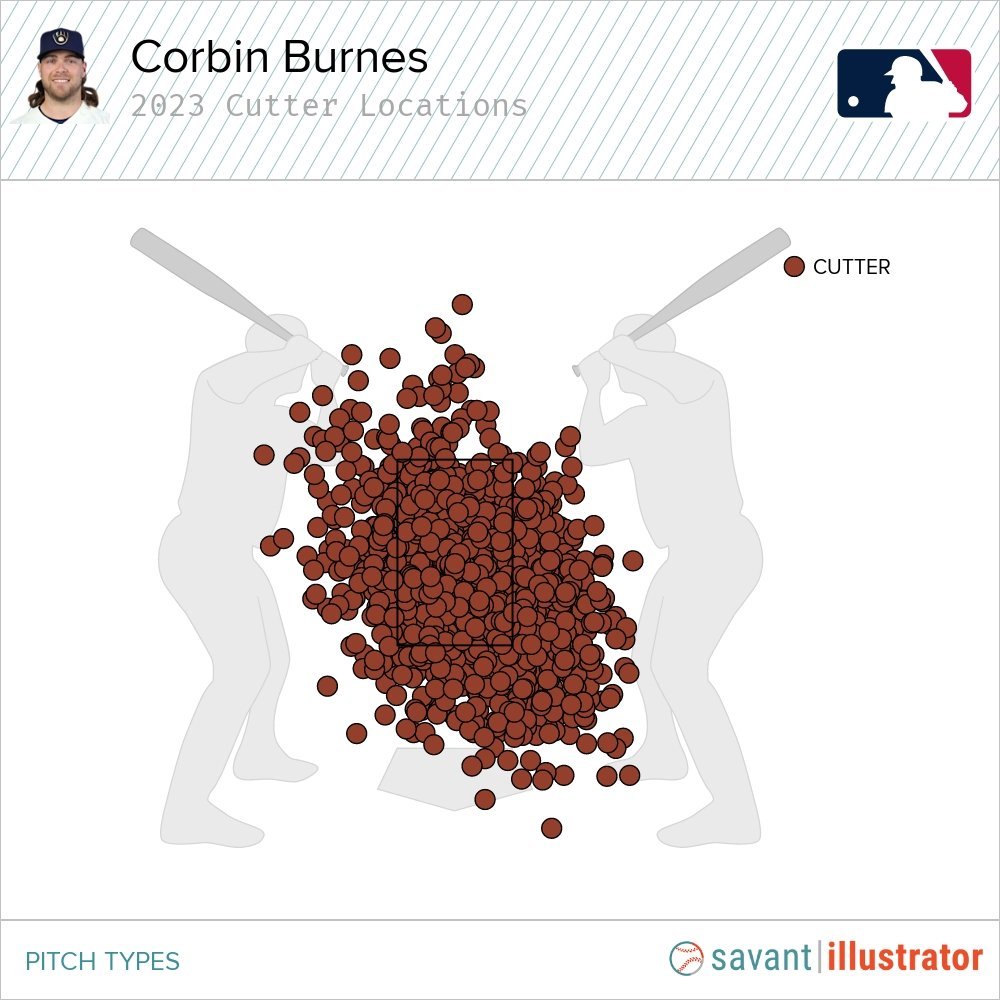 A pitcher who uses the cutter as his fastball (or one of them) also tends to work up in the zone with it fairly often, and while higher pitches broadly tend to get hit in the air more often, hard stuff with some wiggle (be it a cutter or a sinker with a good amount of armside run) is an exception to that rule. Burnes does that; so does Wade Miley. The cutter or sinker above the belt and in on the hands or out off the edge of the plate is a good pitch with which to break a bat and draw a lazy three-hop ball to the infield.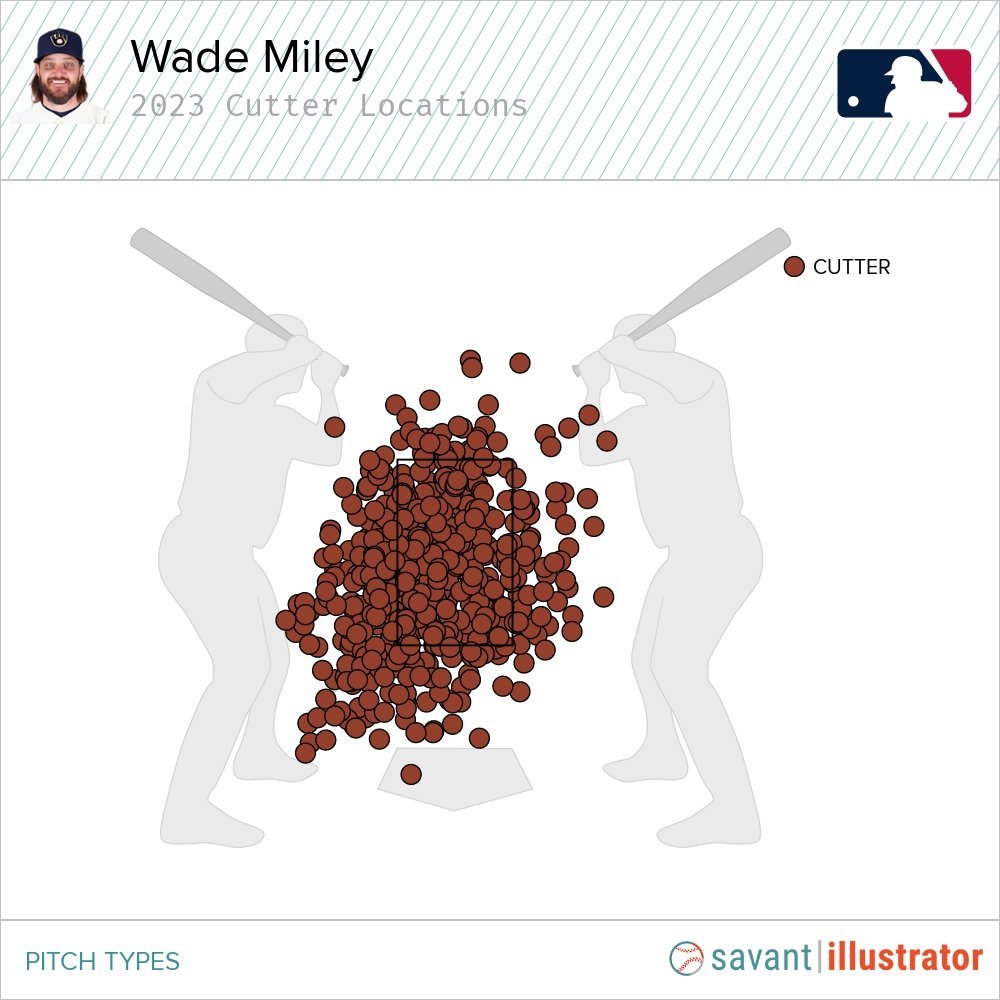 Wilson, though, uses his cutter as a breaking ball. He has a sinker, and that's the pitch he goes to when he needs a ground ball--although even it doesn't get them at a typical rate. No, Wilson's toned down the usage of his four-seamer, and he's completely eliminated his slower slider. His curveball is still in the mix, but primarily, he uses his sinker for the heat and his cutter for its movement, especially in contrast with that sinker.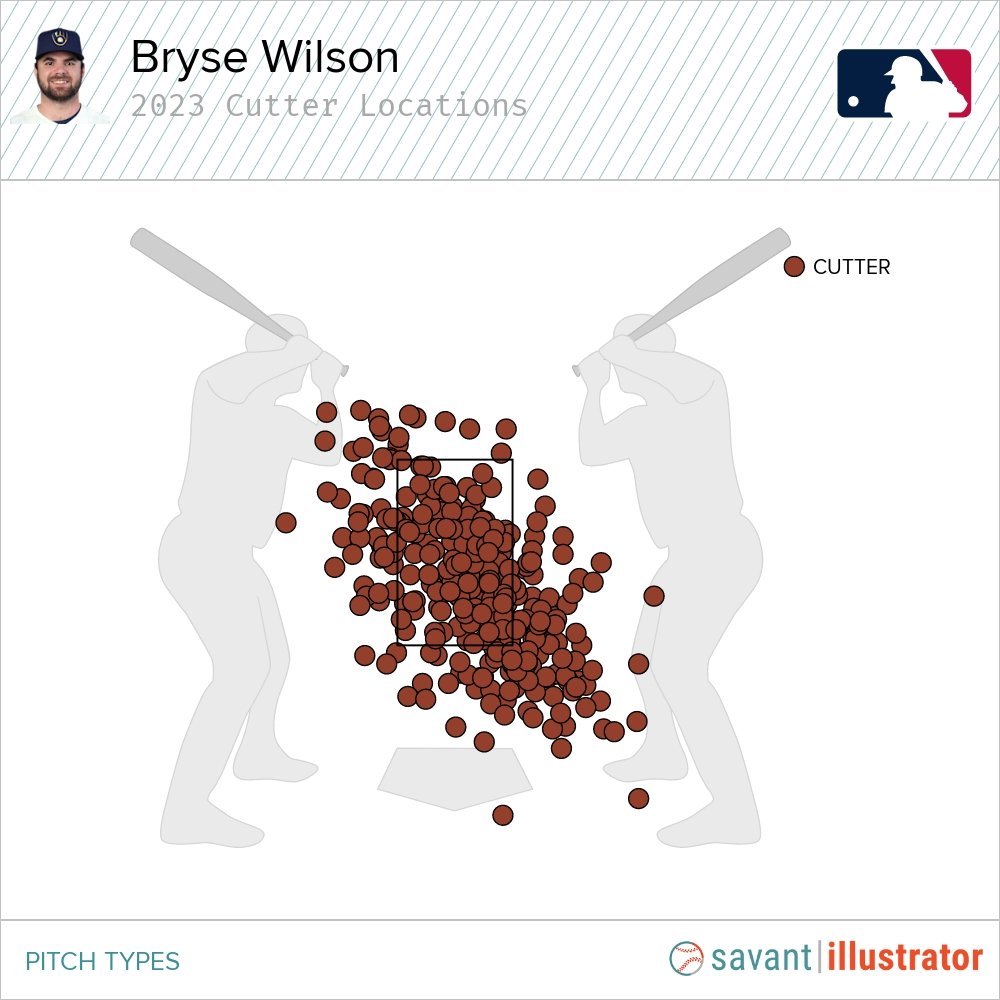 Note the tighter shape of this scatterplot, relative to those of Burnes and Miley. That doesn't mean Wilson has better command of the pitch. It means he's trying to do something different than what Burnes and Miley are trying to do. They use the cutter as a fastball, and need to move it around the zone, even if that loosens their precision slightly. Wilson is using it as a breaking pitch, and his goal is the same every time, at least against righties. He's aiming down and away--ideally, looking like a strike, then breaking just off the edge, to get a bad swing.
Against lefties, the conversation is a bit more complicated, because against them, Wilson does use the cutter more like a fastball. He tries to backdoor it on the outside corner, where hitters might mistake it for his sinker (which he uses roughly in parity with it against them). It's an early-count pitch for him against lefties, and he goes to the four-seamer and the curveball to try to put lefties away. 
This kind of cutter really isn't especially effective against opposite-handed batters, which is why Wilson's career-long struggles against lefties have largely continued this year. They're hitting .247/.337/.494 against him this year, which is why Counsell has been judicious about when to go to Wilson and why the team hasn't been very much tempted to restore him to his prior role as a starter, even as injuries have piled up in their rotation at times this year. Against righties, though, it's been a revelation. 
As Topp and Noonan noted, Wilson still isn't striking out very many batters, relative to the league average. He's at just 20.7 percent for the season, whereas the league's overall rate is around 23 percent and that for relievers exclusively is pushing 25 percent. He's taken a leap from his rates the last two years, at 14.3 and 15.5 percent, and we have to acknowledge the value of that big a move toward average, but he's still not punching out as many hitters as many other pen men can.
He's not striking out a ton of batters. He's not getting ground balls. So, even acknowledging that he's made a wise change to his pitch mix, how has he been so good? It's all about execution. Look back up at that chart of his cutter locations. The band they form tells the story of a pitcher locating awfully well, in general. Everyone makes mistakes, but Wilson has made fewer of them this year, as he and the Crew have established some anchors of confidence for him. He's back over on the third-base side of the rubber, creating an angle that lets him throw the cutter and sinker with greater conviction. His delivery is cleaner, which (in combination with rarely being asked to throw more than 40 pitches in a single game) has given him an extra mile per hour on his heat.
A sinker at 93 and a cutter at 89 will rarely combine to get a pitcher a lot of whiffs, and the way Wilson locates them, they're not going to lead to a 50-percent ground ball rate. Well-located and lively, though, they're earning the most underrated species of batted ball in all of pitching: the lazy fly ball.
Opponents' average exit velocity on fly balls and line drives against Wilson this year is 91.8 miles per hour, down 1.3 from last year. Of the fly balls and liners he allows, only 63.9 percent have left the bat at 88 miles per hour or greater. In 2021, that number was 74.1 percent, and last year, it was 71.6. Lazy fly balls are hardly ever hits, and although the pitcher who specializes in them risks the occasional home run, it's a worthwhile tradeoff if they execute well enough. Wilson allowed home runs in 4.3 percent of plate appearances against him in 2021 and 2022. That figure is down to 3.1 percent this year--still only average, but average is a lot better than where he was. Meanwhile, opponents' BABIP the last two years was .302, but this year, it's .246.
Success based on the lazy fly ball is tough to sustain, in the modern game. Hitters are so much stronger and more focused on hitting for power than they used to be that it's easy to get burned. When Wilson let go of his old pitch mix and switched to this one, though, he found a means of executing consistently enough to thrive this way. Now, he looks like a tremendously important piece of the Brewers' bullpen, even if it be a radically different one than those filled by Williams, Payamps, and the other high-leverage short guys.
Think you could write a story like this? Brewer Fanatic wants you to develop your voice, find an audience, and we'll pay you to do it. Just fill out this form.
MORE FROM BREWER FANATIC
— Latest Brewers coverage from our writers
— Recent Brewers discussion in our forums
— Follow Brewer Fanatic via Twitter, Facebook or email