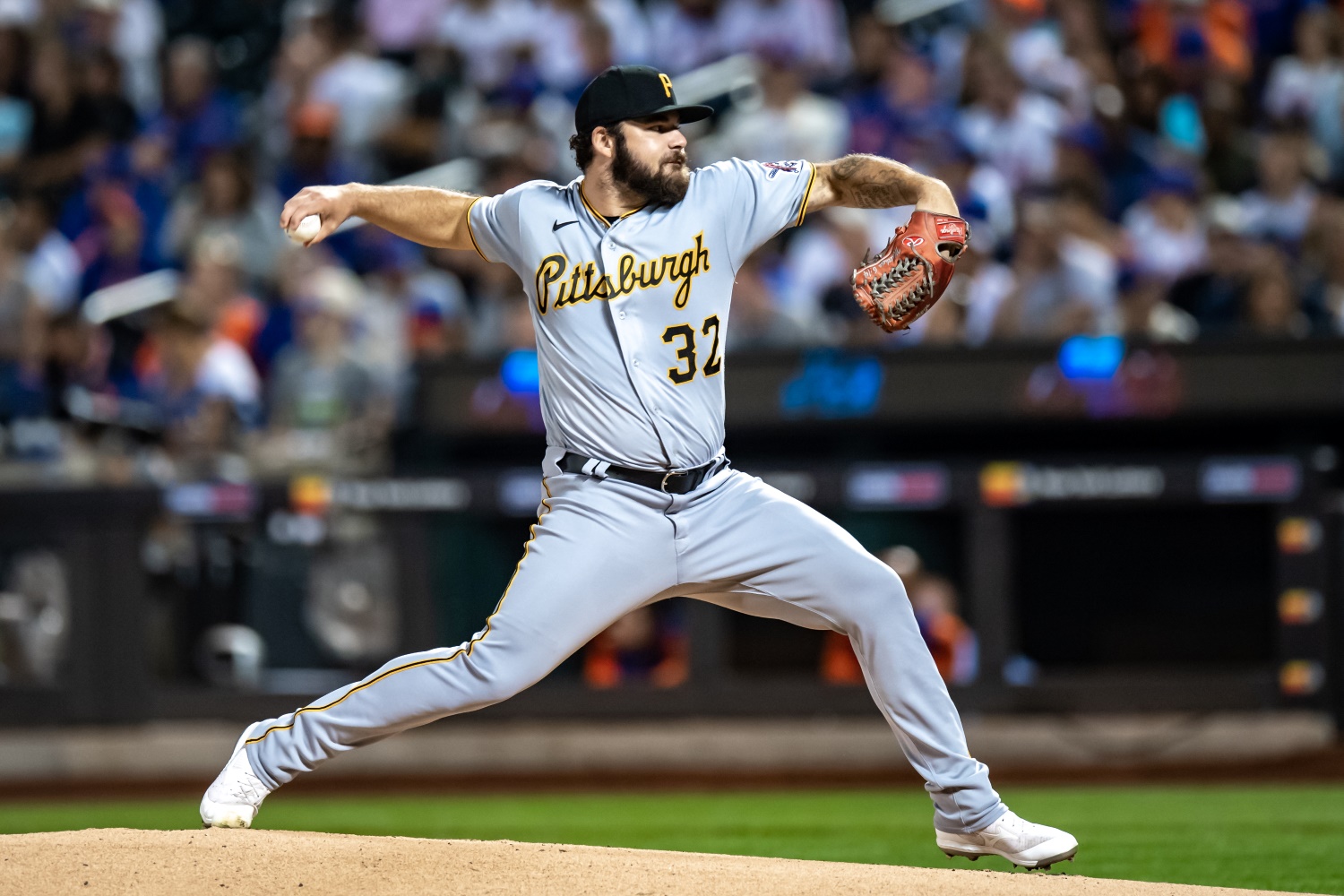 Image courtesy of © John Jones-USA TODAY Sports
Only a few years ago, Bryse Wilson was expected to become one of the cadre of promising arms driving the Atlanta Braves' new NL East dynasty. He fired six innings of one-run ball against the Dodgers in the 2020 NLCS, and it looked like a coming-out party. Less than a year later, though, he was exiled to Pittsburgh, and the Brewers scooped him up from there only after the Pirates designated him for assignment in late December.
It's tempting, given that quick fall from grace, to think of Wilson as a non-entity, and it might turn out to be true. Now 25 years old, the former top prospect sports a 5.54 career ERA, and he doesn't have high-end velocity or gaudy strikeout rates to recommend him as a breakout candidate. He also doesn't have any minor-league option years remaining, so he has to prove himself worthy of a spot on the 26-man roster over the next month in order to stick around. What he does have going for him, though, is Chris Hook.
It's a minor miracle, really, that Hook has kept the Brewers' pitching train on the rails so perfectly since taking over at such a perilous moment. In the afterglow of the Crew's magical run to within a game of the World Series in 2018, then-pitching coach Derek Johnson made a shocking defection to the Reds. That could easily have been a killing blow to the momentum they had established, moving toward the goal of being an elite pitching development organization. Instead, Hook slid seamlessly from his longtime roles as minor-league pitching coach and coordinator into the big-league gig, and the team only gained steam.
Under Hook, the Brewers' greatest specialty has been their lack of any single specialty. Both Hook and the team have their preferences, but they don't try to bend every pitcher to them or acquire pitchers solely based on their fit with the organizational philosophy. They've had success with pitchers of many different styles and with many different repertoires, and they take pride in that. Wilson might lack elite stuff, but he has a lot of traits with which the team can work.
For one thing, near the end of a largely lost season in 2022, Wilson did find something potentially useful. In his final six starts, he lowered his ERA by over half a run, thanks in part to a splitter that took the place of his more conventional changeup. He used it 90 times in those six outings, to good effect, including against right-handed batters, whom he was never comfortable attacking with his old change. 
That was just one aspect of a broader set of adjustments, though. To see the big picture, compare the above to this video of Wilson throwing his old changeup to another right-handed batter, from April.
In early summer, Wilson moved over to the first-base side of the rubber, changing his angle of attack horizontally. Late in the year, he also raised his arm angle slightly. It didn't yield immediate, mind-blowing results. It did, though, help him find a better changeup. It also made him a candidate for some other fixes, and (perhaps most importantly) it signaled that he's open-minded and willing to take instruction in order to find a new direction.
From his slightly altered arm slot, Wilson's arsenal can take a new shape, even beyond the transition from straight changeup to splitter. His curveball has always had an extreme amount of horizontal sweep, but gained depth when he raised his arm angle. If the Brewers elect to have him stick with that mechanical change, he can probably find more whiffs when working with those pitches and his four-seam fastball than he has had in his career to this point.
That slot is also a bit more friendly to the cutter, a pitch Hook and the pitching development team loved to help pitchers hone, and with which Wilson has tinkered a couple previous times in his career. He's a good candidate to be better with a firm cutter than with the traditional slider he's used throughout his career. 
On the other hand, though, the team could try to get Wilson's release point back down, and emphasize the natural horizontal movement he creates on so much of his stuff. Working primarily in relief, he probably doesn't need the five or six pitches he has often used until now, and could radically simplify his approach. Against righties, his sinker and curveball work nicely off of one another in that horizontal plane. Against lefties, his four-seamer and splitter are an effective pairing. Either way, the club has proved they're good at making pitchers more mechanically efficient, so Wilson might also pick up some of the velocity that has been missing from his profile recently.
This is the genius and the mysticism of the Brewers' infrastructure, and it's what makes journeymen like Wilson more compelling than they might be in another team's camp. With a high risk of getting nothing at all from the player; two highly disparate methods for trying to get something out of him; and considerable upside, Wilson typifies the way the Crew could exceed a projection system's estimate of their talent by several wins this year–even if the odds of that are quite slim. 
Think you could write a story like this? Brewer Fanatic wants you to develop your voice, find an audience, and we'll pay you to do it. Just fill out this form.
MORE FROM BREWER FANATIC
— Latest Brewers coverage from our writers
— Recent Brewers discussion in our forums
— Follow Brewer Fanatic via Twitter, Facebook or email