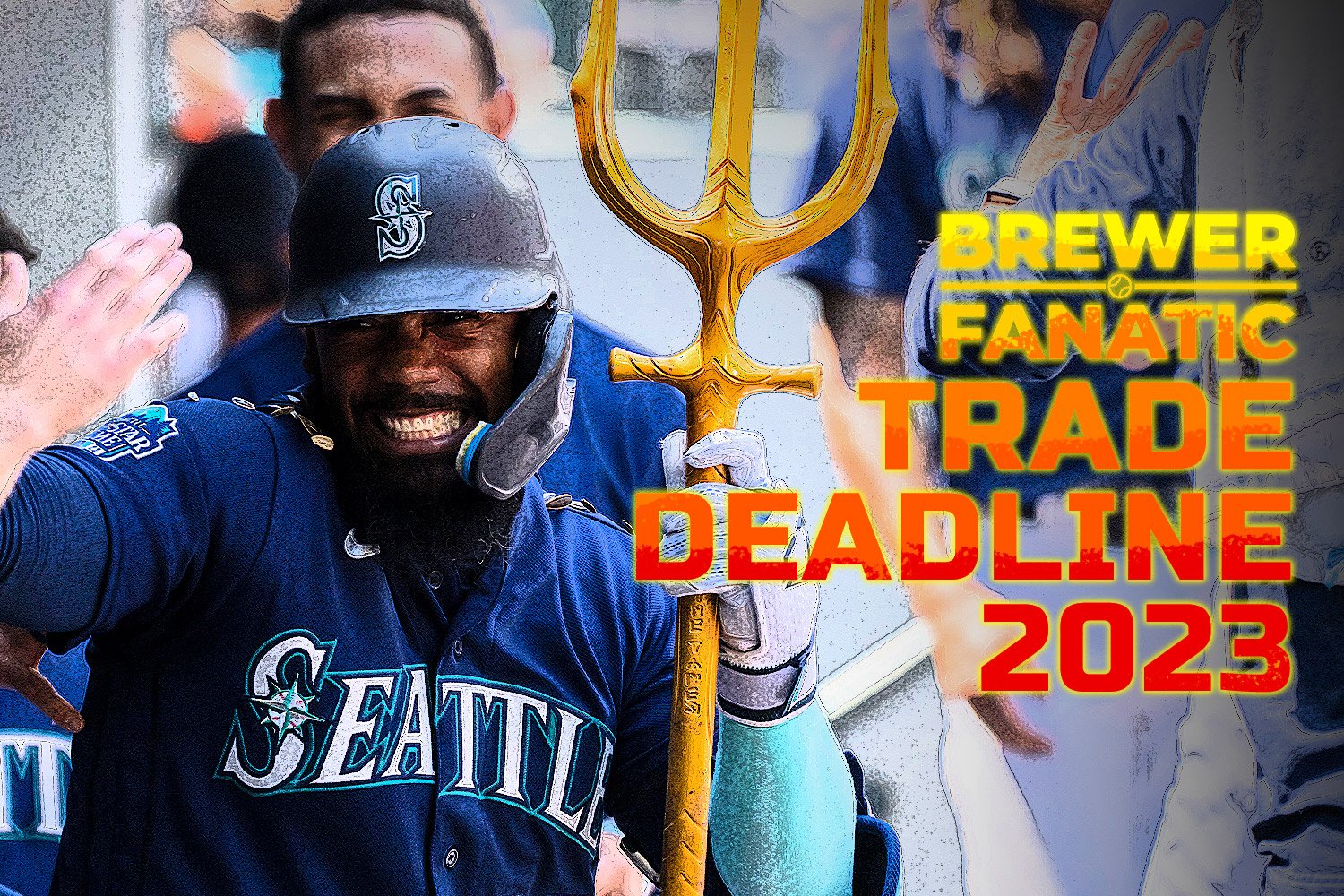 Image courtesy of Brewer Fanatic
The promotion of Sal Frelick has, maybe, led to the belief that the Brewers don't need an offensive upgrade in right field, and that the defense (combined with the bat-to-ball skills) of Christian Yelich and Frelick makes it more than adequate as it stands now. Frelick is able to provide plus defense both in center field and right field, which allows for some versatility in right, where the Brewers have a WRC+ of just 75 across the players used so far this season, while a sizeable offensive upgrade could allow for more rotation through the DH spot to rest the likes of Yelich every now and then.
The Brewers have placed an absolute premium on outfield defense, so they will prefer anyone they put in right field to be at least an above-average defender, and as it so happens, there may be one trade candidate in particular who fits the needs of this team to a T.
Best Option – Teoscar Hernandez
First and foremost, it's important to note that Hernandez is in the 71st percentile for outs above average, and 76th percentile for arm strength, which is crucial to this Brewers team, and will make him more than just a filler in right field with a bat that hopefully fires.
Currently playing for the Seattle Mariners (who are fast dropping out of playoff contention, given the stranglehold the AL East has on the Wild Cards and the runaway form of both the Houston Astros and Texas Rangers in the West), Hernandez may be a very tradeable asset come the deadline. He'll hit free agency this fall, and is on a relatively cheap contract.
Add his defensive performance and offensive reputation to the fact that he is underperforming his expected metrics significantly, and he may be more under the radar than the likes of Cody Bellinger with his hot streak at the plate. His current wOBA is .307, some 34 points lower than his xWOBA. He has an average exit velocity of 91 miles per hour, an average launch angle of 12.9 degrees, and an xBA/xSlg of .255/.482. He has power in his bat to be a middle-of-the-order player, one who can drive in the runs that the Brewers so desperately need given how prolific Frelick, Yelich and William Contreras have been with getting on base.
He chases far more pitches than he should, but he punishes mistakes, and that's something the Brewers need desperately. Their team slugging percentage is currently .376, which is only above the Royals, Tigers and Athletics--not exactly the company a contending team wants to keep.
Another reason why he would be very good for the Brewers is how they've struggled against breaking pitches so far this season, with lots of their hitters going well against fastballs, but struggling with the elite curveballs and sliders. Hernandez has no clear weakness, hitting:
Fastballs – xBA -.260, xSlg - .542

Off Speed – xBA .249, xSlg .428

Breaking – xBA .257, xSlg .445
The Brewers' splits have normalized since June, showing them to be just as shoddy now offensively against both left- and right-handed pitching, but Hernandez has hit .302/.315/.581 against lefties so far this year. He's a true right-handed power hitter. His splits against righties are merely passable, but his underlying numbers do suggest him to be far better than what's shown so far this year, and last season, he had a .769 OPS against righties to complement a .978 OPS against lefthanders.
Hernandez is the type of hitter the Brewers need to make a difference over the next two months, as even an average lineup with this quality pitching staff can do damage deep into the postseason.
In terms of cost, it's difficult to say what Hernandez is worth, but I'd suggest it may cost the Brewers some lower-level, high-hype prospect (like Luke Adams), or (if you followed my pieces on tradeable players in the farm system) a grade 3 and grade 4/5 talent would probably do the trick.
He has a hard-hit rate north of 40% against everything except the cutter so far this year, and is due for a hot streak. Would you make this trade?
Another option: Andrew McCutchen
After the debacle that was McCutchen playing relatively subpar offense in the DH spot last season (although that would be a sizable increase for this season), he has been playing incredibly well for his Pittsburgh Pirates team in what may well be his last season in the majors. It remains to be seen whether or not he would want to be traded if this was the case, or if he would prefer to go out with his original team, but his performance has certainly turned heads.
There are certain things McCutchen guarantees you, and first and foremost is a high-quality on-base percentage, which sits at .382 on the season. His power numbers have dropped significantly from his prime years, but he's walking at a 15.7% rate, striking out just 20.6 percent of the time, and has popped 10 home runs and 12 doubles this season, while also still showing enough wheels to steal 10 bases.
A positive presence in the clubhouse and an experienced head for the likes of Joey Wiemer and Frelick to learn from, McCutchen hasn't been used too often in the field this year, but he has enough speed to play at least passable defense in right or left field should the need arise, grading out as average in the outfield last season.
The Pirates may be loath to trade their hometown hero, and he may be loath to leave them, but he certainly is a viable option for the offense starved crew.
These are all options with just a few months left on their contracts, but there are other options with more control available, such as Lane Thomas of the Nationals, or Tyler O'Neill in St Louis. Do you think the Brewers should go for a longer-term upgrade? And what would you give up for Hernandez?