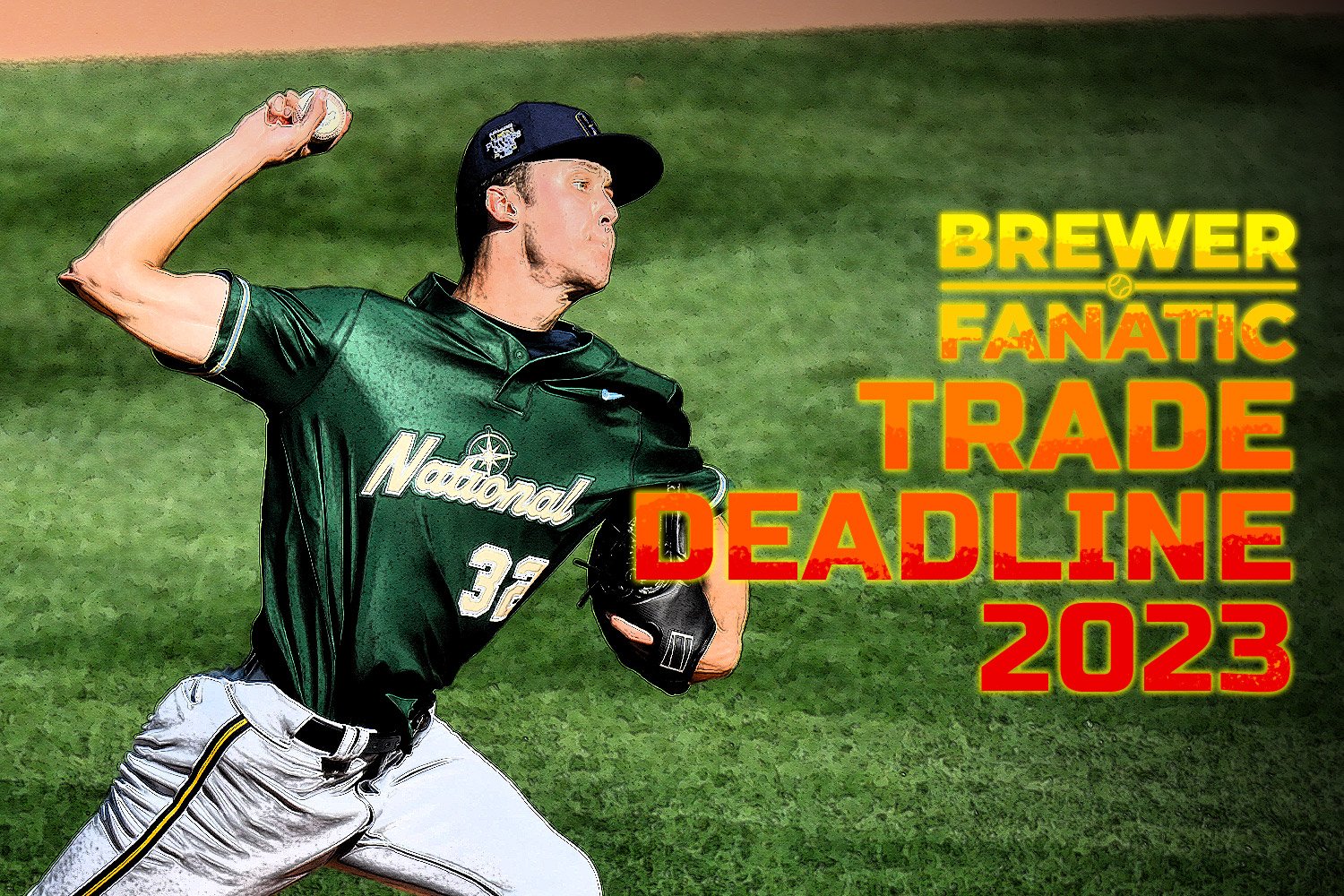 Image courtesy of Brewer Fanatic
Let's use a grading system as below to assess the top names in the Milwaukee Brewer's farm system:
5 – Not a long-term piece, and could be included in any trade
4 – Some long-term hopes, but potential to be included in any trades
3 – A good player, unlikely to be exchanged for a filler piece, but could be worth an impact player
2 – A high-value piece, likely to be included in a deal only for the top-tier talent (i.e., Goldshmidt, Ohtani, etc.)
1 - Off the market almost entirely
0 – Jackson Chourio
Jackson Chourio
The number two ranked prospect in all of baseball, and potentially number one given his recent escapades at AA Biloxi, where at just 19, he has had a strikeout rate of only 9% in July, and a whiff rate of around 18% over his last 100 swings, which is quite impressive (AA Average is 29.2% whiff rate). He's hitting .403/.431/.694 for a 1.125 OPS in July, just dominating the competition since the turn of the month, and his improved swing decisions and ability to put the ball in play is a massive leap forward for him. At that level, his opposite-field power is enormous for his age, with quick hands, plus defense and speed on the basepaths. Chourio is untouchable as a prospect in this Brewers system.
Grade – 0
---
Sal Frelick
Frelick's arrival in the big leagues has already impacted several games in ways Raimel Tapia could not, with his 3-3 and game-winning RBI versus the Braves, outstanding defense in right field with a 10% probability catch made, and then the home run against the Reds to tie the game on Monday. With superlative bat-to-ball skills, sneaky power (especially since shaking off his wrist injury), speed on the basepaths, and gritty nature, Frelick seems unlikely to be traded this season with the boost he's already given the Brewers offense. That is unless they acquire a big impact bat, in which case the consistency he can provide could be a big selling point. He can play plus defense in center field, and his hit tool is up there with the best in the business.
Grade – 1
---
Jeferson Quero
Coming into this year, Quero was regarded as a defensive first catcher, and that's still true, if only because of just how good he is behind the plate, with elite framing skills and a canon of an arm that caught 21 out of 59 attempted base runners so far this season, and is also incredibly young for AA baseball. He has also brought some big power out of his bat, hitting .292/.377/.494 for an OPS of .871, which is extremely high both due to his age and the use of tackier balls at AA in the first half of the season.
Quero's potential is to be the best catcher in the majors, and some would argue his defense is already at the level of being ready for the big leagues. If the bat continues to develop as he ages, this is the stuff of dreams for such a premium position.
One aspect to consider, however, is the quality of the current catching corps, particularly the long-term control of William Contreras, who has been massively improved behind the plate, and in terms of getting the bat to the ball, lowering his K rate from 27.7% last season to 19.5% this year is in the 70th percentile for framing metrics. It is currently sporting the Brewers second best bat amongst qualifying players behind Christian Yelich. His only real flaw is his ground ball rate this season, leading to a lot of double plays. Still, he is significantly above average offensively and defensively as a catcher, meaning Quero might be slightly less essential.
Grade – 2
---
Jacob Misiorowski
A second-round JUCO pick by the Brewers in 2022, with elite stuff but poor command, the Brewers have stretched out Misiorowski slowly, pitching just one inning last year and a late, slow build-up to this season. Boy, has it paid off. Boasting a plus-plus fastball and slider, with an average curveball and developing a changeup, he wowed scouts at the futures game with his 100 mph fastball, generating an inordinate number of whiffs on his slider too.
His command and control are still developing and are the one thing holding him back from being a true top prospect, with some experts, such as Keith Law, expecting him to end up as more of a high-leverage reliever because of it. The Brewers are hopeful his action is more repeatable and he can improve his command to such an extent that he can remain a starter and become a lights-out ace for them in the future.
The command being a question mark may make him slightly more tradable. However, due to a lack of starting pitching prospects lighting up the minor leagues, pitching of this caliber is at a premium for this organization.
Grade – 1
---
Tyler Black
Boasting the most complete bat in the Brewers system, Tyler Black has added power to his bat, along with elite bat-to-ball skills and a total command of the strike zone. Hitting .290/.432/.546 for a .978 OPS is impressive enough on its own, but Black is also chasing the single-season steals record of 53 with the Biloxi Shuckers, currently on 45 for the season. He's not doing this purely through speed; although he is fast, his base running instincts and game awareness are second to none; this is a good all-around ball player.
His one drawback is defensively, with the Brewers trying to make a home for him at third base. With an arm that has looked stronger this season, he didn't start well defensively but has progressed massively, no longer a liability in the hot corner and making both difficult and routine plays with regularity now. He may never excel in any position, but his hit tool can carry him. It may already be major league ready, given how well he performed against the sticky ball at AA (which gave pitchers similar stuff to major league pitchers).
Grade – 2
---
What do you think, fanatics? Who on this list can you see being fodder for improving the current major league roster, and who would you trade them for?
Join us later this week for a look into five other talented offerings in the farm system that could come into play by next week's deadline.