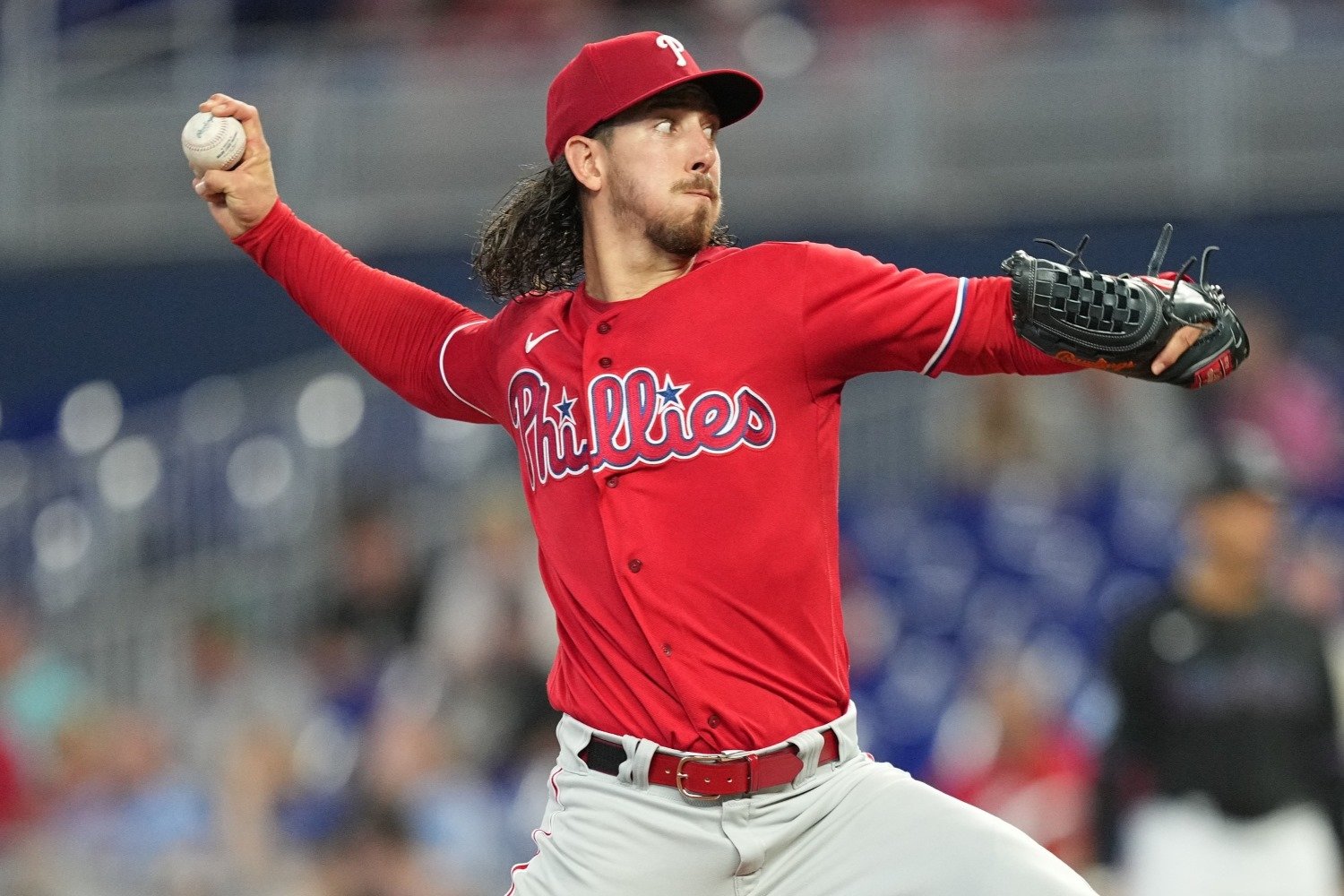 Image courtesy of © Jim Rassol-USA TODAY Sports
Currently, FanGraphs lists the Brewers as having a 70.2% chance to get into the playoffs, with a 59.1% chance of winning the division. The Chicago Cubs and Cincinnati Reds are hot on their tail inside the division, however, with the Cubs in particular on a scorching run. Outside of this, the Philadelphia Phillies have been on a strong run since mid-May after a slow start to the season, almost identical to the San Francisco Giants, who have just pushed aside the Diamondbacks for a Wild Card berth (for the time being). The Marlins have, sneakily, been performing very well in the NL East, while the Padres are looking to come in under the radar too. Let's check in on how these clubs fared at the deadline.
Cincinnati Reds
Having had one of the hottest offenses in baseball, as well as the potential returns of Hunter Greene and Nick Lodolo, it was expected that with their vaunted farm system the Reds could make some big splashes at the deadline. Rumors of trading Jonathan India for a controllable starting pitcher faded to the wayside, and instead all they added was Sam Moll, a lefty reliever from Oakland. The offense was statistically overperforming their real talent over a two-month stretch, but even so, they had a real shot to grab hold of this division. Instead, they're playing with what they've got and looking toward many more bites at the apple in the future, whilst hoping they have enough to sneak in this season. With so many rookies in their lineup, and the likes of Noelvi Marte pushing in Triple A, they're well set up for sustained success.
They've been caught cold by the Cubs, losing a series 3-1 against their division rivals who invested more strongly, and may regret down the line that they didn't go harder here.
Chicago Cubs
A hot run of form leading up to the deadline (including winning eight straight games), as well as a front office that needs to show something from this season, changed the Cubs from sellers to buyers, from being 43-50 on July 17 to 56-53 now.
They acquired Jeimer Candelario, who promptly brought eight hits in his first nine at-bats while playing quality third base defense, a position at which the Cubs struggled to gain consistency. Candelario is a quality upgrade for a team that's getting hot at just the right time, and makes their lineup (already formidable and pesky) even more so.
The most important piece for the Cubs has been the resurgent Cody Bellinger, who was smoking in July, and if he can sustain this production, they'll be expecting a playoff run at the end of the year.
San Francisco Giants
The Giants didn't do a whole lot at the deadline, adding slumping veteran outfielder AJ Pollock, while not adding anything to their starting pitching, which could do with additions, especially with the Diamondbacks young roster, and the sleeping giant that is the Padres. They lost a starter on Sunday, with Anthony DeSclafani picking up an elbow strain. They could be due for some regression in the next couple of months, but have placed themselves firmly in the hunt after taking a series against the Diamondbacks. FanGraphs gives them odds of 60.9% to grab a Wild Card berth, and an outside shot of overtaking the LA Dodgers.
Arizona Diamondbacks
The Diamondbacks had an interesting deadline, trading a reliever with more history of late-inning situations in Andrew Chafin for young, controllable, up-and-down Peter Strzelecki from the Brewers, while also shoring up their bullpen with star closer Paul Sewald from the Mariners, and the mercurial bat and personality of Tommy Pham from New York. The latter two additions could be a big boost, with a leaky bullpen one reason for their recent run of poor play. However, the next few weeks are absolutely crucial for a team that is struggling of late, going 8-16 in the month of July, and the offense and bullpen were to blame.
San Diego Padres
As unlikely as it seemed, the Padres were buyers at the deadline, acquiring Ji-Man Choi and Rich Hill from the Pirates; Garrett Cooper from the Marlins; and Scott Barlow, an elite closer at his best, from Kansas City. Hill should help them as a fifth starter and innings eater, which may be all that's needed given the offense has found some consistency of late, with the likes of Blake Snell proving one of the best pitchers in baseball over the last couple of months. They've gone 18-10 over their last 28 games, and have a real outside shot, but haven't quite gone all in (in part due to a depleted farm system keeping them away from the bigger trades). However, they are estimated to have a 46% chance of making the playoffs, and definitely shouldn't be ruled out at this point in time.
Philadelphia Phillies
After the early struggles of Trea Turner, Zack Wheeler, Kyle Schwarber, at al., the batting lineup has heated up with threats up and down the order. Defense isn't much valued in this organization at the moment--perhaps one reason for the struggles of some of their pitching staff, which was expected to be high-end with Taijuan Walker, Aaron Nola, Ranger Suarez and Wheeler. The addition of 2023 All-Star Michael Lorenzen has been a big help. He went eight innings in his first start, and fortifies the starting rotation massively. They also traded for the Pirates' Rodolfo Castro as a utility infielder, having designated Josh Harrison for assignment, not really a needle mover but certainly adding value over the lackluster Harrison.
This is a lineup to watch out for, with Nick Castellanos, Turner, Bryce Harper, Bryson Stott, Alec Bohm, J.T. Realmuto and Schwarber's power, and they're highly likely to mash their way to a Wild Card spot this October.
Miami Marlins
In selling off Cooper to their playoff rivals the Padres, the Marlins made a small partner move, acquiring Josh Bell for Jean Segura and top prospect Kahlil Watson. They also got swingman Ryan Weathers, in the Cooper deal.
The lineup had a need for power outside of Jorge Soler's bat, and they'll be hoping Bell can provide that with his xBA of .275 and xSlg of .460 so far on the year. His actual numbers are lower, potentially due to Cleveland's large park, but even so, he could be exactly what the Marlins needed, and they've traded away a first-round prospect they used to have high hopes for to get him. Segura had struggled massively so far this year, with just a .556 OPS and poor defense. He just couldn't be a part of a playoff roster, so this is a big upgrade offensively.
To truly address their power shortage, though, Miami made a much bigger splash, trading for slugging infielder Jake Burger from the Chicago White Sox. Burger cost the Fish one of their prized pitching prospects, Jake Eder, but he will slot into the middle of their lineup and add the minatory power bat that was missing therefrom until now.
All in all, there was a curious lack of movement from both the Giants and the Reds at the deadline, perhaps in part due to the lack of options available because of the expanded playoff format. Either may come to rue their decisions in what are tight divisions, while the Cubs, Padres and Phillies have addressed their weaknesses effectively.
Current standings are:
Giants – 61-49
Phillies – 59-50
(Brewers) – 59-51
Reds – 59-52
Marlins – 58-52
D'Backs – 57-53
Cubs – 56-53
Padres – 54-55 
Who do you think is most likely to grab the three Wild Card slots? Did any of these teams vault themselves past the Brewers with their deadline activity?
Think you could write a story like this? Brewer Fanatic wants you to develop your voice, find an audience, and we'll pay you to do it. Just fill out this form.
MORE FROM BREWER FANATIC
— Latest Brewers coverage from our writers
— Recent Brewers discussion in our forums
— Follow Brewer Fanatic via Twitter, Facebook or email
2