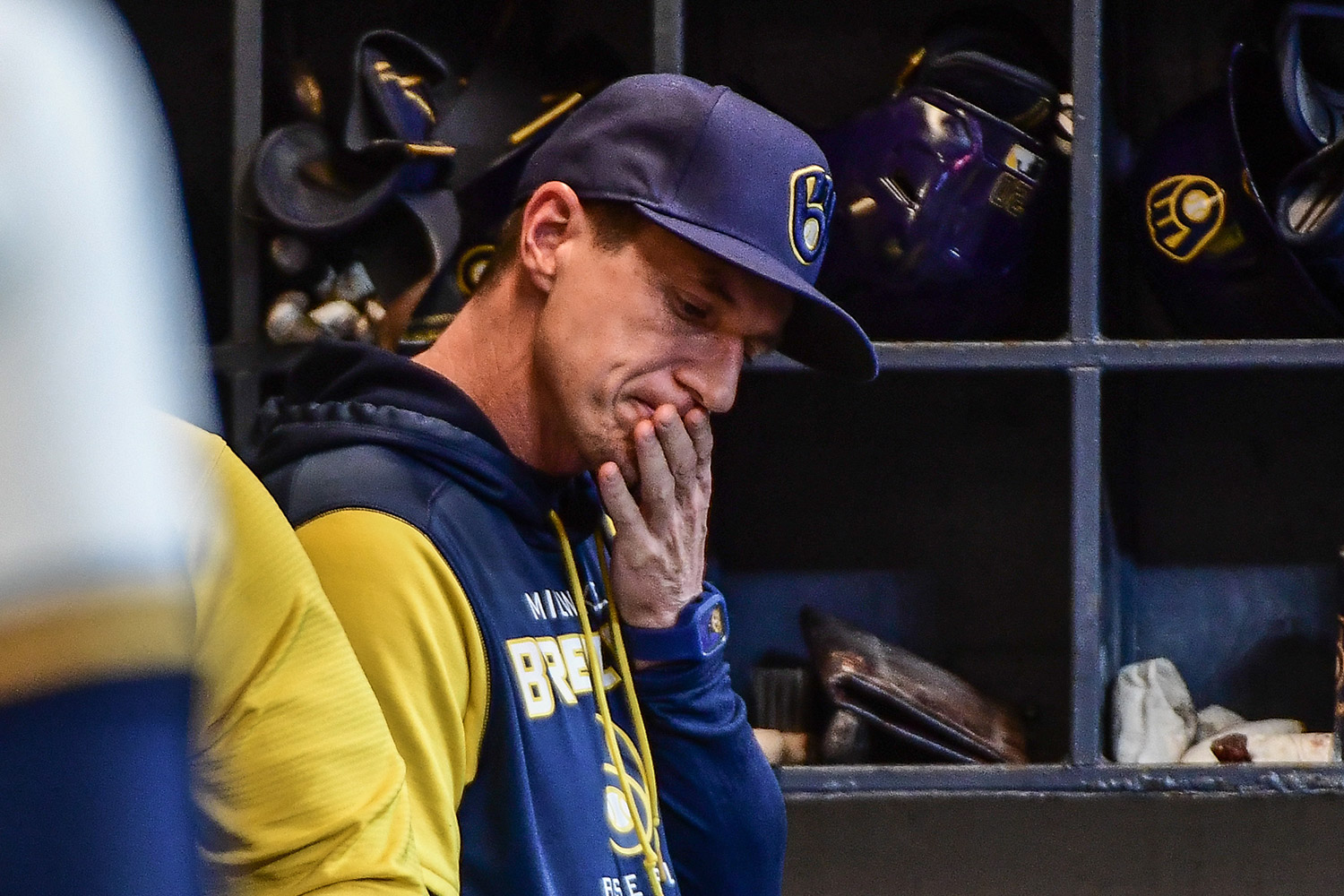 Image courtesy of © Benny Sieu-USA TODAY Sports
For the first time since the start of 2018, the Milwaukee Brewers prepare for a new season after failing to reach the playoffs. Despite last year's disappointment, the squad is set to reach the postseason in 2023 and 2024. Where the Brewers stand within the National League this season and how long the competitive window remains open are things to ponder as the days get longer. The perception of those two areas can change depending on what happens about these four huge questions leading into Spring Training.
1 - Will Any of the "Big Three" Brewers Receive a Contract Extension?
Corbin Burnes, Brandon Woodruff, and Wily Adames are all under team control through the 2024 season. It would be a terrific triumvirate to build around for the next five years, but the Brewers will keep only some of the three for the long haul. The club has three options for each player:
Trade him by mid-season 2024.

Let his contract expire after the 2024 season to become a free agent.

Sign him to a multi-year extension.
There isn't a deadline to sign an extension before Spring Training, but it would raise the spirits of fans (and some players) as they prep for the season. It's also usually best to wrap up contract talks before players focus on on-field performance. 
Woodruff would likely agree to an extension that fits the Brewers' plans. The oldest of the three, he might accept a shorter deal (five years max) and not demand the Cy Young salary Burnes will command. Coincidentally, Burnes is likely to have differing views on a long-term deal. Burnes should receive enormous offers for extended seasons (up to seven or eight years) from several teams when he hits free agency. Both numbers will be more than Milwaukee can offer, considering the risk.
Adames is intriguing, especially after the shortstop explosion this offseason. Position players are less risky than pitchers, and Adames isn't quite to the upper levels of his position to reach exorbitant figures. A top-eight shortstop in the league is worth locking up at a high price; it is a matter of finding what works for both sides. 
2 - Is Craig Counsell Going to be a Lame Duck Manager?
Craig Counsell, the longest-tenured manager in the NL, is currently entering the final year of his contract. Counsell has led the Brewers since 2015, winning a franchise-record 615 games with four playoff appearances and two NL Central titles.
Teams rarely begin new seasons with a lame-duck manager due to the uncertainty it can create in the clubhouse. It can negatively impact managerial decisions, player commitments, and front-office strategies. Though some people think a new voice or fresh perspective could benefit the team as Counsell starts his ninth year at the helm, his consistency is a valued trait.
It isn't easy to imagine owner Mark Attanasio and GM Matt Arnold with thoughts of replacing Counsell. Thus, it is fair to expect the Brewers to extend his contract for another year or two. An announcement should come within the next two weeks.
3 - Are the Brewers Set in the Outfield?
Christian Yelich, Jesse Winker, and Tyrone Taylor are the MLB veterans set to roam the outfield; however, Winker will primarily serve as DH. Garrett Mitchell, Sal Frelick, Joey Wiemer, and Blake Perkins are the young guys who could be in play. Only Mitchell has MLB at-bats (61), all coming at the end of last season. Are the Brewers genuinely comfortable with this group opening in 2023?
Lock in Yelich for left field, with Winker filling in. After that, Taylor is a solid fourth outfielder but not a true everyday bat. His use should be limited and mostly against lefties. There's optimism for the three outfield prospects, but it's a gamble to rely on a big season from any of them and an enormous risk to plan on significant contributions from two or more. 
Perkins mentioned above, who Milwaukee signed to a major league contract, must have the eye of someone in the organization, but I wonder why. The 26-year-old has played seven seasons in the minors with a .686 OPS. It's hard to believe he is the answer, either.
Several (ideally) right-hand hitting outfielders remain on the free-agent market (e.g., Adam Duvall, AJ Pollock), and others might be available in trade (e.g., Anthony Santander, Ramon Laureano). Even if the Brewers went bargain bin shopping, they need another outfield bat to ensure depth and have insurance for injury or ineffectiveness. 
4 - Is Anyone a Leading Candidate to be the Setup Man for Devin Williams?
One explicit goal of Arnold's this offseason has been to stockpile potential relief arms. While none of his trades or free agent signings have been splashy, he has added a diverse talent pool to the already-stocked system of veterans and youngsters.
The Brewers have 29 total pitchers between the 40-man roster and among non-roster invitees to Spring Training, ranging from 22-year-old fireballer Abner Uribe to 36-year-old Matt Bush. With a variety of option years among the large group, Milwaukee will throw a bunch of stuff at the wall and see what sticks. And when someone starts to slide, they'll rotate in another guy or two. 
But many relievers like to have a specific role, and bullpens often function better with one or two pitchers utilized as the "setup" men for late, high-leverage innings. Is Milwaukee looking at anyone as the leader for such an important role?
Brewers' fans might not like it, but Bush likely has a step on the competition if he can squish the home run bug that killed him last season. Jake Cousins has the stuff to lock things down, but he needs to stay healthy and limit the walks. Another pitcher could prove his worth, like Peter Strzelecki, who turned heads in 2022.
It's possible the Brewers could still snag a veteran free agent, but considering they let Brad Boxberger go, it's likely it would be someone worth little. They might believe quantity over quality is best in the pen and that someone is bound to take the reins of a true setup man.
Those are the Milwaukee Brewers' biggest questions as we begin 2023 and look ahead to Spring Training. What are your thoughts on these topics, and what might happen between now and the start of spring games?
Think you could write a story like this? Brewer Fanatic wants you to develop your voice, find an audience, and we'll pay you to do it. Just fill out this form.
MORE FROM BREWER FANATIC
— Latest Brewers coverage from our writers
— Recent Brewers discussion in our forums
— Follow Brewer Fanatic via Twitter, Facebook or email