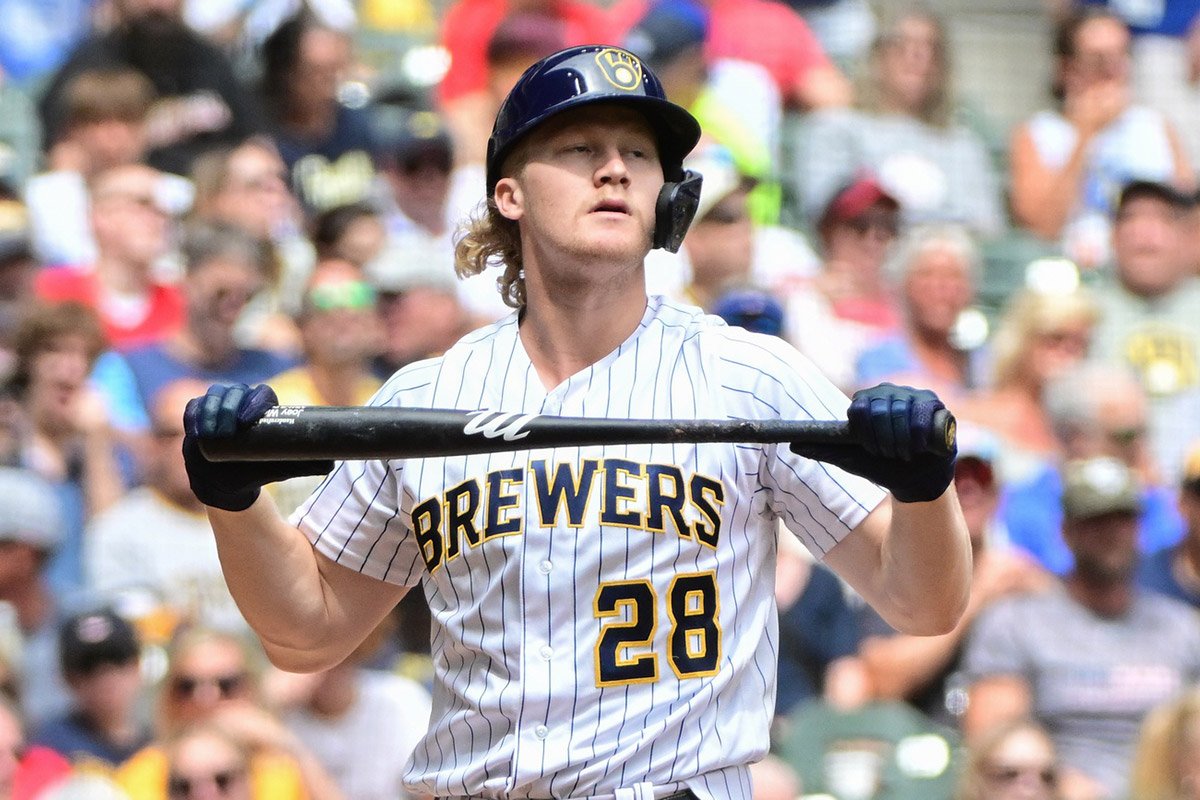 Jason Wang wrote about Wiemer's current issues last Friday. Now that we've established some of the problems with his swing, how can Wiemer's swing be fixed? Surely, it will take a huge overhaul, right? At least for now, the solution may not be as complicated as you would think.
Before diving into that, we need to note that a swing change (beyond some minor tweaks) for a hitter is a big deal, especially when it is done at the Major League level and in the middle of a season. Coaches do not take it lightly, and players do not want to do it prematurely. Joey Wiemer is a contributor to a Major League Baseball club that is competing for a playoff spot. He flew through the minor league system over the last two seasons. Wiemer's swing did not hold him back during that ascension, and there is risk involved in going away from the swing that brought him to this level. This is not to say that Wiemer shouldn't be open to and willing to change but to point out some of the potential reasons we haven't seen any major changes implemented, at least to this point.
As Jason pointed out in his article last week, Wiemer's hands move quite a bit more than most hitters. You'd be hard-pressed to find anybody in baseball who moves their hands as much as Wiemer does during his load. Going from above his head to his shoulders, almost all the way down to his waist, and then back up to his shoulders. 
While a number of concerns could be raised from this excessive hand movement, the common denominator in almost all of those concerns is that this many moving parts make it extremely hard for Wiemer to be in the correct "launch position" at the correct time. When they begin to move to the ball, the launch position is where a hitter wants, or more accurately, needs to be. Hitters want to be consistent with their launch position because any inconsistency with it is going to, in turn, cause inconsistency in the hitter's timing. Because of the movement with Wiemer's hands, he rarely "fires" from the ideal spot and struggles to be on time.
The Fix
The question then becomes, how can the Brewers and Wiemer fix this issue? I believe that the fix is much more straightforward than it may appear. I believe most of Wiemer's issues can be solved by putting him into a metaphorical time machine and sending him back to August and September of 2022 when he was playing for the Brewers Triple-A affiliate, the Nashville Sounds.
Using one of the videos Jason posted in his article, we can see where Wiemer may have gone wrong at the MLB level and why his hand movement could be causing it. 
The first screenshot shows where Wiemer is at as the pitch is being released. The second shows him close to his true "launch position." Consider that the amount of time a player has to react to a 90 MPH fastball is 0.4 seconds. However, the human brain and eye will take around 0.25 seconds to process what they see. This means a hitter has around 0.15 seconds to react and decide. Now, consider that Wiemer is not in the correct launch position until the ball is nearly halfway to the plate. Because of this, he has to begin "firing" his hands the moment he gets to that position. It leaves him with no time to react and essentially forces him to sell out for a fastball if he wants to be on time for it.
Now, with those screenshots in mind, take a look at the video below. This is a full at-bat of Wiemer's while he was in Triple-A last season, and when you watch it, keep an eye out for a few different things in both his setup and his load. First, you will likely notice the setup seems a lot simpler. He stands at the plate with his back leg already pre-set into his load. His bat is resting flatly on his shoulder. When he begins his load, the furthest his bat tilt gets is about 80 degrees, which is a pretty common occurrence with hitters around the league, and his hands remain around chest high or above. In 2023, he is at times getting to nearly 180 degrees with that tilt, and as was mentioned earlier, his hands will often drop to his beltline or below. When he actually gets to the point where he needs to make his decision to either take or pull the trigger on a swing, you will notice that with all of those previously mentioned factors working in his favor, Wiemer gets himself into his launch position when the ball is much closer to the release than in the screenshot shown earlier. Because of that, he is able to attack pitches that he likes, and it is easier for him to adjust to pitches that he can't do much with.
Using the video above, these are screenshots from Wiemer at the same points in his swing as the one from the Pirates video that was used earlier. At first glance, there isn't a huge difference, and the difference in camera angles is not making it any easier. The only somewhat noticeable difference is that he was able to get to that ever-important launch position with the ball a bit further away from home plate. Those few feet can make all the difference for a hitter and their timing or adjustability.
Not only is Wiemer's timing causing him to have to sell out for the fastball in 2023, and still struggling to be consistently on time for the heater, but selling out for the fastball takes all of that previously mentioned adjustability out of his swing, and makes it very tough to make solid contact against any offspeed pitches. Having to start their swing earlier also makes it extremely difficult for a hitter to abort their swing and keep their hands back enough to avoid going after a breaking ball out of the zone. As Jason pointed out last week, Wiemer's numbers against breaking balls show this very clearly, as he is swinging and missing close to 40% of the time.
| | | | | | |
| --- | --- | --- | --- | --- | --- |
|   | Run Value | BA | wOBA | Whiff% | K% |
| Slider | -8 | .160 | .221 | 37.4 | 28.3 |
| Curveball | -4 | .217 | .240 | 46.5 | 43.8 |
| Sweeper | -5 | .083 | .144 | 34.0 | 32.0 |
Wiemer is an elite athlete, and because of this, he still gets the barrel to the ball with more regularity than you might expect. Unfortunately, as someone like Christian Yelich has demonstrated many times over the last few years, poor timing trumps solid contact the majority of the time. A player who is late on their swing is unlikely to be catching the ball out in front and thus will struggle to create lift. As we have seen with Wiemer, his ground ball rate has largely coincided with his success, or lack thereof, so far in 2023. Wiemer's best month of the season thus far came in June, when he posted a very strong wOBA of .360 over the course of the month. He also posted a season-low 35% ground ball rate in June. 
Wiemer is unlikely to completely overhaul his swing and suddenly become a mild-mannered gentleman in the box. His swing will most likely always have a bit of a "caveman swinging a club" aggressiveness to it, and there will always be swing-and-miss to his game. However, a return to the setup and load that he used in Nashville would go a long way toward limiting his hand movement, allowing him to get to his launch position more consistently, and that would allow him to not only be on time more often but also leave him some room for adjustability. 
We should never expect Wiemer's swing to be one that coaches will teach to kids or one that kids will want to emulate. The good news is that you don't win style points in baseball. Hunter Pence has been somebody that Wiemer was compared to while he was coming up through the system. Pence had a fantastic career despite his very interesting hitting mechanics. In the end, a swing has to work for the hitter. There is no cookie-cutter way to build a swing. There are certain non-negotiables, though, and being able to be on time is the biggest non-negotiable out there.
Along with the timing aspect of things, one piece that probably isn't talked about enough with young players, in general, is that there will be an adjustment period for them at the Major League level. Then, once they adjust, the pitchers will adjust to them, and the young hitters will have to undergo another adjustment period. Wiemer is likely more susceptible to longer adjustment periods due to all the moving parts discussed in this article and Jason's article.
It should also be noted that, despite it not being the most appealing swing in the world, there are plenty of good qualities with Wiemer's swing as well. His bat path is actually in a pretty good place, and as long as he gets moving on time, his bat stays in the zone for a long time. His stride isn't simple, but he is pretty consistent with it and does a decent job limiting his head movement during his stride. To go along with those qualities in his mechanics, he definitely has the bat speed and the power to be a solid hitter in the majors. 
If he can get back to a slightly simpler load and get through these adjustment periods, the bat could develop into a consistent threat with his elite defense and speed. Wiemer's ceiling is as high as anybody's if the bat does come around.
Think you could write a story like this? Brewer Fanatic wants you to develop your voice, find an audience, and we'll pay you to do it. Just fill out this form.
MORE FROM BREWER FANATIC
— Latest Brewers coverage from our writers
— Recent Brewers discussion in our forums
— Follow Brewer Fanatic via Twitter, Facebook or email