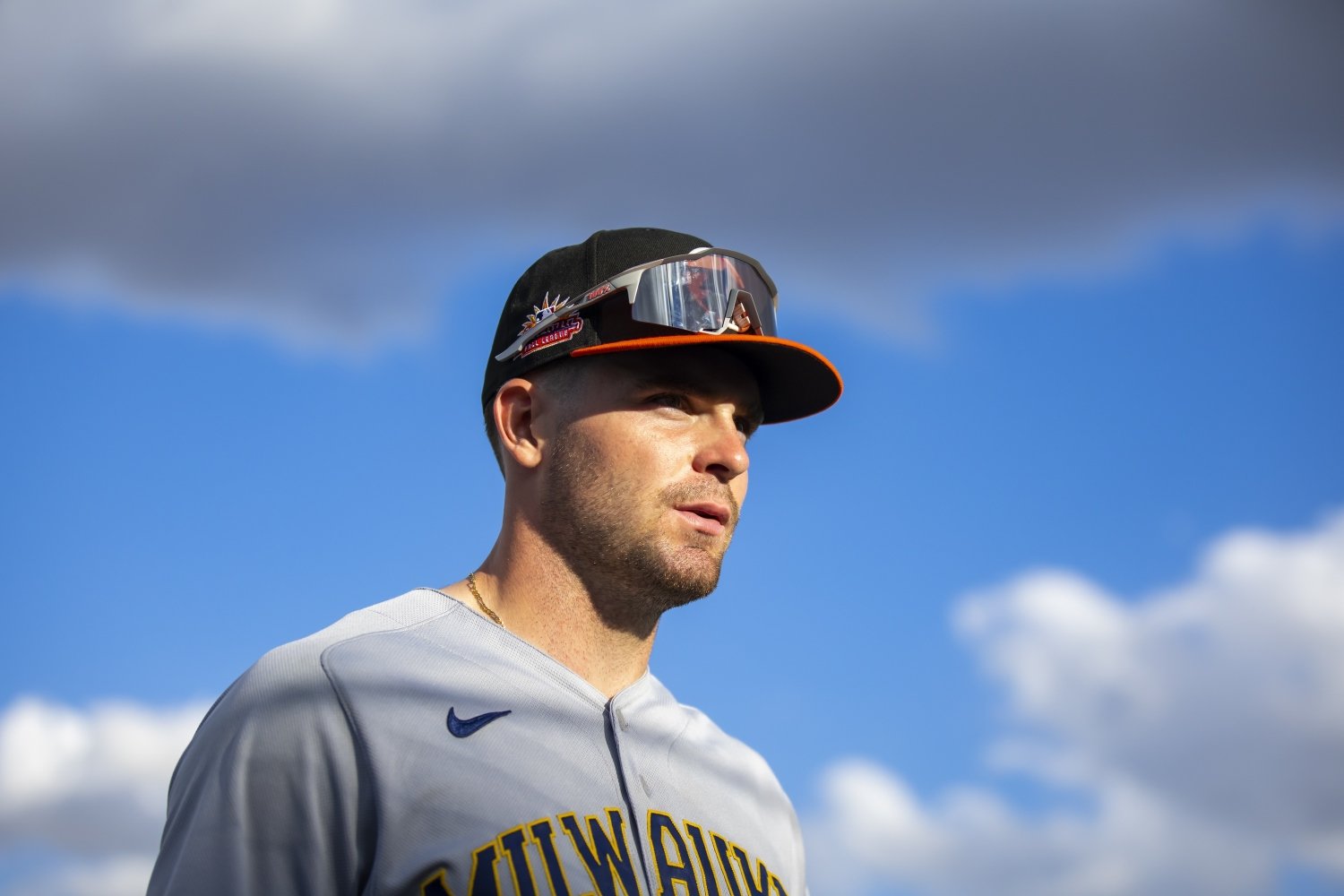 Image courtesy of © Mark J. Rebilas-USA TODAY Sports
The Brewers have several pitchers with whom defense comes at an absolute premium, though that has lessened of late with Corbin Burnes, Freddy Peralta and Brandon Woodruff racking up the strikeouts like nobody's business. The seventh- and eighth-inning specialists (Hoby Milner, Elvis Peguero, Joel Payamps and Abner Uribe) all generate significant ground ball rates. It would make sense to bring in Brian Anderson with four-run leads like the Brewers had on Monday night, but it didn't happen.
That invites an uncomfortable question: if not then, when? The only reason the Brewers still have him on the 26--man roster may be due to a reluctance to designate him for assignment, lest Andruw Monasterio go down injured. They have managed to boost production from a number of slumping positions in the first half, and this could be the last piece they need to really surge forward.
Anderson has struggled mightily this season with the bat, falling behind regularly due to an inability to hit fastballs, combined with an exceptionally passive approach at the plate. Then, too, he's seen too much swing-and-miss against offspeed stuff, combined with increasing chase rates against breaking pitches as the season has gone on. The month of June was his last stretch of regular playing time, during which he hit just .170 on fastballs, .214 on breaking balls and .111 on offspeed pitches. He was almost as poor in May, so despite the hot start in April, it's clear the Brewers just don't trust his bat, and the mistrust is not mislaid. If a pitcher has any form of changeup in his repertoire, it's an almost certain out.
As of now, Anderson has a 30.1% strikeout rate, while demonstrating limited power. That will not cut the mustard (to digress, why would anyone ever cut mustard?). Perhaps, with more regular playing time, he could find his form again, but that's just not a luxury they can afford right now in the midst of a playoff race and some intense series this week against the Chicago Cubs and Philadelphia Phillies.
The Incumbent
Andruw Monasterio has been a godsend for the Brewers, with some of the most consistently high-quality at-bats in the lineup. He has a good ability to put the ball in play; has provided decent defense (with the occasional mishap) at the hot corner; and shows a baseball nous on the basepaths and at the plate that have served him well
He averages 88.8 miles per hour in exit velocity, while finding the sweet spot launch angle (between eight and 32 degrees) over 40 percent of the time, spraying the ball to all fields, and striking out in just 19 percent of plate appearances. All of this adds up to a player who can find the outfield grass enough to be a valuable lower-order hitter. He's done a lot of his damage against fastballs, with an xBA of .301 and xSLG of .432, but he can be a little passive at times, taking too many pitches over the heart of the plate. However, the ethos of this offense is grinding out at-bats, and making pitchers work, so the staff will have no problems with this at all.
He came up to join the Brewers at a time when they were really struggling against lefthanders, comfortably the worst in the league in this aspect, but Monasterio has hit .319/.439/.447 against southpaws, with as many walks as strikeouts. Part of the reason for this is that lefties generally target the inner part of the zone more (coming to that now). Counsell recently referred to Monasterio as "slump-proof" due to his approach at the plate and his incredibly level swing path. That's one big reason why he's in the lineup every day at the moment.
He does have a couple of weaknesses, and pitchers are starting to adapt to him: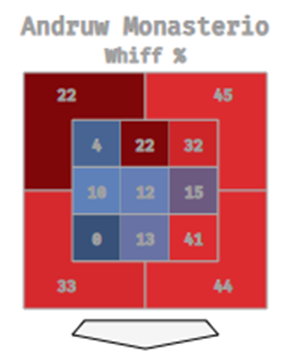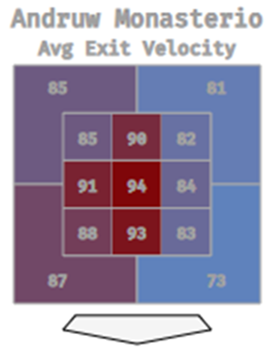 As you can see, he not only swings and misses more on pitches away from him, but he struggles to create the type of exit velocity that regularly translates into hits. The good news is he's quite aware of this, and early in the count, he avoids swinging at pitches on the outer stripe significantly more. He has a swing rate below 50% on the outer third, compared to swing rates approaching 70% in the rest of the strike zone.
He also has struggled a little bit with breaking pitches. These are slightly skewed, as they are often the putaway pitch, meaning at bats ending in breaking pitches will often have lower averages. That being said, he has a whiff rate of over 30% against them (not especially high, but significantly larger for him), with 21 strikeouts, 51 batted-ball events, and an xBA of just .177.
Against lefthanders however, this skyrockets to a .316/.579 slash line (with a significant bit of luck) and just a 23% whiff rate. He puts the ball in play and produces consistently. As a strong platoon bat, he will find a place in this lineup. The question becomes whether he's better as an everyday bat, or whether there is a superior alternative.
The Slight Taste of Regret?
Bradley Blalock was a lottery ticket. He's Rule 5-eligible in the offseason, with high potential upside (though that hasn't shown so far with the Wisconsin Timber Rattlers), in return for the cast-aside husk of Luis Urias. Coming into the year, until the injury on Opening Day, Urias was expected to be a big part of the organization's success this year, shuffling between second and third base and likely giving them something better than league-average offense. He surpassed 3.0 WAR in both 2021 and 2022, but his post-injury performances were woeful, on top of seemingly lackluster efforts with the Nashville Sounds in Triple A.
Since moving to the Boston Red Sox, he's had an xWOBA of .323, while garnering a .220/.361/.380 slash line, with nine walks to 12 strikeouts. This includes two grand slams and 11 RBIs in 62 plate appearances, adding a power dynamic at third base that Monasterio just doesn't have. He's performing far closer to his efforts in 2022, and you'd expect the Brewers would take that over Anderson at the moment. They cashed in, but they may come to regret the decision given Urias's proven track record.
It's unlikely they'd have offered him $5 million to play next season, so a non-tender was nigh inevitable, but could Urias have added impetus and versatility in the infield down the stretch? Undoubtedly. To judge a decision at the time compared to hindsight seems a markedly unfair way to assess the transaction, however, and that move did open up an avenue for someone on the farm. Speaking of;
If you wanted a platoon….
Tyler Black has been one of the best pure hitting prospects in the Brewers system, with a strong command of the strike zone along with an ability to elevate balls and hit for more power this season. He was sent to Nashville earlier in August, and after a rough start, with three hits in his first 36 at-bats, he's found his footing and his timing, beginning to excel.
Over his last 11 games, Black has a .326 batting average, with four doubles, two home runs (one off a position player), and seven walks against five strikeouts. His plate discipline has been superb, and his timing has come around with much more regular elevation into the outfield.
A major indicator that Black may be ready is how well he handled the extra movement in Double-A Biloxi earlier in the season, where they used a tackier ball that notably altered the control and swing-and-miss potential of pitchers at that level. He responded with a .411 OBP, popping 14 home runs, eight triples and 16 doubles. He flat-out raked, with a power upside that most didn't see coming. His plate discipline and strike zone control give him a really solid floor from which to work, and on top of that, he's a left-handed hitter with a .965 OPS against right-handed pitching this season, which would fit beautifully with Monasterio at third base.
His defense was heavily questionable earlier in the year, but he has become much more proficient and capable since then, projecting as a solid defender rather than the liability he was at the start of the season. He has also stepped in occasionally at first, and could potentially cover second base in a pinch as well, having played it for most of his adult life.
Black is ready, he's versatile, and even if it's simply to pinch hit, he's a far better option on the bench than Brian Anderson. He could kickstart the offense yet further, with a power jolt that Monasterio just doesn't have. Having worked out the kinks in their lineup that plagued the Brewers earlier in the season, third base is the only one with question marks still surrounding it. One move could fix all of that.
The Brewers started the season with two Brian Andersons. With one rumored to be off to a national network, they may finish it with none.
Think you could write a story like this? Brewer Fanatic wants you to develop your voice, find an audience, and we'll pay you to do it. Just fill out this form.
MORE FROM BREWER FANATIC
— Latest Brewers coverage from our writers
— Recent Brewers discussion in our forums
— Follow Brewer Fanatic via Twitter, Facebook or email