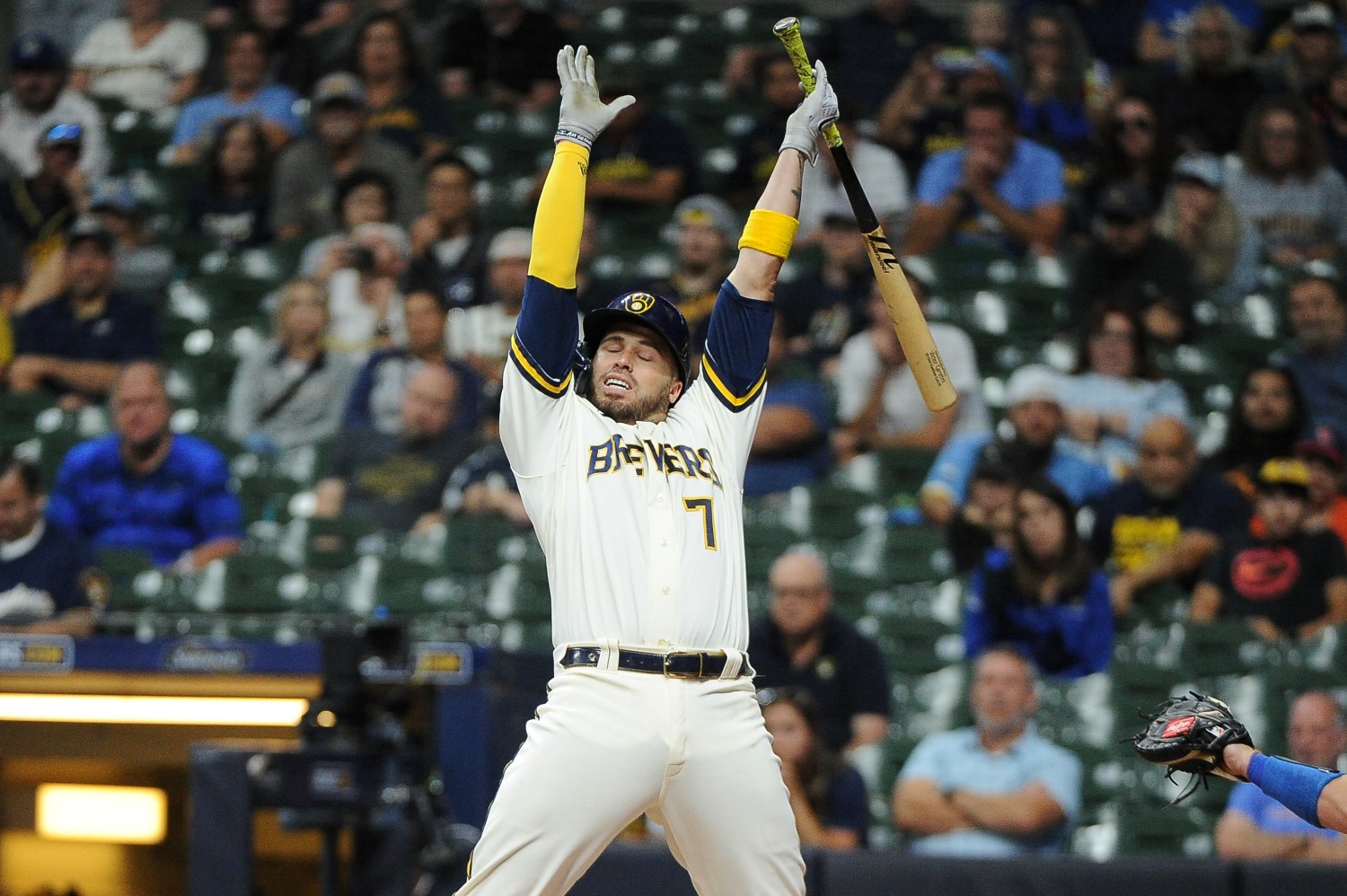 Image courtesy of © Michael McLoone-USA TODAY Sports
With the acquisition of William Contreras, Matt Arnold filled the void left by the departing Omar Narvaez and then some. Last week, we broke down all of the work ahead for Contreras and the Brewers on being a better pitch framer and game manager, but that's just about putting the finishing touches on an exciting profile.
The Starter
Obviously, if things go according to any of the team's plans, Contreras will be the primary backstop in 2023. He's 25 years old, now fully established as a big-leaguer, and they'll want his bat in the lineup as often as possible. On the other hand, his career high in innings caught during any season was 799 in 2021, and that counts his time in the Venezuelan Winter League that year. If he goes past 100 starts at catcher, he'll be in uncharted waters in terms of workload, and that could slow his bat down in September.
Offensively, Contreras is delightfully dangerous, but it'll be interesting to see to what extent he can manage his contact problems as he takes on a full-time role. Striking out 28.4 percent of the time, as he has done in MLB thus far, is fine if you're a patient slugger who's always hitting fly balls. If you're pairing that figure with a 51.1-percent groundball rate, as Contreras has done, it's much less tenable. 
Like his older brother, Contreras has a swing in which his hands get out away from his body early. That can help generate lots of bat speed and exit velocity, but it's not good for maintaining a consistent bat path or making contact. As the Brewers know very well, Willson Contreras also gets eaten up on pitches inside, for this very reason. It's something on which the team will have to work with William, in order to keep him producing the way he did in 2022.
Had our first chance to speak to William Contreras (with the help of the intrepid @cbriz) this morning, so of course we had to ask him about facing his brother Willson a bunch of times each season moving ahead: pic.twitter.com/cCXVrQyuzo

— Todd Rosiak (@Todd_Rosiak) February 17, 2023
The Backup
Victor Caratini is back to backing up Contrerases, and as backups go, he's a very fine one. Although not as strong a thrower as Contreras, he's a much better overall defender, not only because of his strong framing, but because he studies opponents well and calls a solid game. Early in spring games, we've seen him make several throws behind runners on the bases, highlighting another strength for him: game awareness. Under the new rules governing pitchers' ability to step off the rubber, catchers will have to make more of those throws, which don't count against the limit, because they don't require the pitcher to disengage and restart the pitch clock. 
It's always nice to have a backup catcher who's also a switch-hitter, because you want to be able to get favorable matchups when the starter needs a day off, but can't schedule those days off purely based on matchups. Caratini is a perfectly serviceable bottom-of-the-order hitter when he needs to be in there, too. He manages the strike zone well, hits the ball fairly hard, and could benefit quite a bit from the restrictions on defensive shifts this year. Jazayerli's Law of Backup Catchers says that anyone can hit .300 in a small number of plate appearances. Caratini has never done that, but he did have a .795 OPS in 279 trips to the plate in 2019. That he hasn't been over .661 in any season since then might tell us he's due for another good year, more than anything else.
WALK-OFF! Victor Caratini wins it for the Brewers with a 3-run home run!

(via @brewers)pic.twitter.com/eY2PKU3A53

— FOX Sports: MLB (@MLBONFOX) July 4, 2022
Summary
Look for roughly a 60/40 division of labor from these two, at least during the early stages of the season. Catcher playing time is often a hot topic during spring training, especially in this era of teams trying harder to protect their guys from the vicissitudes of that position, but the reality is that the workloads of the starter and backup are rarely determined by some careful planning over the long run. Instead, injury and vagary tend to do the deciding. If Contreras's defense doesn't come along the way the team would like, or if Jesse Winker gets hurt and the team needs Contreras at designated hitter more often, then Caratini could start 80-plus games.
On the other hand, if Caratini isn't able to handle the increased prevalence of the running game or is having an especially brutal season at the plate, Contreras could be stretched further, to catch more like seven out of every 10 games. That the team has solid catching depth at Triple-A Nashville (not to mention fast-rising prospect Jeferson Quero, a little further down the ladder) makes all of that unpredictability a bit less scary.
Projected Value
As many have noted, PECOTA (Baseball Prospectus's projection system) seems to hate Contreras this spring. As such, BP projects the team to get just 1.7 Wins Above Replacement Player (WARP) from their catchers this year. On the contrary, Dan Szymborski's ZiPS system likes both Contreras and Caratini a good bit, and the Brewers project for 3.2 WAR from the position. The latter seems much more correct, but the former does remind us to be cautious with Contreras. Even in that case, though, the team would be getting roughly average production from a position where clubs sometimes get virtually nothing.
Think you could write a story like this? Brewer Fanatic wants you to develop your voice, find an audience, and we'll pay you to do it. Just fill out this form.
MORE FROM BREWER FANATIC
— Latest Brewers coverage from our writers
— Recent Brewers discussion in our forums
— Follow Brewer Fanatic via Twitter, Facebook or email
1