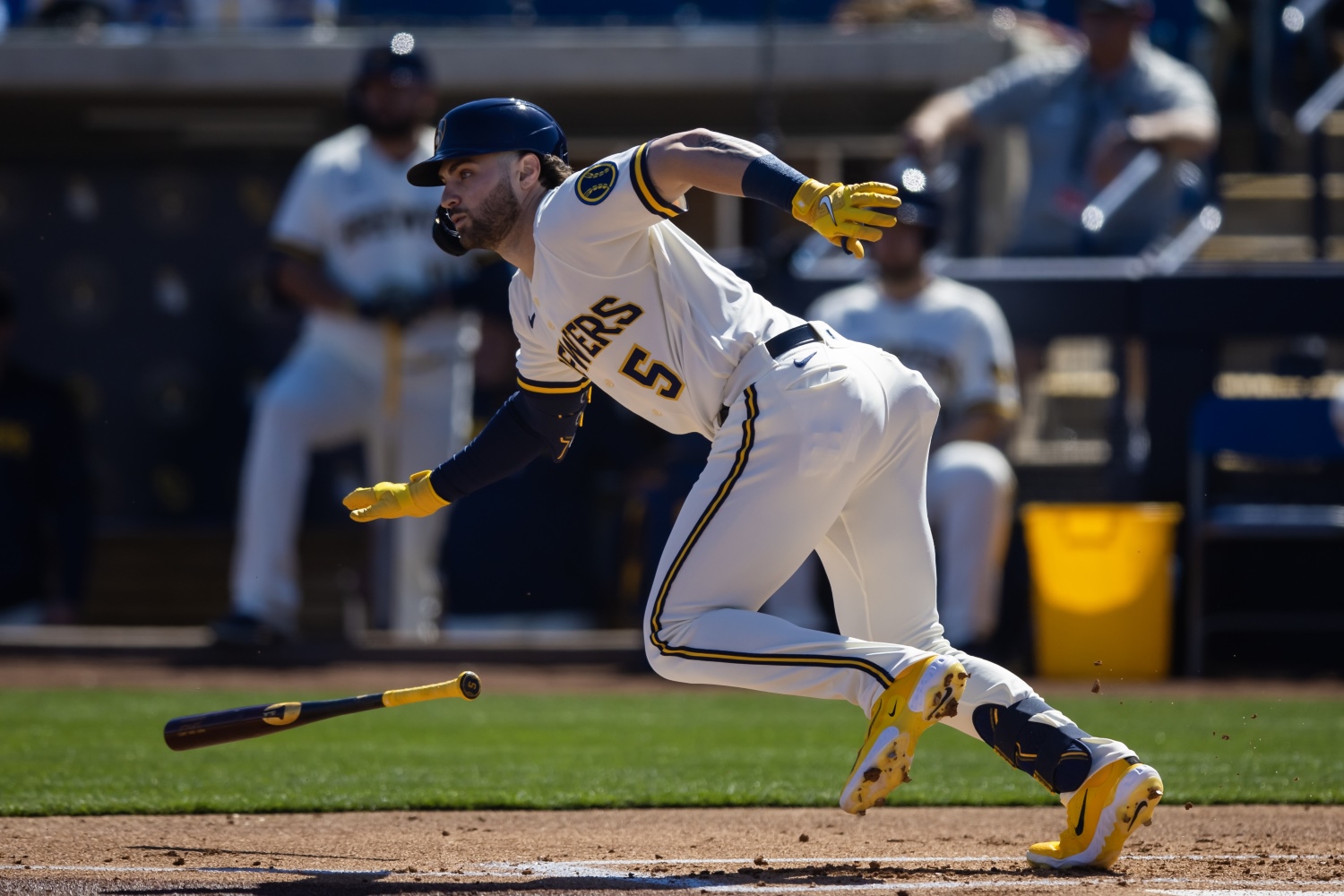 Image courtesy of © Mark J. Rebilas-USA TODAY Sports
Not with a groan or a loud rip, but with a tweet, the Brewers' center field depth gave way before Cactus League games even began. Tyrone Taylor's elbow injury leaves the team almost wholly dependent upon Garrett Mitchell at that position throughout the early stages of the season, and as exciting as Mitchell's upside is, that's a bit nerve-wracking for a team that can only call this season a success if they reach the postseason.
The Starter
Mitchell is a baseball rat, blessed with tools that don't always come packaged with such dedication to the game itself. Grade him out on baseball's traditional five tools, and he's above-average in four: glove, speed, arm, and power. Even that undersells him. Mitchell is a burner, although we should expect to see him ratchet his topline speeds down slightly as the rookie turbo effect wears off. He might also hit the ball a bit less hard, when he gets all of one, for the same reason.
In the exchange, though, he's likely to make more contact than he did in his brief stint with the parent club in 2022. Rookies who reach MLB have a tendency (one we can now document, thanks to Statcast) to play the game without holding anything in reserve. That means unexpectedly impressive sprint speeds and maximal exit velocities, relative to whatever reports we get on them in advance of their debuts, but it comes at a cost. Rookies haven't yet learned that playing at that speed will make one vulnerable in MLB--vulnerable to manipulation by the other team, vulnerable to sloppy mistakes, and vulnerable to injury. 
Once they settle in a bit, though, players with good feel for the game and the willingness to wade through the inevitable adversity find their way to a more tenable balance between aggression and caution. That doesn't always mean that they can fix their shortcomings. Mitchell has one loose comparator in former Cubs outfielder Brett Jackson, who came up in 2012 after being the team's top draft choice in 2009. Jackson, like Mitchell, was a left-hitting, unusually toolsy collegiate outfielder out of the Pac-12. In his 142 trips to the plate for the moribund baby bears in 2012, he struck out 41.6 percent of the time, and he never got another full-fledged shot in the majors.
Last year, Mitchell struck out even more often than did Jackson in his audition. He's smart, but Jackson was smart. His defense gives him a higher theoretical floor than his whiff rate implies, but so did Jackson's. He's susceptible to the same failure to which Jackson succumbed. However, there are two key differences:
Jackson whiffed on nearly 38 percent of his swings in that short stint in 2012. A decade later, Mitchell only missed on 31.5 percent of his swings. 

Foolishly, the Cubs spent the winter immediately after Jackson came up and scuffled so much trying desperately to rebuild him. It was a catastrophic failure, and he permanently lost touch with his natural talent. While the Brewers and Mitchell certainly want him to close some of the holes in his swing and approach in 2023, neither party made any attempt to overhaul him.
Strikeouts will be the limiting factor in Mitchell's offensive production. They shouldn't be a crippling problem, though, and given the great glove work he can offer in an outfield that badly needs some stability and solidity in the middle, the Brewers can put up with quite a few of them before the juice is no longer worth the breeze.
The Backups
Were Taylor healthy, he would be not only Mitchell's backup, but a really nice shield against any platoon vulnerabilities the young left-handed hitter shows as he tries to matriculate into a regular big-league role. Since he isn't, the team will have to scramble a little bit. Sal Frelick has had the kind of spring that would force the team to seriously consider carrying him on the Opening Day roster, even if they were fully healthy. Since they aren't, he has an especially strong case for being included, and although he's nothing like the defender Mitchell can be, he has the speed and the other rudiments to acquit himself in center if his bat does what seems possible.
Failing that, things really get dicey. Joey Wiemer is the kind of big, rangy athlete who can fake it for a long time in the cozy center fields of the NL Central, but he's a better fit for right field in even the medium term. Owen Miller has taken fairly well to center field in a couple of spring looks, but it's hard to imagine that the team wants him playing there with any regularity. Taylor's elbow is the key to everything, when it comes to maintaining a backstop for Mitchell.
Summary and Projected Value
The chasm between projection systems on Mitchell are as wide as you'll find. Dan Szymborski's ZiPS system pegs him as an essentially league-average hitter and estimates he could contribute 1.6 WAR in something considerably less than full playing time. Baseball Prospectus's PECOTA system has him as one of the worst hitters in baseball, and only expects 0.4 WARP from him. Whereas ZiPS would recommend starting Mitchell over Frelick based on equal offensive footing and Mitchell's superior glove, PECOTA would urge Frelick over Mitchell, because it much prefers Frelick's batting profile. 
In reality, of course, Frelick is as likely to spend significant time in right field, alongside Mitchell, as he is to usurp him. The real wild cards are Taylor's availability to spell and counterbalance each; Jackson Chourio's progress toward the majors; and the extent to which guys like Brian Anderson, Tyler Naquin, and Miller can keep the outfield functioning until Taylor, Chourio, or Wiemer can round it out more permanently. In the meantime, the high-wire act will have to do.
Think you could write a story like this? Brewer Fanatic wants you to develop your voice, find an audience, and we'll pay you to do it. Just fill out this form.
MORE FROM BREWER FANATIC
— Latest Brewers coverage from our writers
— Recent Brewers discussion in our forums
— Follow Brewer Fanatic via Twitter, Facebook or email