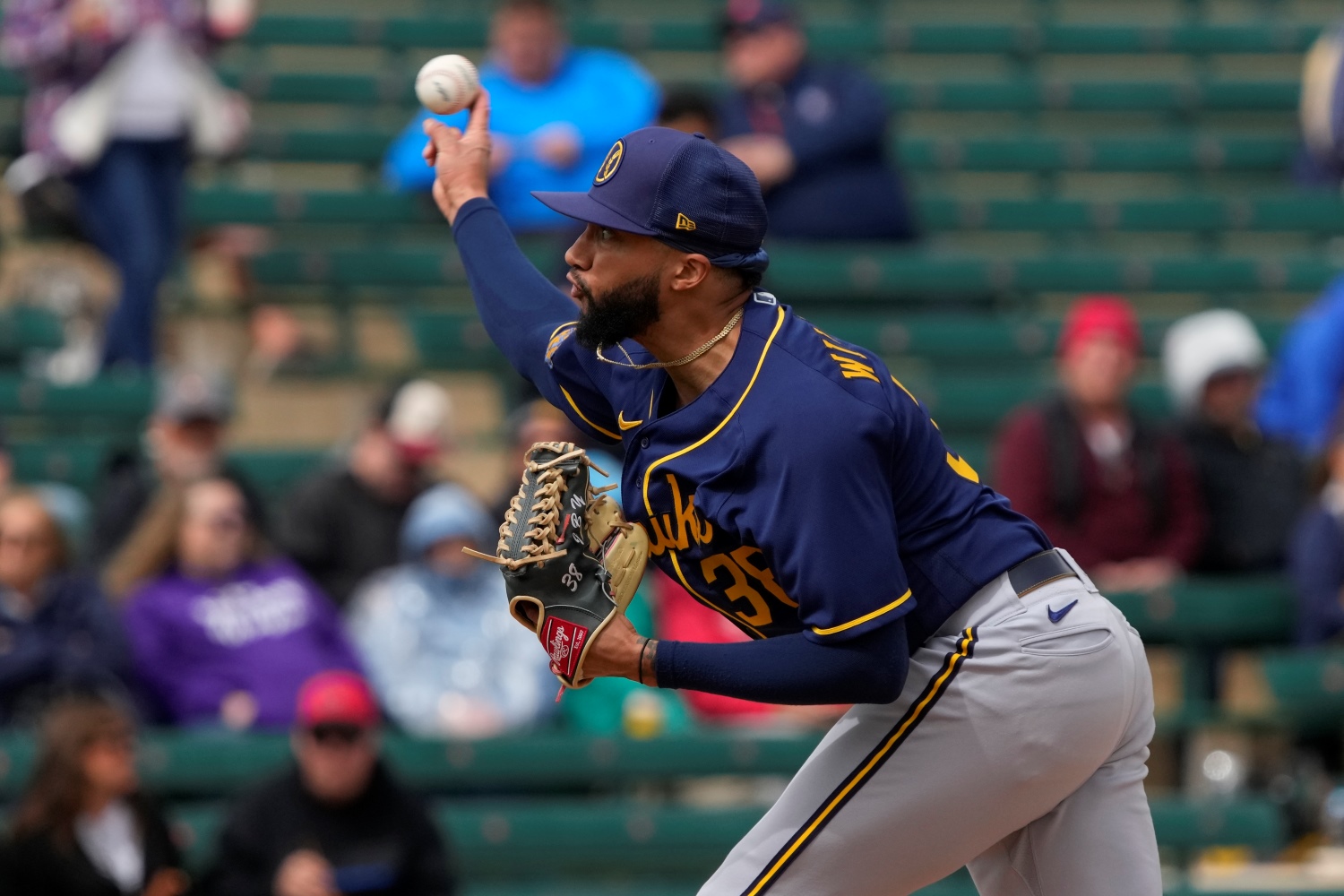 Image courtesy of © Rick Scuteri-USA TODAY Sports
Obviously, this iteration of the bullpen has a very different vibe than the last few. There's still a clear and often unhittable relief ace, but that's different than two. In the absence of Josh Hader, the Brewers will try to get some of the same excellence from a trio of strong setup men. Meanwhile, Devin Williams will step into the role vacated by Hader, presumably for a full season.
Devin Williams: America's Airbender
Team USA ran out of steam a few innings too soon in the World Baseball Classic, but Williams was up to the challenge of facing the loaded Samurai Japan lineup. He was great throughout the tournament, in fact. Having been sidelined during the team's brief appearance in the 2021 postseason, he seized upon his first taste of a playoff atmosphere, which can only be a good sign.
Many have noted, and some have worried, that Williams's velocity is down this spring. Even in his appearance in the WBC Final, he averaged 92.5 miles per hour with his fastball. That was down 1.4 miles per hour from 2022, which itself saw him lose 1.4 relative to 2021. Obviously, it's only March, but given the adrenaline of that setting, I do think it's likely that Williams has genuinely lost speed on his heater.
The delightful, incredible, wonderful thing is: it doesn't matter. With his powerful, downhill delivery–that perfectly timed snap from spinal extension to flexion, the arm action that lets him release the ball closer to home plate than anyone else in MLB–he can miss bats and set up his devastating screwball perfectly well without great velocity. 

Williams got whiffs on 34.8 percent of opponents' swings against the fastball last year, eighth-highest of 372 qualified pitchers. That number might diminish slightly if he's throwing 92 or 93, rather than 95, but more of his heater's potency comes from that extension and from the fact that opponents have to be ready for the screwball than from sheer speed, anyway. When he's throwing 92, it has the same effect as most pitchers throwing 96.
Matt Bush: The Stuff Monster
It's Williams who matriculates to a full-time version of the closer's role that belonged to Hader until the infamous trade last July. In a sense, though, it's Bush who will be asked to be a full-fledged replacement for Hader. He'll just do it from the role in which Williams waited until that deal.
FanGraphs recently began posting a suite of stats that use multiple characteristics to evaluate individual pitches on a granular level. It's an exciting but complicated advancement in our understanding of pitching, and will need to be a fuller conversation at another time, but the numbers can help us quickly tell a story or two here. For instance, Bush has one of the game's elite fastballs, in a way that makes him as close a replacement for Hader's overpowering heater as any team could hope to have found. 

In PitchingBot's pitch grades, Hader has the best fastball in MLB based on sheer "stuff" (combining speed, movement, release point, and other data), but Bush ranks 19th, and that's out of 409 qualified hurlers. In Fastball Stuff+, a similar stat on a different scale, Hader led the league at 163 (100 is average, and higher is better), but Bush came in at 145, good for seventh. Bush locates his fastball better, too. In Fastball+, which blends physical characteristics with sequencing and location elements, Bush ranks 15th, which is actually much higher than Hader.
No one needs these numbers to know that Bush's high-90s, high-spin fastball is an overwhelming offering. What they do, though, is help us contextualize and calibrate that brilliance. Bush is a poor man's Hader, and obviously, that he is right-handed instead of left-handed does matter, but the fact that the team found even a facsimile of their erstwhile ace in the same window during which they traded Hader away is a reminder of why this unit is such a strength for the team.
Peter Strzelecki: Pete Competes
This will be Williams's first full year as the closer and Bush's first full year as a Brewer, but it's Strzelecki's first full year, period. For a former undrafted free agent and someone who has weathered significant injury setbacks, to get this far at all is a considerable victory.
That's not how Strzelecki thinks about it, though, and that's why the Brewers love him so much. On pure stuff or past results, a case could have been made to have Strzelecki competing with guys like Jake Cousins or Javy Guerra for one of the final bullpen spots this spring. Right from the start, though, it was fairly clear that that wasn't the case. His makeup sets him apart, and the Brewers wisely treated him as a locked-in piece of the bullpen core coming into camp. This team makes most of its decisions based on hard facts and the ability to find tiny edges, but sometimes, maximizing the latter means eschewing the former. 
Hoby Milner: The East-West Southpaw
Williams is the pitcher whose fastball plays up most, relative to his velocity, but the pitcher in this bullpen whose velocity most belies his overall effectiveness might be the soft-slinging southpaw, Milner. Without a pitch that even averages 90 miles per hour, Milner has found consistent success, thanks to a well-documented shift in the way he attacks the strike zone and an improved changeup on which he was able to rely much more against righties last year. 
Summary
There's a little more fragility to this year's bullpen than there was to last year's. It's easier to envision things going sour than it has been in any other season of the team's recent run of contention. These four hurlers all have some question marks attached to them, from Williams's intermittent control problems to Milner's lacking power. 
Still, on balance, the strength of this high-leverage relief squad is impressive. They give opponents many different looks and have disparate repertoires. That helps make them something close to the modern platonic ideal of a playoff bullpen. Tomorrow, we'll talk about the bevy of other arms who will round out the bullpen throughout the season, and how they can build a great house on the foundation these four establish.
Think you could write a story like this? Brewer Fanatic wants you to develop your voice, find an audience, and we'll pay you to do it. Just fill out this form.
MORE FROM BREWER FANATIC
— Latest Brewers coverage from our writers
— Recent Brewers discussion in our forums
— Follow Brewer Fanatic via Twitter, Facebook or email
1