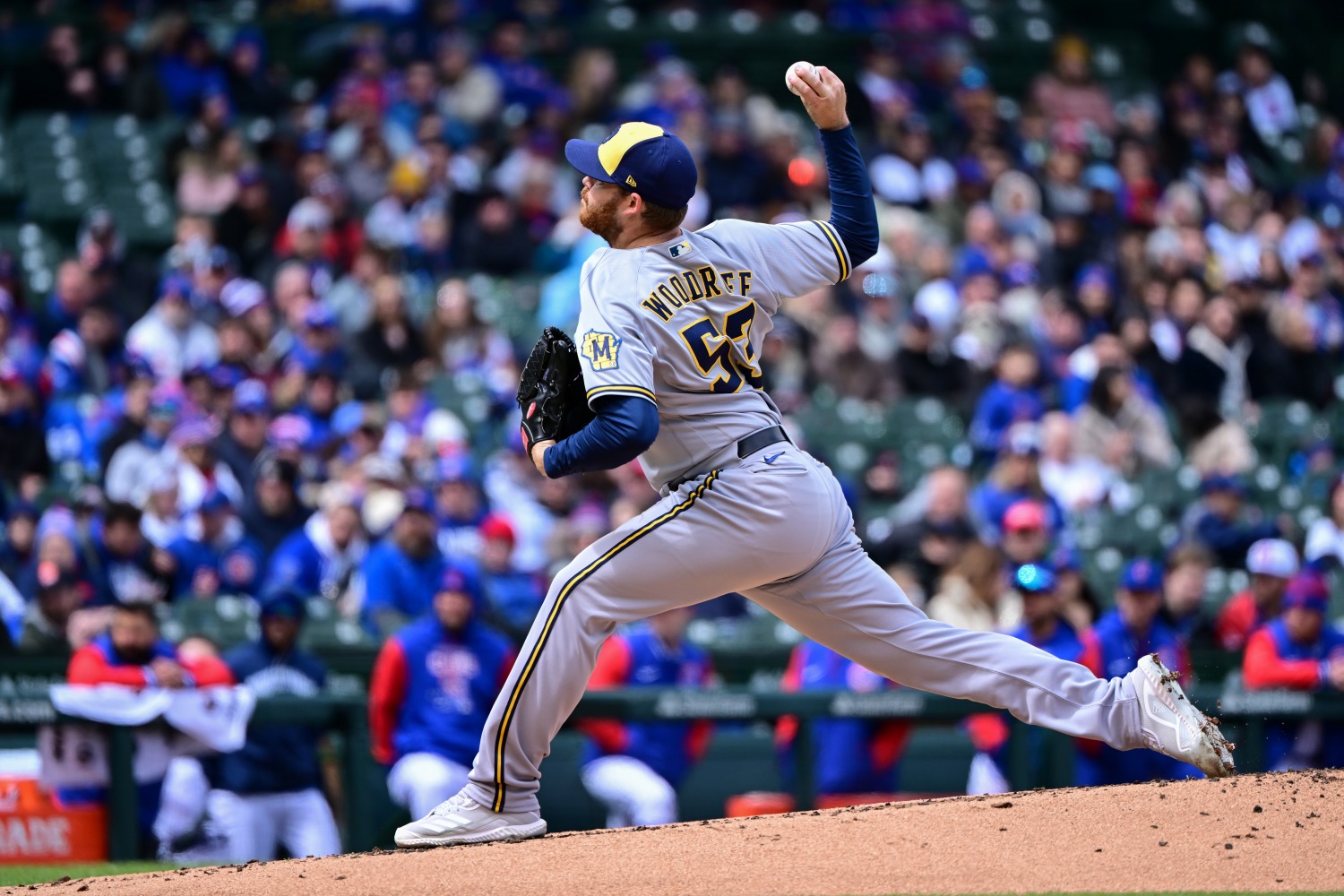 Image courtesy of © Quinn Harris-USA TODAY Sports
Whatever other key variables and questions exist, there's little question that the Brewers need their pair of established frontline starters to stay healthy and be consistent this year. If they do so, this team can put up a fight against the Cardinals in the NL Central, even without several other things going their way. If not, their hopes for that kind of contention become desperately fragile. Let's key in on the essential factors for Corbin Burnes and Brandon Woodruff, as they try to form the backbone of a meaningful October run.
Corbin Burnes: The California Cowboy
The stuff has always been ace-caliber, and since he turned the corner during the COVID-shortened 2020 campaign, Burnes has shown the command and the self-knowledge required to make good on that extraordinary talent. He's the dominator of this staff. Built like a cattle rancher and with the visage to intimidate without antics or put-ons. He has the flowing hair and the beard, but there's also that delightfully distinctive way he holds his glove as he comes set on the mound, like an experienced rancher or renegade saloon poker player, reaching for his pistol in its crossdraw cradle. It's a small thing, but it completes his vibe gorgeously.
Speaking of small things, those are the only kinds of things on which he needs to work much going into 2023. Despite his well-documented (and apparently costly) hiccups late last season, he was once again one of the best starters in MLB. He's honed and clarified his arsenal against both left- and right-handed batters: cutter, curve, and change against lefties; cutter, slider, sinker, and curve against righties. With that array of weapons, he can miss bats as consistently as any starter in the league.
The downsides are what they have always been, for Burnes. On occasion, he tries too hard to throw a strike, and ends up grooving the ball in a way that hitters see well and square up often. He surrendered 23 home runs last year, which is hardly back-breaking, but it meant the difference between his Cy Young Award-winning numbers of 2021 and a merely very strong stat line in 2022. On the other end of the spectrum, but very much rooted in the same underlying truths about his repertoire and delivery, Burnes doesn't actually fill up the zone with his stuff, and when hitters are able to guess along with him or pick up on something that tells them which of his darting, diving offerings is coming, they can wait him out and draw more walks than his overall numbers would suggest.
Last season, Burnes had zero walks in nine of his 33 starts. In another seven, though, he had at least three, and in those seven rougher outings, he allowed 20 runs in 40 innings of work, while issuing 25 free passes and plunking three more hitters. That crossdraw set position hints at something very real: Burnes is about deception and movement, rather than precision. He has great command, but it takes the form of great execution, and that can mean that his location is sometimes suboptimal. His challenge in 2023 will be to have more starts in which he's consistently on the edges of the zone, rather than being just outside it or forced to pitch too much within it. Little things like the below might be trickier, too, since he'll have to navigate the rough waters of working with a rough-edged young receiver much of the time.
Corbin Burnes on how he works to get the Back Door Cutter called a Strike...

Biggest problem?
Getting Umpires to not give up on it! pic.twitter.com/HWz0plNI8l

— Rob Friedman (@PitchingNinja) January 11, 2023
Brandon Woodruff: Re-Balancing and Counterbalancing
Reynaud's Disease made 2022 frustrating for Woodruff, even though he still performed well the majority of the time when he was on the mound. He still ran a 30-percent strikeout rate and had an ERA of 3.05, but he allowed more hard contact and issued more walks than a fully healthy, locked-in version of Woodruff would. 
Ever the tinkerer, he found things that worked and new ways to succeed along the rocky road, and as Curt Hogg recently wrote for the Journal-Sentinel, he's not done evolving. If he gets those adjustments right, and can find the comfort he hoped to find this spring, expect him to get back to using his sinker more often this year. He threw that pitch markedly less often last season than in 2020 and 2021, against both lefties and righties, and it left a hole in his game.
Last September, Brandon Woodruff changed his changeup grip right before a start at Coors. It worked.

This off-season, he switched up his two-seam by watching Clay Holmes videos to try and emulate his spin.

On how an elite starter stays elite:https://t.co/u7S5YzfCua

— Curt Hogg (@CyrtHogg) March 17, 2023
Unlike Burnes, Woodruff doesn't try to lock into a set group of pitches to each type of hitter and use them in relatively constant proportions. He does make the slider scarce against lefties, and only deploys the changeup sparingly against righties, but he shifts the frequency of his four-seam fastball, sinker, and curveball more subtly and idiosyncratically. Small absolute changes in his overall numbers can indicate much bigger ones in what he's really doing.
When he went away from the sinker last year, it left him without much of an out pitch–not because that offering itself was generating strikeouts, but because it was setting everything up. In the past, Woodruff would often start lefties out with unexpected sinkers, getting ahead in the count before putting them away with four-seamers that seemed to explode to the top of the zone in contrast with the sinker. Against righties, the sinker could either induce weak contact early in the count, or set up a breaking ball at the end of the sequence. That's why Woodruff has worked so hard this winter to recover his feel for it.
Summary and Projected Value
ZiPS Projections
| | | | | | |
| --- | --- | --- | --- | --- | --- |
| Player | ERA | GS | IP | BB | SO |
| Corbin Burnes | 2.99 | 29 | 174.3 | 46 | 215 |
| Brandon Woodruff | 2.96 | 28 | 158.0 | 40 | 184 |
Burnes and Woodruff will serve as a powerful 1-2 punch and are ranked first and fifth in terms of ZiPS projected pitching WAR for all major leagues at 4.9 and 4.0, respectively. They'll face new challenges, too, though, such as Burnes's adjustment to working under the tyranny of the pitch clock. He will not be able to control the tempo on the mound as well starting this season.
In 2022, he took an average of 15.1 seconds in between pitches with the bases empty, and 19.2 seconds with runners on base. Both of those figures will have to fall in order to avoid frequent pitch clock violations in 2023. If you've been paying attention to spring training games, or minor-league games that used the pitch clock last year, you'll know that the 15 seconds allotted to each pitch goes by quickly and gives each pitcher far less time to focus their delivery. Projection systems haven't truly adjusted for those effects, because they're wildly difficult to predict, but it's certainly a factor to watch when it comes to Burnes.
Woodruff doesn't have as tough an adjustment ahead, in that sense, and if he can get the changeup to bloom in full as a putaway pitch for lefties while mixing the sinker back in, he should be capable of meeting even these lofty expectations. The Brewers certainly hope so, because their ticket to the postseason has Burnes's and Woodruff's pictures on it.
Think you could write a story like this? Brewer Fanatic wants you to develop your voice, find an audience, and we'll pay you to do it. Just fill out this form.
MORE FROM BREWER FANATIC
— Latest Brewers coverage from our writers
— Recent Brewers discussion in our forums
— Follow Brewer Fanatic via Twitter, Facebook or email