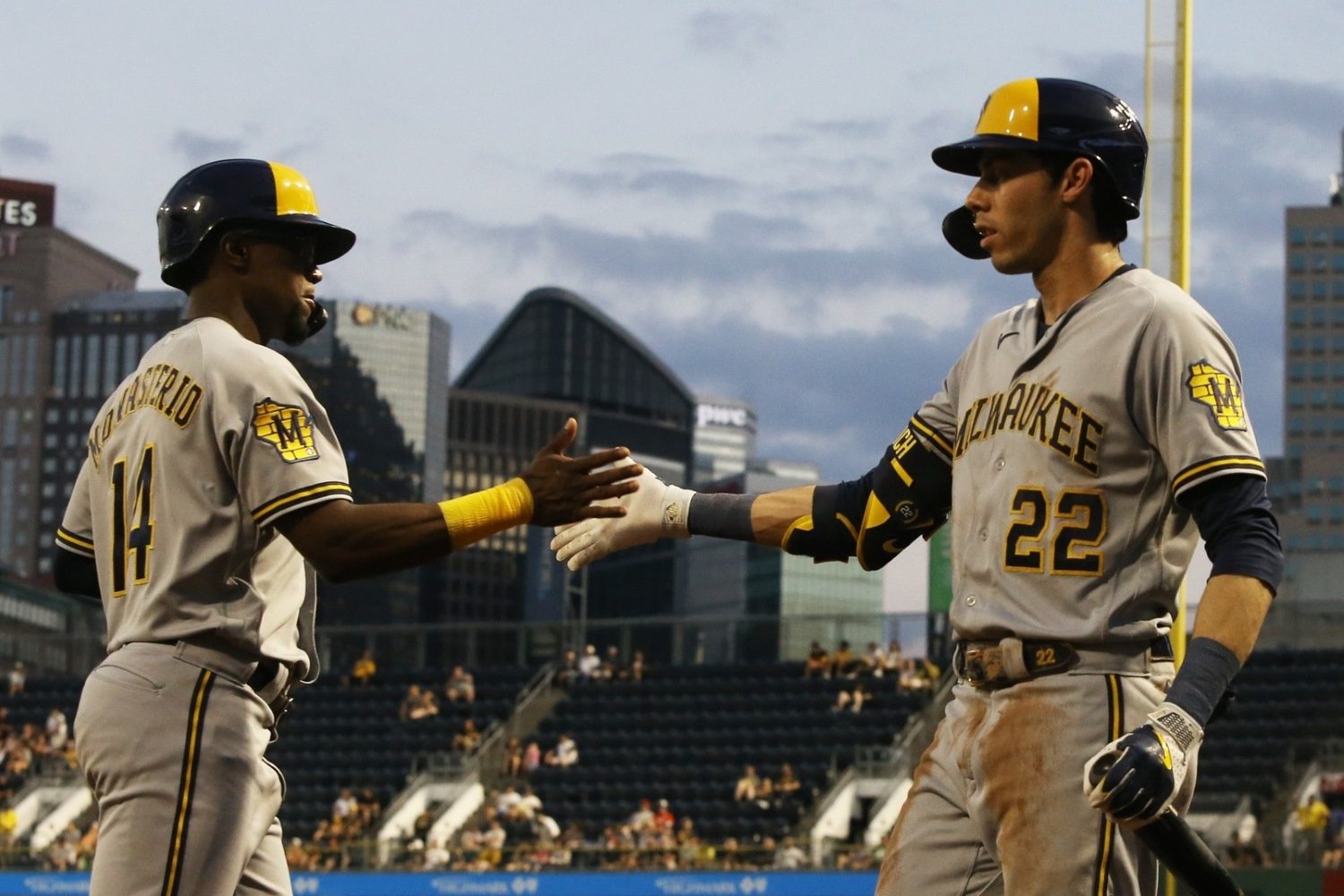 Image courtesy of © Charles LeClaire-USA TODAY Sports
After back-to-back losses in which they were held to two runs, the Brewers didn't even put a runner on base over the first three innings Tuesday night. Maybe, if the Pirates had made any noise against Brandon Woodruff during that stretch, it would have applied enough pressure to crack the Crew and draw them out of their optimal approach. Woodruff resolutely shut down the Pirates during those three frames, though, and in the fourth, we saw the Brewers' winning formula in action.
Poor Andre Jackson ran out of ideas. Christian Yelich led off the fourth, and Jackson quickly got ahead of him. Yelich dug in and laid off some tough pitches, though, and when he then fouled off a good pitch with which Jackson almost had him put away, the game turned.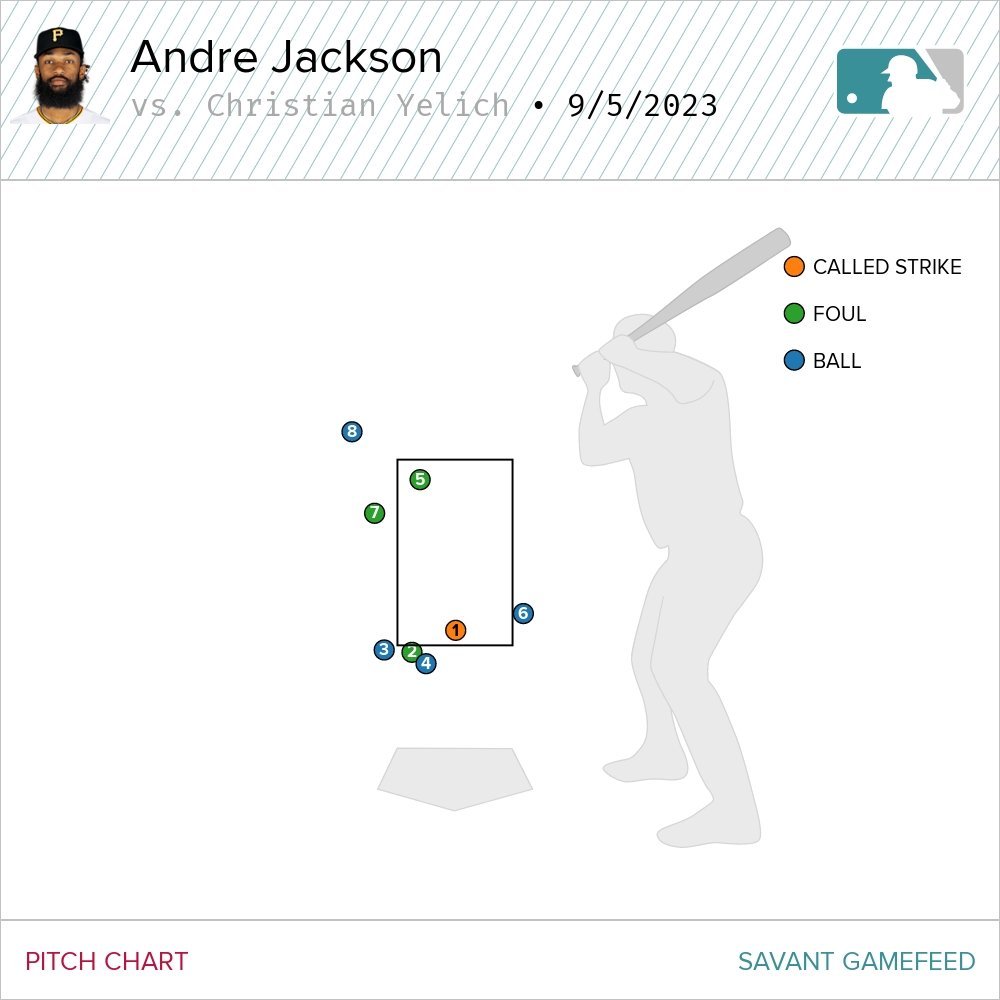 Jackson's first 3-2 offering, the one numbered '7' above, was a good, fading changeup, running off the plate away. It was higher than he'd wanted it, but his change can work even when elevated slightly. Yelich had already frustrated him in the at-bat, though, and when the change didn't punch his ticket, Jackson tried to throw a perfect backdoor curveball instead. He misfired badly, and Yelich drew the walk.
As everyone who follows the Brewers closely already knows, Yelich hasn't been going well at all recently. His swing has undergone some real and unwelcome changes, and it looks like he might be somewhat physically compromised right now. He's not going to reliably drive the ball all over the park, unless and until he's able to effect some adjustments. Because Yelich is a smart and competitive hitter, though, he can still affect the game in positive ways while he works through these struggles. That walk broke open the floodgates.
Crucially, the formerly free-swinging William Contreras has taken his cues from Yelich this year, as well as from the team's hitting instructors and from Craig Counsell. His overall swing rate this season is a career-low 43.5 percent, and he's also traded some power for a higher contact rate when he does swing. At times, that's a dubious tradeoff, but it sets a higher floor for his production than he used to have. After Yelich forced Jackson out of cruise control, Contreras gave him an even more frustrating battle.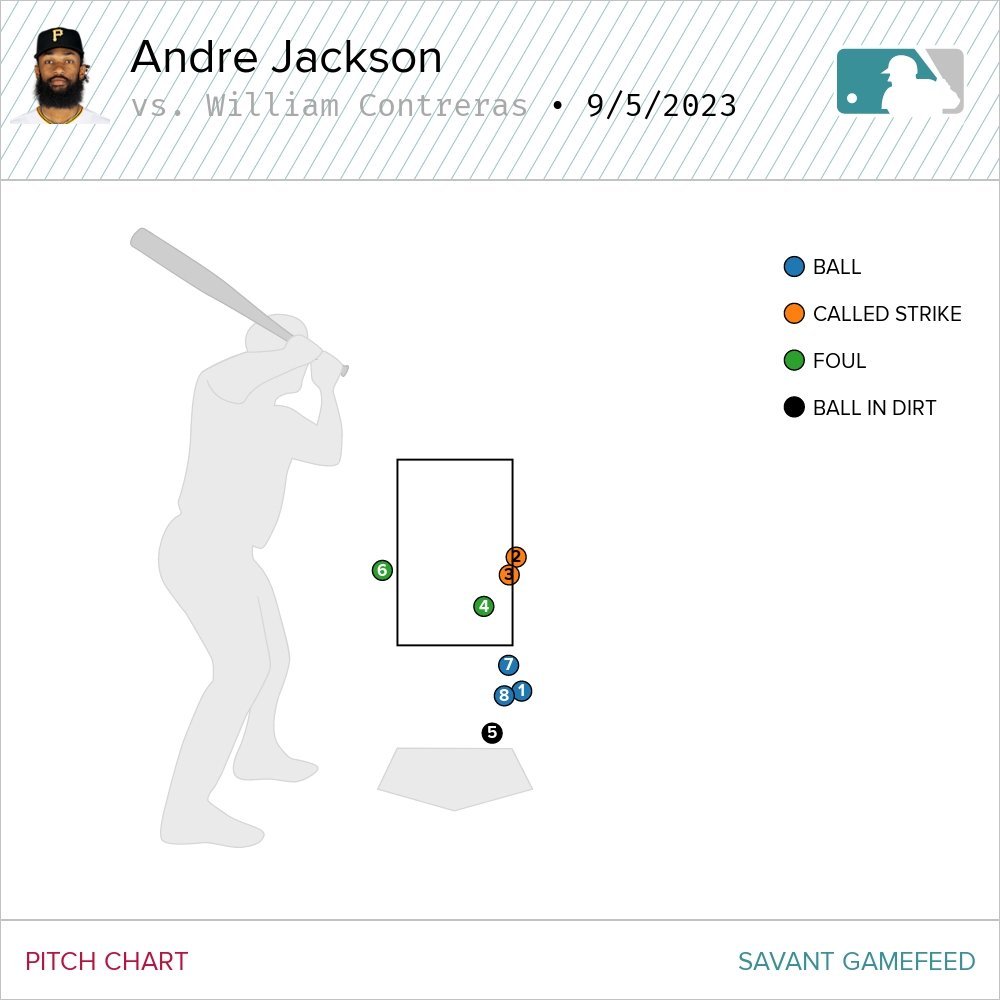 Those taken pitches are exceptionally well-executed. Jackson did what he wanted to do against Contreras throughout that plate appearance. He just didn't get the result he expected. Contreras walked, and the inning got away from the young Pittsburgh righthander. He walked Carlos Santana without coming nearly as close to doing anything else, and Santana had the relatively easy job--but still one that sometimes takes a wily veteran. In that situation, a good hitter has only to make sure not to take the pitcher off the hook, or to unmake the jam into which they've forced themselves. Santana is the perfect man for that job, and when he drew his 1,205th career walk, Jackson was fully cornered.
It really didn't matter that, after a mollifying mound visit, Jackson got back into the zone and drew a (run-scoring) double play grounder from Mark Canha. A new tone had been set. The next frame, Sal Frelick led off with yet another walk, and Andruw Monasterio was the next batter up. The approach held, and after Monasterio forced Jackson into another deep count, he got a mistake. He punished it righteously, skipping it off the wall in deepest left-center field, for the gamebreaking triple.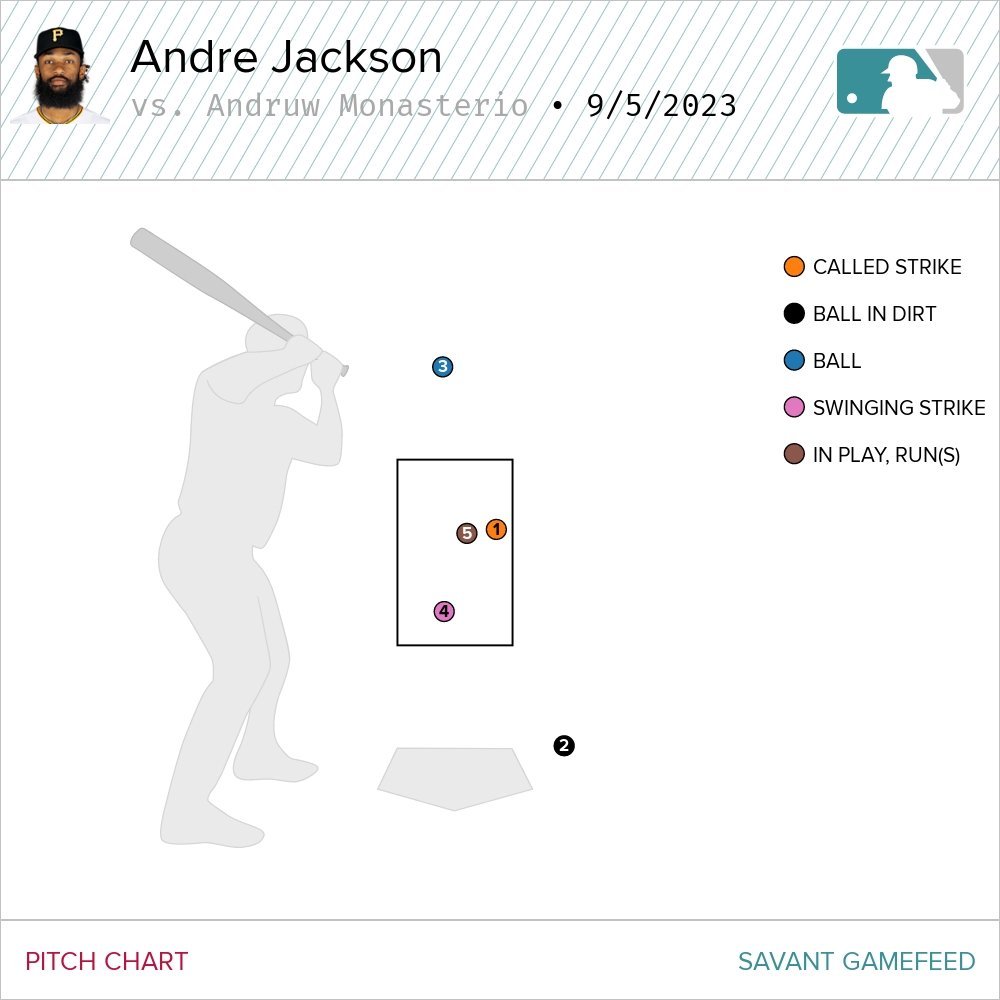 It was patience that got the Brewers their first run, and patience that put them in position to access their power and generate the rest. Entering Tuesday night, Frelick, Monasterio, and Brice Turang were mired in a collective slump about as ugly as they come. In the previous three weeks, they'd combined for 163 plate appearances and exactly one extra-base hit, a double by Frelick last month. By the end of the game, they'd combined for three more, as Frelick would add a double and a triple of his own in the later innings. 
At this time of year, that kind of patience is hard to come by, even for teams who identify themselves by it. Only the Cubs have seen more pitches per plate appearance this year than have the Brewers, but even they have had a lapse in that discipline recently. The Diamondbacks, who rank as one of the most patient teams in baseball, made 14 of their 27 outs in a maddening 3-2 loss Tuesday night against Colorado in three pitches or fewer. The MLB season is an unforgiving grind, and it's hard to sustain the daily intensity required to execute a patient gameplan.
Nor is that difficulty confined to the players. Counsell stuck with Yelich as his leadoff hitter throughout this long slump, and he'll stick with him longer, even if Tuesday night didn't signal any real emergence therefrom. That loyalty was made easier by Yelich's long track record and massive contract, of course, and there wasn't an obvious alternative. Yet, he also stuck with Frelick, Monasterio, and Turang, even as other guys (especially Brian Anderson) sat there on the bench, seemingly every bit as credible an option as these were. Counsell's firm determination to believe and invest in this group is as important and valuable an act of patience as any good take on a pitch along the fringe of the strike zone. 
There have been nights when the Brewers' resolve was less perfect, and there will be at least one or two more. If they keep up this exacting and resilient approach, though, they'll weather whatever storms remain just fine. They didn't win their series with the Phillies over the weekend solely because of Alec Bohm's costly error, or because of their well-timed homers. They did it by accepting their walks and outlasting the defending National League champions. Even as rumors about Counsell's future swirl, he and his team are using stronger cardiac tissue, as much as any other muscle, to win games and inch toward another NL Central crown.
Think you could write a story like this? Brewer Fanatic wants you to develop your voice, find an audience, and we'll pay you to do it. Just fill out this form.
MORE FROM BREWER FANATIC
— Latest Brewers coverage from our writers
— Recent Brewers discussion in our forums
— Follow Brewer Fanatic via Twitter, Facebook or email