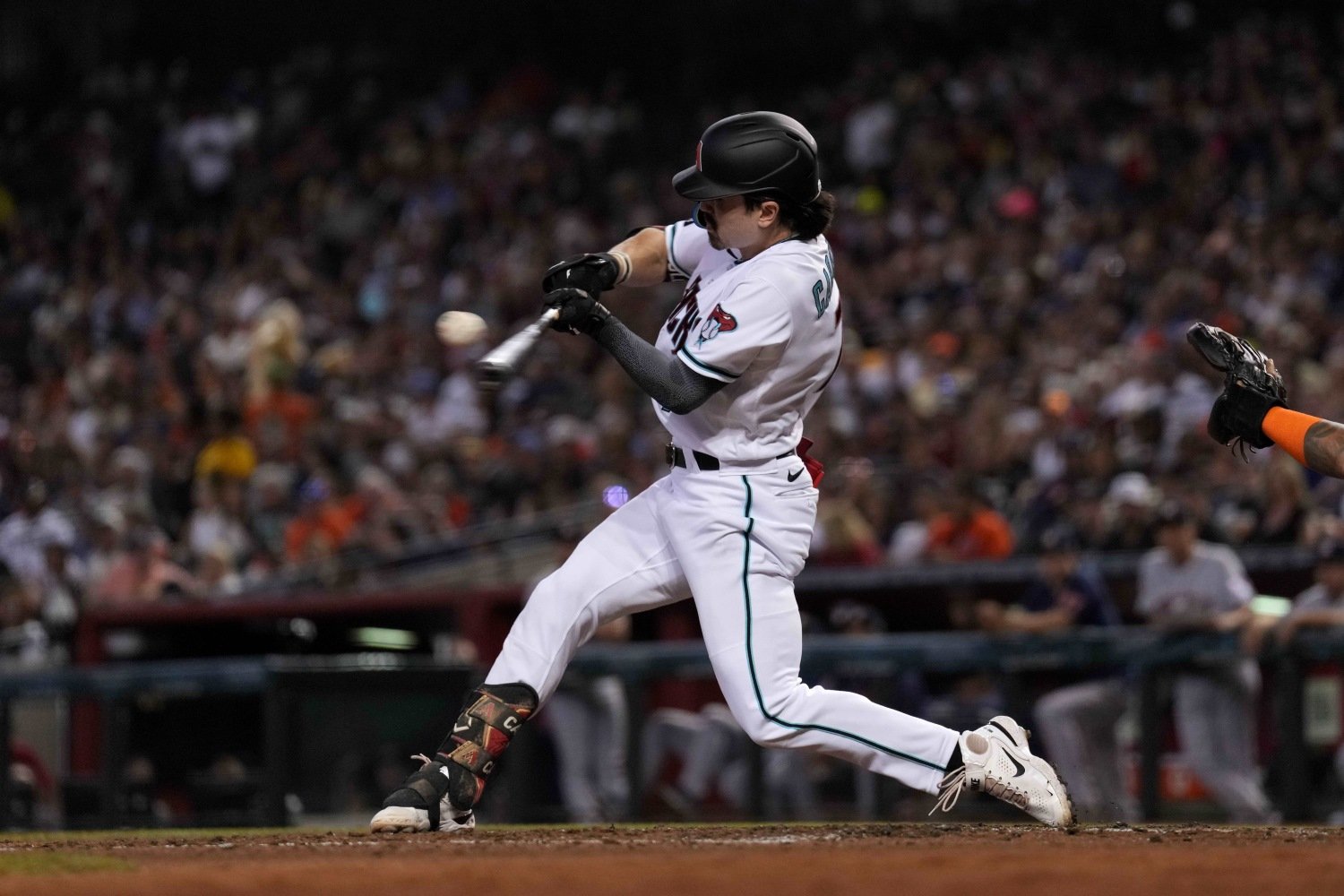 Image courtesy of © Joe Camporeale-USA TODAY Sports
It figures to be a somewhat strange day for the Houston Astros and Arizona Diamondbacks. Both teams clinched a playoff spot last night, as Houston beat Arizona, the Cardinals beat the Reds, and the Rangers beat the Mariners. That series of outcomes eliminated Seattle and Cincinnati, clinching the playoff places of the Astros and Diamondbacks. However, both still have uncertainty heading into the regular-season finale.
For the Astros, it's the question of whether they or the Rangers win the AL West and get a bye to the Division Series. That's a big deal, so they figure to play aggressively for it. They'd need a win and a Texas loss. Meanwhile, the Diamondbacks need a win and a Marlins loss (and then for the Marlins to go back to New York and lose their suspended game against the Mets, which they lead in the ninth inning) to claim the fifth seed and second Wild Card. If the Diamondbacks lose or the Marlins win Sunday, it'll be Arizona who slots into the sixth and final playoff position.
I mention the AL West stuff above because, given all that, it seems pretty likely the Astros win that game, sealing the fate of the NL Wild Card contenders. The Brewers are quite likely--I estimate 98.4-percent likely--to face the Diamondbacks starting Tuesday.
We've already written about what that matchup would look like. It would be a tough one. Arizona has a blend of dynamic young players (Corbin Carroll, Gabriel Moreno) and steady veterans (Tommy Pham, Lourdes Gurriel, Jr., Christian Walker) that forms a fairly dangerous offense, and their two best starters (Zac Gallen and Merrill Kelly) are good enough to give them a chance to win even against the Brewers' formidable top three. However, because of postponements due to rain in New York last weekend, Gallen and Kelly are only lined up to start Games 2 and 3, respectively. 
Either way, then, the Brewers are catching a break thanks to heavy rains in New York. If they face Arizona, it'll be with the visitors' rotation slightly askew. If they face Miami, it will only be after the Marlins lose Sunday, go to New York instead of straight to Milwaukee for a workout day, and lose there. The Marlins' rotation is already depleted by injuries to Sandy Alcantara and Eury Perez. If they end up playing the Brewers, it will be as a ragged and misaligned group.
Plainly, then, that's the thing to root for, from the Brewers' perspective. It's so unlikely, though, that it's probably not worth pondering much. In all likelihood, the Brewers will need to find ways to stop the electrifying Carroll, whose 25 home runs and 54 stolen bases make him one of the best power-speed rookies in baseball history. In all likelihood, they'll need to beat up on rookie righthander Brandon Pfaadt and some mixture of Arizona relievers in Game 1, to get the jump on them and avoid having to tangle with tough closer Paul Sewald.
The Brewers themselves have no influence over who they play, at this point, and nothing they do Sunday will matter much. They're likely to get Adrian Houser out of the game relatively early, and to let guys who won't appear on the playoff roster finish things off. Even the regular position players, if they play at all, figure to get off their feet a few innings early. Today will involve a little bit of fun scoreboard watching, but it's mostly the calm before the storm.
UPDATE:
Well, this makes things simpler, but also a little less certain. 
MLB announces the Marlins will not finish the suspended game in New York tomorrow. Here are your scenarios for the Brewers' opponent:

Marlins win
ARZ at MIL

DBacks win + Marlins loss
MIA at MIL

Marlins loss + DBacks loss
ARZ at MIL

— Dominic Cotroneo (@Dom_Cotroneo) October 1, 2023
That's essentially fair, as I'm sure the Marlins would rather have the day off and take the lesser seed than have to schlep back to Queens for those final four outs. In effect, they forfeit that right, and now it comes down to whether either the Marlins or the Astros win. If so, it'll be Arizona coming to town Tuesday. If the Marlins lose and Arizona wins, then the Brewers will be fighting with the Fish.
Think you could write a story like this? Brewer Fanatic wants you to develop your voice, find an audience, and we'll pay you to do it. Just fill out this form.
MORE FROM BREWER FANATIC
— Latest Brewers coverage from our writers
— Recent Brewers discussion in our forums
— Follow Brewer Fanatic via Twitter, Facebook or email