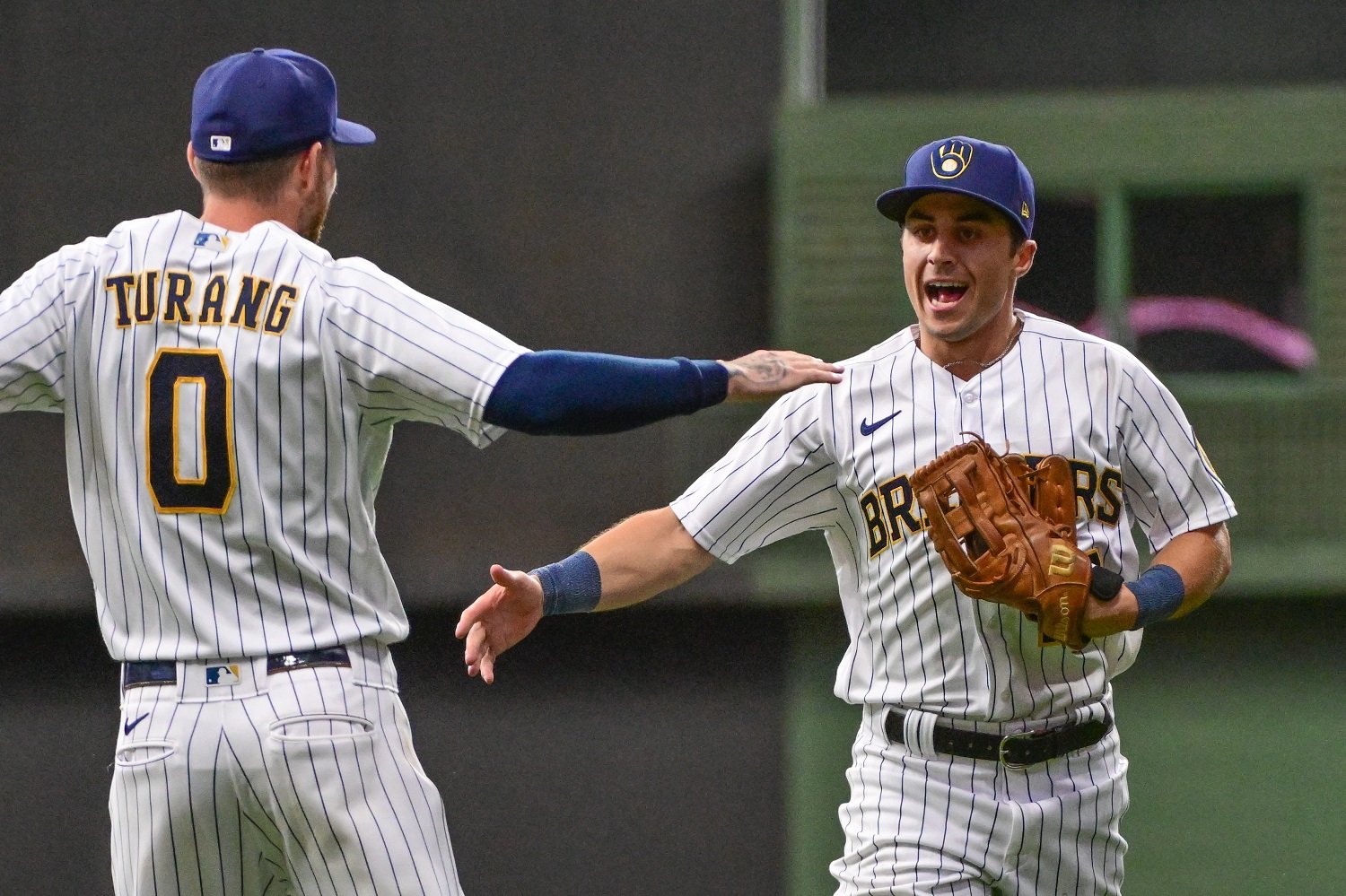 Image courtesy of Benny Sieu-USA TODAY Sports
Brewers fans have been waiting all season (and maybe even last season) for Sal Frelick to get called up. On Saturday, he made his debut, and it went quite well. How does his debut compare to other Brewer debuts over the years?
You could look for a home run, or at least an extra-base hit, if you want. However, it's hard to imagine a better debut. Before the game, Frelick told reporters that we wanted to come up and be a spark plug for the team. I would say that, for at least one game, Frelick did about as much as possible to win the game for the Brewers.
Today, let's take a look back at Frelick and his incredible debut on Saturday night in Milwaukee. Then let's consider where it might rank among MLB debuts in Brewers history. 
The Background
Let's start with the basics. Salvatore Michael Frelick was born in Boston. He went to high school in Boston. He went to Boston College. Three years later, the Milwaukee Brewers used their 2021 first-round draft pick, the 15th overall pick, to select Frelick.
The Brewers were quite aggressive with the outfielder. After signing, he played four games in the Arizona Complex League just to get back into the proverbial swing of things. He then played 16 games at Low-A Carolina where he hit .437 before ending the season with 15 games with the High-A Timber Rattlers. That's where he began the 2022 season, but after just 21 games, he was pushed to Double-A Biloxi. In 50 games there, he hit .317/.380/.464. Late in the season, he was promoted to Triple-A Nashville. He hit .365/.435/.508 (.943).
He ended the season on a high note and came into the 2023 season with an opportunity to make the big-league club. Ultimately, he began the season with Nashville. He started the season slow, but on April 18th, he went 3-for-5 with two doubles against Jacksonville. That same night, Garrett Mitchell slid into third base and tore the labrum in his right shoulder. Would Frelick get The Call?
More news soon came that Mitchell would likely miss the season, but at the same time, we learned that Frelick had torn a ligament in his thumb that required surgery. He missed nearly two months. He played three games in the ACL to get going, and then re-joined the Sounds on June 14th.
There was another scare recently when Frelick appeared to hurt his knee. Fortunately, things checked out well, and he only missed one game.
The Call
He really wasn't hitting great at Triple-A if you look at his overall numbers. However, over the past week, he went 9-for-24 (.375) with two doubles, a homer, four walks and just one strikeout. It was his time, and Frelick learned on Friday night that he was heading to the big leagues.
The Debut
Brewers fans have had some of their really exciting prospects make their debuts in 2023. Brice Turang was on the Opening Day roster and after a brief stint in Nashville returned recently. Joey Wiemer's numbers may not look great, but he's provided some big hits and terrific defense since his debut. Garrett Mitchell, their top pick in 2020 out of UCLA, debuted late last season and is certainly an exciting player too. However, none of them ranked as highly as Frelick. Clearly Brewers fans have been waiting for this day for quite some time.
Frelick was in the starting lineup on Saturday night. He was batting sixth and playing in right field.
In the second inning, with an almost inexcusable shift, Frelick took what he was given. He slapped a ball to the left side and used his elite speed to beat it out for his first it. In case you were wondering, his first hit came against Braves starter Allan Winans, a 27-year-old making his major-league debut too.
His second at-bat ended with a single to right-field. He came around to score on a Brice Turang sacrifice fly. In his third at-bat, he singled to left to drive in a run and tie the game at 3-3.  And two tremendous catches in the sixth inning to keep the Brewers within striking distance.
Then in the bottom of the eighth, Frelick came up to the plate again and lined out to right field, just deep enough to score Willy Adames and give the Brewers a 4-3 lead. They held on and beat a very good Atlanta Braves team.
So, to summarize, Frelick went 3-for-3 with a run scored. He drove in the game-tying run and later what proved to be the game-winning run. And he made two web gems in one inning. All to help his first-place team win a game against the best team in the National League (if not all of baseball).

WPA: 0.334 
For much more Brewer Fanatic content on Sal Frelick, the Brewers #4 Prospect, click here. 
Other Great Brewers Debuts
So now turning to the question of where Sal Frelick's MLB debut ranks compared to other Brewers throughout their team history dating back to 1970. Here are some for you to consider:
OF Sixto Lezcano – September 10, 1974, vs Baltimore Orioles
Like Frelick, Lezcano batted sixth and played in right field during his MLB debut. Just 20-years-old at the time, the Puerto Rican went 4-for-5 with an RBI in the game. He singled to center leading off the second inning for his first big-league hit. He also led off the fourth and sixth innings (fly out, ground out). He came to the plate with two outs and a tie game. Bobby Mitchell had singled in the tying run, but which Lezcano in the batter's box, Mitchell was picked off to end the inning. He led off the eighth inning with an infield single.
In the bottom of the 10th inning, John Briggs led off with a walk. Then Bob Coluccio bunted him to second base. That brought Lezcano to the plate. He ripped a single to right field, Briggs scored, and the Brewers won 6-5. Lezcano had a nice 12-year big-league career, the first seven of those seasons were with the Brewers. He was traded to the Cardinals after the 1980 season in a deal that brought Rollie Fingers, Ted Simmons, and Pete Vuckovich to Milwaukee.

WPA: 0.349.
OF Steve Bowling – September 7, 1976, vs Cleveland "Guardians"
Like Lezcano, Bowling was a September call up. However, he didn't even start in his debut game. Von Joshua started the game in center field and went 2-for-3. However, the Brewers already had an 11-2 lead, so Bowling came into pinch hit for Joshua in the fifth inning. He responded with a first pitch double off Don Hood. Robin Yount – who borrowed Bowling some spikes before the game – followed with a single, but Bowling was thrown out at home. In the bottom of the sixth inning, Bowling came to the plate with the bases loaded. He singled to drive in Dan Thomas and Jim Gantner. In the bottom of the eighth inning, Bowling had a single off Dave LaRoche and later scored on a Don Money double.
So like Frelick, Bowling went 3-for-3 in his debut, but the game wasn't quite as competitive. The Brewers won 17-4. Bowling had four more hits over 13 more games with the Brewers that season. He hit .167/.205/.214 (.419) and after the season, he was selected by the Toronto Blue Jays in the expansion draft. He played in 89 games for the Blue Jays in 1977. He was dealt to the White Sox in 1978 and only played in the minors. The former college running back never returned to the big leagues.

WPA: 0.001
OF Doug Loman – September 3, 1984, vs Boston Red Sox
Loman was another September call up. He made his debut in left field and batting eighth for the Red Sox against starter Dennis Boyd . In the bottom of the third, Bill Schroeder led off with a home run. Loman followed by grounding out to first baseman Bill Buckner (who fielded it before it went between his legs and flipped to Oil Can Boyd for the out).
Loman led off the bottom of the fifth inning with his first career hit, a double off Boyd.  In the bottom of the sixth inning, Loman came to the plate with runners on first and third. His single scored Ben Oglivie to cut the Brewers deficit to 8-3. They cut it to 8-5 but Bob Stanley shut the door with a three-inning, scoreless save. Loman grounded back to the mound in the eighth inning. Loman ended the day 2-for-4 with a double and an RBI. He played 23 games for the Brewers that September and another 24 games in 1985. He was released after that season and had a successful season in Japan. He called it a career and became a pastor.

WPA: 0.062
OF Geoff Jenkins - April 24, 1998, vs San Francisco Giants
Jenkins had a tremendous amateur career, and the Brewers made him the ninth overall pick in the 1995 draft out of USC. He was called up early in the 1998 season and debuted in left field, batting sixth for the Brewers. Jenkins came to the plate in the top of the second inning with one on and one out. He lined a single to center off Orel Hershiser for his first hit. He later scored on a Mike Matheny two-run single.
In the fourth inning, Hershiser got Jenkins on a comebacker. However, in the top of the fifth, Jeromy Burnitz hit a three-run homer that turned a 4-2 deficit into a 5-4 lead for Milwaukee. Two batters later, Jenkins launched his first big-league homer off Hershiser to make it 6-4. Jenkins popped out to end the seventh inning. With a three-run lead, the Brewers pitched to Barry Bonds, and he hit his fifth home run of a pretty impressive season. In the eighth inning, Darrin Jackson replaced Jenkins in left field. Burnitz had an 11-season career in the big leagues. He spent the first 10 seasons with the Brewers.

WPA: 0.131
Other Notable Brewers Hitter Debuts:
1973 – Gorman Thomas, 1-for-3 with a triple. Error in center field.
1974 – Robin Yount, 0-for-1, BB, pinch hit for by Felipe Alou, still notable because he was the Opening Day starter for the Brewers as an 18-year-old, fresh out of high school. Hence, "The Kid."
1976 - Jim Gantner, 2-for-4, 2 R, BB, K 
1978 – Paul Molitor, 1-for-5, RBI
1983 – Bill Schroeder, 1-for-4, 3B, R, RBI
1987 – B.J. Surhoff , 1-for-4
1989 – Greg Vaughn, 0-for-0 (pinch ran for THE Joey Meyer)
1988 – Joey Meyer, 0-for-0 (defensive replacement for Greg Brock at first base)
1988 – Gary Sheffield, 0-for-0 (defensive replacement for Dale Sveum at shortstop, at 19 years old)
1992 – John Jaha, 0-for-3, K
1999 – Kevin Barker, 2-for-5, R, RBI, K
2003 – Rickie Weeks, 0-for-1 (pinch hit for Wes Helms)
2004 – Corey Hart, 0-for-1 (pinch hit for Victor Santos)
2005 – J.J. Hardy , 1-for-4, R, 2 RBI.
2005 – Prince Fielder, 0-for-4
2007 – Ryan Braun, 1-for-4, 2B, 2 RBI
2010 – Jonathan Lucroy, 1-for-2 (pinch hit for George Kottaras)
2019 – Keston Hiura, 2-for-3, BB
2019 – Tyrone Taylor, 0-for-0 (pinch hit for Freddy Peralta, hit by a Steve Cishek pitch)
2022 – Garrett Mitchell, 0-for-0 (defensive replacement)
2023 – Brice Turang, 1-for-3
2023 – Joey Wiemer, 1-for-2, 2B
2023 – Blake Perkins, 0-for-0 (pinch ran for Rowdy Tellez, defense in CF)
2023 – Andruw Monasterio, 0-for-1, K (defensive replacement)
Top MLB Debuts by Brewers Pitchers
There have been some really strong MLB debuts by Brewers pitchers over the years, though it probably comes down to your choice between two pitching performances.
RHP Steve Woodard – July 28, 1997 vs Toronto Blue Jays
A fourth-round pick in 1994 out of high school, the Alabama native was called up just before the trade deadline in 1997. He made the start against the Blue Jays, and frankly, he made it look pretty easy. Otis Nixon led off the game with a double down the left field line. Soon after, he stole third base. However, after getting an infield pop out, he struck out Joe Carter and Carlos Delgado to get out of the inning. He had two more strikeouts in the second inning, and two more strikeouts in the third inning. Oh, and two more strikeouts in the fourth inning. In the bottom of the fourth, Jeff Cirillo lined a double to lead off the inning. After a strikeout, Jeromy Burnitz singled to center to score Cirillo and give the Crew a 1-0 lead.
Just one strikeout in a 1-2-3 fifth inning for Woodard. In the sixth inning, he got two ground outs and an infield pop out. In the seventh inning, there were two more strikeouts. In the eighth inning, he got a strikeout, a ground out to first and a pop out to second. The Blue Jays starter, a guy named Clemens (Roger Clemens, maybe you've heard of him) was dealing too. He gave up just the one run over eight innings. The intimidating Mike Fetters came in for the ninth inning and got two ground outs before a strikeout ended the game.
Clemens gave up just one run on four hits and a walk while striking out 10 Brewers hitters. The loss dropped his record to 16-4 despite a 1.52 ERA. But Steve Woodard gave up just the one hit and one walk over eight scoreless innings. He needed 119 pitches but recorded 12 strikeouts.
Woodard made six more starts for the Brewers in 1997. He made a total of 99 appearances for the Brewers over the next three years, including 73 starts. Overall, he went 25-30 with a 4.73 ERA over 481 innings. At the deadline in 2000, he was traded to Cleveland with Jason Bere and Bob Wickman (and later Marco Scutaro) in exchange for Kane Davis, Paul Rigdon, and a slugging first baseman named Richie Sexson. Woodard spent time with Cleveland in 2000 and 2001. After they released him, he signed several minor-league deals with teams (Texas, Philadelphia, St. Louis, Boston, Oakland, St. Louis again, and Florida) but only appeared in 14 games for the Rangers in 2002 and seven games for the Red Sox in 2003. After not pitching from 2015-17, he attempted a comeback with the Marlins. Like Clemens, Woodard's name was mentioned in the infamous Mitchell Report.

WPA: 0.607
If we are going to be honest, this must be #1 on the best debut list, right?
RHP Freddy Peralta – May 13, 2018, vs Colorado Rockies
Now Peralta didn't go eight innings like Woodard did. However, in his 5 2/3 innings against the Rockies, notably in Colorado, Peralta had 13 strikeouts. He gave up just one hit and two walks.  
In the first inning, he struck out DJ LeMahieu and Charlie Blackmon. In the second frame, he struck out Nolan Arenado, Carlos Gonzalez, and Trevor Story. He fought it a bit in the third inning. With one out, Tony Wolters reached on an error before Peralta walked pitcher Jon Gray. He struck out LeMahieu but then walked David Dahl to load the bases. However, he got a groundout to end the inning. The fourth inning was an exact duplication of the second inning, striking out Arenado, Gonzalez, and Story. In the fifth inning, he to a groundout followed by strikeouts of Wolters and Gray. In the bottom of the sixth, he struck out LeMahieu for the third straight time. Dahl followed with a single. Peralta struck out Charlie Blackmon looking. That's when Craig Counsell came out and replaced Peralta with Matt Albers. He gave up a single to Arenado but got Gonzalez on a comebacker to end it.
Peralta left the game with a 7-0 lead, and they held on for a 7-3 win. We don't even need to mention that Peralta went 0-for-3 with two strikeouts in the game.  His pitching line, however, was impressive. Peralta tossed 5 2/3 scoreless innings. He gave up one hit, walked two and recorded 13 strikeouts.

WPA: 0.241
Other Notable Brewers Pitchers Debuts:
1971 – Bill Parsons, 9 IP, 6 H, 2 ER, 6 BB, 6 K
1971 – Jim Slaton, 6 IP, 3 H, 0 R, 3 BB, 4 K.
1972 – Gary Ryerson, 9 IP, 8 H, 2 ER, 0 BB, 5 K
1976 – Moose Haas, 3 IP, 3 H, 1 ER, 0 BB, 2 K
1980 - Rickey Keeton, 7 IP, 3 H, 1 ER, 4 BB, 0 K
1985 – Teddy Higuera, 5.2 IP, 7 H, 4 ER, 2 BB, 5 K
1989 – Jaime Navarro, 6.2 IP, 8 H, 2 R, 1 ER, 2 BB, 2 K
1991 – Cal Eldred, 5.1 IP, 7 H, 3 ER, 2 BB, 1 K
1996 – Jeff D'Amico , 5.2 IP, 2 H, 0 R, 4 BB, 5 K
2001 – Ben Sheets, 6 IP, 6 H, 5 ER, 5 BB, 5 K
2001 – Nick Neugebauer, 5 IP, 3 H, 1 ER, 3 BB, 9 K
2004 – Chris Saenz, 6 IP, 2 H, 0 R, 3 BB, 7 K
2007 – Yovani Gallardo, 6.1 IP, 4 H, 3 ER, 3 BB, 4 K
2008 – Tim Dillard, 1 IP, 0 H, 0 R, 0 BB, 1 K
2015 – Taylor Jungmann, 7 IP, 3 H, 1 ER, 1 BB, 1 HBP, 5 K
2015 – Tyler Cravy, 7 IP, 4 H, 1 ER, 2 BB, 6 K
2017 – Brandon Woodruff, 6.1 IP, 7 H, 0 R, 2 BB, 6 K
2018 – Corbin Burnes, 2 IP, 0 H, 0 R, 0 BB, 1 K
2021 – Jake Cousins, 2 IP, 0 H, 0 R, 1 BB, 1 HBP, 5 K
So where does Sal Frelick's MLB debut rank compared to other Brewers debuts? 
 

This author would rank them as below. How about you? 
#1 - RHP Steve Woodard 
#2 - OF Sal Frelick (the two defensive plays give him the very slight edge over...)
#3 - OF Sixto Lezcano 
#4 - RHP Freddy Peralta
#5 - OF Steve Bowling 
#6 - OF Geoff Jenkins