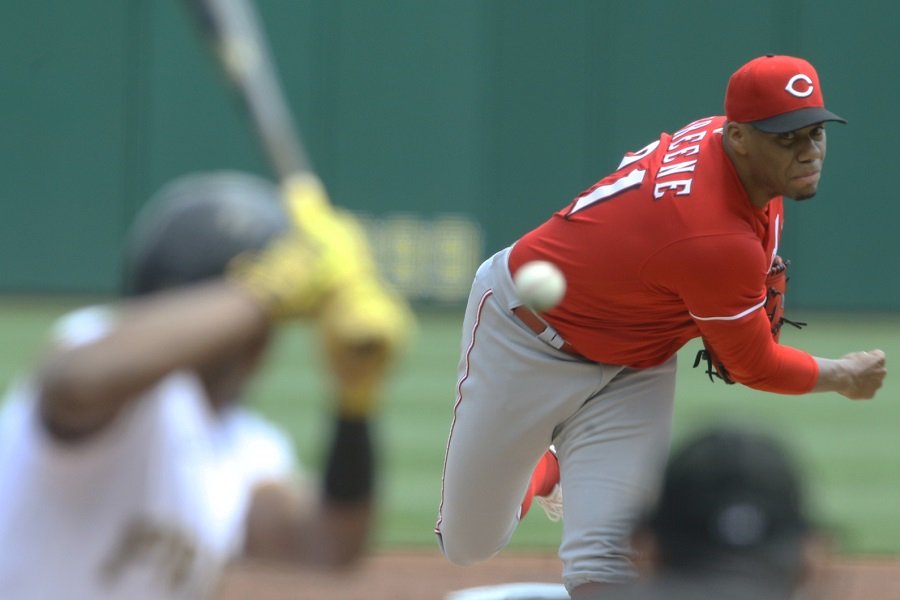 Image courtesy of © Charles LeClaire-USA TODAY Sports
After a historically dismal start, the Reds have quietly put up a competent campaign that has seen them move from worst team in baseball to merely the worst team in the National League. The Reds were transparent in their sell-off, and any competitive asset remaining on their team is only by virtue of legacy (Joey Votto), injury (Luis Castillo) or… utter mystery (Mike Moustakas). More likely Moose's continued presence in Cincy is on account of hoping his trade value develop into something more substantive than where it presently stands. 
Either way, they knew they were going to be bad and bad they have been. What undergirds all of their badness are flickers of hope in some promising youngsters. Chief among them has been the prodigious Hunter Greene , who's relatively slow start recently veered into an NL Player Of The Week performance. In twelve innings in two starts, Greene put up an astonishing 0.75 ERA and 0.42 WHIP while striking out 15 batters. This all against the Diamondbacks and Cardinals, neither of whom are slouches at the plate. 
---
Friday June 17th 
Eric Lauer (5-2 3.36 ERA)
Hunter Greene (3-7 5.10 ERA)
This match-up will depend on who shows up. If it's Lauer and Greene of April, the Brewers have it in the bag. If the Lauer of the last two starts shows up against the Greene of his previous two, the Brewers are doomed. My guess is that the truth about who these pitchers are is somewhere in the middle and this will be a great duel. 
---
Saturday June 18th
Jason Alexander (0-0 2.16 ERA)
Graham Ashcraft (3-0 2.22 ERA)
Strictly from a spectators standpoint, this is the match up I'm most excited for. Two young arms who've shown up in a big way for two teams with opposite stakes. Jason Alexander is merely trying to keep a wounded rotation afloat to stay competitive in a situation where the Brewers are suddenly looking up and seeing red birds. 
---
Sunday June 19th
Adrian Houser (3-7 4.21 ERA)
Mike Minor (1-2 7.36 ERA)
This is a crucial shot for Houser to rebound after fading in late May into what has been a dismal June. Luckily Cincinnati's poor offense and a struggling Mike Minor are likely to provide a soft landing spot for Houser to get his feet back on the ground.
---
Players to watch
Hunter Greene: The kid is electric. If his previous two starts are more indicative of his skills than the preceding starts (and peripherals suggest that they are) the Brewers and their hibernating offense might as well pack it in.
Brandon Drury: Never thought I'd ever recommend anyone pointedly watch Drury or his career 0.3 WAR, but seven years in the majors, the veteran utility bat is putting up quite a decent little year for himself. This is especially relevant as we get nearer and nearer to the trade season and players injure or exhaust themselves out of the batting order. A team defined by austerity like Milwaukee may very well snag a player like Drury when the time comes. 
Graham Ashcraft: Scheduled to start the second game of the season, this young righty has quietly become a reasonable contender for a RoY pick. I'm as surprised as you are, but what has he done 28.1 innings? Put up a 1.7 WAR while going 3-0 with 15 K's. Considering Ashcraft comes immediately after Greene, the team that looked like a cakewalk a month ago is suddenly a legitimate threat. 
Christian Yelich : If there's a team that can jump start the struggling former MVP's bat it's Cincinnati, against whom he seemingly can't stop hitting for the cycle.
---
Predictions
Dare I say anything? I think the Crew takes the series two-to-one. The offense is a big question mark in this series, but the Reds aren't exactly powerhouses in that department either, and the Brewers are unquestionably the better team.
Think you could write a story like this? Brewer Fanatic wants you to develop your voice, find an audience, and we'll pay you to do it. Just fill out this form.
MORE FROM BREWER FANATIC
— Latest Brewers coverage from our writers
— Recent Brewers discussion in our forums
— Follow Brewer Fanatic via Twitter, Facebook or email