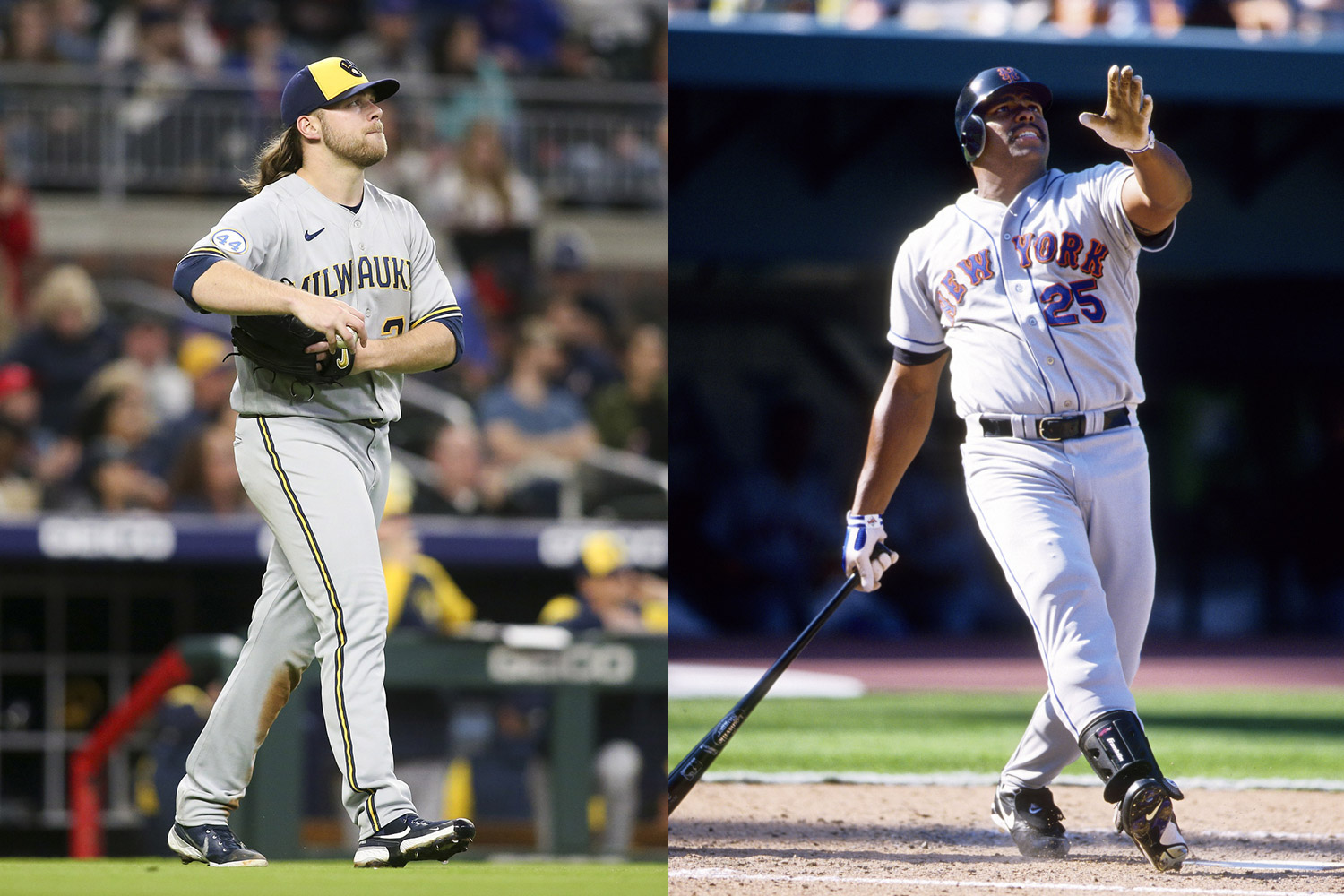 This is nothing new, as CBS Sports notes. But it may be the answer the Brewers are looking for to keep Corbin Burnes in Milwaukee for an extended period.
There is no doubt that Burnes is the best starting pitcher the Brewers have seen since Ben Sheets in his prime. Baseball-Reference lays the numbers out clearly: 11.7 strikeouts per nine innings, a 4.79 K/BB ratio, career ERA+ of 129. In terms of single-season performance, he has two places in the top five for strikeouts (243 and 234, good for second and fourth), K/BB ratio (6.882 and 4.765, also suitable for second and fourth), and WHIP (0.940 and 0.965, holding the top two slots). Regarding career marks, he is at or near the top in several categories, beating well-known Brewer aces like Teddy Higuera, Mike Caldwell, Yovanni Gallardo, and Ben Sheets. He is climbing the ranks in others.
Burnes, a top-10 Cy Young candidate for the last three years, clearly deserves to get paid, and the best-case scenario for the Brewers is that he stays as the ace of the rotation for a long time. According to MLB Trade Rumors, he is projected to receive an arbitration-based salary of $11.4 million in 2023. But suppose the Brewers offer an eight-year, $260 million deal, with a $10 million signing bonus and $90 million deferred to be paid out over 30 years?
The contract could be structured like this:
2023: $20 million, plus a $5 million bonus, $10 million deferred
2024: $20 million, plus a $5 million bonus, $10 million deferred
2025: $20 million, $10 million deferred
2026: $20 million, $10 million deferred
2027: $20 million, $10 million deferred
2028: $20 million, $10 million deferred
2029: $20 million, $15 million deferred
2030: $20 million, $15 million deferred
Expensive? Yes. But a deal like this might give the Brewers enough room to keep Burnes on board for the rest of the 2020s. It would mean that the Brewers would have $46 million a year committed between Burnes and Christian Yelich from 2023-2028 and $40 million committed in 2029 if the Brewers and Yelich exercise their mutual option.
It should be noted that Brandon Woodruff has been a shade behind Corbin Burnes in some of these metrics and would be worth extending on his own merits. If Woodruff and Adames were to sign for 6-year, $120 million deals with $30 million deferred over 30 years in an arrangement similar to the Burnes deal, it would mean the Brewers have $76 million committed through 2028 for those four players.
However, in this case, the Brewers might be able to afford to do just that. The team has a lot of young talent coming up through the minors. In the outfield, Garrett Michell and Sal Frelick will almost certainly be in Milwaukee for most of 2023, and it's an open question of just how long Joey Weimer and Esteury Ruiz can stay in the minors. Brice Turang seems to be the front-runner for second base, Cam Devanny could force his way to the majors at third base, and Mario Feliciano is an option to split time with Victor Caratini at catcher. This doesn't include other potential prospect help from Jace Avina, Jackson Chourio, Jeferson Quero, Darrien Miller, Thomas Dillard, Ernesto Martinez, and Xavier Warren – among many other prospects.
While some of these prospects could be traded, many players could be super options for bench or expanded roles at the major league minimum. In addition, the Brewers could trade Eric Lauer or Adrian Houser to land more prospects. The Brewers could then take the approach used with Freddy Peralta and Aaron Ashby to lock down the most promising in for an extended time at a relatively bargain price.
Furthermore, the deferred money – a mere $3 million a year for 30 years for Burnes and $5 million a year for 30 years if Woodruff and Adames also get extended – would not be a backbreaker, especially as the league minimum creeps up and salaries continue to rise overall. In other words, while it might seem crazy to go full Bobby Bonilla, the present situation might be crazy enough to work out very well for the Brewers.
What do they have to lose?
Think you could write a story like this? Brewer Fanatic wants you to develop your voice, find an audience, and we'll pay you to do it. Just fill out this form.
MORE FROM BREWER FANATIC
— Latest Brewers coverage from our writers
— Recent Brewers discussion in our forums
— Follow Brewer Fanatic via Twitter, Facebook or email