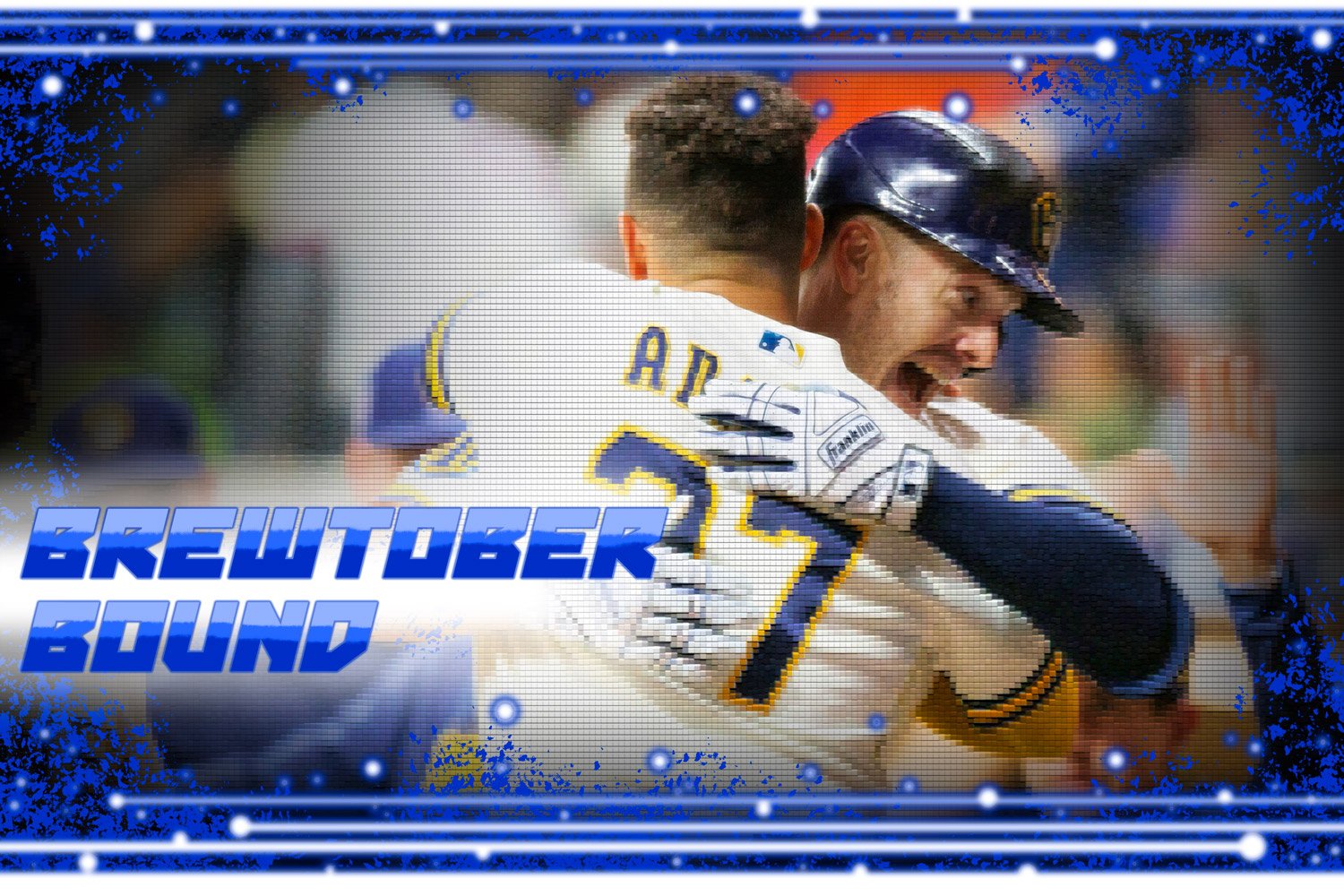 Image courtesy of Brock Beauchamp & Brewer Fanatic
The Brewers season necessitates a split into two separate factions before and after the trade deadline due to the vast difference in form and consistency. In the early part of the year, regular at-bats were taken by injured and under-performing personnel, with Jesse Winker (60 OPS+), Joey Wiemer (57 OPS+ against right-handed pitching), an injured Tyrone Taylor (15 OPS+ in the first half), an injured Rowdy Tellez (23 OPS+ in June, -48 OPS+ in July), the list goes on.
That's not even considering the pitching, where Corbin Burnes pitched to a solid, if unspectacular, 3.94 ERA in the first half of the season, while Freddy Peralta had an astounding 4.70 ERA. The reason Milwaukee was anywhere near the position they were was due to the incredible bullpen, in particular Wilson, Milner, Peguero, Payamps, and Williams, alongside astounding performances from unlikely places such as Owen Miller in May or Julio Teheran and Colin Rea through May and June. They gritted their teeth and ground out wins without any real offense to speak of, and with reinforcements, have become the best version of this team.
Since the trade deadline, the Brewers are on a 100-win pace, and it's tough to question the longevity of their changes. Let's look at why their changes will continue to have success through the end of the season and into the playoffs.
---
Pitching Staff
Corbin Burnes
In June, Burnes was tweaking his arsenal and grips to try and sort out an issue he had with right-handed hitters, specifically that his slider and cutter were too similar. He redefined the slider into more of a sweeper, which pairs better with his cutter's profile while also tweaking his grips to increase the spin he was getting, and thus the movement on both his sinker and his curveball, resulting in an extra five inches of drop on his signature breaking pitch while drastically increasing the effectiveness of his fastball alternative (which had been cannon fodder over the last two years). As a result, he's been achieving exactly what he lacked at the start of the year: strikeouts while allowing variation with the fastball that increases the productivity of his cutter.
Here are his swing and miss rates in June compared to August:
Slider – 38.5% to 42.1%
Curveball – 50% to 69.7%
Sinker – 10% to 31.3%
He still isn't generating the swing-and-miss rates of old with his cutter, but the addition of a pitch that has contrasting movement to his cutter in the sinker, combined with the increased effectiveness of both his slider and his curveball, has led him back to a true ace, with even further potential to unlock. To highlight the turnaround, hitters didn't hit over 0.091 against his curveball or his slider in either July or August, and it's something I would expect to see him use even more in a playoff series, perhaps using fewer changeups, which have been struggling more of late. Either way, this is not the version of Burnes you would want to face in a playoff series.
Freddy Peralta
Freddy has been perhaps even more of a stud than Burnes, taking home August's pitcher of the month by tweaking his pitch mix. His changeup has been deadly over the last two months, increasing usage from 10.4% in June to 22.6% in September. However, his real point of difference is his location and command of his arsenal; his biggest issue was wasting uncompetitive pitches, particularly his breaking pitches, and hitters could sit on his fastball. Not so anymore, and it's brought about improved performance against his signature pitch; his fastball has a batting average of just .140 in August and 0.091 so far in September.
The Brewers spoke in July after the Braves series of Peralta's personality not showing in his pitching, resulting in tension when the big moments came around. Since then, he's been devastating, working around traffic on occasion, and with hitters struggling even to put the ball in play, he has 12.7 K/9 since the start of August. It beggars belief this is the Brewers' THIRD starter in a playoff series.
Returns & Additions
Just when it seemed Rea and Teheran were flagging, Wade Miley and Brandon Woodruff returned from the IL and have been at the top of their games, with Woodruff looking odds on for a third Brewers NL pitcher of the month award in three months, an ERA on the season of 1.89 and a walk rate of just 5.7%. Nothing in his underlying metrics hints at his dominance waning any time soon. At the same time, Miley has been exactly as advertised, pitching a 3.38 ERA, not letting hitters make quality contact against him, and letting his defense make the plays behind him. Should that be needed, he's a stalwart and a potential starter in a five-game series.
The back end of the bullpen was a huge struggle earlier in the year, blowing up any chance of holding a game close down the stretch with a myriad of failures from Gus Varland, Javy Guerra, and Matt Bush. The Brewers have promoted from within and found several gems, such as Peguero earlier in the year and, more recently, Abner Uribe. Why have a back end of the bullpen when you can bring up a reliever with closer potential? Uribe has made a cacophony of established major leaguers look ridiculous chasing his slider and electric two-seam fastball, getting valuable outs and shutdown innings in various situations when Counsell needed him. Uribe has already attained 1.1 WAR on the season with a 1.29 ERA and 34 strikeouts in his 28 innings.
---
The Offense
As mentioned earlier, a lot of holes needed to be filled in this lineup, and they have been. With above-average contributions and on-base rates of Mark Canha (.400 OBP), Sal Frelick (.372 OBP) combined with the switch-hitting slugging ability of Carlos Santana, and the return to form of Tyrone Taylor, who has altered his swing path and is reaping the rewards, this is a lineup that is set to put men on base throughout a series consistently, and need only a little luck timing wise to drive those runs in. It's not an offense to fear per se, not without a red-hot Christian Yelich in his July form. However, it can put runs on the board and let the pitching staff do the work. Since the all-star break, the Brewers are 17th in OPS (they were 25th before the break), ranking 8th in minimizing strikeouts and 12th in on-base percentage. They may not do a lot of damage, but it's important to note that they don't need to with that pitching staff.
They lead the league in double plays but have averaged over a run per game more than they managed pre-trade deadline, from 4.15 to 5.16. If a team can scratch five runs across each game in the playoffs with that starting rotation, they'll be fancying their chances. On top of that, it's without a firing Christian Yelich, who is currently out of the lineup with a recurring back injury after a monumental MVP-level July.
One big thing to note is how effective the Brewers have been against the better pitchers in MLB, dragging out at-bats, chewing them up, grinding them down, and spitting them out of the game early. Here's how some of the better pitchers have fared:
Max Scherzer – 3.2 innings, 98 pitches, Three Earned Runs
Dane Dunning – Five innings, Seven Hits, Three Earned Runs
Bailey Ober – Five Innings, Two Earned Runs
Yu Darvish – Four Innings, 76 Pitches, Five Earned Runs
Michael Wacha (2.84 ERA on the season) – 5.1 innings, 97 pitches, Four Earned Runs
Eury Perez – 4.2 innings, Three Earned Runs
Jesus Luzardo – Five innings, ten hits, Six Earned Runs
Barring external factors such as Wrigley Field wind and absurd strike zones/Angel Hernandez, the Brewers' offense has consistently done damage against the best pitchers around, none of those mentioned above even finishing the sixth inning. They may not be the Braves behemoth, but they will score runs, something that cannot be labeled of the recent 2021 team who crumpled at any remote quality in the opposing pitcher. And if you can add an unhindered Yelich to that lineup, the complexion of danger it exudes increases even further.
They have potentially the best three starters in baseball. They have an offense that can keep the runs ticking over. They have a shutdown bullpen. Everything is needed for a deep run if they can garner a little luck here and there, with a team that is on a 100-win pace since being put together. There might not be another team with this much potential for quite some time.
Think you could write a story like this? Brewer Fanatic wants you to develop your voice, find an audience, and we'll pay you to do it. Just fill out this form.
MORE FROM BREWER FANATIC
— Latest Brewers coverage from our writers
— Recent Brewers discussion in our forums
— Follow Brewer Fanatic via Twitter, Facebook or email
3