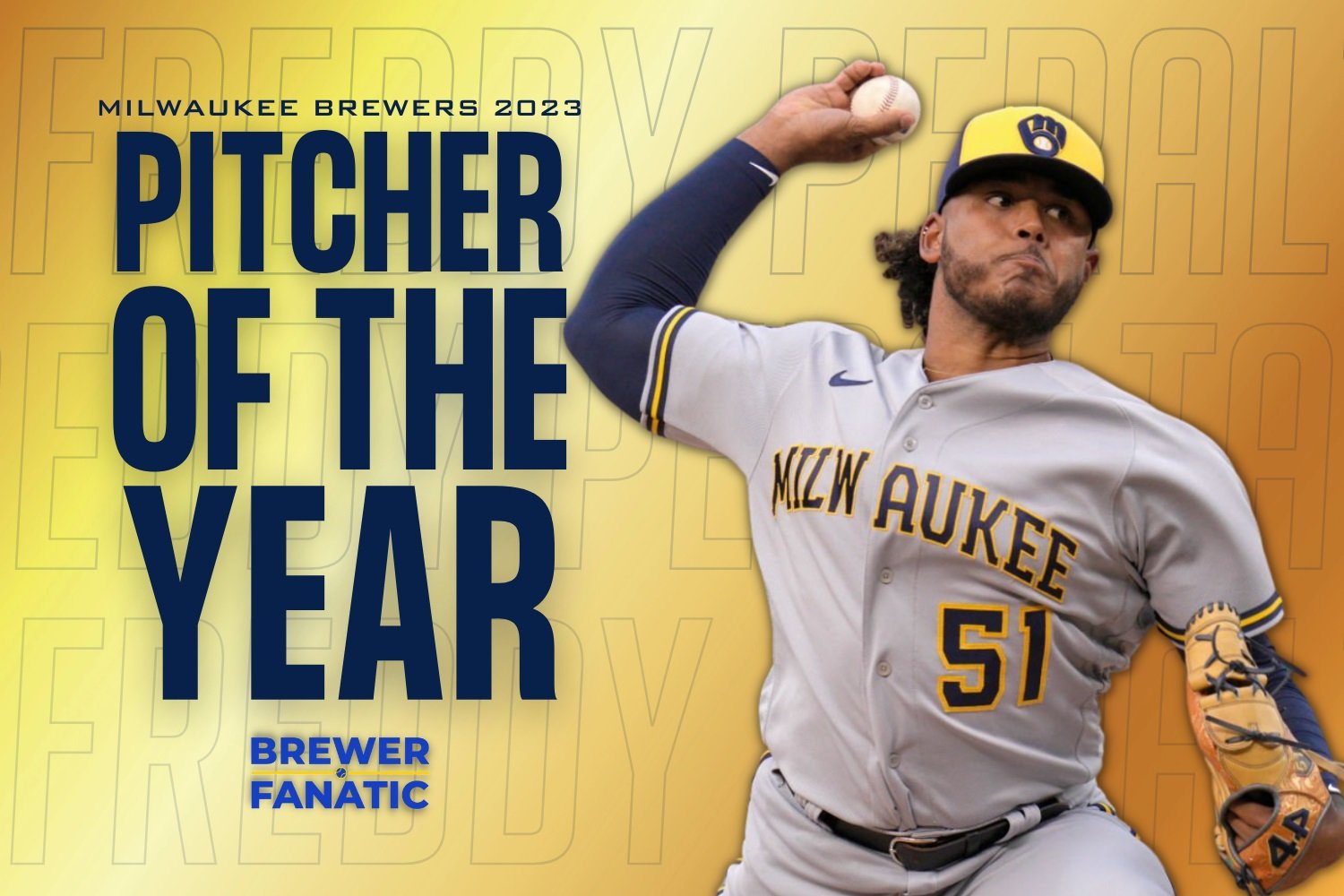 Image courtesy of Thieres Rabelo & Brewer Fanatic
Satchel Paige once said, 'My pitching philosophy is simple - keep the ball away from the bat.' And in 2023, the Brewers pitching staff was good at doing just that.
Final regular season NL team pitching stats had the Brewers sporting the following numbers:

ERA: 3.71 (1st)
ERA+: 116 (1st)
WHIP: 1.186 (1st)
Saves: 46 (5th)
BB Allowed: 493 (4th)
K/W Ratio: 2.89 (5th)
K: 1425 (5th)
Although I am a member of the Society for American Baseball Research (SABR), I am not an expert on the sabermetrics that have come into vogue in the last 10-20 years, and my childhood days (60s/70s) included me buying and studying the backs of thousands of Topps cards. The only pitching stats were complete games, wins and losses, and ERA. There was nothing else.
These days, the complete game has gone the way of the T-Rex, with only a combined total of 15 authored by starters in the National League this year. You would have to return to 1998 to find ONE pitcher with that many CGs. His name would be Curt Schilling.  
But as a team--and individually--Brewer pitching, for the most part, performed well this season. The staff was the linchpin of the team that closed out the NL Central in a pretty convincing fashion, eradicating the hopes of the Chicago Cubs and beating them by nine games in the division.
Unfortunately, an injury to Brandon Woodruff and disappointing performances by Corbin Burnes, Freddy Peralta, and Devin Williams in the NL Wild Card Series led to an early exit, and the Arizona Diamondbacks 'swept' the Brewers two games to none at American Family Field. 
While the post-season ended abruptly, a handful of Brewers pitchers performed well during the regular season. Peralta, Williams, Burnes, and Woodruff continued to pitch at an elite level during the regular segment of the 2023 campaign, while Joel Payamps, Hoby Milner, and Bryse Wilson upped their games in the middle of their major league careers.

Despite the short post-season, today, we honor the hurlers who stood out for Milwaukee in the 2023 regular season.
OTHERS RECEIVING VOTES (Points)
Bryse Wilson, RHR (1)
G: 53 IP: 76 W: 6 L: 0 Sv: 3 ERA+: 167 WHIP: 1.07 ERA: 2.58
Adrian Houser, RHS (1)
GS: 21 IP: 111 W: 8 L: 5 Sv: 0 ERA+: 105 WHIP: 1.39 ERA: 4.12
Hoby Milner, LHR (4)
G: 73 IP: 64 W: 2 L: 1 Sv: 0 ERA+: 238 WHIP: 0.96 ERA: 1.82
---
HONORABLE MENTION (Points)
Joel Payamps, RHR (6)
G: 69 IP: 70 W: 7 L: 5 Sv: 3 ERA+: 170 WHIP: 1.05 ERA: 2.55
Brandon Woodruff, RHS (9)
GS: 11 IP: 67 W: 5 L: 1 Sv: 0 ERA+: 189 WHIP: 0.82 ERA: 2.28
Wade Miley, LHS (10)
GS: 23 IP: 120 W: 9 L: 4 Sv: 0 ERA+: 137 WHIP: 1.14 ERA: 3.14
---
THIRD PLACE
Corbin Burnes, RHS (38)
GS: 32 IP: 193 W: 10 L: 8 Sv: 0 ERA+: 127 WHIP: 1.07 ERA: 3.39
In his sixth season in the bigs, Burnes earned All-Star status for the third time. Although not as dominating as in the three previous seasons, Burnes led the Brewers in innings pitched this year and was second in wins and strikeouts. 
However, Game One of the Wild Card series was not one of Burnes' better efforts. He lasted only 19 batters (four innings), allowed five hits, including three homers in a five-batter span, walked two, and gave up four earned runs. It was not the opening game performance the Brewers were hoping for, especially with the shoulder injury to Woodruff.
His future with Milwaukee is uncertain, especially after a contentious off-season resulting from a 'bad beat' arbitration case that ended with Burnes signing a one-year, $10 million contract. Will he be traded in the next few months, or will Milwaukee try to re-sign him? Only time will tell.
---
SECOND PLACE
Devin Williams, RHR (39)
G: 61 IP: 58 W: 8 L: 3 Sv: 36 ERA+: 282 WHIP: 0.92 ERA: 1.53
In a span of just 219 games, Williams has become one of the top closers in baseball. He was NL ROY in 2020 and was named to the NL All-Star team the last two seasons.

He led the Milwaukee staff in ERA, saves, ERA+, FIP, and K/9 this season. But disaster struck for Williams once the Arizona D-Backs hit town for an NL Wild Card Series. 
In Game One, with the Brewers trailing by a single run entering the top of the ninth, The Snakes bit Williams for two runs, courtesy of one hit and three walks while only making two outs. Bryse Wilson came in to get the final out, but the damage had been done in a 6-3 loss, ending the Brewers' season. 
Williams had a one-year deal for 2023, but I would be hard-pressed to believe that Milwaukee would not try to sign the master of the 'Airbender' to a multi-year deal.
---
PITCHER OF THE YEAR
Freddy Peralta, RHS (42)
GS: 30 IP: 165 W: 12 L:10 Sv: 0 ERA+: 112 WHIP: 1.12 ERA: 3.86
Peralta was named this year's Brewers Pitcher of the Year by a narrow margin over Burnes and Williams. He led the team in wins and strikeouts. Peralta won each of his five starts in August and hit double-digits in whiffs six times during the season. In short, Freddy was electrifying at times. 
But his W/L record was just above .500, and his season had its ups and downs. His final appearance in September might have been a portent of things to come in the short playoff series. Peralta struggled on September 24 in Miami, lasting just three innings while giving up nine hits and four earned runs. 
Pitching on long rest (nine days) for the first time all year, Peralta was ineffective at best against Arizona in Game Two, yielding four runs on three hits in five-plus innings, which was the beginning of the end of the Brewers' 2023 season, which a week before had showed so much hope.
Even though the top hurlers struggled against Arizona, we should celebrate their outstanding showings in the regular season and hope that most or many can return in 2024 and repeat their solid performances of 2023.
Congrats to the pitchers honored as Brewers Pitcher of the Year.
Think you could write a story like this? Brewer Fanatic wants you to develop your voice, find an audience, and we'll pay you to do it. Just fill out this form.
MORE FROM BREWER FANATIC
— Latest Brewers coverage from our writers
— Recent Brewers discussion in our forums
— Follow Brewer Fanatic via Twitter, Facebook or email
1