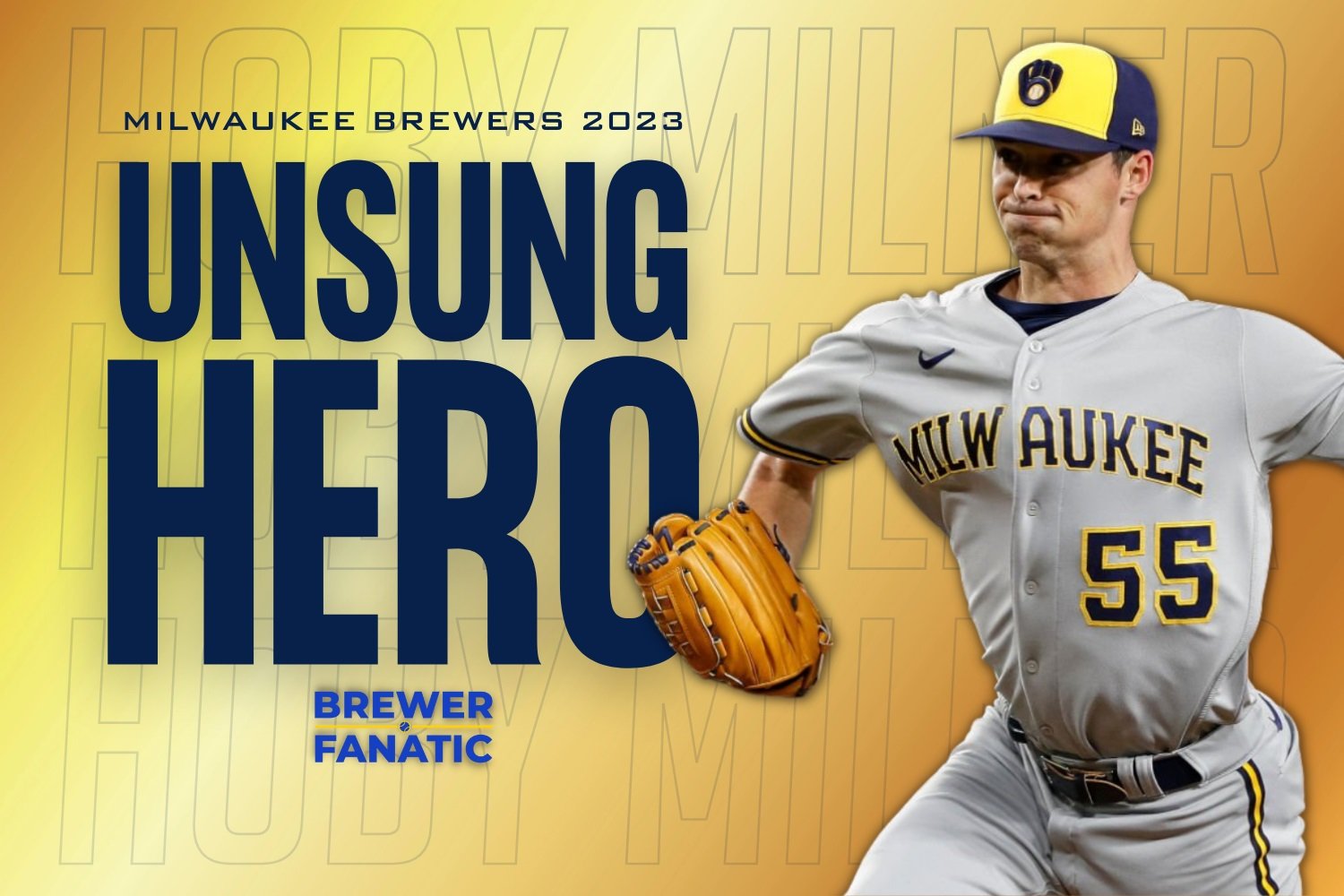 A large part of the Brewers success was due to these contributions, and some haven't received the credit they deserve. Some key players receiving votes, but not quite cracking the top four, are Julio Teheran, Adrian Houser, Blake Perkins, Joey Wiemer, Joel Payamps and Wade Miley. In Miley's case, the success was almost too great to qualify for this award, while others fluctuated at times during the season despite coming through in big moments for the Brewers. Without further ado, let's see who cracked the final four;
 
4. Colin Rea - SP, 4.55 ERA, 124 2/3 innings pitched in 22 games started
 Colin Rea was a player who had never quite gained success in the major leagues, to the point that he went to Korea in 2021 after pitching a game for the Brewers. The front office and Counsell liked what they saw, especially as a depth piece, encouraging him to return to MLB. With below average movement and velocity on his pitches, Rea used fastball variations in the sinker, four seam and cutter to keep hitters off balance while generating more ground balls than average, limiting walks and generating a surprising swing and miss rate behind his cutter (29.4%) and four seamer (26.6%).
His expected ERA of 4.39 shows that he wasn't just lucky this season, and perhaps slightly unlucky. His susceptibility to the home run in big moments did hurt him, with 23 on the year, and often with men on base. However his job was to keep the Brewers in games, something he did admirably and many Brewers fans would be more than happy to see him back next year as a 5th/6th starter should he be needed for it. When compared to the contributions of Jason Alexander and Chi Chi Gonzalez in 2022, his value becomes all the more clear. Wherever he ends up, his performance this season should be recognized and applauded.
3. Andruw Monasterio – 3B, .259/.330/.348, Seven Defensive Runs Saved
 A name not on many people's lips, especially given he was demoted down to Double A Biloxi at the end of last season, Monasterio proved a vital cog for the Brewers this year with an ability to make quality contact, hit left handed pitching and high quality defense at the hot corner (albeit after a few early hiccups). One huge issue the Brewers had was the number of ground balls they hit when putting the ball in play, but Monasterio was a big outlier in this. The "sweet spot" is when a batter achieves an optimal launch angle of between 8 and 32 degrees, and Monasterio's 41.3% sweet spot rate put him 13th in all of baseball with over 150 plate appearances. Although he doesn't possess much raw power, his ability to find the outfield grass and his professional approach brought immense value.
He did struggle with the arrival of Josh Donaldson and reduced playing time, but his value to the Brewers on both sides of the ball when Brian Anderson was injured/unused during a pivotal point of the season in June, July and August cannot be understated.
2. Bryse Wilson – RP, 2.58 ERA in 76.2 innings, 1.07 WHIP
His acquisition during the winter was lamented by some, as yet another marginal move by the Brewers front office, albeit some were curious about the addition of a supposedly promising splitter at the end of last year. He used the splitter just once this season, but his performance out of the bullpen, while slightly capitalizing on the premium defense the Brewer had behind him, was astonishing. Used as a middle reliever/middle leverage late inning guy from the bullpen, Wilson induced a plethora of weak contact. He avoided the barrel of the bat, he avoided walks, and his cutter tore up opposing hitters, who hit just .165 off it. That's phenomenal, but it gets even better with his four seamer which averaged just .106.
Swing and miss wasn't a large part of his game, but in limiting the quality of contact he gave his defense a chance to make plays, and they backed him up big time. The aforementioned cutter is a relatively new pitch for him in terms of how much he used it this year, also generating a lot of swing and miss when enticing hitters to chase it (43% whiff rate outside the zone), while also generating a significant amount of weak fly balls and pop ups more than normal. Last season, hitters got under just 20.4% of his pitches, this year that figure rose to 32.8%. He metamorphosed as a pitcher in terms of understanding how to use his pitches better, and the results speak for themselves. He kept the Brewers in games and gave quality innings when the A-team were unavailable, and unfortunately was just pipped to the post of Brewers unsung hero this season. Speaking of…

Brewer Fanatic Unsung Hero 2023
Hoby Milner – 1.82 ERA, 64.1 innings pitched, 0.96 WHIP
Milner had a slightly rocky start to the season in April and May, but his final numbers on the year are the kind you would see from a shutdown closer. He started the year as a lefty specialist, with southpaws struggling to even see the pitch out of his hand such is the width at which he releases the ball. His fastball averages 89 mph, and should have been cannon fodder to right handers. Yet somehow he performed like one of the best relievers in baseball without ever really seeming to gain recognition due to his demure demeanor and lack of high profile "stuff".
Yet he commanded his pitches to have one of the lowest average exit velocities in the big leagues, on top of walking just 5% of hitters (92nd percentile). His heat maps couldn't look much better, either staying inside or nibbling round the edges of the strike zone, with minimal waste pitches.

In an era during which high velocity and big movement is ogled at, Milner highlights a different, yet equally effective approach. To right handers, he predominantly used his changeup and curveball to get weak outs, with a smattering of four seamers. To fellow lefties, he uses a sinker/curveball attack, and this bread and butter has seen him post a 0.79 WHIP against southpaws, truly outstanding stuff. Since June 1st, Milner has allowed just four earned runs in 49 appearances across 43 2/3 innings. He's been dominant in whatever role Counsell has used him, fully deserving the title of Brewers Unsung Hero 2023.
1