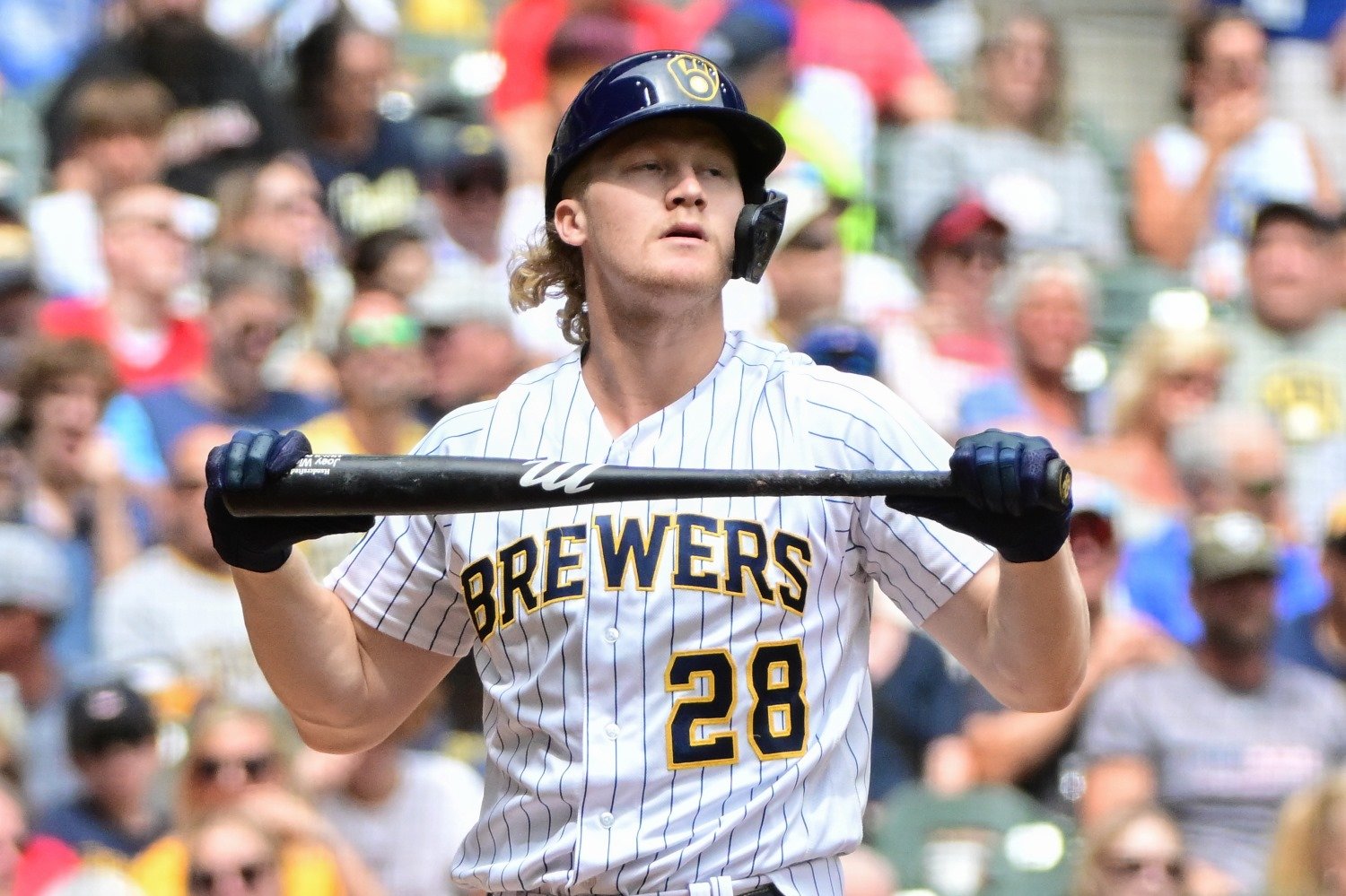 Image courtesy of © Benny Sieu-USA TODAY Sports
Scoring runs has been a Sisyphean task for the 2023 Brewers, although they have their outbursts like Monday and last Thursday. Entering this week, Milwaukee ranked 23rd in runs scored, ahead of six teams with losing records and the Miami Marlins (with a 58-56 mark). Thus, it's strangely impressive that the Brewers owned a 61-54 record and a 1.5-game lead in the NL Central after Tuesday night. Still, some offensive stats have been beyond poor. The optimistic take is that there is no place to go but up. The Brewers better hope that is the case, because without improvements and adjustments, the reality of the offense thus far could be enough to kill their division title dreams. Here are five shocking truths:
Among the Worst Offenses in Franchise History
This club has some time to change the narrative, but the current results would put them in the bottom third of Brewers' history. At 4.19 runs per game before Monday, the 2023 offense would rank 37th out of 55 total seasons. However, since 1969, Milwaukee has had 29 seasons with a designated hitter, and this would be the eighth-worst offense with a regular DH spot to use.
Scoring runs is the ultimate test of an offense, but a look at the other statistics says this year's squad has been lucky to score even that much. Their current franchise rankings across 55 seasons are as follows:
Batting average (.233): 53rd

On-base percentage (.312): 48th

Slugging percentage (.376): 46th

OPS (.688): 48th
Those numbers are hard to believe, so let's hope the last two months offer a correction.
Willy Adames's Incredible Struggles
The Brewers' shortstop is having the worst offensive season of his career. With a .201/.286/.376 slash line, he is among MLB's worst everyday hitters, even at that defense-first position. Some argue he's had a bad-luck season, with an extremely low .235 BABIP (batting average of balls in play). However, that is likely the result of his lowest career average exit velocity (86.7 MPH) and his worst hard-hit percentage (35%) since his rookie campaign.
While those numbers alone are huge disappointments, it gets incredibly grotesque if you take away two of Adames' games. Remove his two-homer performance against the Cleveland Guardians in June and his double-dinger game versus the Cincinnati Reds in July, and things get really ugly: .190/.278/.336
In many ways, this adjusted line is the more accurate depiction of Adames' season. So if you look at his "adjusted slugging percentage" of .336, it is even more unbelievably mind-boggling that manager Craig Counsell continues to stick him in the cleanup spot (before Monday's day off), one of the two most important slots in the batting order. It's the main reason the Brewers' fourth spot in the order ranks second-worst in baseball in slugging and OPS. Adams needs to start at shortstop almost every day, but he needs to find himself while batting seventh or eighth in the order and enjoy a few extra days off.
Right Fielder or Pitcher in the Lineup?
Rookie Sal Frelick is already paying huge dividends as a right field stick (.237/.396/.447) in his 13 career games out there. However, all of his predecessors combined to be the worst right fielders among all 30 MLB clubs. In fact, the 2010 Brewers pitching staff had a higher batting average than this group of everyday players.
.588 OPS (30th) - next-closest team at .610

.301 SLG (30th) - next-closest team at .324

.190 AVG (30th) - next-closest team at .203

.287 OBP (26th) - congrats?
You can't blame any single player who was roaming right field prior to Frelick's arrival. Five Brewers had at least 40 plate appearances while playing right field, and none of them had an average over .200 this year.



Frelick will continue to boost the right field numbers, unless he plays more center field. In that case, someone else will be in charge of making that corner spot respectable again.
Taking Too Many Strikes and Whiffing on Too Many Strikes
The Milwaukee Brewers swing at the fourth-lowest percentage of pitches in the strike zone. They let balls in the zone go by without even offering 35.6 percent of the time. It's not necessarily a problem on its own, but they also fail to make contact at a high rate when the pitcher does fire one in the zone. Brewers batters are fourth-worst in baseball in strike zone contact, hitting the ball just 84.1 percent of those times.
They are the only MLB club in the bottom four in both categories. What's worse is that none of the other teams that reside in the last four in one of these stats are ranked below 17th in the other statistic. Basically, Milwaukee has been the only team to be terrible on all pitches in the strike zone--swinging or taking.
Multiple factors can play into these results, but the problems they're causing for the club as a whole remain the same. You could argue which stat is more concerning, although that might depend on the hitter. One fascinating example of balancing these plate discipline metrics is the Atlanta Braves, who lead MLB in homers by a wide margin and rank 3rd in runs scored. The Braves make the least contact when swinging at pitches in the zone (worse than the Brewers), but they swing at the highest percentage of pitches in the zone. They swing just about all the time, so while they whiff a lot, they also do damage far more often.
After seeing all of this, it might make you feel like the Brewers will certainly improve in a few areas. You're right. Mathematically, they almost have to. Most fans and experts have stressed that the offense doesn't need to be great to make a postseason run; they just have to move the needle from miserable to below-average. Can they find their offensive groove for eight weeks and ride into the playoffs with some momentum? We'll soon find out.
Think you could write a story like this? Brewer Fanatic wants you to develop your voice, find an audience, and we'll pay you to do it. Just fill out this form.
MORE FROM BREWER FANATIC
— Latest Brewers coverage from our writers
— Recent Brewers discussion in our forums
— Follow Brewer Fanatic via Twitter, Facebook or email
1