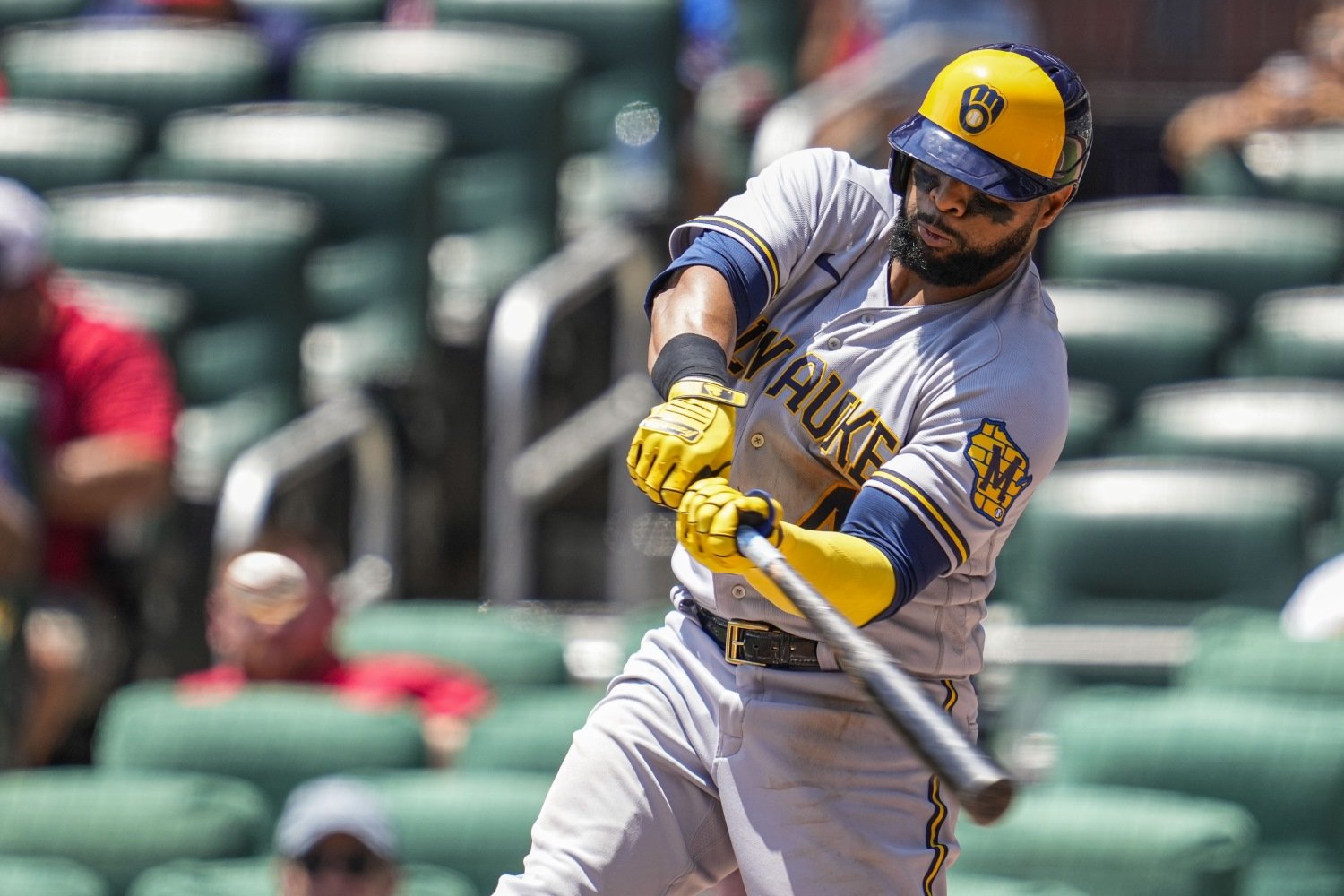 Image courtesy of © Dale Zanine-USA TODAY Sports
A cursory check of the standings can tell you that the Brewers need to be buyers before the deadline. That's why they've already made two moves to increase their lineup depth and boost their offense, with trades for Carlos Santana and Mark Canha. Those two shore up three of the team's weakest positions, too, as they have been hurting for production at first base, in right field, and from the designated hitter all year. 
How much those additions have changed the team's outlook in this three-way division fight (and the even more complicated battle for the Wild Card spots in the National League) is a more nuanced, difficult question. Here are the Playoff Odds for the Brewers as of this morning, from each of the three major sites who provide them:
Baseball Prospectus: 52.9 % to win the division, 67.1 % overall
FanGraphs: 53.8 % to win the division, 65.4 % overall
Baseball Reference: 21.1 % to win the division, 43.1 % overall
Notably, while Baseball Prospectus and FanGraphs each utilize projection systems to generate their playoff odds, Baseball Reference operates very differently. They use a strength-of-schedule-adjusted rating system based on runs and wins over a team's last 100 games, and don't lean on individual player projections at all. Obviously, there can be arguments in favor of either kind of projection, but Baseball Prospectus and FanGraphs are generally regarded as more mathematically robust and scientific.
Still, let's hedge a little. If we give both of the projection system-based odds twice the weight of Baseball Reference's, and then average them together, we get roughly a 47 percent chance of an NL Central title, and a 61.6 percent chance of reaching the playoffs one way or another. That's frighteningly close to a coin flip, but then, the Brewers are 1.5 games behind the Reds and just a few games ahead of the Cubs right now--and never mind the morass of the Wild Card.
That underscores the urgency of this afternoon. Canha and Santana each give the team better projected production than they had before, which is baked into the BP and FanGraphs reports but not into Baseball Reference's. If we slightly adjust our rough-hewn mean upward on that basis, then they truly are 50/50 to win a division title. That means that they're right at a critical inflection point. Every move they make, and especially every edge they gain on the Reds or Cubs, will have an outsize impact on their hopes the rest of the way.
That doesn't mean the team should sell the form for rental players. Whether and when to do that is a more philosophical than a mathematical question. If there are still players out there who would be major upgrades for this team, though, Matt Arnold should be aggressive, because these odds are fragile, and what he does over the next four-plus hours will determine which way they break.
Think you could write a story like this? Brewer Fanatic wants you to develop your voice, find an audience, and we'll pay you to do it. Just fill out this form.
MORE FROM BREWER FANATIC
— Latest Brewers coverage from our writers
— Recent Brewers discussion in our forums
— Follow Brewer Fanatic via Twitter, Facebook or email