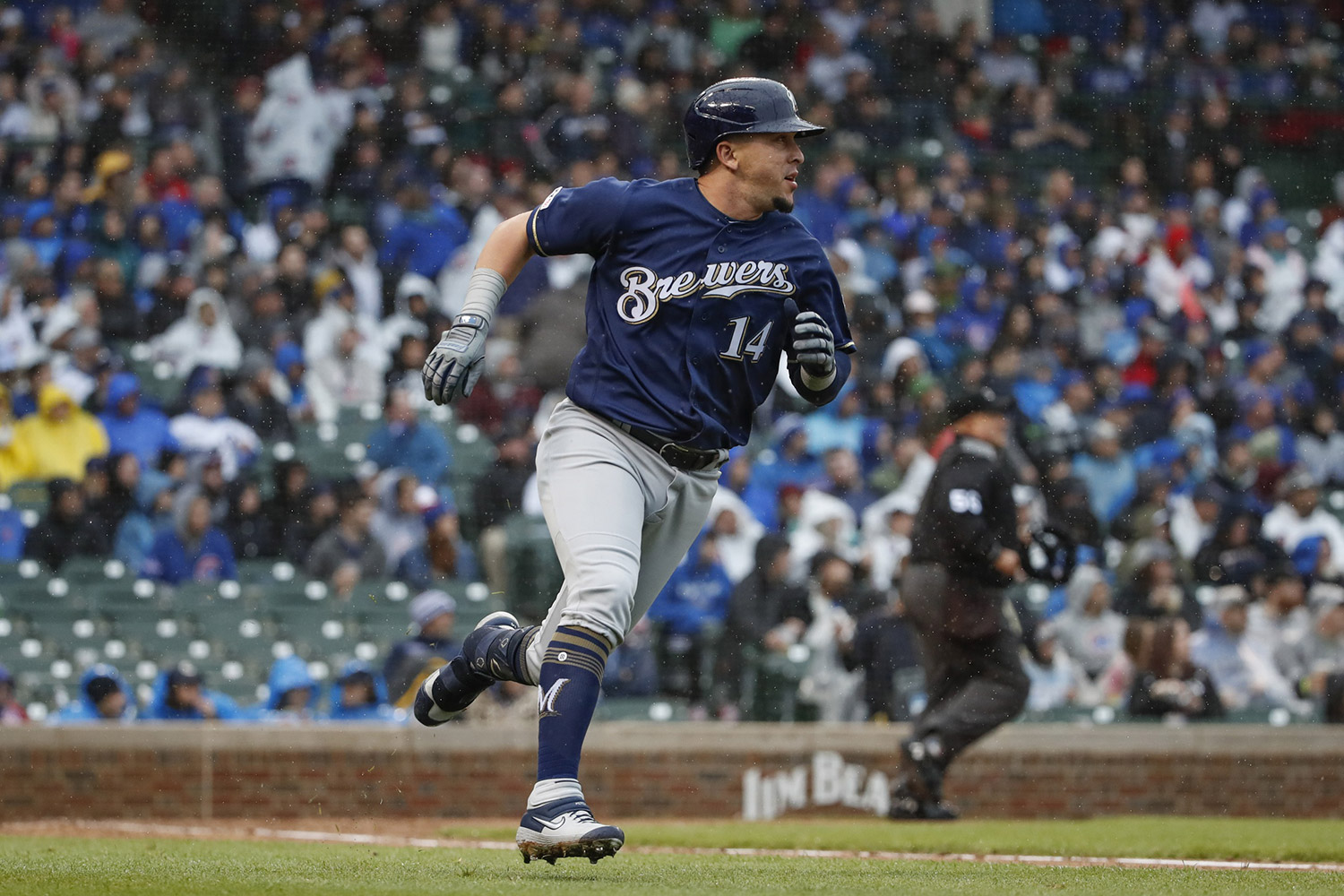 Image courtesy of © Kamil Krzaczynski-USA TODAY Sports
That said, the Brewers have had some very versatile players who made outsized marks in a season or during their career. They filled in when a player was hurt, provided others with a much-needed day off, and often were just as crucial to the team's success as a big-name star. So who were the best guys to come off the bench in Brewers history?
5. Keith Ginter
.257/.344/.448 with 34 HR and 112 RBI in three seasons
Ginter primarily spelled other Brewers at second and third base but also saw some action at shortstop and the corner outfield spots. The one thing he did for the Brewers was providing consistent offense. Acquired for Mark Loretta, another Brewers bench legend, he more than filled those shoes, even if he wasn't quite as versatile. He was dealt to Oakland for Nelson Cruz and Justin Lehr, with the Brewers selling high.
---
4. Craig Counsell
.241/.333/.326 with 13 HR and 130 RBI in six seasons
Counsell provided a lot of on-base percentage and defense off the bench from 2007-2011, filling in at second, third, and short behind some outstanding players, including Ryan Braun, JJ Hardy, and Rickie Weeks. He also served as the primary shortstop for the Crew in 2004, following the Sexson trade. Counsell's long-term tenure in Milwaukee also includes being arguably the most successful manager in team history.
---
3. Bill Hall
.253/.312/.456 with 102 HR and 367 RBI in eight seasons
Bill Hall provided memorable moments as a bench player, including back-to-back walk-offs (one a homer, one a squeeze). Perhaps his best season came when he filled in for JJ Hardy in 2006, but prior to that, he ended up being a fill-in at second base and serving as the primary shortstop (2006), third baseman (2008), and center fielder (2007) in three seasons.
---
2. Mark Loretta
.289/.355/.385 with 29 HR and 272 RBI in eight seasons
Mark Loretta provided a lot of doubles and could hit for a solid average and draw some walks. He also played all over the infield for the Brewers, played a little left field, and even took the mound. He was solid, if not spectacular, for the Crew before he was traded for Keith Ginter and Wayne Franklin during the 2002 season, both of whom were decent contributors for the team the next two seasons.
---
1. Hernan Perez
.258/.288/.400 with 45 HR and 175 RBI over five seasons
Hernan Perez played all over the diamond for the Brewers from 2015-2019, providing adequate (at worst) defense, speed, and some pop for the Crew. While he never played behind the plate in a regular-season game, he was ready to don the tools of ignorance in a pinch. He arguably could have been a two-way player for the Crew – making seven appearances on the mound from 2017-2019. The versatility alone makes Perez arguably the best utility player in team history.
---
Honorable Mentions
Don Money was the primary third baseman but saw action all over the infield, including an All-Star season in 1977 as a second baseman. Paul Molitor saw action at second, third, first, and the outfield. Jace Peterson played multiple infield and outfield positions over three seasons. As a primary shortstop, Dale Sveum was a versatile asset off the bench both before and after his two seasons. Ed Romero was a long-time backup infielder for the Brewers.
Think you could write a story like this? Brewer Fanatic wants you to develop your voice, find an audience, and we'll pay you to do it. Just fill out this form.
MORE FROM BREWER FANATIC
— Latest Brewers coverage from our writers
— Recent Brewers discussion in our forums
— Follow Brewer Fanatic via Twitter, Facebook or email