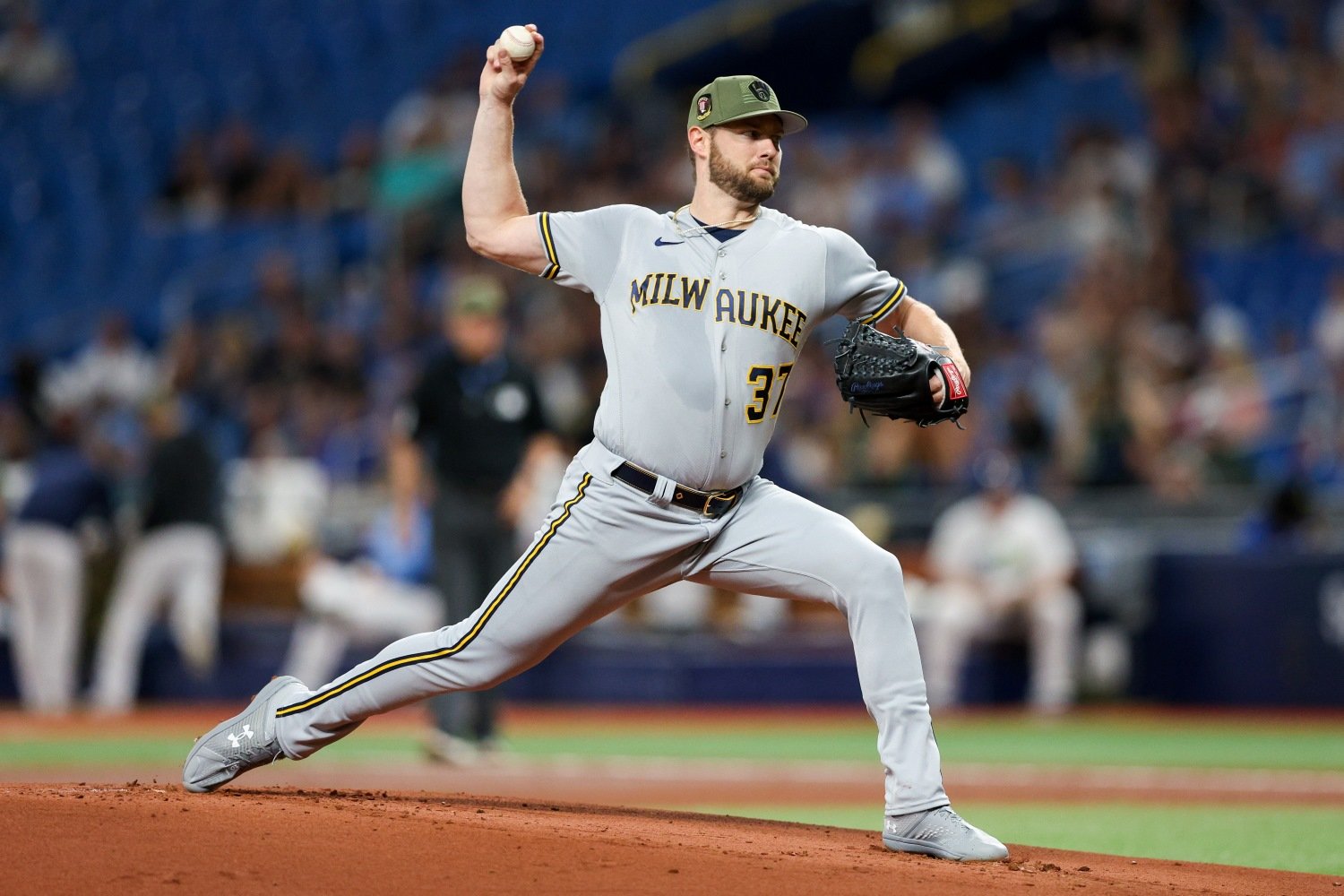 Image courtesy of © Nathan Ray Seebeck-USA TODAY Sports
Ground Balls
When he's right, Adrian Houser is a ground-ball pitcher, whose sinker is regarded as one of the best in all of baseball for its late-seeming, sharp-looking movement. Having men on base has never unduly bothered him, due to his ability to generate double plays, but even so, he had a WHIP of 1.96 after his first two appearances on the mound.
In both 2020 and 2021, Houser had an average launch angle on batted balls of 1.4 degrees. In 2022, that skyrocketed to 10.3 degrees, and he maintained this over his first two starts, getting an excessive amount of air outs and hard contact through the air–historically, an inauspicious indicator for him. He talked about how his sinker was flatter last year and they've been working to get that movement profile back, and against the Rays he did just that, generating 11 ground balls and allowing just three line drives, one fly ball and one pop up.
The Four-Seamer
Houser's four seam fastball profiles more as a hybrid, with more horizontal movement (away from right-handers), but slightly less vertical rise than you would expect. It isn't a significant pitch on its own, but he feels comfortable throwing it up in the zone, and even high out of the zone to give the hitters a different look when everything else he throws works down in the zone. (Corbin Burnes, take notes.)
In particular, given the damage that has come with his sinker to left-handed hitters, he is now using the four seamer 41 percent of the time against lefties, when last season, the sinker was still his dominant pitch. Here are the results:
2022 Sinker to left-handed hitters - xBA .349, xSlg .571

2023 Four-seam Fastball to LHH -  xBA .261, xSlg .323
He is incurring significantly less damage against his fastball to lefties so far, and it has allowed him to also use his sinker more sparingly, and more effectively as a result (.195 xBA in 2023 to LHH).
This sample size may be skewed due to it being a new approach, and we'll see how hitters manage once they've adjusted to it, but it shows some promise in what was once a glaring weakness in his repertoire.
The Changeup
One area in which he can still improve is with off-speed offerings, where he hasn't quite gotten locked in location-wise. He is still generating the majority of his whiffs with the changeup, but when it gets hit, it's yielding an expected slugging average (xSLG) of .460, significantly up from last year. Against the Rays, every change-up was lurking around the knees of the hitter, but previously, he was leaving them belt high (as you can see below). If he is to keep hitters off their balance and get ahead in the count, he needs his changeup to fire, but he has a .714 xBA against it when he leaves the pitch around the middle of the zone.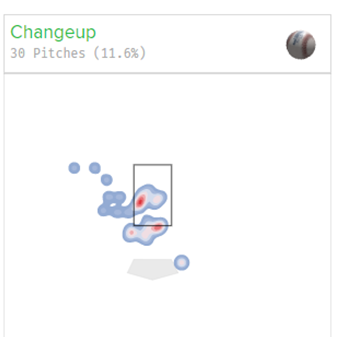 It comes out of an identical arm slot to his slider, enhancing the effectiveness of both pitches, but is used almost entirely against left-handers (21.1% usage).
Last season he had a 32.9% whiff rate and a .187 xBA against it, and he'll need that if he is to step up for the Brewers and be the most effective version of himself at a time in which they need him most. 
Think you could write a story like this? Brewer Fanatic wants you to develop your voice, find an audience, and we'll pay you to do it. Just fill out this form.
MORE FROM BREWER FANATIC
— Latest Brewers coverage from our writers
— Recent Brewers discussion in our forums
— Follow Brewer Fanatic via Twitter, Facebook or email