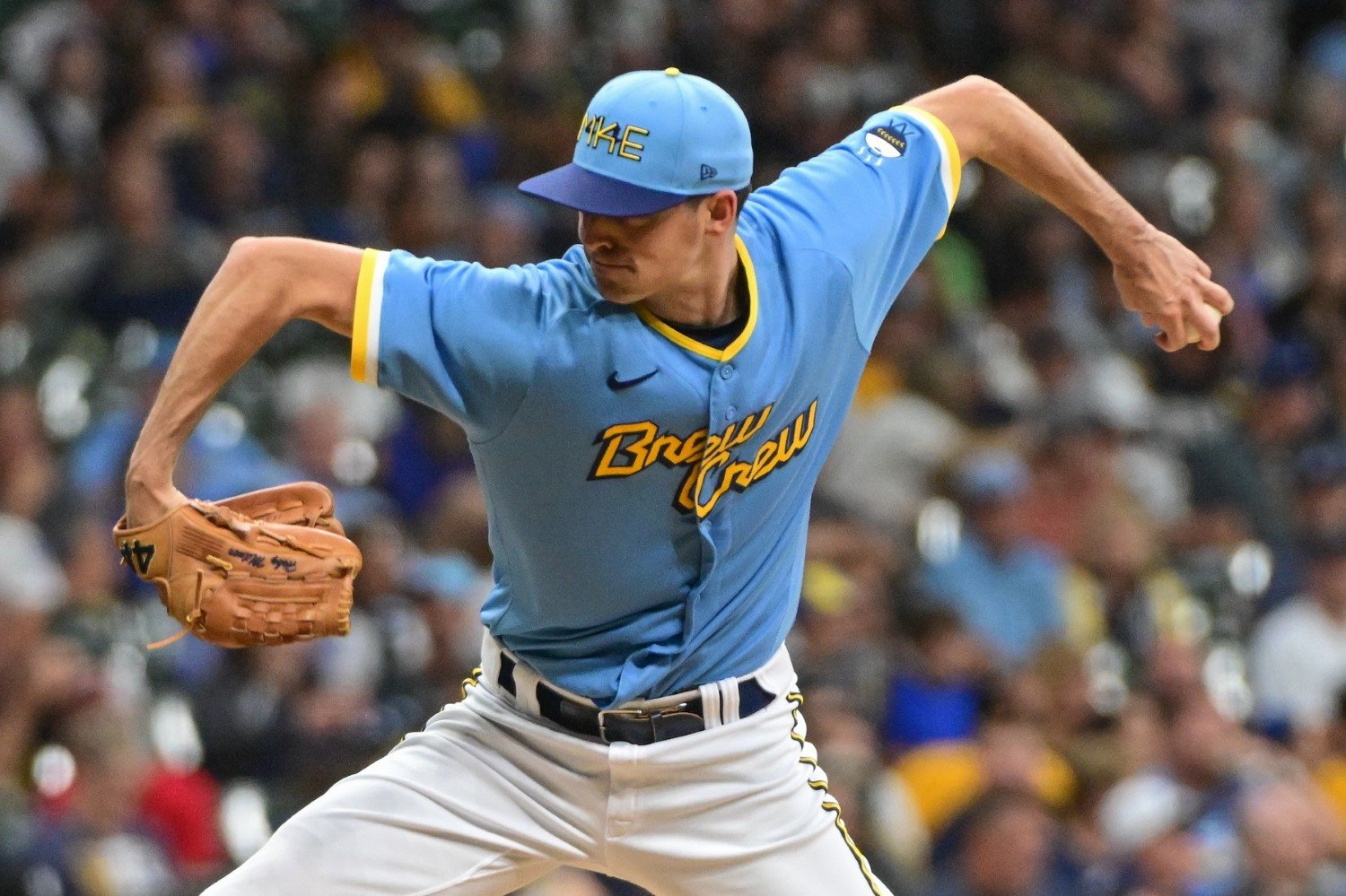 Image courtesy of © Benny Sieu-USA TODAY Sports
It's almost impossible to be intimidated by Hoby Milner. He's thin, bordering on gawky. He has one of those open, friendly faces that turn the most imposing glare into more of an accidental smolder. He throws 89 miles per hour. His name is Hoby, for God's sake.
Of course, he also has a 1.98 ERA this season. He's been, by Win Probability Added, the 42nd-most valuable pitcher in the National League. Only Giants closer Camilo Doval has made more appearances on zero days' rest, and Milner has often come into dirty innings, with runners on base and the game in danger of getting out of hand, only to freeze it right where it is. He began to emerge as a secret weapon for Craig Counsell in 2022. This season, he's no secret, but he's an even more lethal weapon.
Everything about Milner's steady improvement since joining the Brewers in 2021 bespeaks their brilliance at pitching development and instruction. Last summer, he moved beyond life as a left-handed specialist, thanks to changes he and the Brewers made in his pitch mix, his mechanics, and his approach. In baseball, though, you always have to be moving forward, or the league will catch up to you and you might as well be moving backward. Even after a season in which he finally put down roots with a team and earned a lasting spot, Milner had to keep improving.
He's done so, in several impressive ways. First, consider his release point. In the pieces linked above from last August, we discussed the way he moved toward the first-base side of the rubber, making the horizontal angle of his pitches more extreme for opponents. He's only ventured farther this year.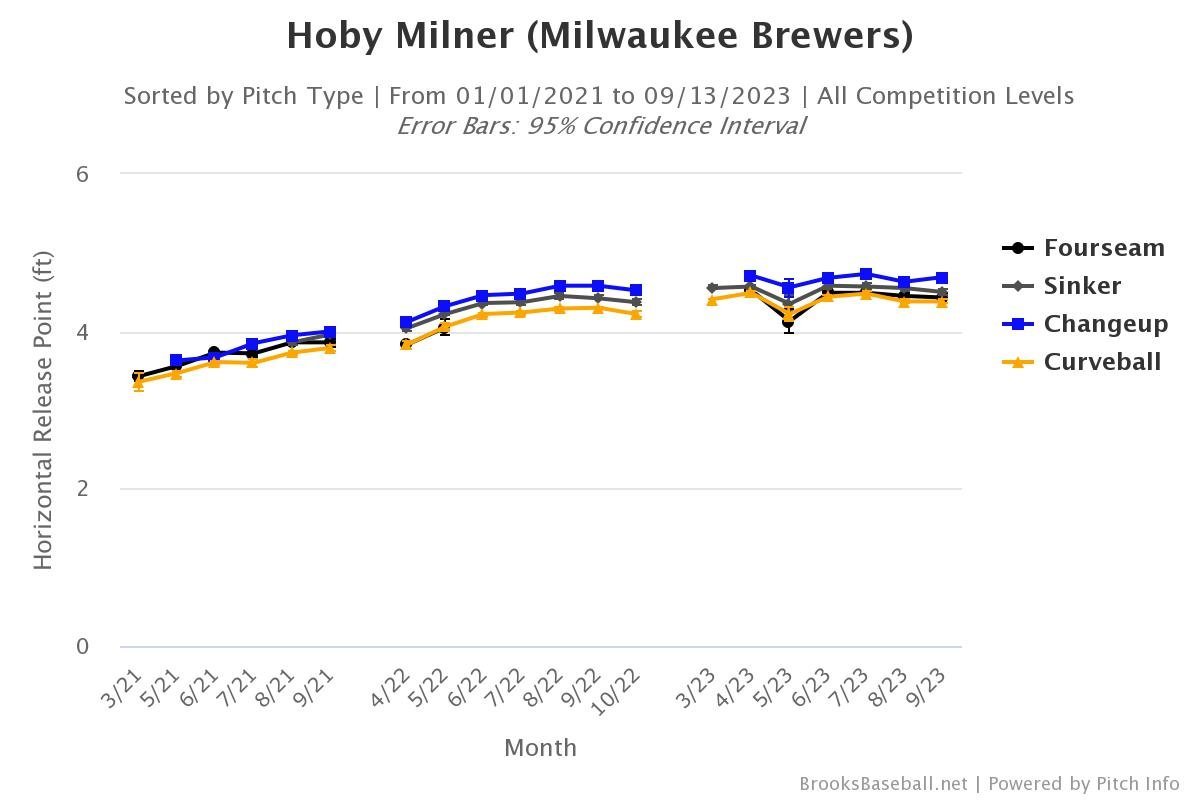 That horizontal extreme is possible, in part, because of his odd arm angle, and that's another way in which he's made himself even more of an outlier this season. Hitters have to pick up a ball coming at them from roughly the height of their navel, and from a yard wide of the edge of the rubber.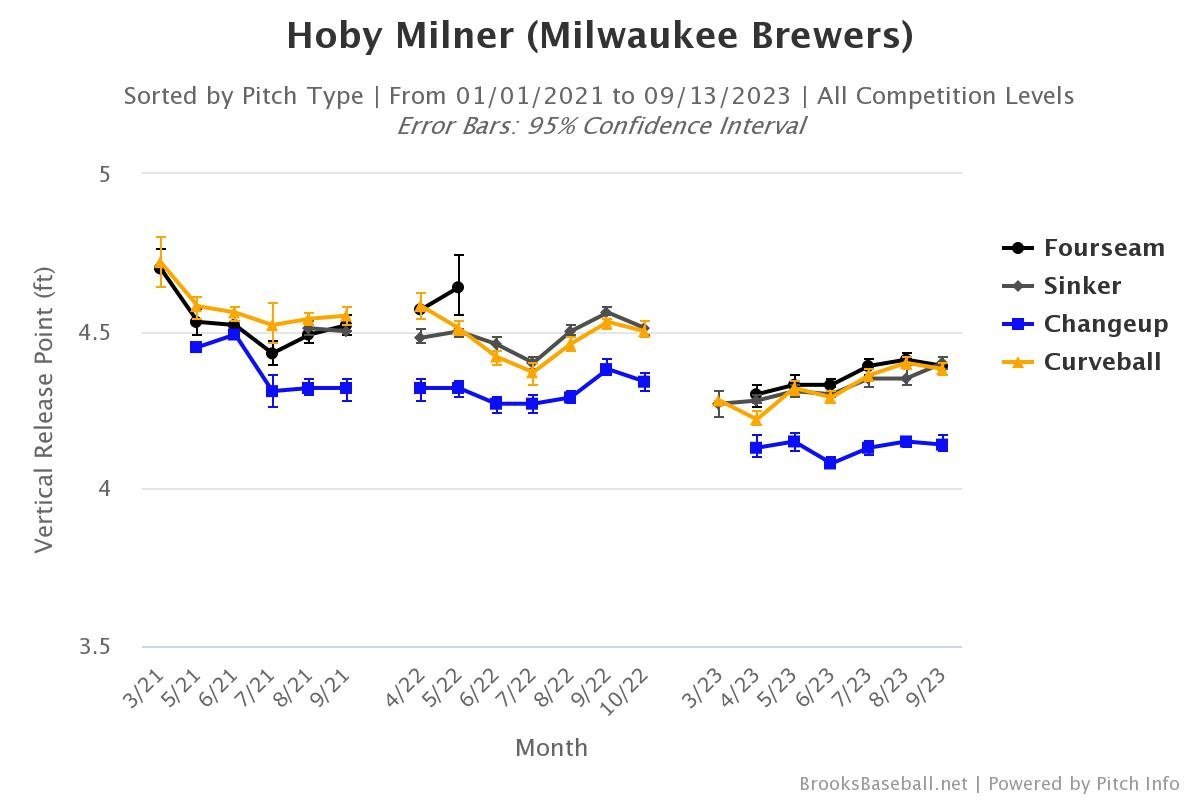 This season, however, he's continued another, equally valuable and even more impressive trend: he's releasing the ball closer to home plate, by getting down the mound better and extending slightly further through release.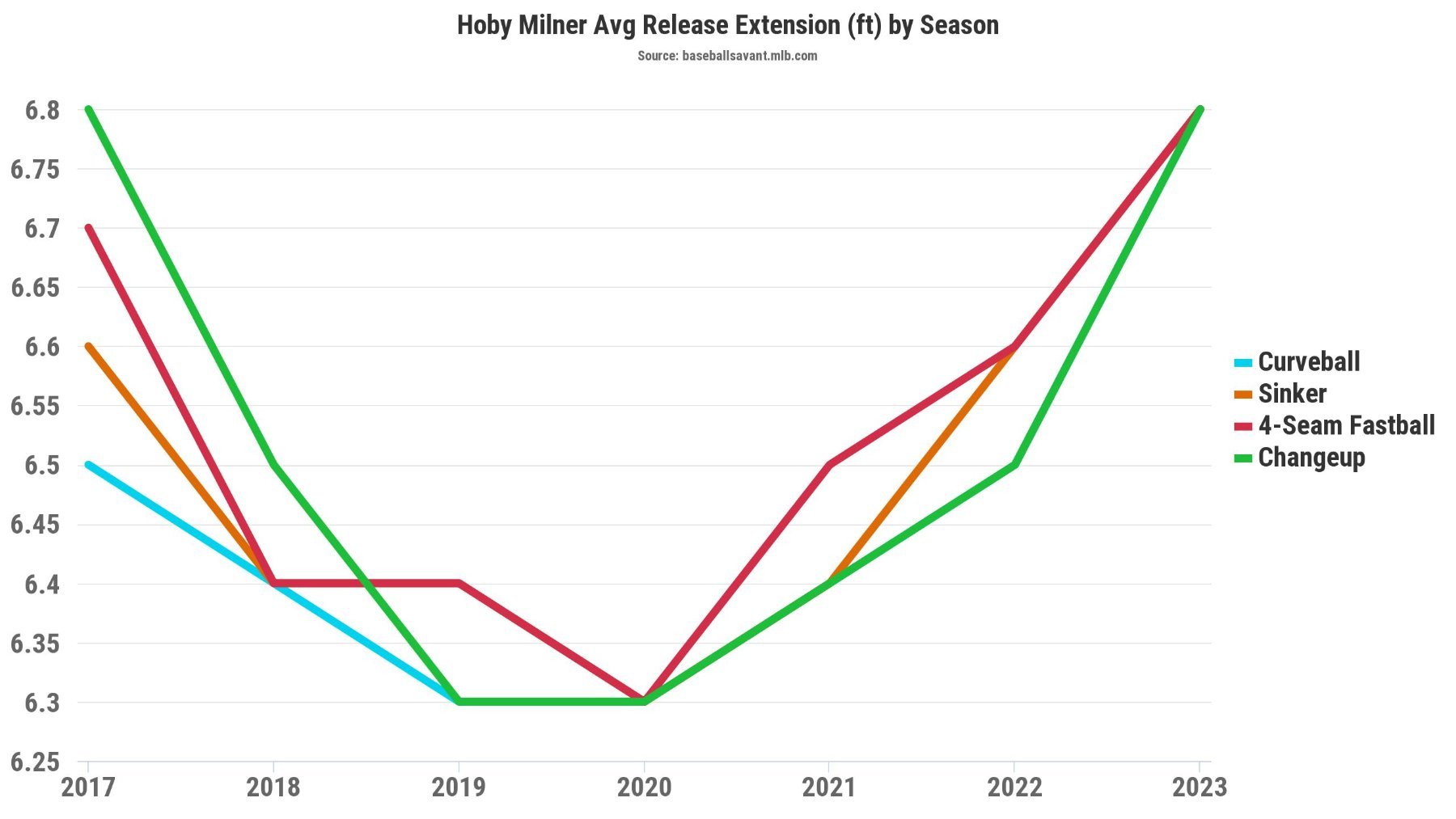 The extra few inches of depth on that release point make it even more of a head-wrecker for the batter. The ball gets on them more quickly, and they have less time to make sense of what they're able to pick up out of his hand. As a result of this, even though he's lost half a tick of velocity on his fastballs this year, he's actually had a very slightly higher perceived velocity, according to Statcast.
In the above paragraph, the most important letter is the 's' at the end of 'fastballs'. In the past, Milner has mostly been a one-fastball guy. When he got to the Brewers in 2021, he relied on a four-seamer. The Brewers, seeing the potential for a huge horizontal contrast in movements and location between his various pitches, had him swap it out for a sinker in 2022.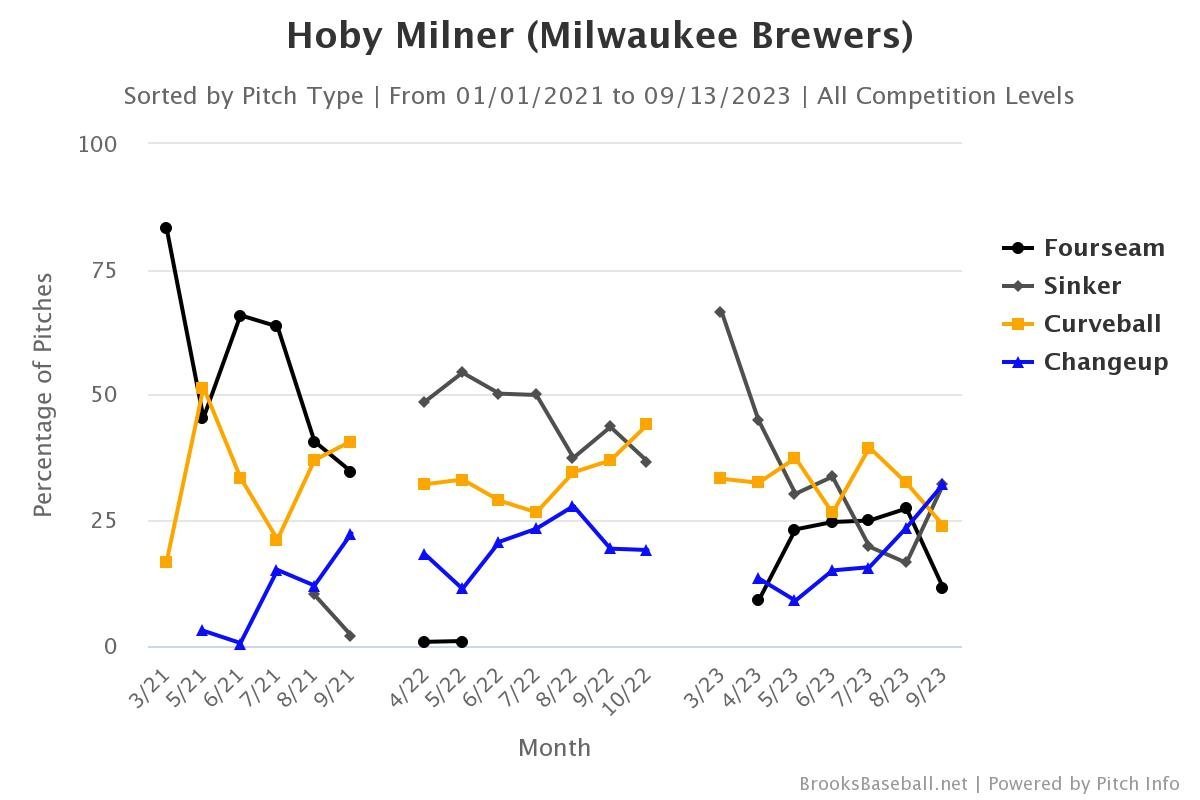 That's sound pitching development theory. Teams sometimes get themselves and their players into trouble when they try to implement multiple changes at once. That can be necessary, at times, but it's very difficult. Milner was able to be a successful reliever for a season with the substitution of the four-seamer for a sinker. In 2023, though, he's come back having consolidated that improvement, and compounded its value by reintroducing the four-seamer. 
In so doing, he's throwing harder in another way, too, because his four-seamer works at the top of the strike zone, while everything else he throws dips down to the knees or below. That means that he can once again change hitters' eye levels. His four-seamer earns whiffs on about twice as high a share of swings as does his sinker, so by throwing the four-seamer more, he gets the same benefits he would get out of an extra mile per hour or two of velocity.
Breaking it down by handedness, we can see that Milner really still leans on the sinker against lefties, but has added the four-seamer as that different look.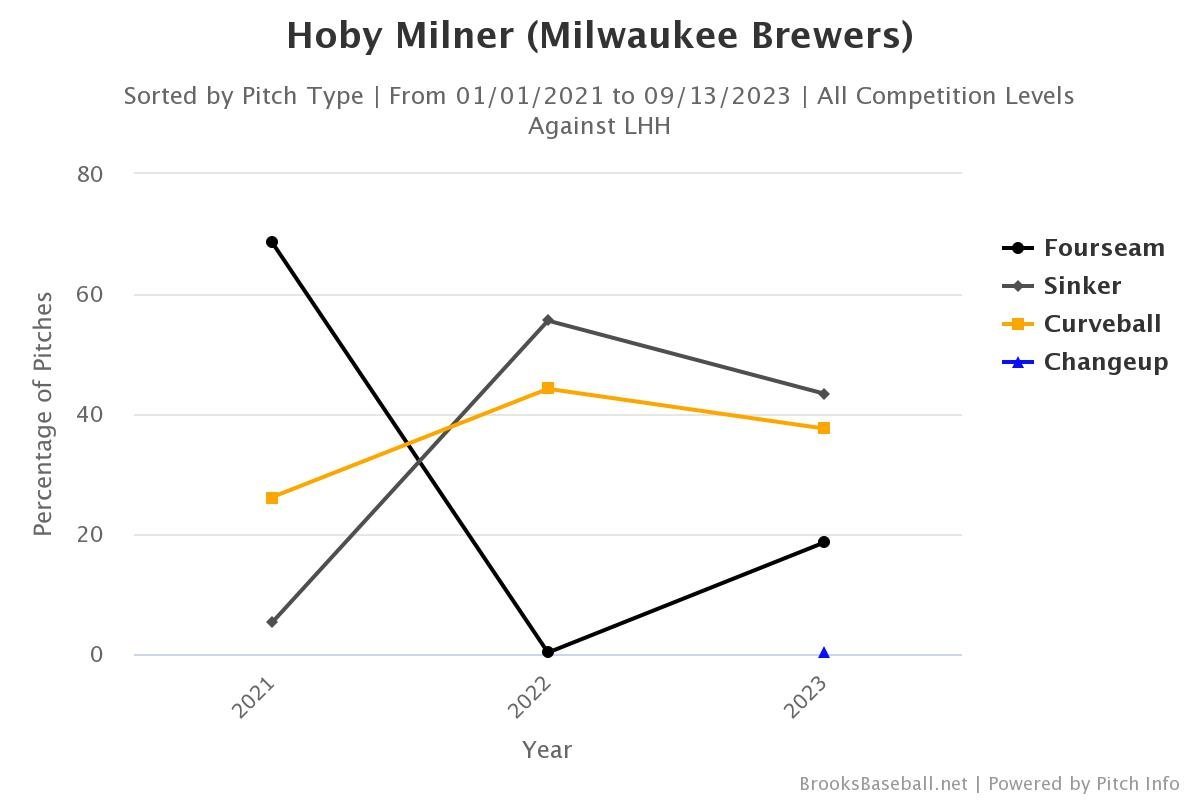 It's righties against whom the four-seamer has come back as an especially potent weapon, though, as Milner uses it to set up his changeup and put hitters on the defensive.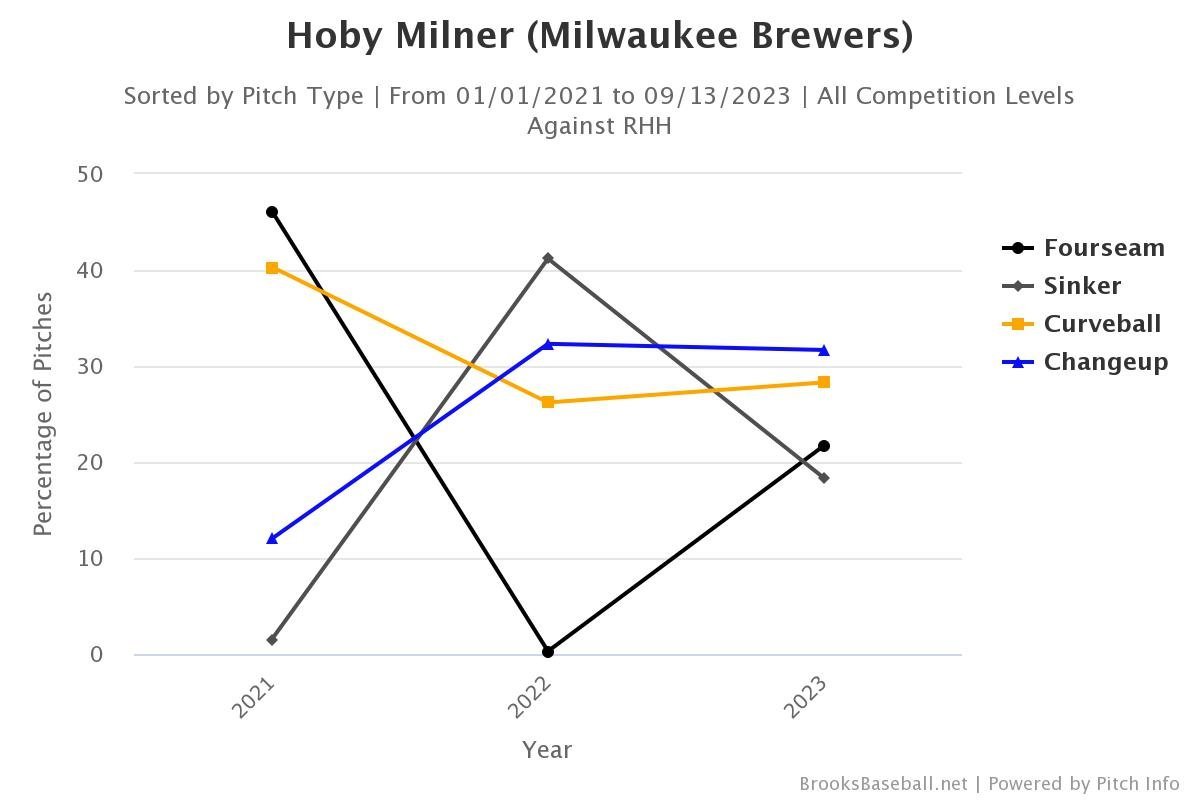 Thanks to these adjustments, Milner is getting even weaker and less dangerous contact than he induced last year. He's always been good at limiting exit velocity, and the switch to the sinker in 2022 turned him into a good earner of ground balls. With the four-seamer helping him utilize the whole strike zone, though, he's gotten more pop-ups and allowed fewer well-hit line drives this year, without losing the grounders. Of the 264 pitchers who have allowed at least 150 batted balls, Milner has the ninth-lowest expected weighted on-base average (xwOBA) against him. 
It's funny: Most of Milner's changes this year have been to his release characteristics and his fastballs, but he remains very much a junkballer. His essential, indispensable skills are the movement and command and unusual looks of his curve and changeup, which have changed little this year. Slightly altering the overall package, though--adding a pitch that targets a different part of the zone, and tweaking the probabilities the hitter has to weigh as they look for his staple offerings--has made a significant difference. Last year, Milner was good. This year, he's been great, and he's as big a part of the team's success as a relief unit as anyone but Devin Williams. No player better symbolizes the value of the Brewers' pitching support infrastructure than Milner.
Think you could write a story like this? Brewer Fanatic wants you to develop your voice, find an audience, and we'll pay you to do it. Just fill out this form.
MORE FROM BREWER FANATIC
— Latest Brewers coverage from our writers
— Recent Brewers discussion in our forums
— Follow Brewer Fanatic via Twitter, Facebook or email