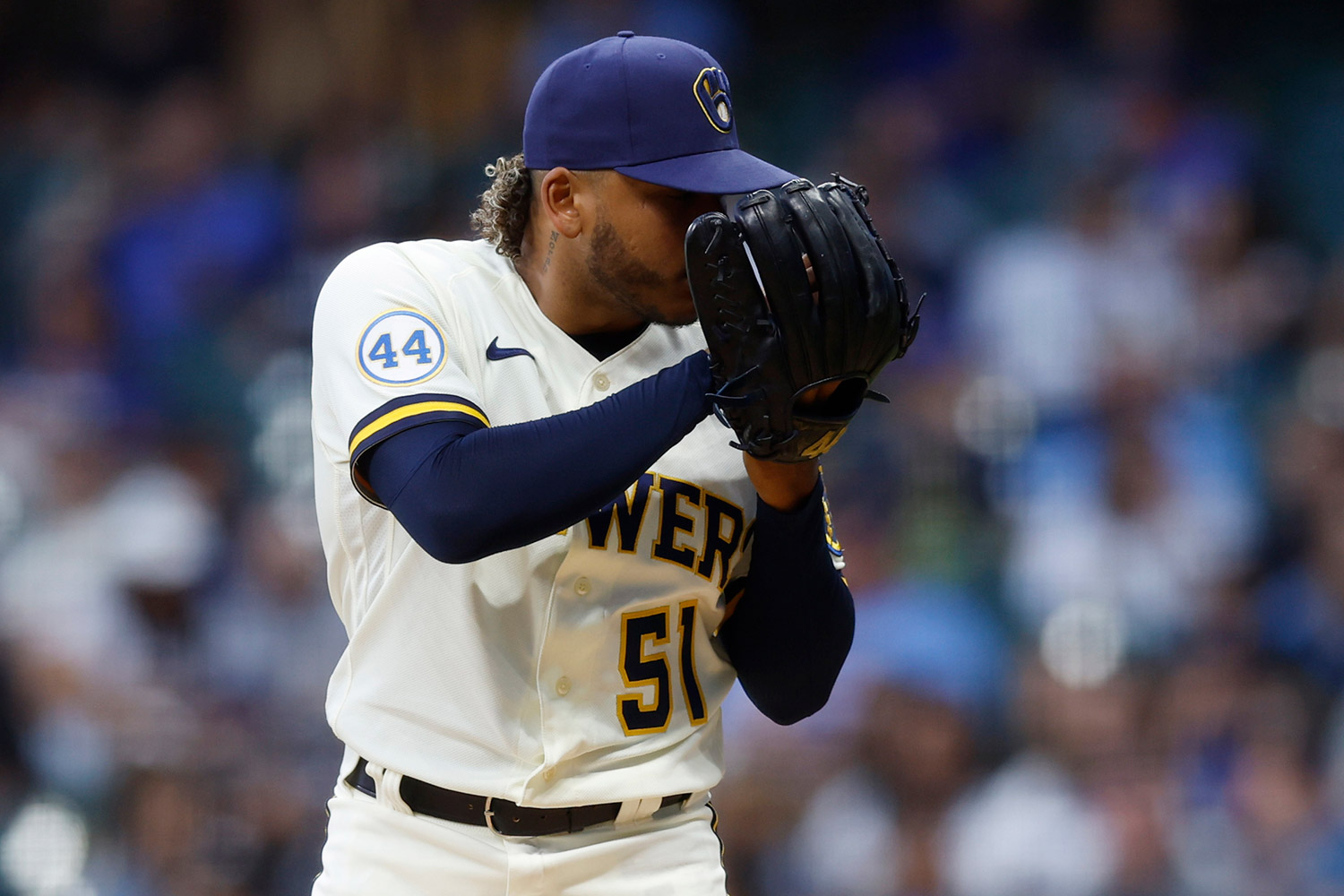 Image courtesy of © Jeff Hanisch-USA TODAY Sports
As we reminisce about the Milwaukee Brewers' top outings in 2022, keep in mind the list is subjective. Various factors go into selecting the "Best five starting pitching performances," and people value different things: innings pitched, time of year, runs allowed, strikeouts, etc. Let us appreciate what these men gave us from the bump, showing off the tremendous skill they possess with these flashes of brilliance.
HONORABLE MENTIONS
Eric Lauer vs. Philadelphia Phillies (April 21)
Facing one of the best lineups in MLB on Sunday Night Baseball, Eric Lauer tossed six shutout innings in a 1-0 Brewers' win. Lauer struck out 13 of the 24 Phillies he faced, allowing one walk and five hits in silencing the eventual NL Champions. Though Lauer got a no-decision, it was the first of three straight phenomenal starts as he struck out 32 batters and posted a 0.93 ERA.
Corbin Burnes vs. St. Louis Cardinals (May 29)
This performance would have been higher for Burnes, but since it happened in May, the impact was lower. He was brilliant, striking out 11 Cardinals in seven shutout frames in an 8-0 victory. St. Louis managed only two hits and a walk - a rarity for a top-five offense in baseball. Burnes dominated the NL Central Champs in 2022, posting a 1.29 ERA and 32 whiffs in four starts (28 IP).
Brandon Woodruff vs. Chicago Cubs (August 27)
Woodruff was the Brewers' most consistent starter in the season's final couple of months (2.53 ERA). Milwaukee had lost eight of 12 contests when Woodruff took the hill, and he shut down the Cubs for a 7-0 Brewers win. Woody struck out ten across six innings while giving up four hits and one walk to end the Crew's three-game skid.
TOP FIVE STARTING PITCHER PERFORMANCES
5 - Freddy Peralta vs. Chicago Cubs (August 26)
Making just his fifth start after 73 days off with a strained right lat, Peralta tossed six no-hit innings (one walk) with five punch outs. After 82 pitches, manager Craig Counsell made the unpopular, conservative decision to pull Peralta with a 1-0 lead. Peralta said after the game, "I was really just a little tired."
Unfortunately, the Brewers would lose the lead in the next frame, tie it up in the ninth inning, but eventually lose 4-3 in extras. It was a great sign to see Peralta show out and a preview of Milwaukee's late-season struggles.
4 - Corbin Burnes vs. San Francisco Giants (September 8)
Following a rough 2-5 road trip that put Milwaukee in dire straits for the postseason, Burnes proved why he is a genuine ace. In the first game of a doubleheader, the 2021 Cy Young punched out 14 Giants (no walks) over eight innings in a pivotal 2-1 victory. Burnes was in total control from the outset, with ten strikeouts through the first five innings, carving up hitters who had little chance at making contact.
By Baseball-Reference "Game Score," this was the best Brewers' pitching performance of 2022. With Burnes, you're just picking nits when figuring out how to rank his starts. Brewers fans have been spoiled.
3 - Freddy Peralta vs. Atlanta Braves (May 16)
Fastball Freddy makes another appearance on the list, showing his immense talent (if he can stay healthy). Peralta completely shut down the defending World Champion Braves over seven shutout frames, giving up two hits and one walk while punching out 10 hitters. Devin Williams and Josh Hader locked down the last two innings for a brilliant 1-0 win.
This was Peralta's third consecutive victory as he looked poised to roll in 2022. Unfortunately, he'd make one more start before hitting the IL. This fantastic start against Atlanta was the third-best by Game Score for Milwaukee. 
2 - Brandon Woodruff vs. New York Yankees (September 17)
Facing Aaron Judge and baseball's second-best run-scoring club, Woodruff stepped up big time as the Brewers fought for a playoff spot. Woodruff was locked in for eight innings (101 pitches), giving up just one run while striking out 10 Yankees. He scattered five hits and one walk as New York went 0-for-8 with RISP.
The tension kept getting thicker as the game wore on into the eighth. Leading 4-1, Woodruff walked Judge before striking out Giancarlo Stanton and getting Gleyber Torres to bounce into a double play. Woody walked off as "that dude" as the crowd acknowledged his fantastic outing en route to a huge 4-1 win.
1 - Corbin Burnes vs. Miami Marlins (September 30)
The setup for this game made Burnes' performance even more incredible. Entering the night:
Brewers trailed Philadelphia by 0.5 games for the final playoff spot with five contests left

Miami was starting eventual NL Cy Young Award winner, Sandy Alcantara

Milwaukee lost a heartbreaker the night before on an Avisail Garcia grand slam
In a 0-0 game through five innings, Burnes and Alcantara matched punches. Alcantara then gave up the lone run of the night in the sixth, while Burnes finished with eight shutout frames and seven strikeouts (no walks). Burnes retired the final eight batters he faced before turning it over to Williams in the ninth. 
After all sorts of drama in the last inning, Milwaukee escaped with a thrilling 1-0 victory to keep pace with the Phillies. Burnes went toe-to-toe with Alcantara and came out on top, proving he is still a Cy Young candidate going forward.
It looked as though Woodruff and Burnes found themselves down the stretch in 2022, and the hope is they both elevate their games this coming season. Peralta and Lauer gave fans a peek at what they bring to the table, and more consistency is the goal in 2023. Here's to even more tough calls next year when deciding on the Milwaukee Brewers' top five starting pitching performances.
Think you could write a story like this? Brewer Fanatic wants you to develop your voice, find an audience, and we'll pay you to do it. Just fill out this form.
MORE FROM BREWER FANATIC
— Latest Brewers coverage from our writers
— Recent Brewers discussion in our forums
— Follow Brewer Fanatic via Twitter, Facebook or email