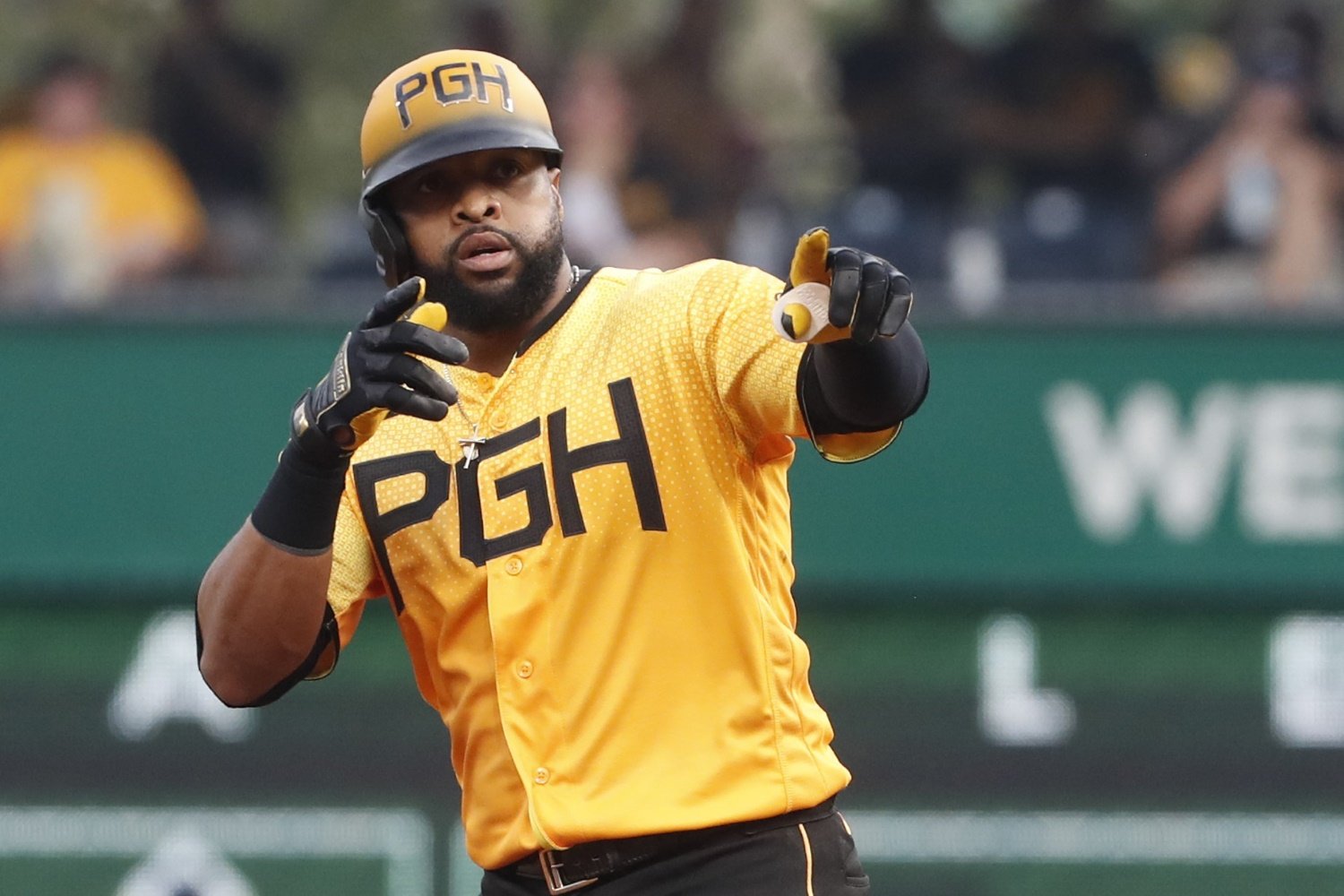 Image courtesy of © Charles LeClaire-USA TODAY Sports
With Rowdy Tellez still sidelined with the finger injury he sustained in a freak shagging accident, the Brewers have elected not to wait any longer to fix first base. In Carlos Santana, 37, they get one of the most metronomic, disciplined switch-hitters in baseball. He batted .235/.321/.412 in 393 plate appearances with Pittsburgh. He's been a deceptively adroit and agile fielder for his entire career, and he's a sneakily good baserunner. He's stolen six bases in six tries in 2023.
In exchange for Santana, the Brewers gave up Jhonny Severino, one of the two jewels of their 2022 international free agent signing class.
Here's what our prospect maven Spencer Michaelis had to say about Severino:
Quote

After a solid showing in the Dominican Summer League in 2022, Severino got off to a very strong start in the Arizona Complex League this season through his first 12 games. Unfortunately, he has missed the last month with a sprained wrist. In terms of what Pittsburgh is receiving, there is a fair amount of swing-and-miss to Severino's game, and while he was showing power development this summer, it is unlikely he will ever be a huge home run threat. In his pro career, he has run into some issues with committing errors at both shortstop and third base. His arm is strong enough to handle either spot, but his range and his hands make him more likely to end up at third base long term.

On paper, there are some similarities to Manny Machado. In appearance, Severino's swing is even similar to Machado's swing. However, "off paper" and in reality, Severino is highly unlikely to ever come close to Machado's abilities. The range between his floor and his ceiling is very wide. For the Pirates, though, Severino is representative of a pretty nice lottery ticket for an aging rental bat. In a few years, if he reaches his 90th percentile outcome, Ben Cherington and the Pirates front office may look like a group of geniuses.
The gist of this should be familiar to fans of the Crew. The team gave up a player who is years from having the potential to contribute for an immediate impact during a pennant race. Sometimes, a player like that turns out to be Freddy Peralta, but even in that case, it can be worth it. Whether this trade will be remembered fondly will come down to how Santana and the 2023 Brewers finish the season.
Formerly a dangerous, balanced power hitter from both sides of the plate, Santana has aged into more of a professional drawer of walks. Since the start of 2020, he's batted .213, with a .368 slugging average. That's weighed down by a miserable 2021 with the Royals, though. He's still capable of hitting 15-20 home runs over a full season, and of getting hot for a while. Meanwhile, his patience at bat sets a high floor for his offensive contributions.
Just as importantly, perhaps, Santana's arrival spells the end of the team's desperate casting-about for a first baseman. Owen Miller can throw out his first baseman's mitt. One of Santana's surprising virtues has been durability; he routinely racks up 150-plus games player and over 600 plate appearances. He's a terrific clubhouse presence and leader for the team, too.
This is the kind of move that leaves the options box for others full. It's a great start, though, and a sign that the Brewers intend to secure their advantage in the division race to the best of their ability. 
Think you could write a story like this? Brewer Fanatic wants you to develop your voice, find an audience, and we'll pay you to do it. Just fill out this form.
MORE FROM BREWER FANATIC
— Latest Brewers coverage from our writers
— Recent Brewers discussion in our forums
— Follow Brewer Fanatic via Twitter, Facebook or email
1