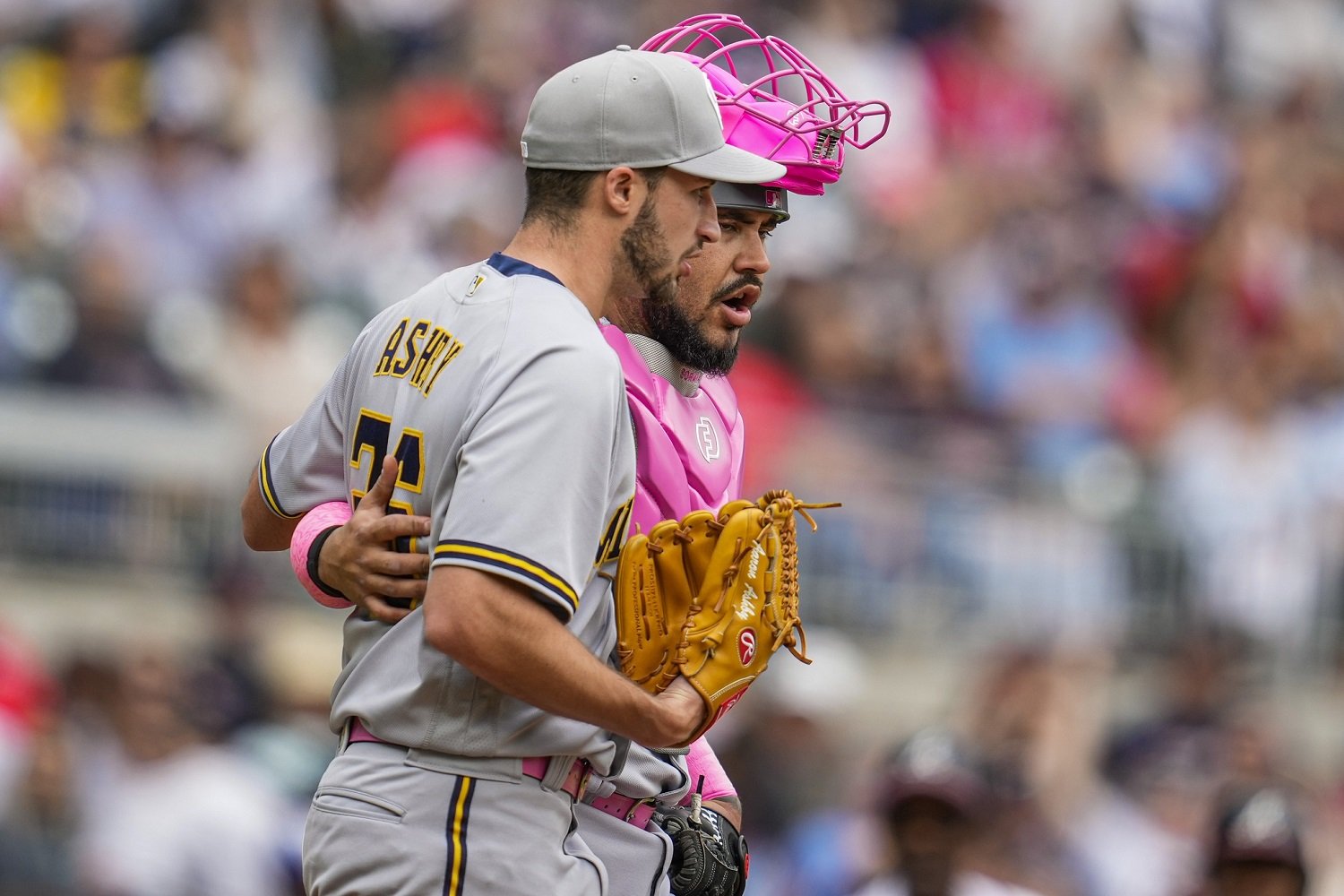 Image courtesy of © Dale Zanine-USA TODAY Sports
Every pitcher goes through growing pains in MLB. Left-handers especially seem to take a bit longer to put everything together. Aaron Ashby is no different, displaying flashes of dominance with stretches of frustration. His struggles often stem from the fantastic movement he gets on his pitches. It's a blessing and a curse when you're learning to command a high-quality repertoire. Among pitchers with at least 50 innings, Ashby has the 15th-highest BB% at 10.7%; however, he also ranks 25th in MLB with a 26.9 K%.
As noted, a significant factor in his strikeouts and walks is how much Ashby's pitches move, particularly his slider and changeup:
Ashby's slider gets the fifth-greatest amount of vertical movement in MLB (minimum 400 pitches)

His horizontal movement on the slider also ranks 14th in distance

Ashby's changeup rates as the 16th-best in the amount of horizontal movement (minimum 300 pitches)
With such great movement on those two offerings, and a sinker that sits 96-98 MPH, it's difficult to understand how Ashby owns a 4.32 ERA. There are two specific areas where he could make changes that would keep hitters off-balance and ideally get better, more consistent results.
Ashby needs to mix up his pitch selection on 0-2 counts when hitters have a stunning .323/.333/.387/.720 line. He has been the worst in that count all season. For comparison, the average MLB slash line on an 0-2 count is .154/.164/.223/.387. Quite remarkable. From what I can see, part of the issue is that Ashby throws his slider too often in that count.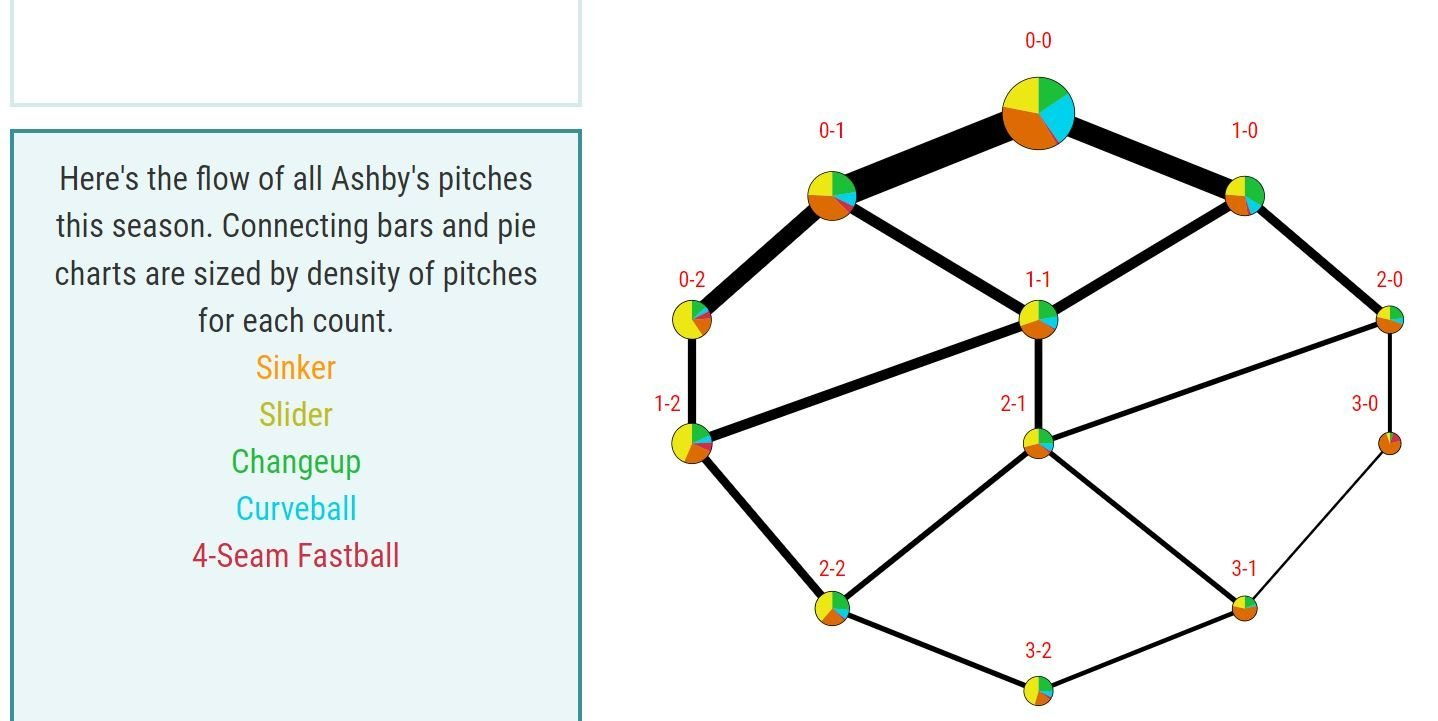 As you can see, he is using the slider more than 55% of the time when he is ahead 0-2, the largest percentage of any pitch in any count. While pitchers will have their "put away" pitch, that usually means it is highly effective. For hitters facing Ashby, odds are you're getting a slider on 0-2. So they might look for it in most cases and believe they will either fight off a different offering or take it, thinking there's a good chance it's out of the strike zone. And if they get a slider that isn't a strike, they would be better prepared to take it. 
Using any other pitch more frequently would start to catch opponents off-guard and give them different 0-2 pitches to think about each at-bat. Especially if Ashby utilized the curve and four-seam fastball, which he rarely throws on 0-2, it immediately alters their perception.
Speaking of changing things up, the second adjustment Ashby needs to make is gunning for the high-and-inside region of the strike zone on right-handers (high and away versus lefties). Baseball Savant's graphic below shows how little Ashby hits that spot - by choice or lack of execution.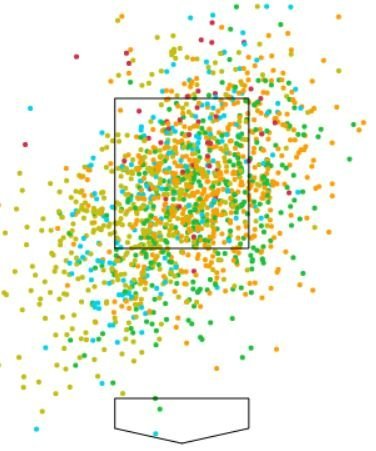 Targeting that location works against hitters on both sides of the plate. Again, Ashby has the velocity to succeed up there with his sinker and four-seam heater in the mid-to-upper 90s. When facing righties, the up-and-in spot location keeps batters from leaning over the plate, anticipating something softer and outside. It also helps to change the eye level as they are likely looking for a changeup or breaking ball in the bottom third of the zone. If Ashby can be close to that region, it's a challenging ball to hit well, if at all, for a right-hander.
It might be slightly less effective against lefties but still has value. Typically a left-hander anticipates a slider or curveball on the outer half from southpaws, breaking to the edge or outside the zone. Of course, those also have a vertical drop, so their swing would be middle-to-low in height. Mixing in the sinker or fastball into that spot gives lefties less time to react and doubt in their minds when it comes to offspeed. While it can be easier to reach than up-and-in, it would be a worthwhile risk for Ashby to increase his overall effectiveness.
Again, Ashby is still learning to command all of his pitches, use an impactful variation, and find the best balance. There are also team decisions on how to attack certain hitters in specific situations, which could mean Ashby has less control over what and where he tries to throw. But if he is going to take a quick step forward the rest of this season, Ashby and the Brewers should be willing to try some new things and see what level he can reach in 2022.
Think you could write a story like this? Brewer Fanatic wants you to develop your voice, find an audience, and we'll pay you to do it. Just fill out this form.
MORE FROM BREWER FANATIC
— Latest Brewers coverage from our writers
— Recent Brewers discussion in our forums
— Follow Brewer Fanatic via Twitter, Facebook or email