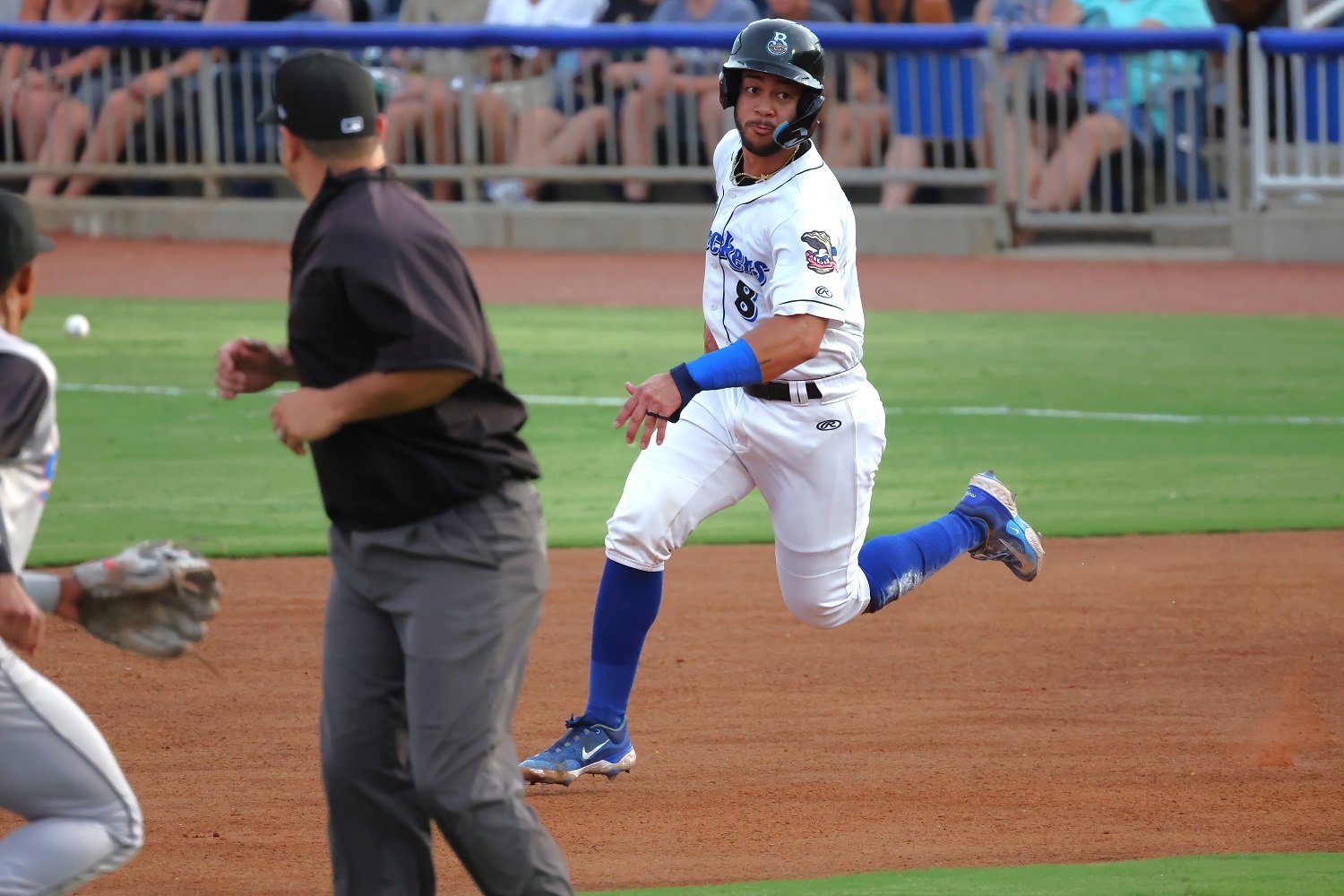 Image courtesy of Mike Krebs, Biloxi Shuckers
The depth of the Brewers farm system cannot be overstated. After all, they just dealt Jhonny Severino, a shortstop with an .872 OPS in the ACL, for a two-month (or longer) rental of Carlos Santana, and Severino arguably was the third-best player to have seen time at that position just on that roster behind Dylan O'Rae and Juan Baez.
So, what positions could be upgraded "in house," so to speak, either directly (assuming a player comes up from the farm) or indirectly (through a minor-leaguer pushing a major-league player elsewhere in the lineup)? Let's take a look.
Catcher
The Contreras/Caratini duo has been one of the better ones in MLB. Contreras is producing at an amazing clip and has become average defensively. Caratini works well with ace Corbin Burnes. However, Jeferson Quero's development has been superb in Biloxi, and he could make the case for being in Milwaukee in 2024.
First Base
Rowdy Tellez tried to tough out a forearm issue – and sent production at that position spiraling way down. The Brewers have 37-year-old Carlos Santana as a short-term fix. For the short term in 2024, the Crew could decide to look to Nashville for someone to fill in. Keston Hiura may have finally turned things around and could be worth a look there, while Patrick Dorrian has flashed some power. For a long-term solution, Tyler Black recently started playing first base in Biloxi. Noah Campbell and Cam Devanney could also be in the mix. One interesting possibility is to move Yelich to first to have room for an outfield of Sal Frelick, Garrett Mitchell, and Joey Wiemer in 2024.
Second Base
Brice Turang's defense isn't the issue, the questions usually surround his bat. However, over the last week, his OPS+ was 85, a big improvement over his season-long OPS+ of 60. But if the Crew wants an in-house upgrade, they could always call up Tyler Black or give Abraham Toro a long-term look at the position.
Shortstop
Willy Adames has delivered 1.4 wins above replacement as of July 29, due to a season-long slump in terms of batting average. If the Crew wants a potential upgrade, they could turn to Cam Devanney, who has slammed the cover off the ball the last two years. Freddy Zamora might be another option.
Third Base
Tyler Black's performance in Biloxi opens the question as to whether he is the best choice to take over at third. Other options could include Abraham Toro, Cam Devanney, or even Patrick Dorrian. 
Left Field
Could the Brewers improve on Christian Yelich? More like, Yelich can improve other positions, like designated hitter or first base, given the depth of talent the Brewers have in the outfield.
Center Field
Joey Wiemer has not been awful in center field. Yes, his batting profile looks a lot like Keon Broxton right now, but in the minors, Wiemer showed OBP skills and speed. Jackson Chourio is a huge X factor – and could force his way to the majors sooner rather than later, even if there is a case to be patient.
Right Field
Blake Perkins and Tyrone Taylor have generally struggled in right field, with Perkins posting a 74 OPS+ and Taylor at a 19 OPS+ (after struggling with injuries). Brian Anderson also saw time there with a 90 OPS+. Wiemer, who originally went there, could be an upgrade as he adjusts to MLB pitching.
Designated Hitter
This will likely be improved indirectly by the talent flowing upwards from the minor leagues. The outfield talent glut could push Yelich to this role easily, Tyler Black could step in from Opening Day 2024, or Jeferson Quero could force William Contreras into a lot of DH at-bats.
Overview
The Brewers have a lot of talent down on the farm when it comes to the position players. Some of those players could be very credible in-house options for the Crew at position where the team's performance fell short in 2023 – and at very cheap prices for at least the short term. Making use of those solutions could be the difference for the team in 2024.
The Brewers are relying on several young and inexperienced players as we enter the final months of the season and a pennant chase. Looking forward, are there other minor leaguers who could factor into the season this year or in 2024?