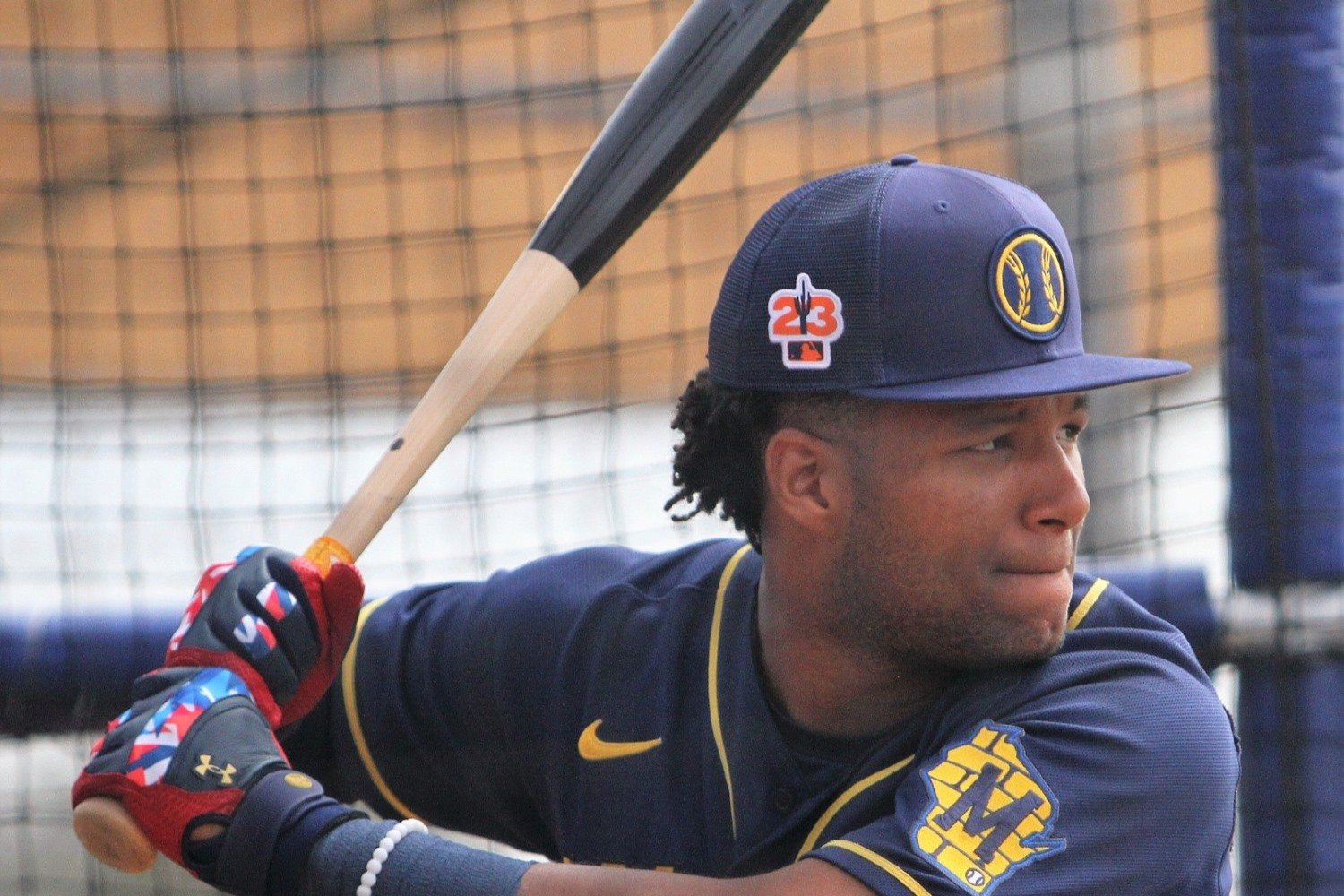 Image courtesy of © Curt Hogg / Milwaukee Journal Sentinel / USA TODAY NETWORK
One of the reasons is the current state of the Brewers outfield for the short and medium term, but two are cautionary tales from recent Brewers history. Let's take a look at those reasons why going slow with Jackson Chourio might be the best thing for the Brewers–and for Chourio himself.
The Current State Of The Brewers Outfield
The Brewers have a lot of outfield depth in the majors and the minors, as we have discussed when reviewing left field, center field, and right field in the Brewers system. It is quite likely that the Opening Day 2024 outfield for the Brewers could be Sal Frelick in left, Garrett Mitchell in center, and Joey Wiemer in right, with Christian Yelich moving to either first base or designated hitter, while Tyrone Taylor and Blake Perkins compete for the fourth outfielder spot. With the exception of Yelich, all are going to be quite cheap, too.
This surfeit of outfield depth buys something for Chourio: Time. Time to develop and refine his game, particularly in drawing walks and in pitch selection. In Biloxi, Chourio struggled with the tackier ball used in the Southern League earlier this season. It might be best to have him develop those skills more in Nashville next year. The Brewers don't need to put him on the 40-man until after the 2024 season, and they will have three option years.
It also gives the Brewers time to evaluate Frelick, Mitchell, Wiemer, Perkins, and Taylor, so they can figure out how best to restructure the outfield when Chourio is ready, some time in 2025. So why not take advantage of the time to have Chourio's skills fully honed and get a sense of to which outfielders the Brewers should commit for the long haul? It will be better for him and better for the Brewers. After all, there are some cautionary tales.
When Jimmy Nelson Got Hammered
In 2017, Jimmy Nelson injured his shoulder while running the bases. The injury not only took him out of the rest of the 2017 season, he missed all of 2018 as well, as the recovery took longer than expected. In 2019, he was returning from that long layoff. Nelson had an option left, and he could have been sent to Triple-A San Antonio to get back into the groove as a pitcher; think of it as an indefinite rehabilitation assignment.
Instead, the Brewers brought him up with the team for Opening Day. To say it went poorly is an understatement. He ended up going up and down in the 2019 season, finishing with an 0-2 record and a 6.95 ERA with the Brewers, while doing better in San Antonio and Appleton (combined 4.79 ERA).
Nelson was ultimately non-tendered after the 2019 season, and went to the Dodgers as a free agent, where he ended up being a solid reliever until he had to have Tommy John surgery. Would the pandemic and the Tommy John have still messed things up? Who can say? But the minor leagues are there for players to develop–and to rehabilitate–and the Brewers failed Nelson and themselves by failing to use the minors for that purpose.
Chourio clearly has room to develop, based on his struggles early in the season, and the minors are the proper place for him to do that.
Keston Hiura Never Fully Developed OBP Skills
Keston Hiura has been hitting well in Nashville, but four years ago, he was a hot hitting prospect who many thought would be dominating in Milwaukee for a long time. His 2019 season, coming about two years after he was a first-round draft pick, was seen as a sign that he would fulfill the hopes that came with that status. In 2020, though, he led the NL in strikeouts–getting rung up 85 times in 59 games. Hiura's 2021 was even worse, and a rebound in 2022 wasn't enough to keep the Brewers from acquiring Jesse Winker and Luke Voit, and ultimately outrighting Hiura to Nashville.
But there were warning signs for Hiura. Perhaps the biggest: Hiura's walk rate was never great (72 walks in 865 at-bats from 2017 to 2019). He also struck out 204 times during his minor-league career, prior to his MLB debut. That's 2.83 whiffs for every walk.
Aside from the DSL, Chourio's numbers in his minor-league career are quite similar. He's drawn 56 walks in 735 at-bats, while striking out 190 times as of July 25. That comes to 3.39 strikeouts per walk.
Summary
In 2019, the Brewers desperately needed help at second base. Travis Shaw was in a slump, so Mike Moustakas had to move back to third. Hernan Perez and Cory Spangenberg were each posting an OPS+ of 64. Hiura came up and helped the Brewers overcome Yelich's season-ending knee injury to reach the wild-card game, but there was a cost to him and to the Brewers, down the road.
That condition does not apply in 2023, and probably won't in 2024. The Brewers have plenty of outfield depth, and even those who struggle at the plate (like Joey Wiemer) are contributing with outstanding defense. There is time for Chourio to hone his skills in Nashville in 2024 and even 2025. There's no need to rush him to American Family Field.