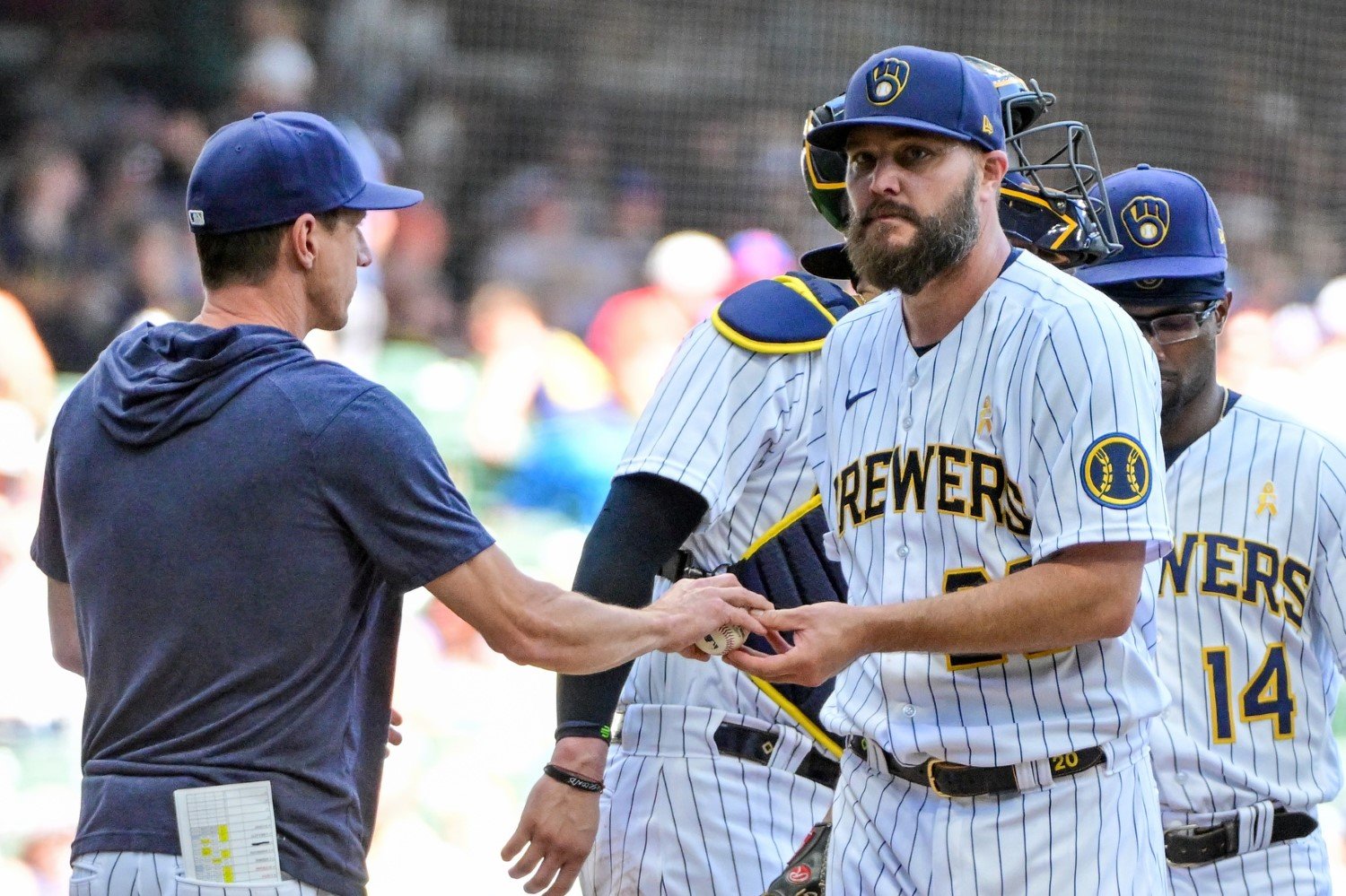 Image courtesy of © Benny Sieu-USA TODAY Sports
Well into his late 30s and after a second straight season haunted by injuries to his back and shoulder, Wade Miley isn't likely to find more than $9 million on this winter's free-agent market. By declining his side of a mutual option in the deal he signed with the Brewers prior to 2023, then, he's either indicating a desire to find a multiyear deal on which to finish his career, or announcing (albeit not in so many words) that he doesn't want to try pitching through the incessant pain anymore, even for a healthy payday. Either way, he now seems wildly unlikely to be back with Milwaukee.
The Brewers will pay Miley a $1-milllion buyout, but this gives them some newfound flexibility. Even had Miley exercised his option, they could have elected to shove him out the door, but now they definitely have a new opening in their rotation. That unit looks like this:
In all likelihood, the team wants to enter 2024 with at least one better pitcher than those last three. Houser figures to make north of $5 million via arbitration, and could be a non-tender candidate for that reason. Even assuming they retain him, he could be used in relief. The Brewers need an external upgrade to the rotation.
This development shakes loose some money they could spend on a pitcher with significant upside, but without the kind of recent success that would push them into the upper tier of this deep class of starters. Let's run through a few of them.
Michael Wacha
Despite two consecutive seasons in which he's limited hard contact and posted a solid ERA, Wacha is a free agent, after the cash-strapped Padres declined his two-year, $32-million option for 2024-25. He's gone to a sinker more often these last two years, so there's some reason to believe he can sustain the improvements he's made recently. He'd slot in well in the middle of the rotation, and his skill set meshes well with the Brewers' strong defense.
Lucas Giolito
The second half of 2023 was a disaster for Giolito, who was traded twice and didn't find any success with either the Angels or the Guardians. He's enjoyed long stretches of success in the big leagues, though, and his pitch mix and delivery are reminiscent of some guys with whom Chris Hook and his staff have had good success recently. Whereas Wacha is likely to sign for just two years, a Giolito deal could stretch to four, but he might also be open to a make-good contract that would make him a free agent again after 2024.
Jack Flaherty
A former high-school teammate of Giolito, Flaherty is even further disconnected from his former star status than Giolito is. He's been dreadful since the start of 2022, with a WHIP of 1.60. His stuff has fallen off badly, but it's still playable, in theory. In practice, however, Flaherty might have the worst fastball command in the league at the moment. Nor has he had any feel or gotten any utility from the sinker that contributed significantly to his Cy Young-contending season in 2019. Happily, though, the Brewers are the kind of team who could plausibly fix that--and thereby get a good pitcher at a deep discount.
Michael Lorenzen
In the first season in which he's ever stayed healthy as a full-time starter, Lorenzen looked so good that he got traded from the Tigers to the contending Phillies. He threw a no-hitter in his first start wearing red pinstripes at Citizen's Bank Park. Then, everything collapsed on him. Still, the core skills he demonstrated during the majority of the season mark him as a potential mid-rotation starter, and he's likely to cost less than many of the other ones available this winter.
Kenta Maeda
He's not much younger or much healthier than Miley, but the small differences in each axis make Maeda much more desirable. Without even average velocity, he spun yet another season of good work in the rotation, employing good command and control and showing a facility with all quadrants of the strike zone. He's athletic in the way the Brewers like their starters to be, just as Lorenzen and Flaherty are, and despite his age, he could be a trustworthy playoff starter--if he's managed carefully over the course of the season. 
The Brewers can and should aim for an even bigger addition than these guys, but the loss of Miley opens the door to signing one of them without foreclosing on the chances of signing another, higher-profile hurler. This winter of seemingly endless possibilities (but also many complex constraints) only seems to be getting more unpredictable.
Think you could write a story like this? Brewer Fanatic wants you to develop your voice, find an audience, and we'll pay you to do it. Just fill out this form.
MORE FROM BREWER FANATIC
— Latest Brewers coverage from our writers
— Recent Brewers discussion in our forums
— Follow Brewer Fanatic via Twitter, Facebook or email