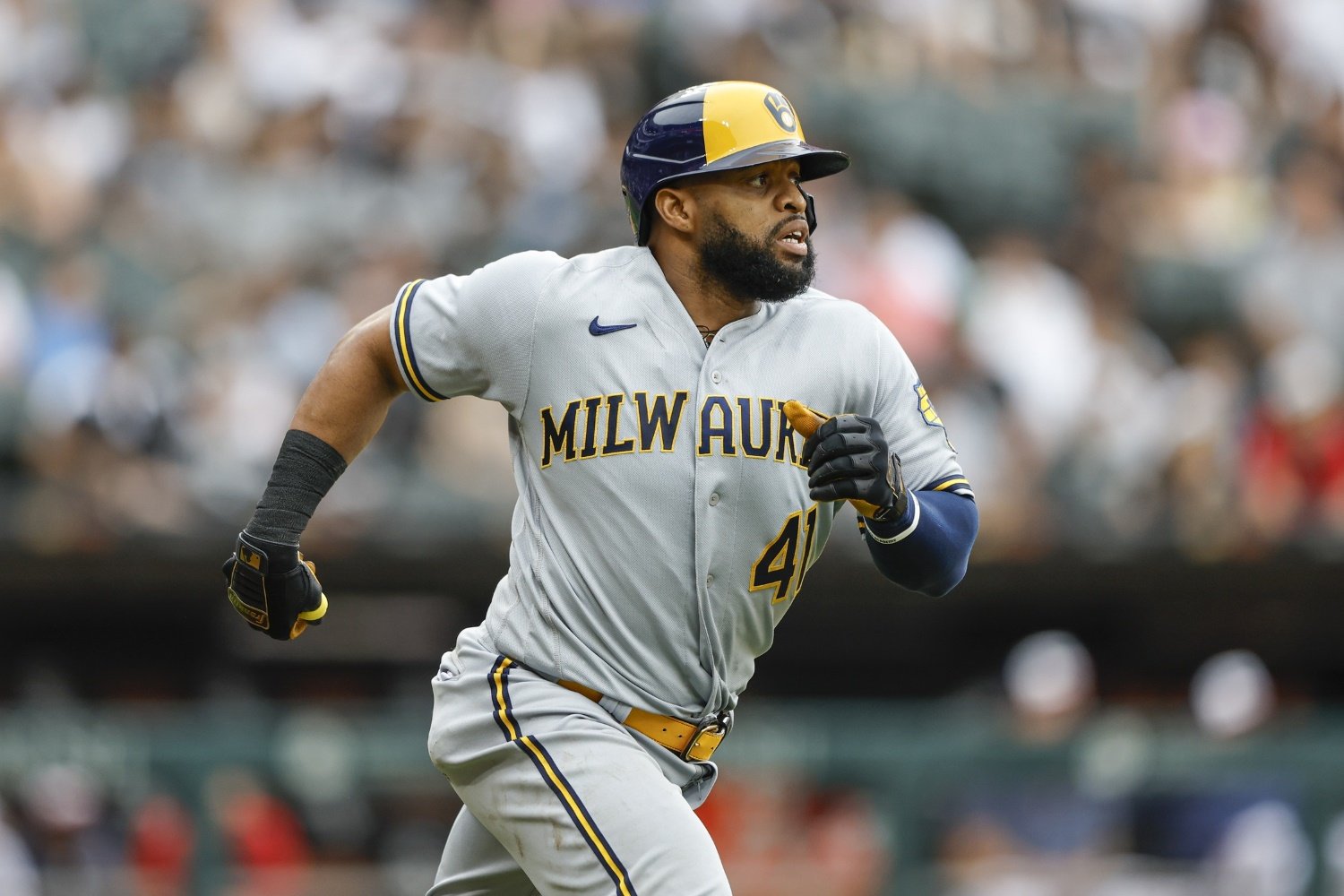 Image courtesy of © Kamil Krzaczynski-USA TODAY Sports
The prices Matt Arnold paid for the players he acquired three weeks ago were reasonable. It's unlikely the Crew will regret the guys they allowed to get away very much, The bigger question is whether the new guys have actively made the team better. To discern the answer, let's take them one at a time.
Santana's Sad Slump
What was supposed to be a power bat and valuable veteran presence hasn't quite panned out the way the front office likely envisioned. While on the Pittsburgh Pirates, Carlos Santana was the team's RBI leader and a serviceable first baseman. While nothing to write home about, he played strong defense and was about a league-average hitter.
Since joining the Brewers, his offense has regressed significantly. The sample size of 68 plate appearances isn't the most robust dataset, but it's enough to start a discussion. For Milwaukee, he's currently slashing .167/.191/.348. He isn't hitting for average, and he sure as heck isn't walking a ton, but interestingly, he's hitting with a decent amount of power. His ISO of .182 is above the league average, and is skewed by four of his 11 total hits with the team ending up in the seats.
Nonetheless, his OPS of .540 is painfully poor, especially for a first baseman. Based on Win Probability Added, he's hurt slightly more than he's helped, posting a figure of -0.8, meaning he has cumulatively cost the team almost a full win.
Currently on a rehab assignment in Triple A, erstwhile regular Rowdy Tellez hasn't been much better, especially given the dip in competition. Across 34 plate appearances with the Nashville Sounds, he's slashing .226/.294/.387 for an OPS of .681. He's heated up considerably over the last couple of days, though, so if his timing and his health are now back, maybe that's the solution to this problem. 
Considering they have no top-level first base prospects and that this continues to be a major hole in the team's lineup, expect some offseason moves to bolster the position. In the meantime, whenever Tellez returns, he and Santana could need to share the first base playing time to some extent, rather than each being a full-timer with Tellez at DH.
Canha Can Get On Base… And Not Much Else
At the very least, Mark Canha is somewhat fulfilling his expected role of getting on base. He's also seen a regression in every part of his slash line since arriving from the Mets, posting figures of .213/.283/.340, but it hasn't been quite as bad as Santana's performance. Furthermore, given some clutch moments like his go-ahead double in extra innings against the Chicago White Sox, his win probability added is 0.5, higher than his figure of 0.1 with the Mets.
It's a small sample of 53 plate appearances, but there are things to be optimistic about. He's struck out only four times, and in his last seven games, he's posted an .865 OPS with five RBI. His defensive shortcomings are more than compensated for by the Brewers' excellent fielding depth. His food blog claims he's loving the food in Milwaukee so far. I think there are positive vibes only for Canha, and his performance should see an uptick in the near future.
Failed Starter to Failed Reliever?
To call Andrew Chafin's time in the Milwaukee bullpen a failure is an exaggeration, given that he's pitched just five innings, the same length as your average Wade Miley start. Unfortunately, his 7.20 ERA and 1.40 WHIP leave much to be desired. His ugly outing on Aug. 8 against the Colorado Rockies saw him give up three earned runs in extra innings to allow the Rockies to pull away with a 7-3 lead.
In these five innings, he's only given up two hits, but one of them was a home run, and he has also recorded the same number of walks as he has strikeouts (five). It's clear there are some control issues that weren't as prevalent in Arizona, as his strikeout-to-walk ratio has gone from 2.72 to 1.00, but again, this is a sample size of minute proportions.
We'll probably need more data to pass proper educated judgment on Chafin's value to the team, but if he's able to fix his problems, he might be a dangerous lefty weapon to help record key outs late into games.