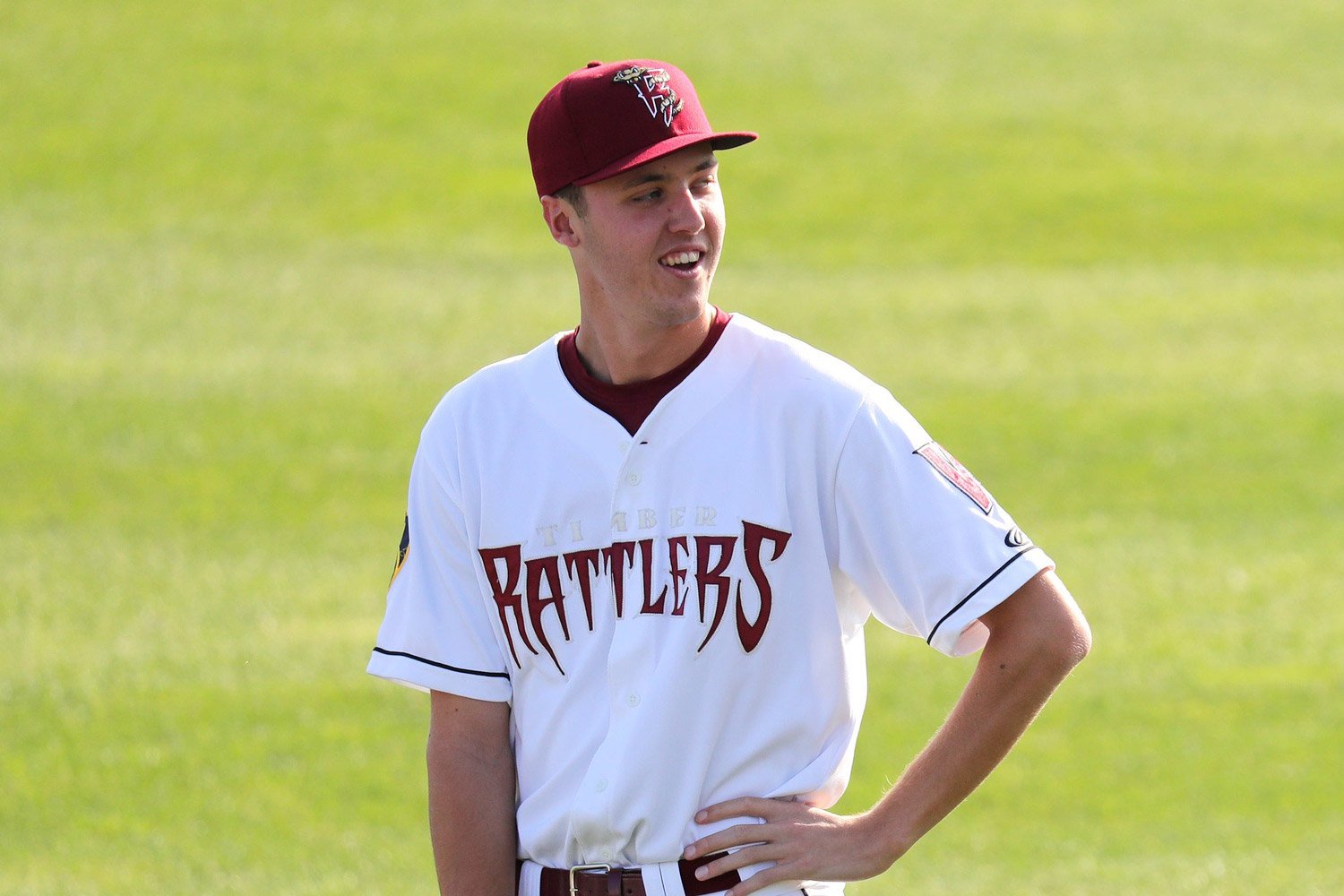 Image courtesy of © Dan Powers/USA TODAY NETWORK-Wisconsin. / USA TODAY NETWORK
As previously mentioned, Craig Counsell will likely want to add one pitcher and one hitter to his roster for the 28-man roster, and he's known for the value he puts on versatility. The Brewers' pitching staff, as it stands, is one of the most dangerous in the major leagues, both the starting rotation and the potential of the bullpen. Can any of these players lay claim to improving this even further?
Pitching
Robert Gasser
Looking at the history of Brewers call-ups this time of year, the ability to give length out of the bullpen is seen as a big plus. Gasser has been the premium starting pitcher at Nashville, especially of late. His overall 3.91 ERA doesn't appear all that impressive, but since reining in his command and reducing his walks, he has been lights out. He tossed six innings and had ten strikeouts in his most recent start. Only five men reached base. He was muddled a little by an unusually high BABIP in July (.384) but has looked very much ready of late, if occasionally still losing his command a little.
Not a high-velocity pitcher, his fastball is in the low-to-mid-90s range, but his command of an average-to-plus fastball, slider, changeup, and curveball has given him a lot of swing and miss potential. His best pitch is a wipeout slider that has been given a 60 grade by MLB and has proven effective against both left and right-handers. 
He is also a left-handed pitcher, giving the Brewers another lefty option in their pen to go with Andrew Chafin and Hoby Milner. He could also make spot starts or even full starts in place of Adrian Houser, should the Brewers decide to go in that direction. Again, his versatility brings with it a lot of bonuses for manager Craig Counsell.
---
Eric Lauer
Another name almost drifting from people's minds due to his long, hitherto unexplained absence, Lauer has been much more of what we would come to expect since his return. He has allowed three hits and one earned run across seven innings of work, including 11 strikeouts. Again, a lefty pitcher with the ability to go multiple innings, he may be ahead of Gasser should he lengthen out with these results. In addition, he is a known commodity in the clubhouse who could take off. If an in-form Lauer is your fifth starting pitcher, you will have a great rotation through September. He's being stretched out currently, up to three innings in his last outing, and demonstrating the swing-and-miss stuff is back.
Lauer is being built up slowly, with a lot of care taken, but he has the ability to generate an inordinate amount of swing and miss on his "zoom ball." We shouldn't forget just how dominant he was to start the 2022 season, recording a 1.93 ERA in April and a 2.96 ERA in May with 61 strikeouts. He struggled in June before excelling again in July and August last season. Lauer is a proven performer (albeit an up-and-down one) who can dominate an opposing pitching staff. If he's stretched out and the Brewers consider him ready, he'll be getting the call.
Out-of-Left-Field Options
Trevor Megill
Another member of the current taxi squad, Megill, has a big fastball and slider that can get him outs. He also has the propensity to lose command and leave pitches in the middle of the zone, and when that is the case, he has been hit hard. That said, he's the member of the taxi squad with the most big-league outs this season, and his high-profile stuff could make him an option for the Brewers, who may consider him a known quantity at this point.
---
Clayton Andrews
Another player with a few appearances so far on the roster this year, Andrews has come from nowhere in the early part of the season. He has utilized his devastating changeup to mow down hitters at all levels of the minor leagues. He did stumble during his first appearance in the big leagues, which is not unusual, but the struggles continued for a while in Triple-A after his demotion. He appears to be back on track, with 54 strikeouts in 41 innings of work on the year. He has a 2.63 ERA, but his 1.29 WHIP may cause concern. He issues a lot of walks (5.5 BB/9), but he has the stuff to get out of trouble if he can get comfortable at the major-league level.
He had a batting average against of .133 in April, .143 in May, .152 in June, and .200 so far in August; this is a pitcher who can miss bats while also providing that lefty angle for Counsell to toy about with.
---
Aaron Ashby
Ashby hasn't started his rehab assignment just yet but is close to doing so. He has demonstrated the stuff to be elite in whatever role the Brewers need when healthy. The management team confirmed that he will be prepping for a bullpen role, if needed, rather than stretched out as a starter. He recorded a 2.79 ERA last season as a relief pitcher with a staggering abundance of ground balls producing a GO/AO of 3.57. He has the stuff. If he's healthy, expect him to play some role in this Brewers pen.
---
Jacob Misiorowski
With the best pure stuff in the Brewers system, the 2022 second-round pick may seem like a reasonable outside option to get a call-up. However, despite his wipeout pitches, his control has really let him down since his promotion to Double-A, with a seismic increase in wild pitches, hit batters, and walks accompanying the huge strikeout totals. He's not ready yet, but the Brewers can dream of his stuff playing next year.
So which pitcher would get the call if you were in charge, and why? Are there other pitchers that should be considered too?
Think you could write a story like this? Brewer Fanatic wants you to develop your voice, find an audience, and we'll pay you to do it. Just fill out this form.
MORE FROM BREWER FANATIC
— Latest Brewers coverage from our writers
— Recent Brewers discussion in our forums
— Follow Brewer Fanatic via Twitter, Facebook or email