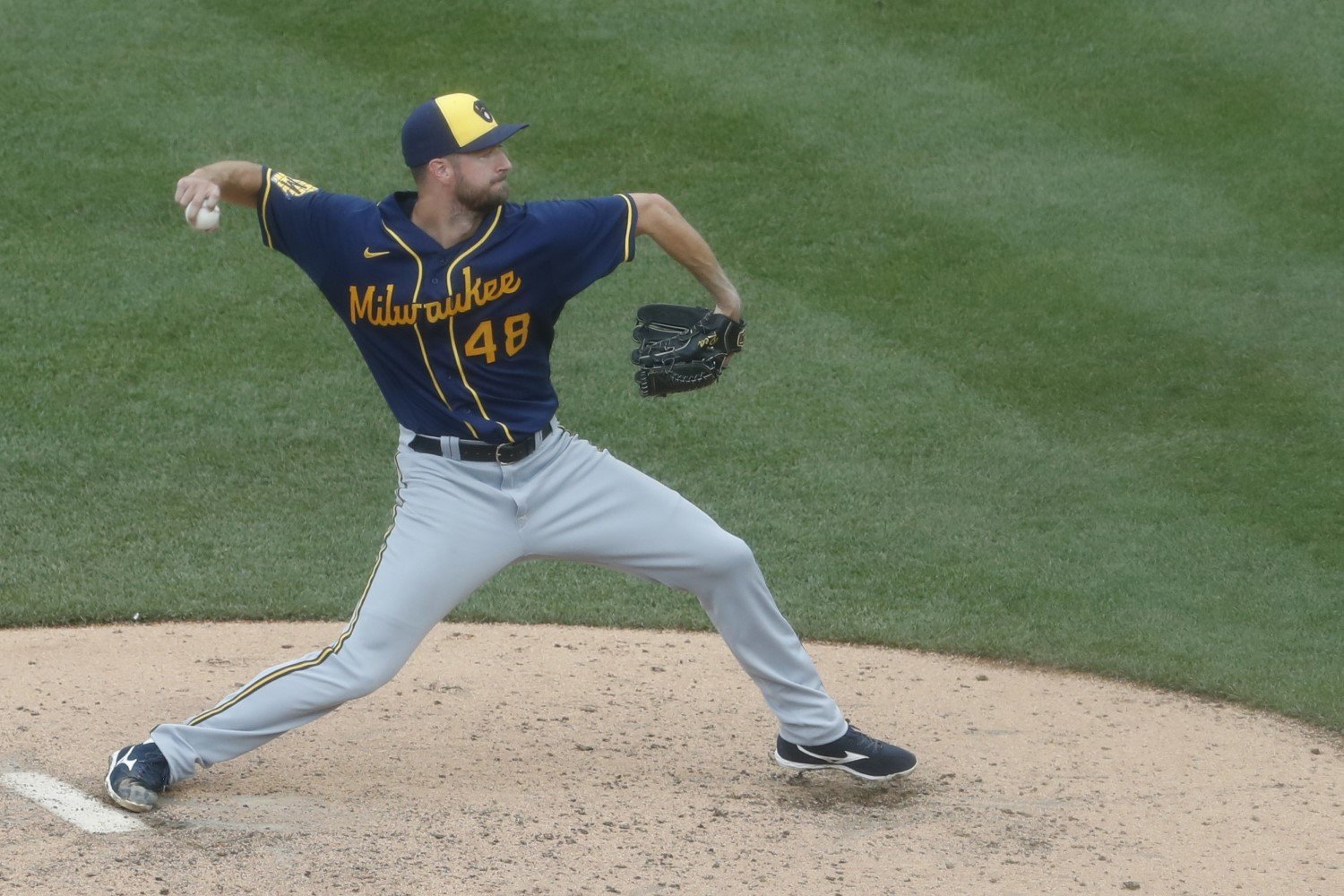 Image courtesy of © Charles LeClaire-USA TODAY Sports
The number of variables involved in an effort to decide whether to use five or six in the rotation can be mind-boggling. Obviously, it's not ideal to lose a start or two by Corbin Burnes, who seems to be rounding back into Cy Young form just in time for the stretch run. On the other hand, keeping starters fresher both decreases the likelihood that they will get hurt and increases their ability to work a bit deeper into games. In a vacuum, and until the next round of expansion eventually stretches pitching staffs thinner again, there's a good argument that six-man rotations are the highest use of a 13-man pitching staff in modern MLB.
We don't live in a vacuum, though, and the eccentricities of any particular situation usually weigh more heavily than a guiding principle. Let's talk, then, about the particulars of the Brewers' case. Firstly, as noted, Burnes seems to be thriving on the six-man schedule. At some point in the near future, the Brewers hope to get Brandon Woodruff back, and it makes all the sense in the world to give him an extra day's rest when possible. Wade Miley's not going to magically leave the lat, oblique, and other injuries he's had over the last couple of years behind without being given sufficient rest, so the six-man schedule would benefit him, too.
The big questions are:
How long will it turn out to be before Woodruff actually returns?

In the meantime, can the Brewers really afford to give half their starts to Adrian Houser, Colin Rea, and Julio Teheran?
Last week, Teheran was available out of the bullpen just before the break. He could be the clearest candidate for eviction from the rotation, since he's allowed 13 runs in 11 2/3 innings over his last two starts. On the other hand, he did get the team at least 17 outs in each of those contests. In fact, he's gone at least five innings in all eight of his starts as a member of the Crew. If you believe he's been figured out again by the league after these two discouraging outings, it makes sense to move on from him, but he probably isn't of much use in the bullpen. The argument for keeping him there is that he eats innings, and that in six of his eight outings, he's done so without allowing more than two runs.
Rea would seem to be the other candidate to get the boot. Since he returned to the rotation May 14, Rea has made 10 starts, with a 4.58 ERA. He's striking out fewer than 20 percent of opposing batters. He's also walking very few batters and keeping the ball in the park, though, and although he can't claim all the credit for it, the Brewers are 7-3 in those 10 starts. Rea has kept the team in the game in all but one or two outings this year, though his pitch count rises and he is forced to depart early more often than Teheran.
Before the season began, the plan was to have Houser working in relief. Between his own injuries and those suffered by some of the starters, he's ended up making nine starts, including two since his return from a bullpen assignment in late June. Those starts were superficially encouraging, with three runs allowed in 11 innings, but he put 18 runners on base and allowed two homers during those frames, so he probably got a bit lucky with the top-line results.
Rea could be optioned to Triple-A Nashville, if needed, but the team has to keep both Teheran and Houser on their roster unless and until they're willing to lose them. Thus, it's Rea who's most likely to lose his place whenever Woodruff returns. Before then, however, it would be Houser who makes most sense to relegate to relief work. He's done it more effectively than either of the others, and his stuff has the best chance to play up in that role.
It's a bit of an unsatisfying answer to the question of "Five or six?", but the answer to the Brewers' rotation dilemma is probably to use five and a half starters, and to flex the rotation as needed. After this series in Cincinnati, they have a day off before playing three games in Philadelphia. Using a strict six-man rotation, Burnes wouldn't pitch again until next Friday, at home against Atlanta. It's not the worst idea in the world to throw one's ace out there against that gauntlet of a lineup, but going a week between Burnes starts at this stage of the season seems excessive. The best thing could be to have Houser available in relief for the short term.
Beginning with the Philadelphia series, though, the Crew does play nine straight games, and 22 games in 23 days. Even if Woodruff begins a rehab stint very soon, it's unlikely that he'll be back before the midpoint of that summer slog. It's more likely that he'll return only near the tail end of it, and thus, keeping all six of the incumbents starting (or starting-ready) makes sense for now. Houser has shown the versatility to go to the bullpen and return to the rotation without breaking down in either role. For now, cutting loose Teheran or farming out Rea would be premature, and the team should keep all six of their starters in a rough rotation.
Think you could write a story like this? Brewer Fanatic wants you to develop your voice, find an audience, and we'll pay you to do it. Just fill out this form.
MORE FROM BREWER FANATIC
— Latest Brewers coverage from our writers
— Recent Brewers discussion in our forums
— Follow Brewer Fanatic via Twitter, Facebook or email