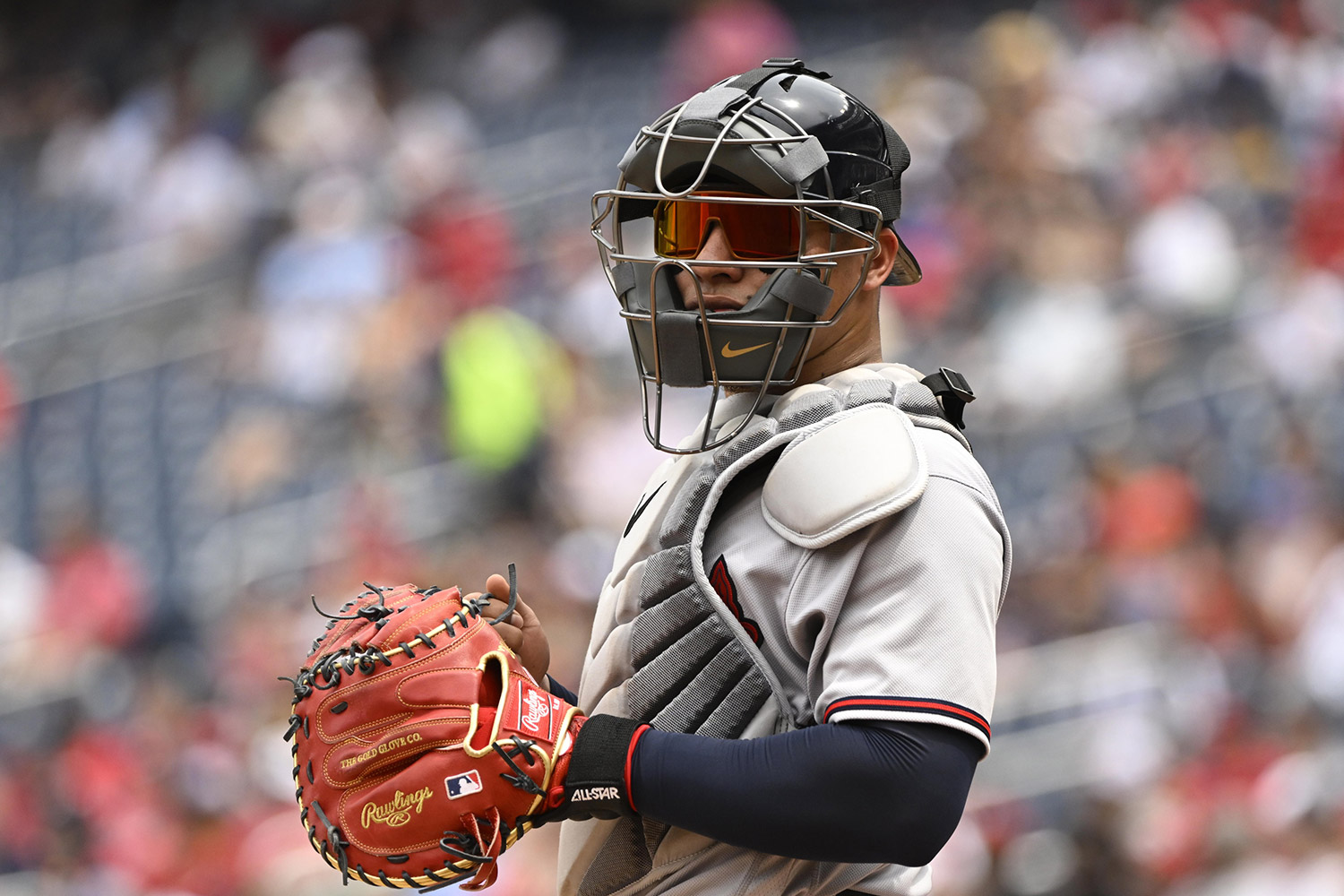 Image courtesy of © James A. Pittman-USA TODAY Sports
So what exactly makes their defensive role so unique? First and foremost, they have to catch the ball. They are on the receiving end of whatever their pitcher decides to throw and must secure the ball, no matter where it goes, in their glove or with their body. If a catcher cannot secure a pitch, it will result in a wild pitch (pitcher's fault) or a passed ball (catcher's fault), which may allow a runner to advance without getting a hit.
Additionally, catchers are responsible for catching pitches in a way that increases the likelihood of being called strikes, even when outside the zone. This is called framing and is one of the main ways catchers can increase their defensive runs saved. In 2022, the AL Platinum Glove Winner was Jose Trevino, who saved an incredible 17 runs purely from his framing prowess. 
Their other defensive responsibilities include protecting home plate from dastardly baserunners trying to score for their team, catching runners trying to steal bases, coordinating pitch sequences, and signaling what pitches they believe should be thrown in an at-bat. Because of this special relationship between catchers and pitchers, the tandem is often called a set of batterymates. Chemistry is important, and long-lasting duos can be incredibly successful. Adam Wainwright and Yadier Molina recently set a record for the greatest number of starts as a pair, notching 325 appearances for the St. Louis Cardinals.
With William Contreras coming over in one of the most convoluted 3-way deals in recent memory, I wanted to take a closer look at his defensive capabilities as a catcher since one look at this 2022 slash line of .278/.354/.506 and OPS+ of 138 tells you that he's pretty dandy at the plate.
Frame Finish

So how does framing work, exactly? The key is to deceive the umpire by catching pitches in a way that makes it seem like they ended up in the strike zone, essentially earning their team more strikes than were thrown. This is a massive advantage since good framing allows pitchers to get ahead in the count and potentially earn more strikeouts. It can also put opposing batters on tilt and push them to capitulate mentally.
A memorable example of this in recent Brewers memory is Kyle Schwarber's ejection after getting struck out by Josh Hader on a highly questionable called strike three. In the ninth inning of a 1-0 game, Schwarber worked a full count before a Hader pitch on the bottom right corner that should've been called a ball was instead ruled a strike by your favorite umpire's favorite umpire, Angel Hernandez. While this call was probably due to an umpiring error more than anything, there is some framing being done by Omar Narvaez, which makes the pitch look like it landed just inside the right side of the zone. 
Not only did this allow Hader to record a crucial out, but Schwarber was also ejected for his emotional outburst, undoubtedly affecting the overall attitude of the Phillies dugout and playing a part in the Brewers notching the win.
It's Poppin' Time

Pop time is a much simpler statistic. It simply measures how long a catcher can get the ball to his intended fielder after receiving a pitch. While this typically measures throws to second base, third-base pop time is also measured, although with much smaller sample sizes. This is done to put out runners trying to steal and is an integral part of being a catcher.  Those with excellent pop times can consistently shut down steal attempts and keep baserunners from moving when they shouldn't be.
Pop time and base stealing are a game of milliseconds. Of all catchers with more than five attempts thrown to second base, J.T. Realmuto led the league with an average pop time of 1.82 seconds. The slowest pop time in the league was Stephen Vogt, with a pop time of 2.12 seconds, a difference of less than half a second.
What About William?

While he's had a relatively short career in the major leagues, Contreras's stats indicate that he is a far better player offensively than defensively. His -4 defensive runs saved paint a lukewarm picture of his ability behind the dish, primarily driven by his relatively poor framing. His pop time was slightly above average at 1.97 seconds in an albeit small sample size, but his -3 catcher framing runs stands out as the main driver behind his defensive weakness. To diagnose the problem, let's compare and contrast his Statcast Catcher Framing results to the framing-extraordinaire mentioned above, Jose Trevino.  
| | | |
| --- | --- | --- |
|   | William Contreras | Jose Trevino |
| Catcher Framing Runs | -3 | 17 |
| Strike Rate | 45.1% | 53.8% |
| Zone 11 - % of Called Strikes | 18.8% | 20.6% |
| Zone 12 - % of Called Strikes | 49.6% | 44.9% |
| Zone 13 - % of Called Strikes | 23.8% | 19.7% |
| Zone 14 - % of Called Strikes | 59.5% | 71.1% |
| Zone 16 - % of Called Strikes | 64.5% | 69.1% |
| Zone 17 - % of Called Strikes | 25.9% | 40.5% |
| Zone 18 - % of Called Strikes | 43.6% | 62.3% |
| Zone 19 - % of Called Strikes | 20.3% | 30.9% |
While Contreras is adequate at framing high pitches, he needs help with the rest of the zone, particularly low pitches, compared to Trevino. This means that pitches with a downward break (e.g., sinkers, curveballs, sliders, change-ups) may cause issues and result in more balls and, consequently, more walks. He's also slightly better at handling pitches on the ride side of the zone than the left, so he'll frame right-handed cutters more effectively than two-seamers and vice versa for their left-handed equivalents.
Of course, much of this data is dependent on who is actually throwing him the ball. Last year, Contreras was catching for the likes of Max Fried, Charlie Morton, and Spencer Strider. Those pitchers have different arsenals, styles, and preferences than his new squad, so it remains to be seen whether he'll end up being better or worse defensively, but we can actually make some assumptions based on available data. We'll be exploring that train of thought tomorrow in part 2: how does Contreras' catching style mesh with the tendencies of Brewer pitchers?
Think you could write a story like this? Brewer Fanatic wants you to develop your voice, find an audience, and we'll pay you to do it. Just fill out this form.
MORE FROM BREWER FANATIC
— Latest Brewers coverage from our writers
— Recent Brewers discussion in our forums
— Follow Brewer Fanatic via Twitter, Facebook or email
2