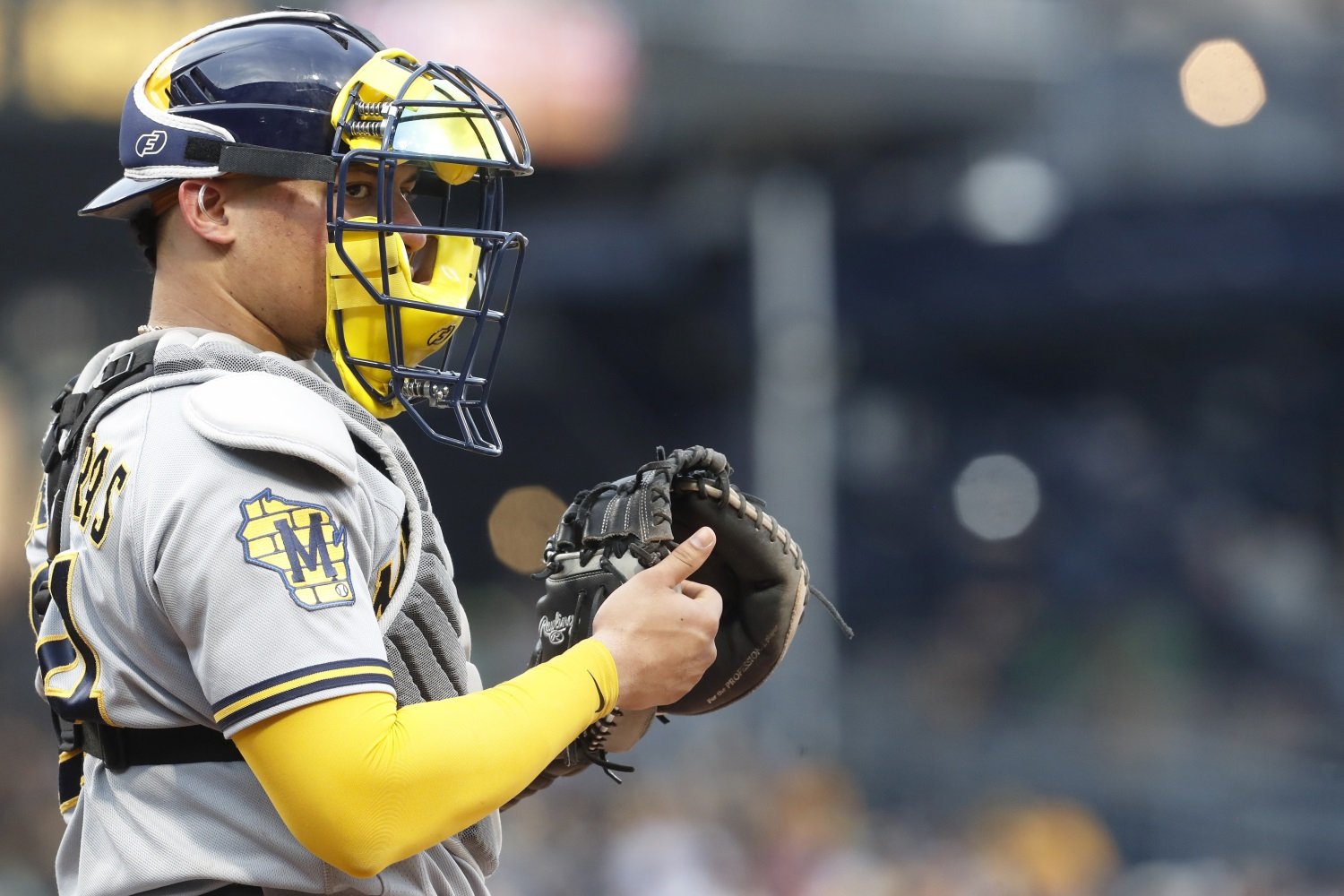 Image courtesy of © Charles LeClaire-USA TODAY Sports
The Brewers think, as they have with a few other teams this season, that the Cubs are out to steal and relay pitch locations to hitters when a runner reaches second base. That's a common concern, and far from a new one. In days blessedly now past, pitchers and catchers policed that effort by intimidating and menacing batters, runners, and opposing dugouts. As that's become increasingly taboo, they've adapted. Nowadays, catchers more often try to neutralize runners who would tip off hitters by delaying the setting of their target, or by setting a false one--a decoy. 
William Contreras tries hard at that particular aspect of pitcher support. He begrudges his opponents every inch of ground they gain against him and his hurlers, and he thwarts them as often as he can. Here's the problem: manipulating a target to fool runners is a subtle craft, and Contreras doesn't do subtle well. Instead, he lunges back and forth back there, wiggling and waving and opening and closing his mitt in all kinds of misleading places.
Technically, he's having the desired effect. Runners can't tip a batter off with that much misdirection happening. There isn't even a code to crack, as there used to be with manual pitch calling. Opposing batters, including and especially the Cubs in the ninth inning Wednesday, can't figure out where the pitch is going to come in based on the way Contreras sets up.
Unfortunately, Contreras's fidgety, paranoid style doesn't only affect opponents. Whether it's waiting until the last possible moment to set up to receive a pitch or making big, dramatic, distracting moves en route to his real spot, all that motion makes it harder for a pitcher to stay locked in on their actual target. Devin Williams was the partner and victim Wednesday night. He missed his spots several times, and while that's not unusual for pitchers with good stuff in this day and age, it's not entirely a coincidence, either. 
The new state of the art in pitch framing has this same problem. It encourages the catcher to drop their mitt nonchalantly as they await the ball, then move toward it and beat the ball to its spot. It's surprisingly effective, in terms of getting umpires to call strikes, but it forces the pitcher to pick out a different visual target. For some guys, that's no problem. Some pitchers have become comfortable using their backstop's shin guard or the bottom of their mask as an aiming rock. Overall, though, the trend has contributed to the tendency toward imprecision in pitching--toward needing to beat hitters with sheer stuff, because command is less fine and less consistent than needed otherwise.
What Contreras is doing, however, creates even greater difficulties. If a catcher is bobbing and weaving to foil location-tipping, he's not even static enough to let the pitcher lock in on some body part as a target. Now, the hurler is working in abstractions, instead of tactical scoping and firing. It's an obstacle to maximizing the effectiveness of pitchers, and in the long run, that's a more important objective than heading off the opponent as they strive to gain an informational edge. That's just the visual, physical aspect of things, too. It doesn't speak to the psychological effect of seeing a catcher dancing like a spider with restless leg syndrome.
It's possible the Cubs really do try to relay location to their hitters--maybe even more aggressively than other teams. It's something David Ross took pride in doing during his time as a player. Until Contreras can find a way to be more calm, more quiet, and more intentional in his countermoves, though, the Brewers would be better off letting that detail go, and focusing on the greater goals of executing great pitches and getting outs.
Think you could write a story like this? Brewer Fanatic wants you to develop your voice, find an audience, and we'll pay you to do it. Just fill out this form.
MORE FROM BREWER FANATIC
— Latest Brewers coverage from our writers
— Recent Brewers discussion in our forums
— Follow Brewer Fanatic via Twitter, Facebook or email