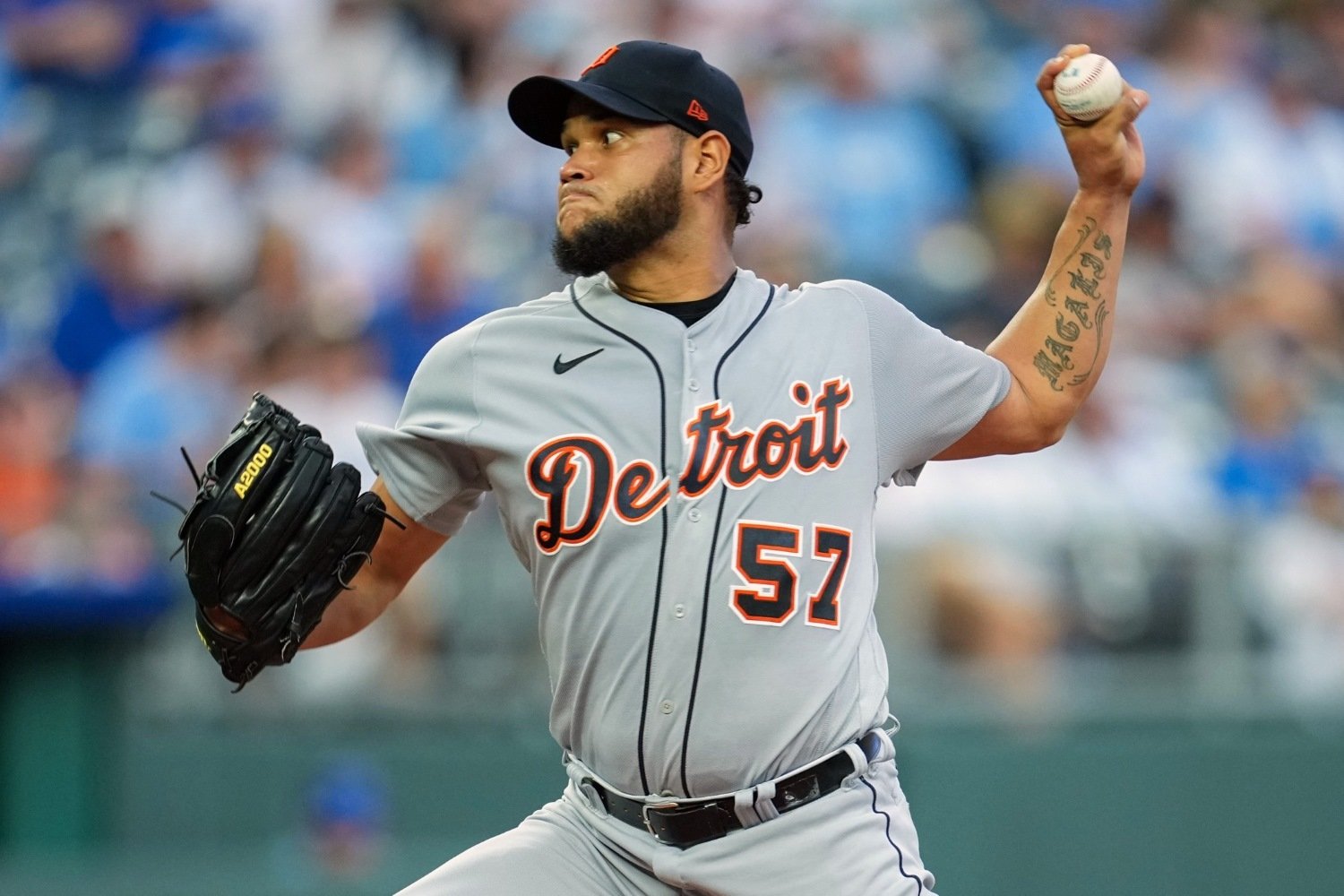 Image courtesy of © Jay Biggerstaff-USA TODAY Sports
Mark Feinsand suggested for MLB.com during the week that the Brewers have registered an interest in Eduardo Rodriguez from the Detroit Tigers, who is the standout starting pitcher in terms of trade candidates. Given the Brewers rotation at the moment; Rodriguez's contract situation for the rest of this season; and a likely opt-out coming at the end of the year, what could he do to upgrade the team?
Despite getting a quality start from either Colin Rea or Julio Teheran through just about each turn in the rotation, the Brewers haven't caught fire recently, despite threatening to during the series with the Reds. If they remain a below-average offense, they've shown they can win big games, even against the bigger juggernauts like the Phillies and Braves, using quality defense and effective starting pitching.
They need reinforcements to ensure that they keep getting that caliber of pitching, though. At some point, it's likely that Teheran and Rea will get worked out and stop being effective enough to scrape by at the bottom of the rotation, meaning either a fully fit rotation or a potential upgrade would be necessary to make full use of the Brewers' strengths this season.
Rodriguez typically strikes out hitters at around a 25% clip, a solid enough ratio, while being above-average in walk rate (84th percentile) and hard-hit rate (80th percentile). His underlying metrics and expected stats show he's not overperforming to a huge extent this year, with an xERA of 3.46.  
 
Risks
Rodriguez's exit velocities against multiple pitches have risen significantly since he came back from injury, and it's a little bit worrisome.
Pitch
Pitch

May '23

(mph)

July '23

(mph)

Difference

(mph)

Expected BA July '23

Four Seam

92.7

92.8

0.1

.317

Cutter

86.5

93.6

7.1

.388

Sinker

80.1

93

12.9

.144

Changeup

75.2

82.6

7.4

.327

As you can see, on everything except his four-seamer, the exit velocities have increased drastically, and on everything except for his sinker, that has resulted in very high expected batting average numbers, potentially a sign that he won't give you the same level of production he has managed for the Tigers over the first four months of the season.
There is also the chance he will be less useful than expected, should the Brewers reach the playoffs. With aces Corbin Burnes and Brandon Woodruff and the fresh-off-a-13-strikeout-performance Freddy Peralta, the three-pronged top of the rotation seems in good order, with Wade Miley and Adrian Houser potentially proving valuable in moves to the bullpen. If you're going to pay for an in-form starter with a sub-3.00 ERA, you'd expect the cost to match up to a real need, but the Brewers aren't all that desperate for rotation help. Rodriguez may cost a fringe top-five prospect as a headliner, such as Tyler Black, Eric Brown Jr or Luis Lara, and would he really add that much value over what the Brewers currently have?
Benefits
 
As an extra lefty arm for variety, if the Brewers were to reach the playoffs, he could come in very useful against lefty-powered lineups such as the Phillies. Giving him the Brewers' defensive setup to work with could boost his surface numbers even further, while ensuring there are fewer weak starts in the rotation heading down the stretch, which may be vital given the quality of opponents the Brewers have coming their way in late August and September. Having Teheran, Rea and Houser going against the best offense in the league this weekend is far from ideal, and more setups like this are probable until the return of Wade Miley and Brandon Woodruff, if they manage to return to their most effective form at all.
Rodriguez's arsenal is characterized by slight tweaks with the fastball shape, nibbling around the edges and using the four-seamer, cutter and sinker to encourage chases. His sinker down and into righties has been very effective, with a batting average of just .167, and his cutter to the same location has a 24.4% whiff rate and a batting average of just .161. Living off of these fastballs, you'd expect his changeup, which is usually well-located, to play up, but he's struggled with it this year, albeit without giving up much in the way of extra-base hits (just three doubles against it in 66 plate appearances ending on that offering).
With a WHIP of just 1.03 on the season, he's done a great job of using his locations to generate weak contact and get outs, while having more swing-and-miss than the likes of Rea and Teheran, making him far more reliable. The Brewers could have a premier rotation in all of baseball with these four options, and a firing Miley as your fifth starter.

Summary
Rodriguez has shown a propensity to be streaky in his career, in a similar way to Peralta, and his underlying metrics aren't quite as nice since his injury as they were before, making this a riskier trade for the Brewers than it looks on the surface. There's no such thing as guaranteed performance, but while he would still provide value to this team, and really play up on their strengths, it's an unlikely move to make unless there are injury concerns around Miley or Woodruff upon their returns. The prospect capital it may take to acquire him would likely be better used either on multiple league-average bats, or one impact bat to really make a difference to the team's postseason dreams.
Other options in this vein for the Brewers who could be slight upgrades at the back end of the rotation would include
- a reunion with Zack Greinke from the Royals, who has struggled this year with a 5.49 ERA but is fun and has big game experience
- Rodriguez's teammate Michael Lorenzen, who hasn't given up an earned run over his last three starts and sports a 3.49 ERA
- Lance Lynn, one of a number of underperforming stars on the White Sox staff whom a lot of suitors seem to believe they can turn around, but who hasn't fared well at all recently
What would you think of any of these moves? Should the back end of the rotation be solidified for the Brewers?
Think you could write a story like this? Brewer Fanatic wants you to develop your voice, find an audience, and we'll pay you to do it. Just fill out this form.
MORE FROM BREWER FANATIC
— Latest Brewers coverage from our writers
— Recent Brewers discussion in our forums
— Follow Brewer Fanatic via Twitter, Facebook or email