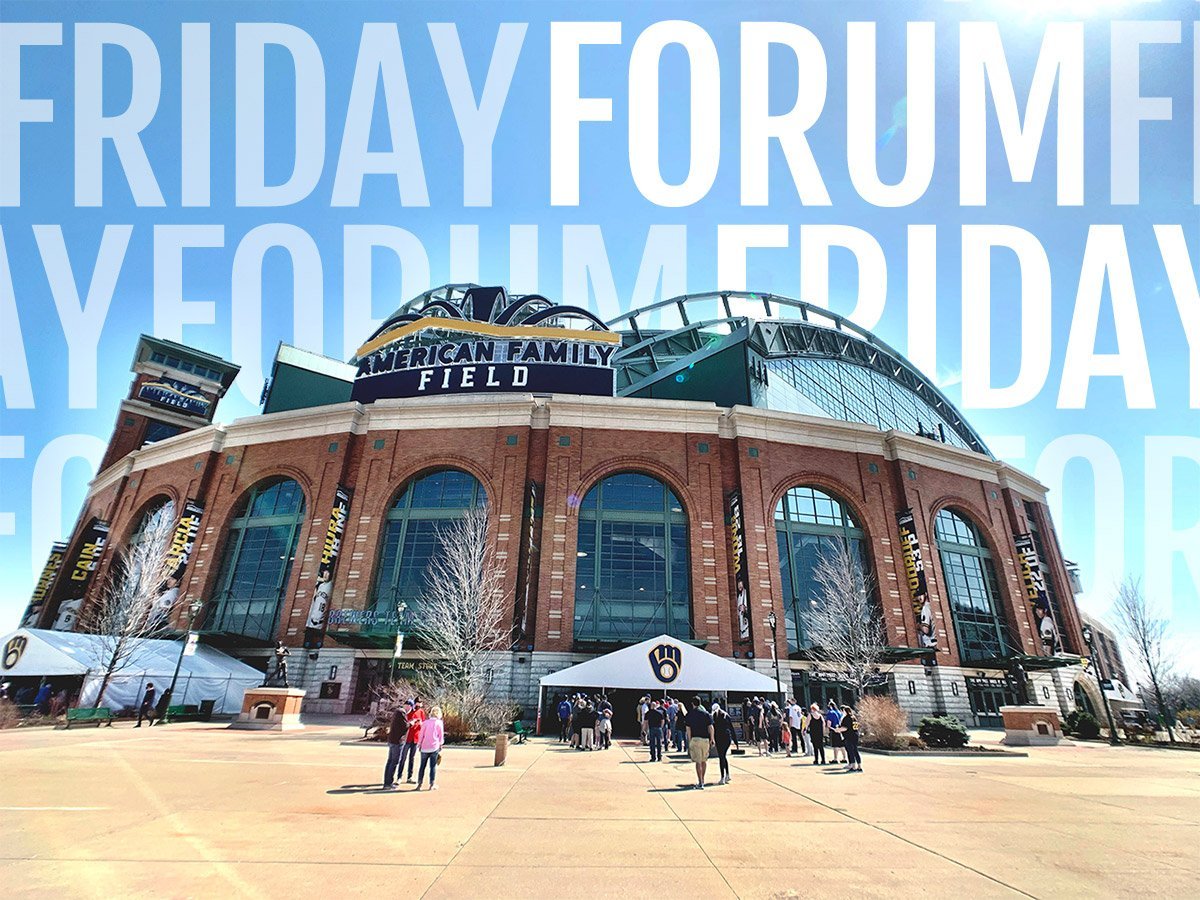 Image courtesy of Introductory blurb to display on front page.
With that out of the way, here is a look back on what our community had to say about the first-place Crew in the Brewer Fanatic forums between May 6 and 12, 2022.
The big news this past week was the demotion of Keston Hiura to AAA Nashville on May 6.  After a highly-productive rookie campaign in 2019 (138 OPS+ and 1.9 WAR in 84 games), Hiura has not come close to matching that production in 2020 or 2021.  His improved play early this year led @MVP2110 and @young guns to speculation the demotion was in part to ensure consistent playing time, something he hasn't gotten in Milwaukee this year.  @Julio Muchacho and @edfunderburk also pointed out the Crew's improved depth, both in Milwaukee and Nashville, make this move less painful than it might have been just last year.  And we may see Hiura back in Milwaukee sooner rather than later, as @djoctagonereminds us the Brewers can prevent his last option from being burned by keeping this assignment to less than 20 days.  After Thursday's three-hit, two-homerun, seven-RBI game against top-50 pitching prospect Max Meyer, there is some reason for optimism.
The other big story this week was Christian Yelich's Major League record-tying third cycle on May 11. The fact that his cycle came in the midst of a nice stretch for the former MVP instead of a bolt from the blue (I'm looking at you Chad Moeller) led to plenty of discussion as to whether he's back, and if he is, back to what.  @Brewcrew82 points out in the Yelich is red hot thread, this hot streak is different than those we saw in 2020 and 2021.  @DoubleSwitch backs this up with data which shows Yelich is hitting the pitches that gave him trouble in '20 and '21, even if it isn't as well as we saw from peak Yeli.  Finally, @timpep and @igor67 talks us through the odds all three of cycles coming against the Reds.
Even though it is a stickied thread, I'd like to remind our members about the Archived Brewers Audio/Media - 2022 thread.  The last few weeks have seen my Brewer-time curtailed, so having a thread I can turn to to catch-up is much appreciated.  Be sure to check out Brewer Fanatic's own @Mass Haas appearance on Matt Pauley's Brewers Extra podcast.
That will wrap things up for this week.  After a day off on Thursday, Milwaukee returns to action tonight in Miami against the Marlins.  Here's to a better week and not taking success for granted.  If things go a bit sideways this week, it won't be my fault this time.  We can always blame it on Friday the 13th.

Go Crew!
Think you could write a story like this? Brewer Fanatic wants you to develop your voice, find an audience, and we'll pay you to do it. Just fill out this form.
MORE FROM BREWER FANATIC
— Latest Brewers coverage from our writers
— Recent Brewers discussion in our forums
— Follow Brewer Fanatic via Twitter, Facebook or email
2