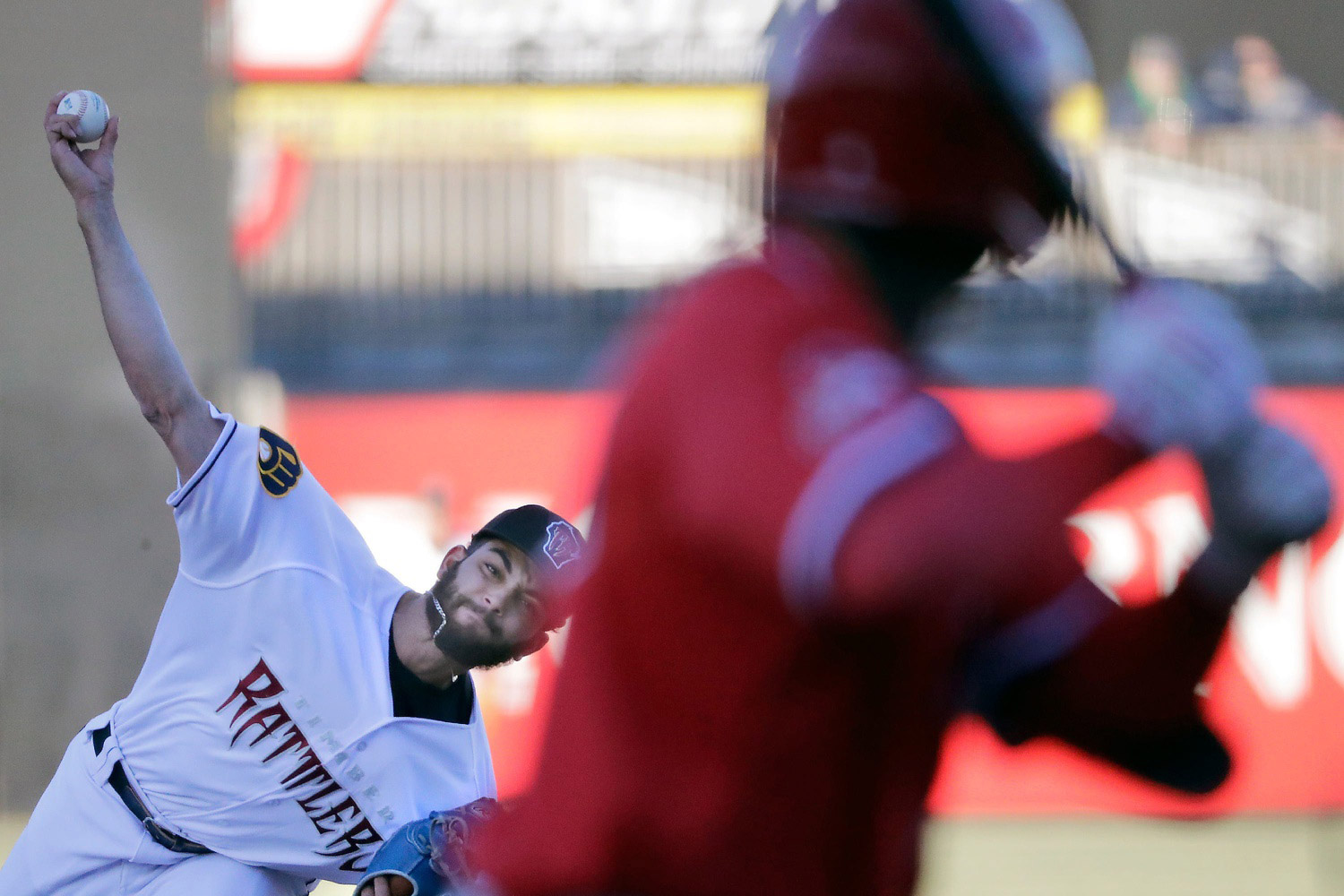 Image courtesy of © William Glasheen / USA TODAY NETWORK-Wisconsin / USA TODAY NETWORK
The bullpen has been a traditional strength for the Brewers. In a number of cases, they have built the bullpen from free-agent signees or acquisitions, but there have been a fair number of key contributors who the Brewers developed through the farm system as well. Dan Plesac, Devin Williams, Josh Hader, Brent Suter, Chuck Crim, and a host of home-grown talent, both closers and in roles other than closer, could soon be joined by other players who make their mark in Milwaukee. Who might that be?
AAA Nashville
The closer for Nashville will likely be Cam Robinson, who has emerged as a prospect over several years. Many other pitchers will come from the non-roster invitees, like one-time Brewer Alex Claudio, Lucas Erceg, Thomas Pannone, and Robert Stock. Clayton Andrews, who combined pitching with playing some center field in the past, might make his way to Nashville unless he repeats in Biloxi, and Matt Hardy could also vie for spots.
AA Biloxi
Abner Uribe will likely hold down the closer's role. It is an open question whether Clayton Andrews will be in Biloxi or Nashville, and James Meeker, who is coming off a dominating season with Brisbane, also could hold down a late-inning spot. Taylor Lloyd and Brady Schanuel also could come up from Wisconsin to hold down spots, while Christian Tripp and Joey Matulovich could form the back end of the Shuckers bullpen.
A+ Wisconsin
Roles may be more up in the air at Wisconsin, with no clear front-runner to serve as the closer. That said, there is a lot of talent in the bullpen. Michele Vassalotti, Pablo Garabitos, and Karlos Morales are three top contenders to lock down the late innings. Still, Ryan Middendorf, Jeison Pena, Leoni de la Cruz, Brannon Jordan, and Junior Montero could also factor in. Think of it as a minor-league version of the "Nasty Boys."
A Carolina
While primarily a first baseman, Quinton Low also put up credible numbers in the ACL as a reliever and could be a two-way threat for the Brewers. Raul Mendoza tied for the lead in saves with recently-released Trevor Tietz among ACL Brewers pitchers and crafted his way past a lot of hitters. Jakob Brustoski had many walks–and many more strikeouts – in the ACL, while Fraudy Maldonado posted a K-to-BB ratio of about 2 to 1. Anthony Perez, Brian Fitzpatrick, and Ryan Brady also could factor into the Mudcats' bullpen equation. 
Rookie Leagues
Nelson Cuevas will be the top contender to close for the ACL Brewers team after leading all DSL Brewers relievers in saves, with competition from Gregory Baez, Roman Perez, Manuel Rodriguez, and Waldin Rodriguez, who finished in a four-way tie for second. The ACL Brewers will also see Cristofher Carrasco, Jhofez Mejihas, and Franddy De Los Santos compete for bullpen roles.
Overview
When it comes to the future Brewers bullpen, its composition is always up for debate, one way or another. That said, there are some very real prospects in the system, some of whom have the potential to be as dominating as the bullpen legends of the past – whether it was Rollie Fingers, Dan Plesac, or Josh Hader.
Think you could write a story like this? Brewer Fanatic wants you to develop your voice, find an audience, and we'll pay you to do it. Just fill out this form.
MORE FROM BREWER FANATIC
— Latest Brewers coverage from our writers
— Recent Brewers discussion in our forums
— Follow Brewer Fanatic via Twitter, Facebook or email
1