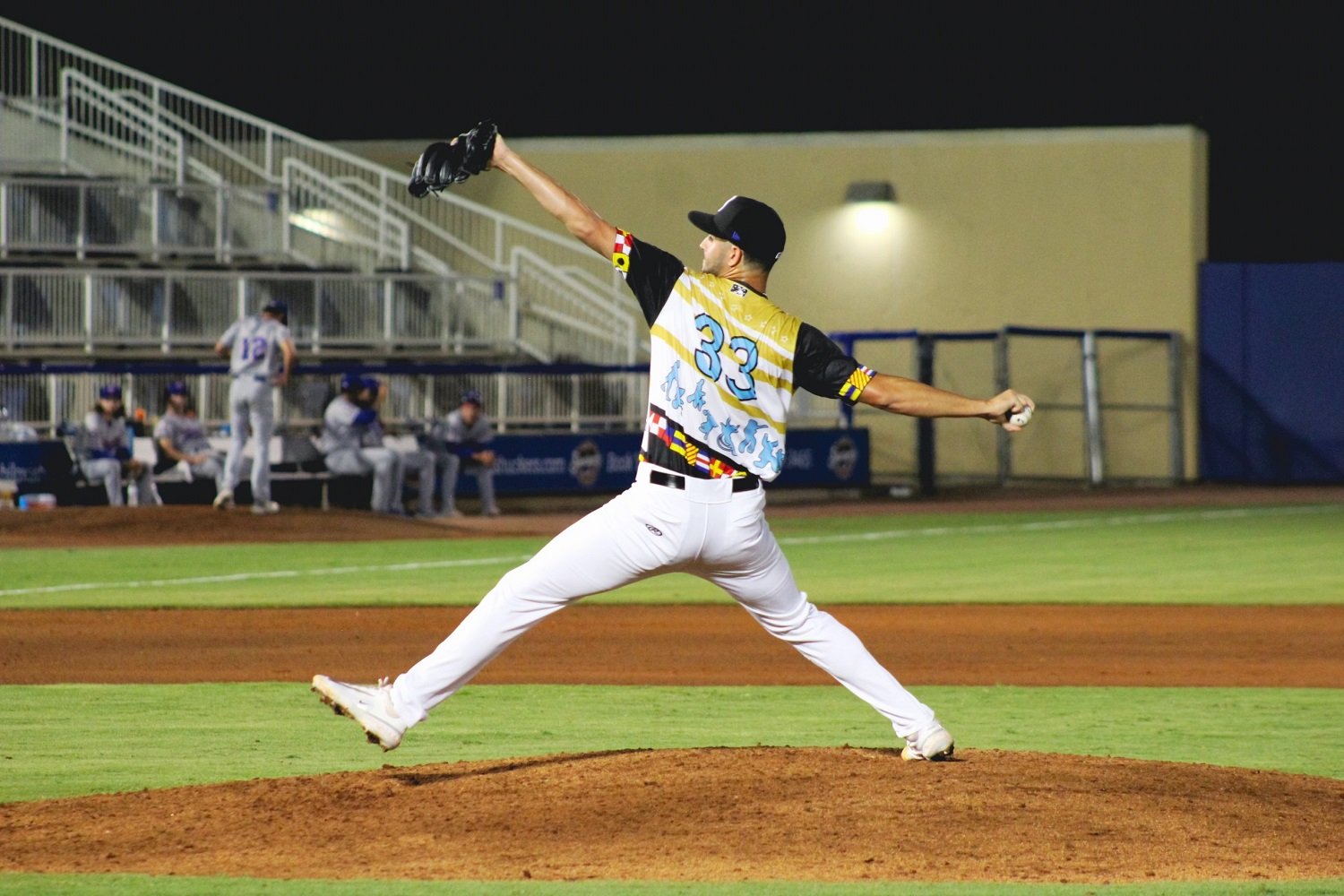 Image courtesy of Joshua Sumrall, Biloxi Shuckers
When one considers that each minor-league team will have at least a five-man rotation (or even six), that leaves a lot of starts to be made in a given season. In the past, there have been folks who emerged almost from nowhere to fill a rotation role in the majors – like Brent Suter. But how have some of the more "overlooked" prospects fared?
Right-Handed Starters
Max Lazar, Wisconsin Timber Rattlers (A+)/Biloxi Shuckers (AA)
1-4, 3.20 ERA, 56.1 innings pitched, 14 walks, 59 strikeouts

Lazar has spent most of his 2023 bounce-back season in the bullpen, but returned recently to the rotation in Biloxi. Perhaps the best sign? In Biloxi, he's struck out 11.1 batters per nine innings as of August 5th, a sign that he is returning to pre-pandemic form. Staying healthy and building up his endurance will be crucial in 2023 and 2024.
Kevin Briceno, Arizona Complex League Brewers (R)
On the 60-day injured list all season

Briceno will have to bounce back from injury wrecking 2023, which is a big disappointment for himself – and for Brewers fans, who saw a lot to like in his 2022 numbers. At 20, he still has a lot of baseball in him, though, and should not be counted out.
Cameron Wagoner, Wisconsin Timber Rattlers (A+)
3-11, 7.05 ERA, 75.1 innings pitched, 29 walks, 63 strikeouts

Wagoner has remained healthy this season, which may be the one positive he can draw from an otherwise forgettable 2023 season. Virtually every ratio has gone the wrong way for him this year, and the big question is how he will react in 2024. Corbin Burnes had a similar rough year in 2019, and turned out just fine, and Waggoner is only 22.
Melvin Hernandez, DSL Brewers 2 (FRk) - New
2-2, 2.48 ERA, 29 innings pitched, 7 walks, 23 strikeouts

Some of the numbers might not be eye-popping, but Hernandez is just 16 years old, and he's racking up a relatively low WHIP (1.14), has allowed only one home run (in a league where he has to face off against fellow Brewers farmhand Yophery Rodriguez of the DSL Brewers 1), and he's striking out 3.3 batters for every walk.
Overview
Lazar's comeback looks like it is going well, and he could, if back to form, be a contender for the 2025 Brewers MLB roster. Briceno and Waggoner will have to rebound from adversity. Hernandez could be a very exciting pitcher, already showing excellent control at a very young age.
Left-Handed Starters
Brandon Knarr, Biloxi Shuckers (AA)
0-2, 8.25 ERA, 12.0 innings pitched, 9 walks, 19 strikeouts – currently on 60-day injured list

Knarr had a rough start to the season, then went on the injured list, joining Adam Seminaris and relievers Harold Chirinos and Justin Yeager. Prior to his injury, Knarr had kicked his strikeout rate way up, albeit the walk rates were also up in the very small sample size. However, this can likely be attributed to the injury, and he should be able to rebound in 2024.
Anfernny Reyes, Arizona Complex League Brewers (R)
2-2, 5.18 ERA, 24.1 innings pitched, 10 walks, 35 strikeouts

Reyes has only seen action out of the bullpen so far this season. Despite the high ERA, the peripheral numbers (WHIP, opposing batting average and OPS) look quite solid for the 19-year-old in his first season in the United States. He's had five hit batsmen and seven wild pitches, this year.
Osbriel Mogollon, Arizona Complex League Brewers (R)
2-2, 3.74 ERA, 33.2 innings pitched, 21 walks, 37 strikeouts

Mogollon's strikeout rate has dipped a little, but he is still avoiding the home run ball (1 in 33 2/3 IP as of August 5). He's split time between the bullpen and the rotation for Maryvale. One notable stat: No wild pitches or hit batters as of August 5, which is pretty incredible for the ACL.
Anthony Flores, DSL Brewers 1 (FRk) - New
1-2, 3.44 ERA, 36.2 innings pitched, 16 walks, 43 strikeouts

Flores has been racking up the strikeouts – almost 11 per nine innings – and he's avoided the gopher ball so far in the DSL, giving up just one home run as of August 5. Opponents haven't even cracked the Uecker Line against him when he's on the mound.
Overview
Reyes and Mogollon are showing some very promising signs in the low minors, which could bear fruit for the Brewers sooner rather than later. Knarr's injury is a setback, but the Crew – and Knarr – will be hoping for a 2024 rebound. Flores, though, is showing some real potential in the DSL.
Next: Relief Pitchers